No Comments
22 Northmen Brewing Company | A Fresh Take on Minnesota's Viking Heritage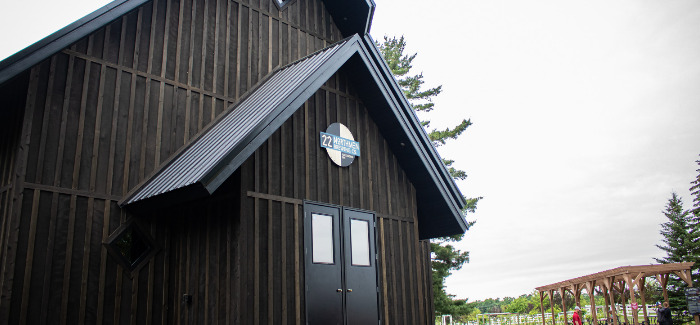 When I stepped into 22 Northmen Brewing Company, I felt like I was in that scene of Beauty and the Beast when Gaston is singing his song.
We don't always liken a brewery to our favorite Disney movie, but when we do it's our highest form of flattery!
"That's great!" laughed 22 Northmen Brewing Co.Vice President of Operations Tyler Bredeson. "I hadn't even thought of that…That's very cool of you to say that!"
We recently made a trip up to Alexandria, MN to check out Minnesota's newest craft brewery. If not like something out of a Disney movie, 22 Northmen Brewing Co. is certainly like something out of the early 1000s. Inspired by local history and heritage, the brewery is every bit a tribute to Minnesota's rich Viking past.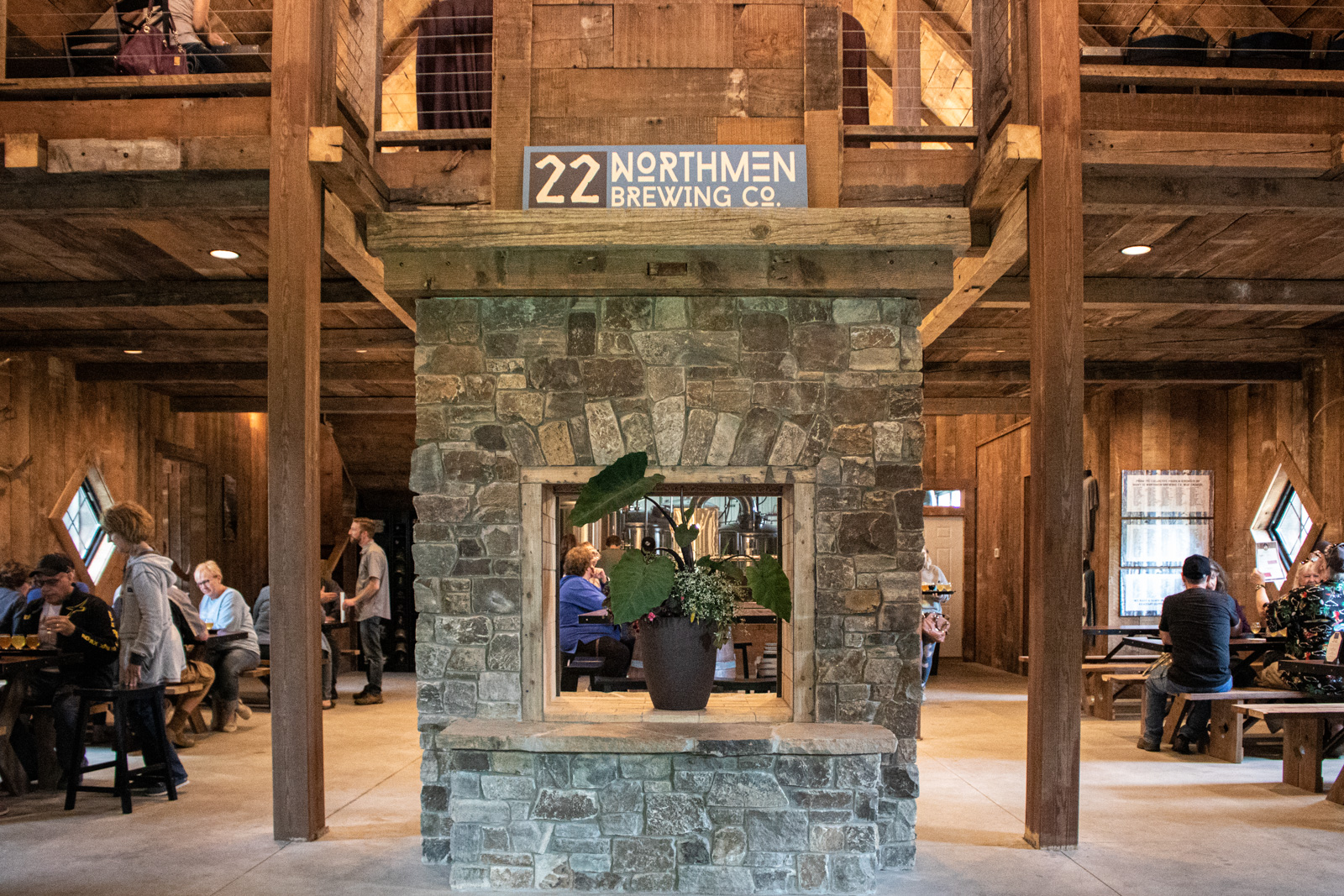 No one really knows if [the history behind the Kensington Runstone] is true or not, but we borrowed from it anyway, because it's a really neat flavor story. There's a line in that runestone that talks about where the people that, supposedly, came over here were from. So, 22 of them were Norwegians; the term they used [was] 'Northmen'… so we borrowed heavily from that. It gave us a way…to tie to the area.

Tyler Bredeson, Vice President of Operations
Owned by the same family that runs Carlos Creek Winery— Tyler, his wife Michelle and parents Tami and Kim Bredeson—the large Viking hall taproom stands in stark contrast to the rest of the estate, offering a very different, unique experience.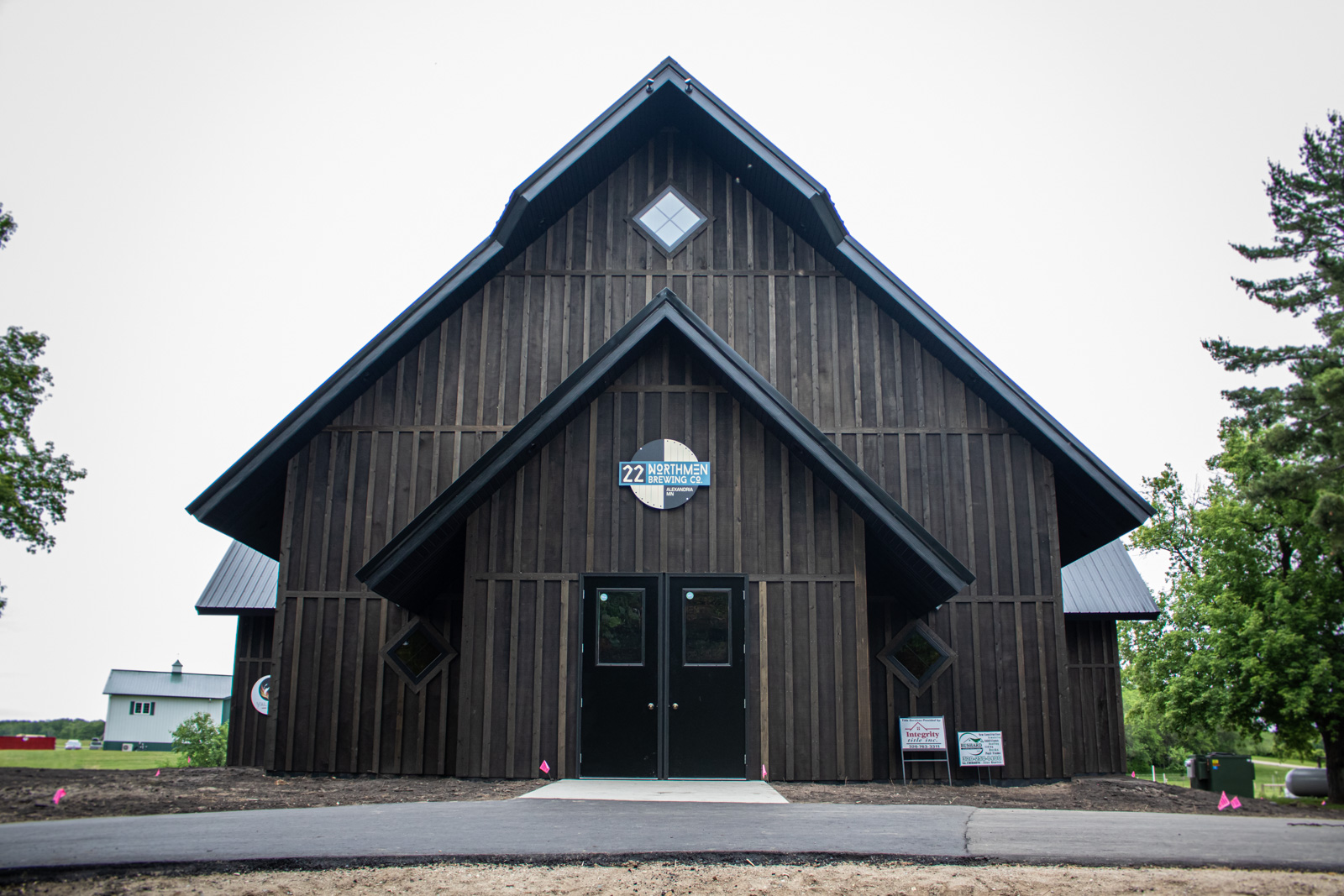 [We want] to offer something to customers that maybe…one or the other of them likes wine but the other doesn't, and hopefully they like beer, or whatever. And also to keep us really relevant in the scene in general. You have a lot more offerings in the Twin Cities, in St. Cloud in Fargo…What are you adding to that? Doesn't mean you have to make this seismic shift in what you're doing, but I feel like you have to go reinvent yourself in some measure. We've had customers for years tell us, 'Gah, I could get my husband or wife out here if you just had beer!' Yeah, it's a leap, but we really knew we had customer support behind it."
While the brewery may seem like a recent addition to the 20-year-old winery, it's actually the fruition of 10 years of patient waiting and planning.
We started looking at this in 2010…At the time, the licensing…didn't work for us to do a brewery the way we wanted to. It's something that every year we kind of looked at and said 'Is this the right year? Is this the right year?' We did [an expansion of the winery] in 2015, and then we looked at [the brewery] in late '17, early '18."
Like the Viking communities of old, 22 Northmen Brewing Co. is the result of a community effort. A long list on one wall recognizes all 293 of the brewery's Kickstarter backers, who together raised over $28,000 (surpassing the goal by $3000).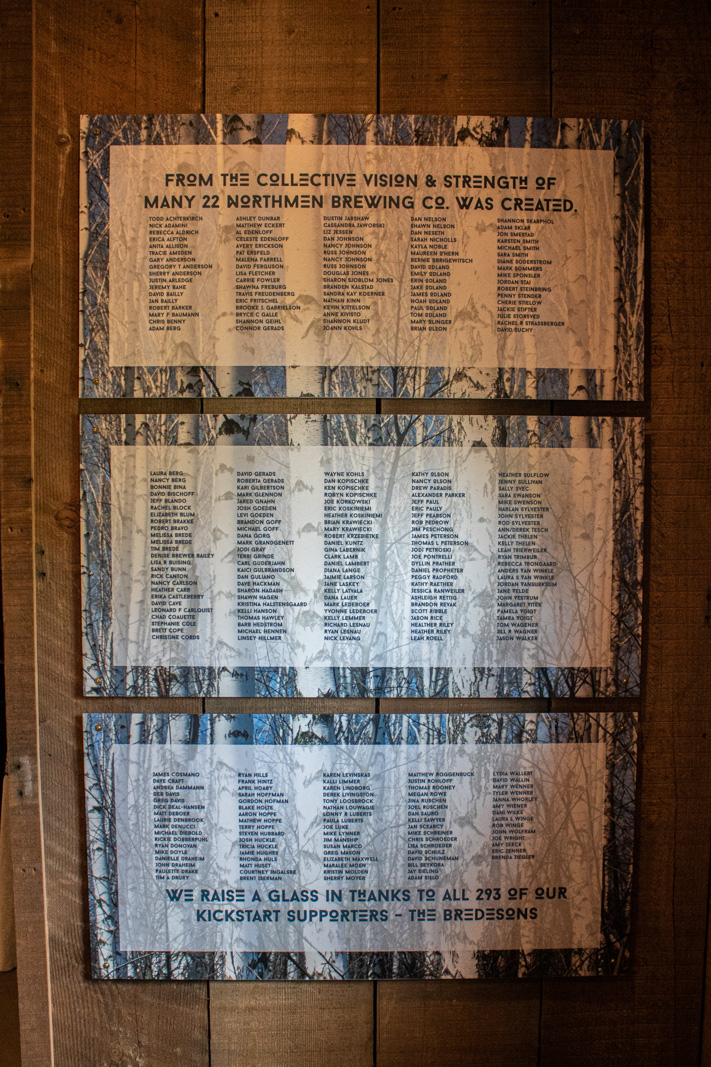 Twenty-two special sponsors — local businesses and families more deeply involved in the building of the brewery — are recognized with their own "Northmen name" and shield hung from opposite peaks.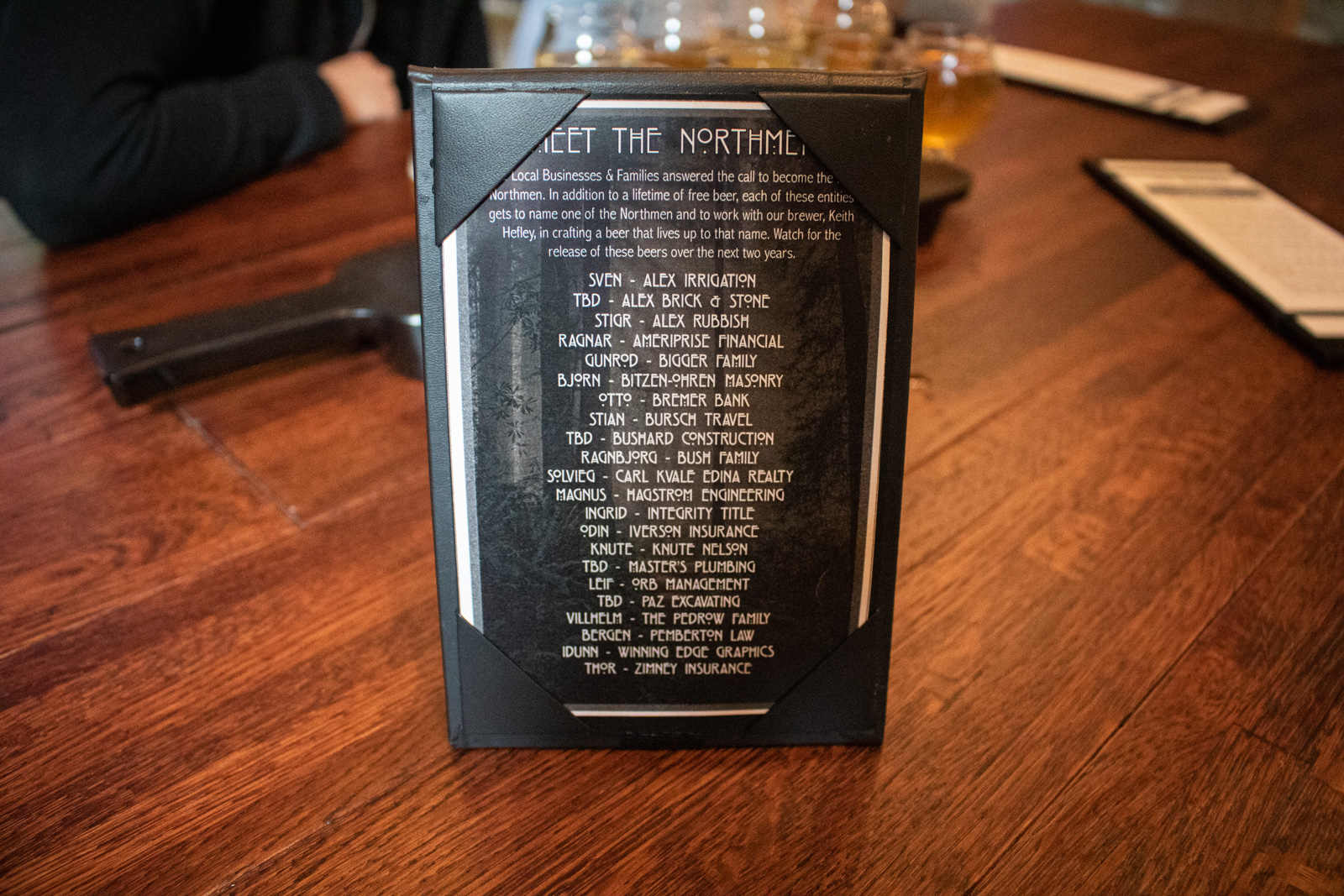 "To try and further this whole 22 Northmen idea, we have 22 people…they have all come up with names that represent their people…and then…they all got to design a shield. We didn't allow people to use any words on it…So they had to take what their business was and then graphically represent that in some way.
The shields were hung the week after we visited, so you'll have to go visit to see them for yourself!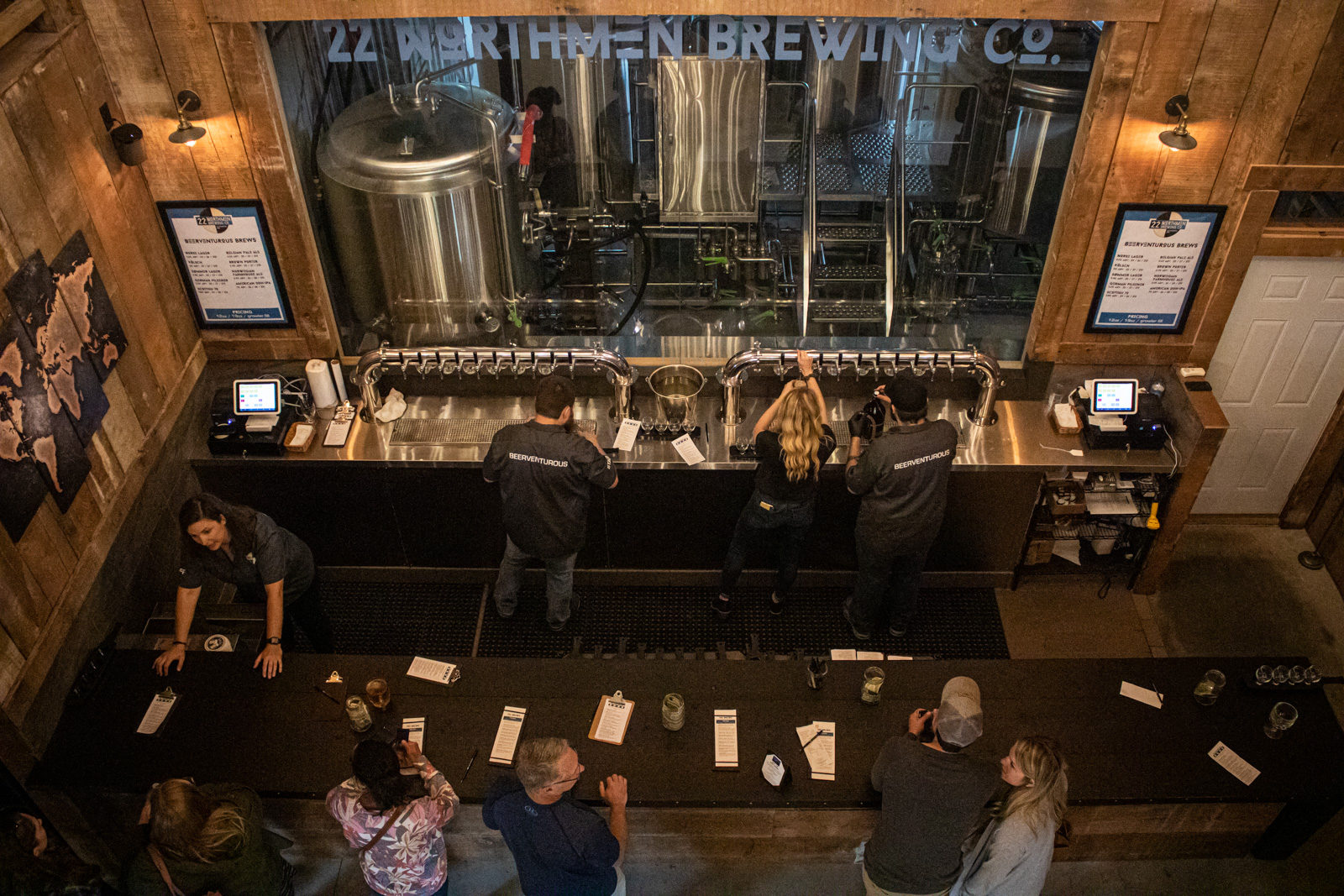 The attention to detail goes beyond 22 Northmen Brewing's taproom aesthetics. Even their beer is thoughtfully brewed!
As we're looking at Vikings as explorers…we're trying to concentrate mostly on beers from four different main areas – German…French/Belgian…British Isles…and then, to tie into the whole idea that they made this venture into the New World, our New World/modern styles.
Head brewer Keith Hefley is brewing within those categories as true to style as he can — from German Pilsner to Kolsch, Norwegian Farmhouse to Scottish Ale they're as traditionally accurate as you can get. That said, the New World category of beer is Keith's opportunity to still experiment and "playing around."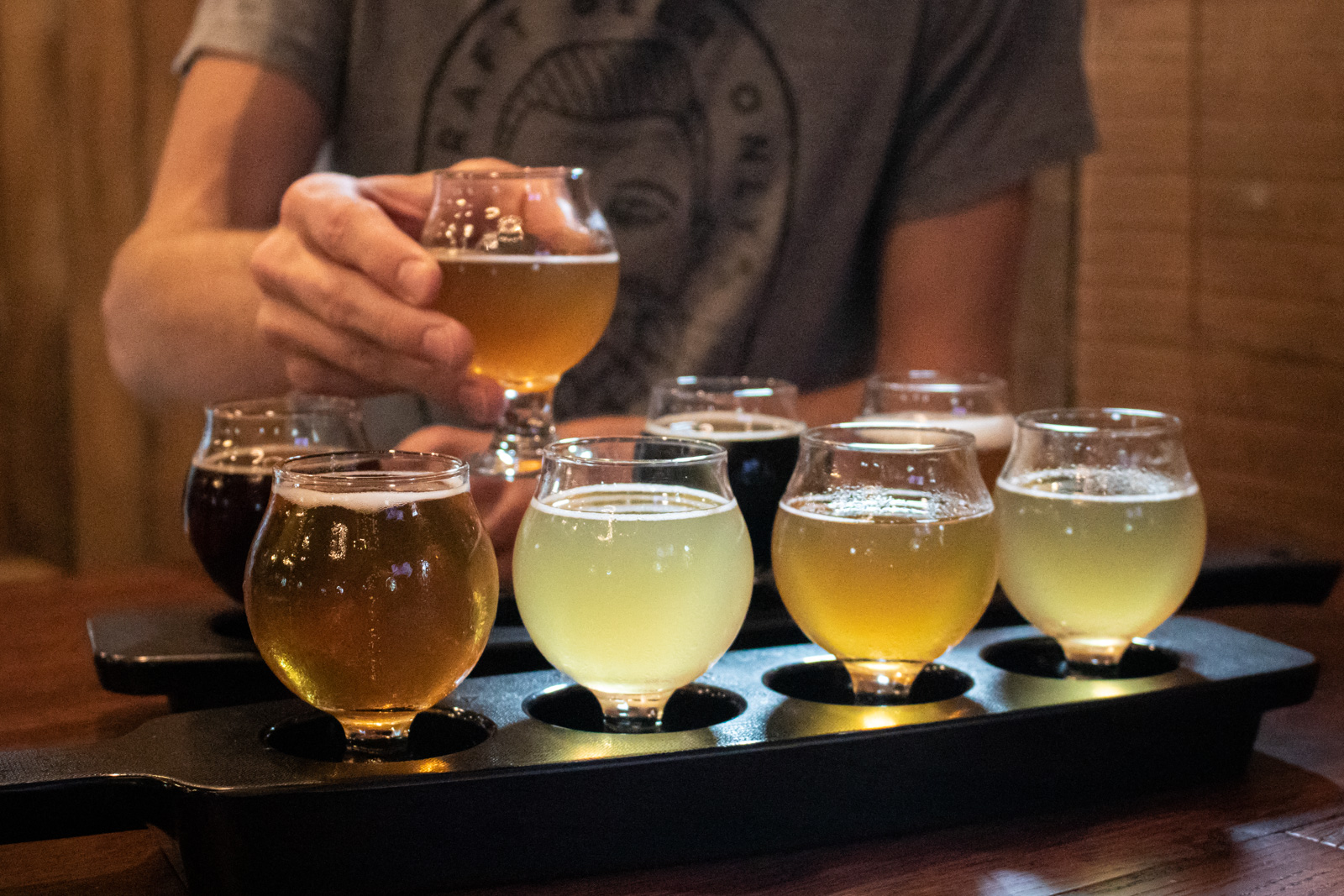 The kitchen and menu, too, are carefully thought-out. Valkyrie-inspired pizzas include the delicious Kara Margharita, Brynhildr rustic BBQ and smoked chicken, and Gondul spicy sausage, to name a few.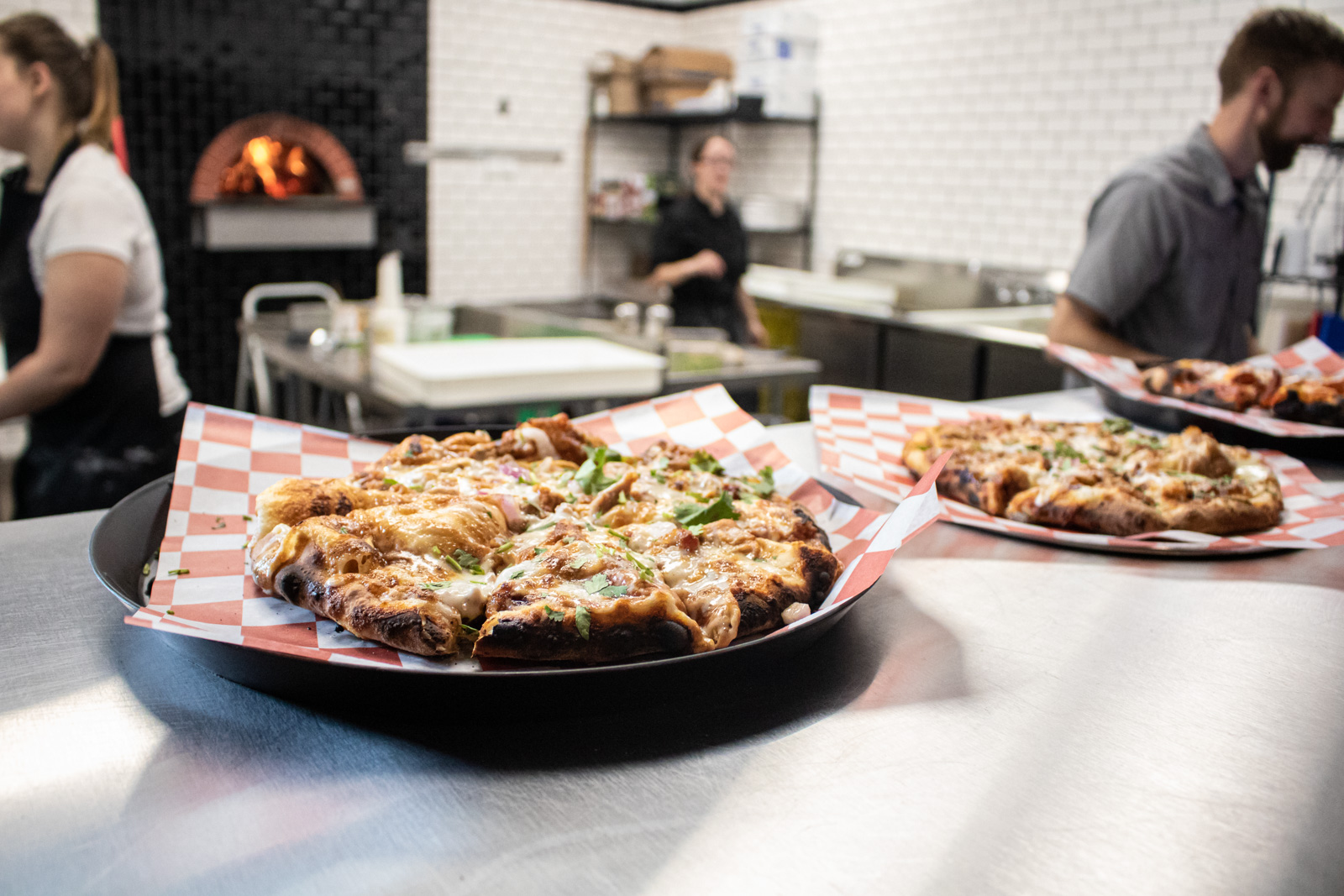 From beginning to end, our visit to 22 Northmen Brewing Co. was nothing short of awe-inspiring, impressive and exceptional. The taproom experience and beer met and surpassed our standards of what we look for in an overall great brewery, though Tyler would add that a great staff is a third and equally important factor.
Our staff here is great. We have people who are really into beer and a lot are new. But they're buying into the whole experience that we want from a staff — we're knowledgeable, we're really friendly with it, we don't take this approach in any way that you have to come here with any wine or beer knowledge…come as you are, and if we can educate you a little bit from wherever you started to wherever you leave, that's the goal.
For beer and wine (available in the winery building), hand-crafted woodfire pizza and a truly authentic, richly Minnesotan experience, we really don't think you can do much better than 22 Northmen Brewing Co. in Alexandria, MN! Skol!
Adam & Katie
This article first appeared on AleAdventuresMN.com. For more great stories from Minnesota's craft beer scene, follow Ale Adventures on Facebook, Instagram and subscribe to their blog!
---