No Comments
Ultimate 6er | Chicago's Best Pizza & Beer Pairings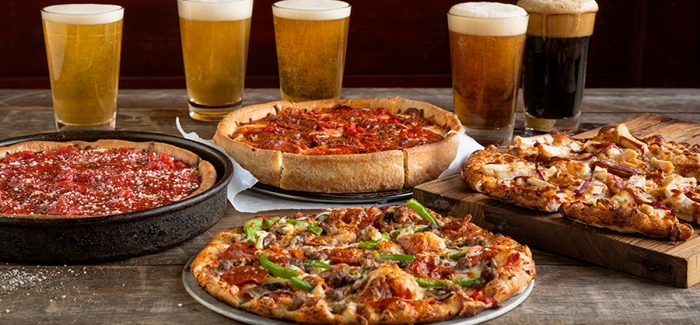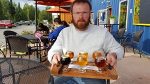 Pizza comes in many shapes, sizes, and forms, and all of it is generally good. Chicago is a city saturated in pizza joints, but pizza in the Windy City is the real deal. While many tourists visit Chicago for its deep-dish style pizza, most Chicago locals will tell you their preferred Chicago style pizza is "tavern-style."  What is tavern-style pizza? While there is no strict criteria, any proper Chicago establishment that claims they serve this type of pizza share a similar method. The crust is very thin, better known as "cracker crust." The pizza is cut into squares, not slices. Pineapple is not a choice on the ingredients list. Using this as a canvas, there are many Chicago pizza joints outside of the tourist traps in the Loop that deliver solid pizza offerings that go great with a nice cold beer on a warm summer day, and here are my favorite Chicago pizza and beer pairings for you to try, whether you're  a tourist or a local.
A northside staple since 1955, Pete's pizza on Western Ave knows a thing or two about slinging a proper Chicago tavern-style pizza. Inside their modern, newly renovated dining area, hungry locals and tourists alike are treated to classic thin-crust pizza piled thick with cheese and generous portions of their choice (my choice: sausage and garlic). The sauce is thick and a bit spicier than others in this sixer, but compliments the spicy, but not too much so that it overpowers the sausage and garlic. The crust is also slightly thicker, but this helps avoids the sogginess and grease that ruins perfectly good pizzas. One my visit, our bartender recommended we ask for the pizza to be cooked extra long to allow the crunch of the cracker crust to really stand-out. I highly recommend this option.
A good slice of pizza calls for a classic Chicago pilsner and Maplewood's Pulaski Pils is the perfect pairing. Brewed only a mile and half away from Pete's Western Avenue location, this light, crisp, and very drinkable pilsner is light enough to allow you that extra room in your stomach to overindulge in Pete's pizza goodness. The pilsner provides a brisk, slightly bready aftertaste which works great with no overpowering the flavor of your pizza, which should always be the star of the show. 
https://www.instagram.com/p/BxBHjTVnmOl/
https://www.instagram.com/p/BucZUdKH9ee/
Vito & Nick's is true Chicago tavern pizza. Arguably the first restaurant and lounge to truly turn tavern pizza into a cult following, Vito & Nick's business model hasn't really changed much since they became one of the number one go-to's for pizza on Chicago's southside. The Scottsdale neighborhood location has become a destination for all true pizza lover's, and for good reason. The pizza is only served in their restaurant and lounge. They don't deliver. It's cash only. Nick and Vito's is reminiscent of a bygone era where Old Style was still on tap everywhere, credit cards weren't accepted, and great food was served at a great price. The Vito & Nick's pizza experience has everything you want in a tavern-style pizza. The paper-thin crust is dusted in cornmeal that is crunchy and holds the toppings without collapsing in grease. Chicagoans are very particular with their Italian sausage, and Vito & Nick's hand pinched fatty, and flavorful chunks are more than enough for any meat lover.
Argus Brewery in Chicago's southside neighborhood of Pullman has flown a bit under the radar since the Chicago craft beer scene has exploded, but that doesn't mean their beer isn't worth checking out. Argues Lager, one of their core staples, has a smooth, long, dry finish that balances well with the crisp crunch of Vito & Nick's cracker crust. If you like a subtle touch of sweetness with your pizza and lager, you'll find no better pairing.
https://www.instagram.com/p/BzGjH8oBv7i/
https://www.instagram.com/p/BvJ8lnHHzra/
Pat's Pizza is another family-owned northside pizza staple that's been in Chicago's Lincoln Park neighborhood for over 60 years. Pat's does there crust a bit different. Pat's pre-makes each crust and then allows them to sit overnight in cold temperatures.  The result? A paper-thin cracker crust that is crunchy and just strong enough to avoid becoming soggy from mounds of delicious sauce, meat, and cheese that sits above it. It has been voted Chicago's #1 thin crust pizza on multiple occasions, and it's no surprise that the extra step with the crust goes a long way to make this thin crust stand out in a city known for pizza.
Similar to Pat's Pizza being a northside staple for pizza, Half Acre Brewing has been a long-standing institution (for craft breweries, anyway) in Chicago's northside for ten years. Keeping with the solid combination of pizza and pilsners, Half Acre's Pony Pilsner is another example of a knock-out interpretation of the classic style. Half Acre's version is clean, bright, and aromatic with a quick,  dry finish that pairs well with Pat's famous thin crust.
https://www.instagram.com/p/BmREIN8AnkR/
https://www.instagram.com/p/Bx5CSW2gEHp/
One of Chicago's more old school pizza joints, many people might recognize Home Run Inn via their successful line of frozen pizzas. If you haven't had them and are curious, this is a good gateway pizza to determine if their version is right for you. Home Run Inn is known for signature "butter crust," which provides a full-flavored and delicious crust that is more on the thick side but still delivers that satisfying crunch you come to expect from tavern-style pizza done right. The sauce is chunky and delivers a nice zip with a touch of spice and heat. If you like your pizza sauce spicy, this is your go-to.
A nice, crisp Kolsch balances that butter crust and spicy tomato sauce well, and Metropolitan Brewing' Krankshaft Kolsch is a great choice for a slice of their pizza, frozen or fresh at one of their many Chicago-land locations. Metropolitan focuses on German-style lagers and ales, and they are damn good. On a personal note, they have one of my favorite taprooms in the city, located alongside the Chicago River in Chicago's Avondale neighborhood. Dry, clean, and crisp, a glass of Kranshaft is a refreshing way to cool off your tongue with Homerun Inn's spicy sauce.
https://www.instagram.com/p/BxVvJuNhJtI/
https://www.instagram.com/p/Bmq4y-jAcQl/
Pizano's Pizza is Oprah's favorite pizza, so for most of you, I need to say no more. For the rest of the skeptics, here me out. The edges of the cornmeal-laced crust are pushed upwards on the edges of the pan to allow for unmistakably crisp, caramelized outer edges, and the result is outstanding.
Pizano's delivers, and a great place to bring take your pizza is the Begyle Brewing taproom located in the quiet and quaint North Center neighborhood on Chicago's northside. Begyle Blonde is crisp and floral with notes of apple and pear. Pizano's pizza is noticeably lighter on the cheese and sauce which is a great way to showcase its outstanding crust. The subtle fruit flavors if Begyle's blonde ale is a great way to add some additional sweetness to your palette for the perfect salty/sweet combination that doesn't overpower in either direction.
https://www.instagram.com/p/BbdKXzMHMZ6/
https://www.instagram.com/p/BwAaI4kn3Le/
Switching gears here, only because I couldn't possibly talk about Chicago pizza without including Pequod's Pizza in Chicago's Lincoln Park neighborhood. Far enough away from downtown to avoid the flocks of naive, picture-taking tourists, Pequod's is likely the place you will be told to go if you ask any northsider where the best deep-dish pizza is in town (which is a very touristy thing to ask).
One look at their deep-dish pizza and you'll know the difference, the caramelized cheese oozing out of the ends of the crust delivers the most satisfying pizza crust eating experience you will ever have in this world, I promise you. Combine that with chunks of Italian sausage the size of your first and a robust, chunky tomato sauce, this is the Chicago style deep-dish the locals eat at, and you should, too. If you don't trust this writer, maybe the consistently 2 hour wait times at their Lincoln Park location should tell you that your about to eat something special.
Since we are talking about epic, meal worthy slices of deep-dish, let's go all out and pair it with the mother of all pilsner's, 5 Rabbit Cerveceria's Super Pils. 5 Rabbit's Cerveceria is located in Chicago suburb of Bedford Park, but their beer is located everywhere, so it shouldn't be too hard to locate a 6-pack. Boasting an impressive 7% ABV, this ramped-up version of the classic style is full of flavor with notes of bread, malt, lemongrass, and a touch of sweetness that lingers on the tongue. If your appetite is going big with deep-dish, go big with Super Pils, and you'll quickly find yourself in a satisfying food coma not long after.
https://www.instagram.com/p/BX29g1WBIke/
https://www.instagram.com/p/Br8EOTPHxEN/
Featured image courtesy of FSR Magazine
---