No Comments
Texas Craft Brewers Celebrate Beer-To-Go Day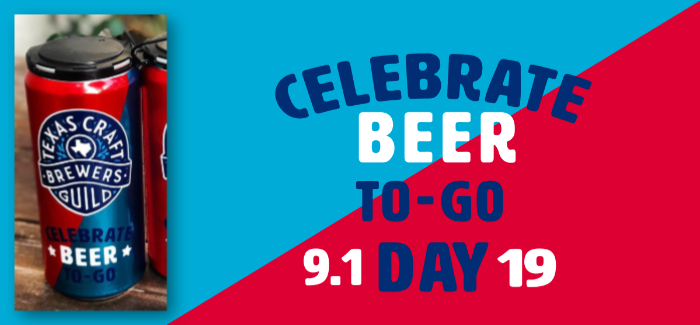 On Sunday, September 1, Texans will finally have the opportunity to take beer home from their favorite craft brewery, which makes Texas the final state to allow take-home sales from a manufacturing brewery.
A brief history: Texas brewers have been fighting for reforms for more than a decade that would allow them the same benefits a winery, brewpub, or distillery enjoys — allowing visitors the ability to take home their product. Finally, during the 86th Legislative session, the law passed with a tremendous effort from the Texas Craft Brewers Guild, brewers and thousands of supporters.
So what does it all mean?
At 10 a.m. this Sunday (September 1), consumers across the state can take home up to one case per person, per day from their local brewery. And, craft breweries across the state are throwing a party to celebrate. From beer-to-go bike crawls, special beer releases, live music, and even a Giant Beer-to-Go human picture, there are plenty of ways to join in the festivities.
"September 1 marks a historic day for the Texas craft brewing industry and the consumers who will now be able to purchase beer-to-go directly from the source," Texas Craft Brewers Guild Executive Director Charles Vallhonrat said. "This is a right that Texas brewers have been fighting to attain for over a decade and finally achieved in 2019 due to a groundswell of bipartisan, public support. We can't wait to celebrate Beer-To-Go Day at breweries across the state this Sunday!"
Visit the CraftPAC website to find Beer-to-Go celebrations happening across the state of Texas.
https://www.instagram.com/p/B1yrUy_lHQ_/
---