No Comments
Recapping Burnt City Brewing's Kveik Fest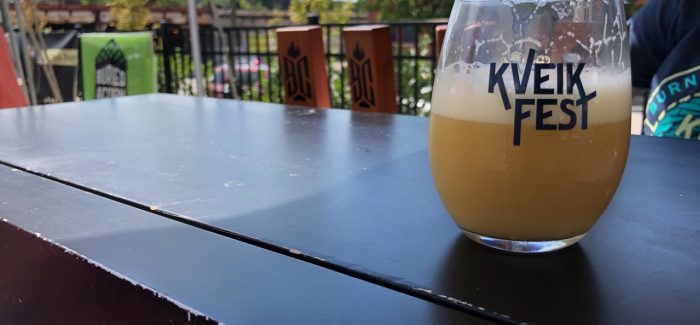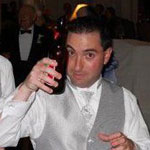 There are beer festivals centered around hazy beers, big stouts, sours and other styles, but rarely is there a festival around a strand of yeast. Burnt City Brewing teamed up with Omega Yeast Labs to showcase the Kveik strand of yeast and show just how versatile it is.
30 breweries were on hand at District Brew Yards, the home of Burnt City in Chicago, to pour more than 60 beers, a majority using the Kveik yeast. Everything from hazy IPAs to stouts to barleywines were on hand at the festival.
Mathew Powers and I were both there for PorchDrinking.com and we were also joined by Jack Muldowney from The Hop Review; we'd like to share some of our favorite beers from the afternoon. 
Mike Zoller's Picks
There were a lot of unique and innovative beers using the Kveik yeast at the event. You'll see in my top five that there's not a single IPA or hazy beer. I didn't really find one that impressed me. Many of the IPAs were very dank and that's not a flavor profile I'd want to be strong in my beer.
Here are the top five beers I had at the event: 
Around the Bend Beer Co. – Proximal Barleywine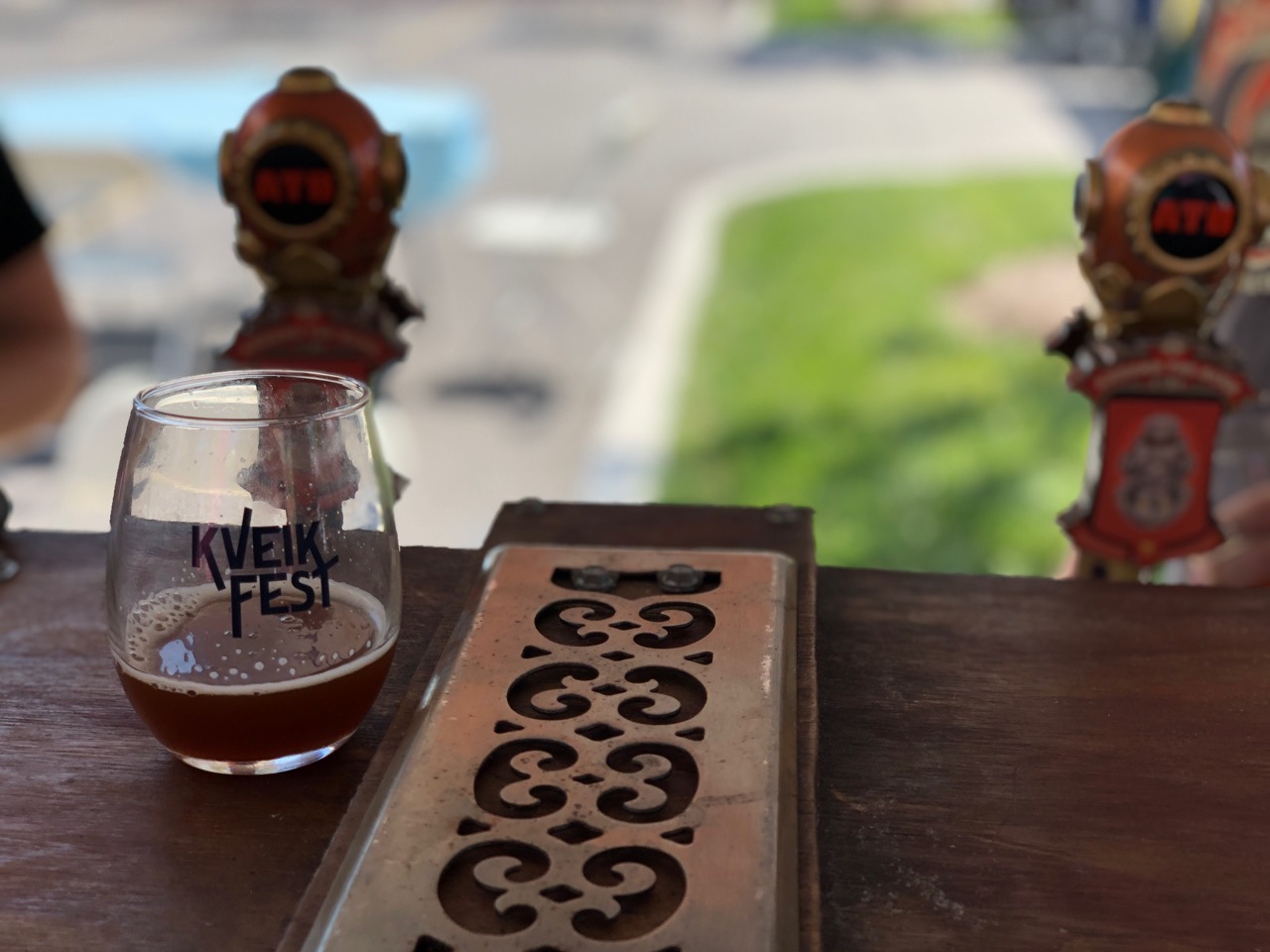 This barleywine aged for nine months in rye barrels was not only the best beer I had at the festival, but when I compile my top five beers of 2019, Proximal will also be in consideration. I didn't expect that a barleywine would be my favorite but everything about this beer worked.
The flavors of molasses, vanilla and toffee were so well done but nothing overpowered the other. While the barrel was present, this wasn't a hot mess and at 13% ABV, it very well could have been. On a day where it was very warm in the sun, I had three pours of this big barleywine and I easily could have had more.
Dan Schedler, founder and CEO of Around the Bend Beer Co., said this could be the best beer they've ever made and I would agree with that sentiment. It sounds like this beer might make its way to cans eventually. If it does, get it.
Metropolitan Brewing – Roggenbier
You don't see a lot of Roggenbiers out in the market today. This style is similar to a Dunkelweizen. Metropolitan fermented the beer with Hothead yeast, a type of Kveik, and it came out so good.
It's a clean and easy-drinking beer. The color can be off-putting at first, but once you get over that and you taste the malt notes and just a slight spice characteristic, you'll see why this beer made my top five.
Cinderlands Beer Co – Halley's Comet: The Last Word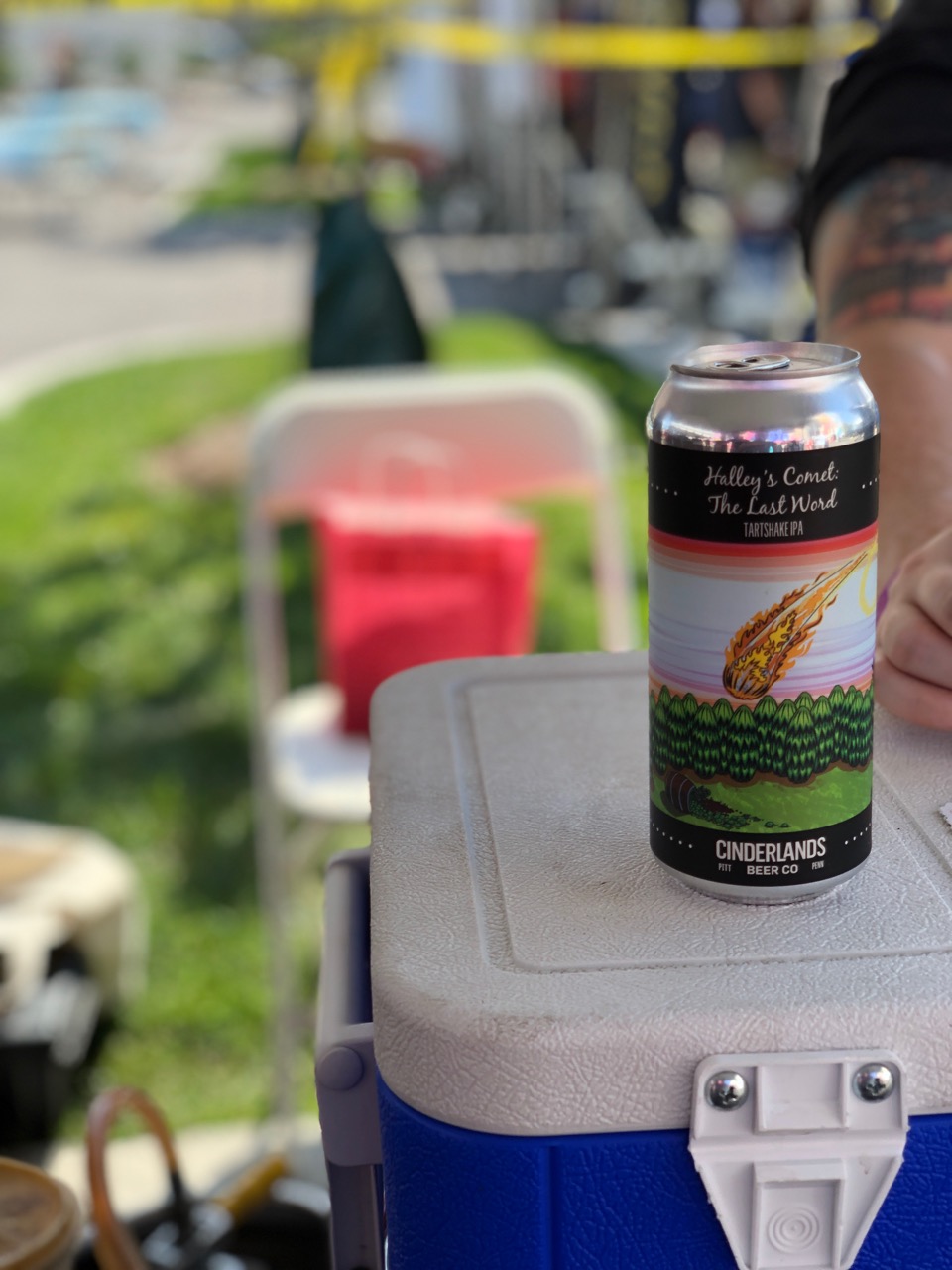 When I first saw this beer, I rolled my eyes. The can notes describe the beer as a Tartshake IPA and I didn't know if that meant it would be sour, contain too much lactose or some combination of both that simply wouldn't work.
Instead, I was impressed with the complex flavor of the beer; the tartness wasn't too much. The word "shake" in the title threw me off as I didn't get any lactose in this beer and I'm not even sure there is any.
I wish I had taken better notes on this beer because there were some herbs that the pourer told me about that just made this beer pop. There was so much going on but it all worked together. The lesson for me is, "Don't judge a book by its cover."
Marz Community Brewing Co. – Beczka Borsuk
There are two barleywines on my top five list and I love it. This double-barrel barleywine from Marz spent a month in a foeder before being transferred to bourbon barrels for five months.
It has strong vanilla notes and the bourbon barrels come through nicely. Some could find this beer just a tad too sweet, but I think that the barrel cuts the sweetness well and makes this a very delicious beer. At 10.5% ABV it's not as potent as the Around the Bend's Proximal Barleywine, but it's still very easy to drink at that high of an ABV.
Hacienda Beer Co. – There Is No Other Way
What if I told you there was a gin barrel-aged Saison fermented with Kveik and then had lime zest, pink peppercorn and lemongrass added—is that something you'd be interested in?
This was one of the last beers at the festival that I had (actually, someone recommended I go try it). I had walked by their booth several times during the event but just hadn't stopped. Whenever I talk to someone at a beer festival, one of the questions I'll always ask is what they had that they liked. It's how I find out what else to try. When there are a lot of beers being poured, while I do my best to try as many as possible, it's impossible to try them all.
For me, it was the lime zest and lemongrass that gave this beer an extra bump of flavor. Gin barrels are an acquired taste, but I think the added ingredients paired nicely with gin.
Mathew Powers' Picks
Metropolitan Brewing – Roggenbier 
Fermented with Omega HotHead Kveik yeast
Metro's Roggenbier (German for rye beer) resembles the brewery's popular Arc Welder Dunkel Rye, but a little fruitier, which I imagine comes from the use of the Kveik yeast. Whatever the chemistry, the dark Roggenbier hit on an array of notes—fruits, spice, plenty of malt goodness—and went down super easy on a warm, sunny day.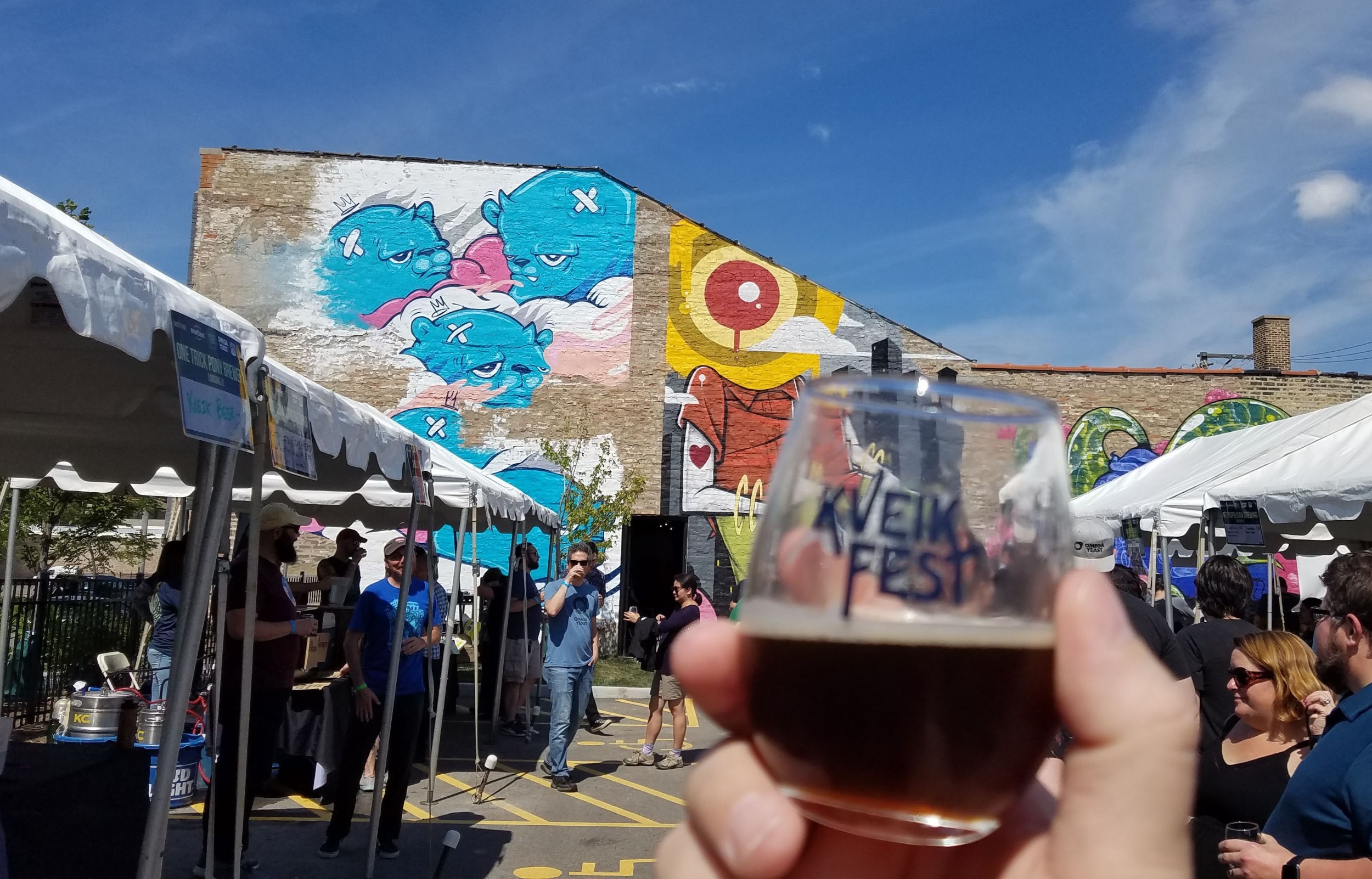 Around the Bend Beer Co. – Proximal Barleywine 
Nine months in rye whiskey barrels
For those that haven't yet taken notice of Around the Bend, Proximal Barleywine may be the beer that finally brings them the attention they deserve. The rye serves to enhance the already fantastic barleywine. It was mentioned as a probable FoBAB entry and so rather than tell you about the beer, it would be better to strongly suggest to you that you try it. It's an absolutely phenomenal barleywine. 
Off Color Brewing (with Allagash, Central State, Side Project & Jester King) -Miscellanea Volume II 
A mix of house Bretts, native yeasts and wild cultures from participating breweries along with an additional laboratory source of Brettanomyces clausennii and Hellbroth cultures from Off Color.
The five-brewery Miscellanea Collection can best be understood by reading Dave Bleitner's blog at Medium.com: "The Miscellanea Collection." Or, one can view the video. In fact, I implore readers to do both. 
But, if process doesn't excite you, the result certainly will. The beer enjoys a veritable bouquet of naturally sweet flavors (no dessert quality here) best described by Off Color as including such flavor characteristics as over-ripe apricots, cotton candy, grapes and "explosive notes of Mandarin orange and tepaché." It also offers a bit of funk, and both beer and wine aficionados will appreciate its dryness and slightly tannic aftertaste. Delicious.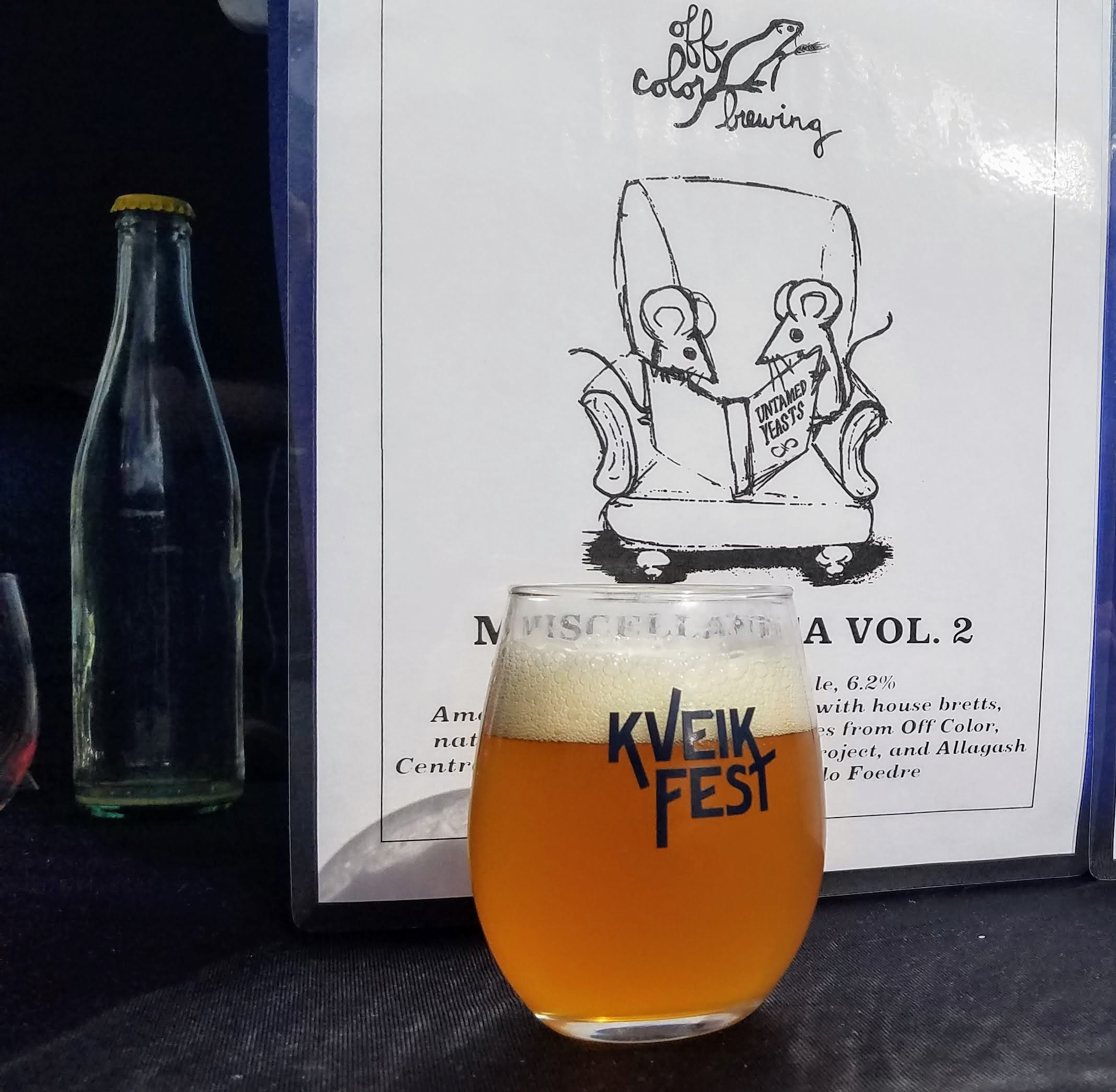 Penrose Nordic – Thunder Brett Blend 
A Wheat Base IPA with pineapple and apricot fermented with Yoss Kveik and hopped with Mosaic and Moutere then back blended with a dry Brett beer. 
Penrose has been a wild, barrel and funky-friendly brewery for quite some time now (and you can have that proven to you at its wonderful Celebration of Funk festival on September 28). The Penrose Kveik beer has a bit of everything for every beer fan: It's part IPA, part wheat beer, part Brett Saison/Farmhouse. But, like a big bowl of chili or stew, each component comes together and the results are a little funky, a little fruity, a little sweet, a little earthy, ultra-refreshing and tasty! 
Hacienda Beer Company – There Is No Other Way
Gin-Barrel Saison with Hornindal Kveik.
Hacienda Beer Co. is an experimental brewing project from the owners of Door County Brewing Co, so it makes sense that using Kveik yeast would be right up their alley. In truth, There Is No Other Way could almost be described as fine mixology given the process of transforming complex components into a sophisticated beverage. And, like any elevated beer or cocktail, it's ultimately the taste that matters and this beer hit it out of the park. 
Jack Muldowney's Picks
Jack is the co-founder of The Hop Review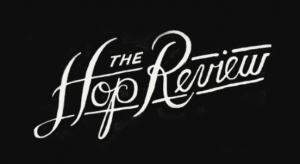 Burnt City

–

Li'l Sparky 
We kicked off the fest with this spritzy lil' guy. The low-ABV grisette from the host brewery was light and effervescent with some notable Meyer lemon all across the palate. Imagine Crystal Light, in refreshing beer form; just a light, prickly, citrus-forward drinker.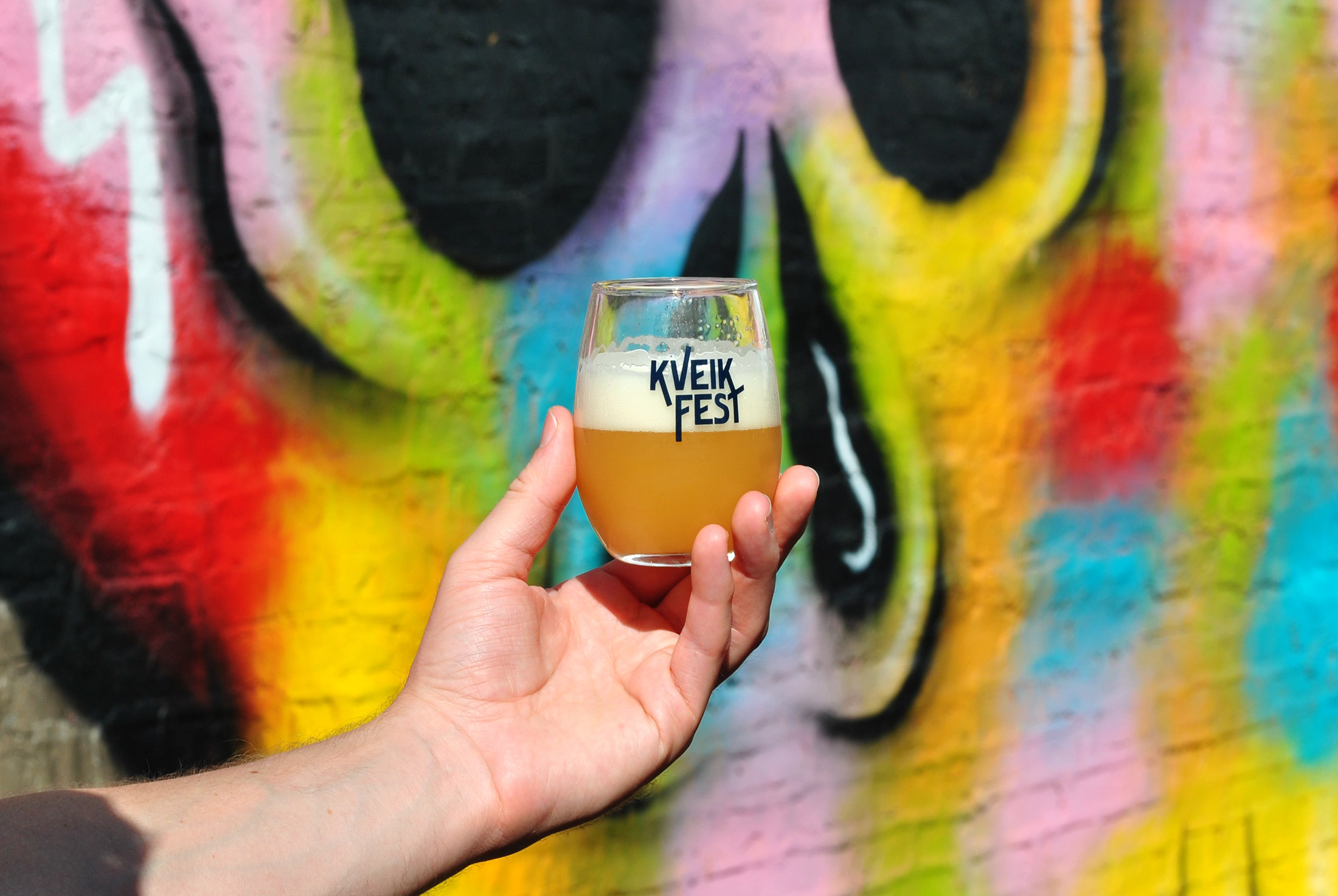 Cinderlands – Squish

 
This one from Pittsburgh's fast-growing brewery was a welcome reset, after sampling a few heftier NEIPAs and barleywines. 'Squish' was liquid melon (is that honeydew??), and a decidedly crushable pale ale that Cinderlands considers their 'House' beer. It filled the Pale Ale void that's been growing more and more lately in the industry, much to our dismay. This one was hopped to highlight flavors of mango, pineapple and sticky pine–with an impressively low bitterness.
Ørkenoy – Gizmø Windjammer

 
Wow, where to begin here? On the nose, this one gives the scent reminiscent of incense. (Is that…sandalwood?) This was by far the most interesting beer we tasted at the event. The soon-to-be brewery out of Humboldt Park managed to pack a ton of flavor into this raw ale. A 'West Estonian style raw farmhouse ale with Sugar Creek Nordic style malt' it was brewed with juniper branches, myrica gale, and Stranda Kveik yeast. It was unabashedly smoky, with a slight melon finish to clean the palate. It was surprisingly smooth, despite its higher ABV and even slight medicinal mouthfeel.
Penrose – Nordic Thunder
This blended beer from Penrose was such a pleasant offering. It had a super soft mouthfeel from its deft addition of wheat and finished with a slight funk thanks to its blending with a rustic Brett-finished ale. All in all, it was a really drinkable and balanced 'IPA' with equal parts fruity (thanks to its pineapple/apricot puree addition) and equal parts funky. As described by the brewery itself, this is one 'snappy little beer.'
Almanac – Strawberry Hopcake 
Strawberry is such a fun addition to many beer styles, because the fruit does a great job of not dominating the palate, and instead of giving off the 'essence' of the fruit in a manner akin to LaCroix. This dry-hopped sour ale from California's praised sour-makers is just light and tart enough to remain refreshing, and satisfy drinkers who 'aren't typically sour beer drinkers', as attested by several folks who were with us at the fest. Considering that this beer is the result of a hoppy IPA that spent some time in oak barrels alongside the fruit, it's no surprise you end up with such a layered, well balanced tart-meets-slightly-bitter refreshment.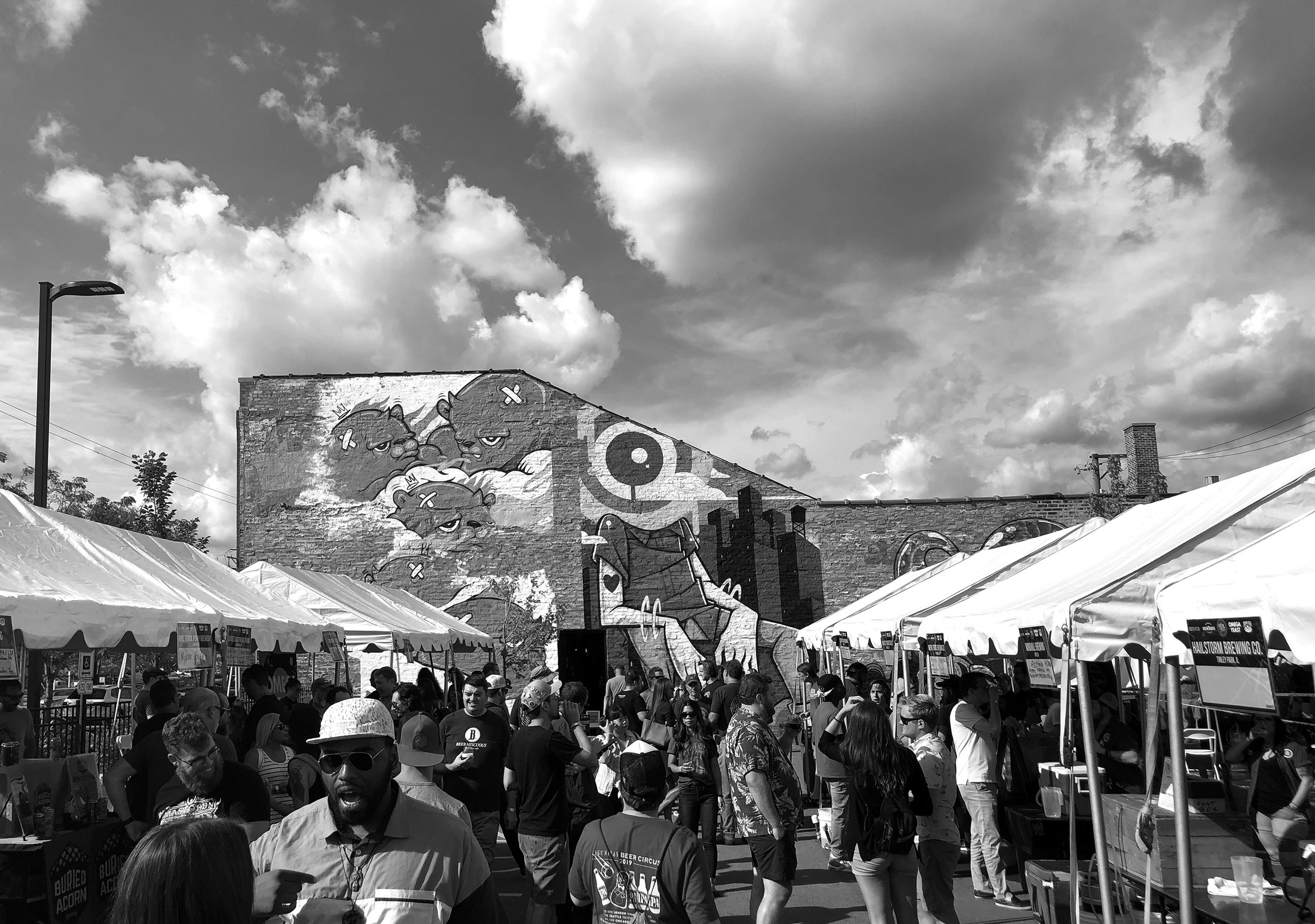 ---