No Comments
Cerveza Zólupez Beer Company | Zólupez Lager Mexicano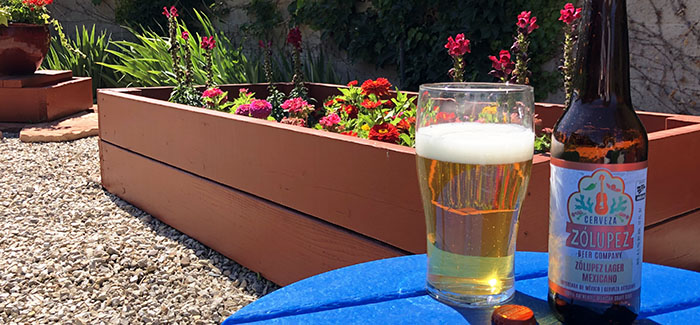 In some ways, Javier Chávez Jr. founded Cerveza Zólupez Beer Company specifically so he could brew Zólupez Lager Mexicano.
Chávez, the son of Mexican immigrants, wanted a beer that paired well with the food served at his parents' restaurants. Even more, he sought to infuse his beers with Mexican culture and tradition while honoring his heritage.
Though he tried, Chávez couldn't find anything in the United States (even with its booming craft beer scene) that consistently checked all these boxes.
Chávez acknowledged that many craft breweries are brewing tasty Mexican-style lagers. But for most, such a beer is often a one-off or a seasonal release. Breweries generally aren't devoting time and energy to creating year-round craft beers that truly represent the Mexican culture.
"I said, 'I'm going to brew that beer,'" he remembered. "A craft beer that pairs with Mexican food, pairs with the culture, honors the (tradition) and speaks to my heritage."
In 2017, Cerveza Zólupez Beer Company became one of the nation's relatively few Latino-owned craft breweries. And several months later, brewing five-gallon batches, the Utah brewery sold its first bottles of cerveza artesanal.
Brewing Lager Mexicano
While Zólupez seeks to honor Mexican culture with all its beers, Chávez took it a step further with Lager Mexicano.
In February, not long before COVID-19 effectively put everyday life on hold, Chávez traveled to Monterrey, Mexico to brew a craft lager that would honor firsthand the Ogden brewer's Mexican heritage. Though Chávez was born and raised in Utah, he holds a deep affinity for his parents' homeland.
Chávez teamed up with Cerveceria Cabrito, an award-winning Mexican craft brewery, to brew an "authentic, legit" Mexican-style craft lager in Mexico.
The result? Zólupez Lager Mexicano.
The beer pours a clear straw with aromas of light bread and a touch of honey. Flavors of baked bread and floral hops (Saaz, Tettnanger) are complemented with a subtle sweet-malt presence (Pilsner, Vienna). At 4.5% ABV, it's a nice, easy-drinking refresher after (or during) a day in the sun.
"We're Very Proud of What We've Done"
Chávez, who earned a law degree from Boston College, worked in advance with officials to ensure the finished beer could be legally and safely imported into the United States and distributed in Utah.
He arrived in Mexico and brewed his recipe. But COVID-19 restrictions forced him to return to the U.S. not long after the brew day. Fortunately, a good friend in Mexico—Chávez's "boots on the ground"—oversaw the fermentation, lagering and packaging.
The Lager arrived in the U.S. not long before the Mexican government closed all non-essential businesses, including breweries, to help slow the spread of the coronavirus.
"We're very proud of what we've done," he said. "It's a very fun project. I love the beer, my family loves the beer."
And now Utah beer drinkers are starting to enjoy Zólupez's crisp lager created by cross-border collaboration.
---