No Comments
Chicagoland's The Open Bottle Expanding to Lockport, Illinois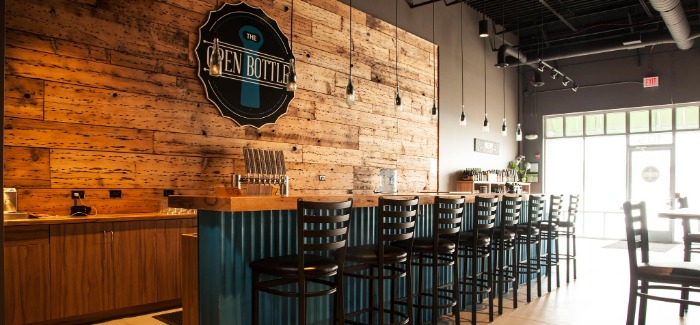 The Open Bottle craft beer shop and taproom in Tinley Park, Illinois, has not only endured the challenges presented by the COVID-19 outbreak but proved successful enough to advance its pre-pandemic plans for opening a second location. This November, work will begin on its second location (a retail-ready store) in Lockport, Illinois, located near the intersection of I-355 and 159th Street.
The Open Bottle opened in 2015 with a relatively novel idea of dually functioning as an expansive craft-focused bottle shop and taproom and offer customers an ability to rapid-chill anything in the place to be enjoyed on-premise. "When we first opened, we couldn't' even go to another bottle shop and taproom to see how to do it," said Patrick Bisch, who founded The Open Bottle with his wife, Julia.
Since then, The Open Bottle has grown into a place that engages in brewing collaborations and regularly hosts big events such as Revolution Brewing Deep Woods release parties and Maplewood Brewing & Distilling Pulaski Pils Day, to name a couple. The shop also exists as one of the select Black Friday Goose Island Bourbon County Brand Stout release locations (in normal years, anyway).
In short, The Open Bottle has made a name for itself and is ready to put that name on a second store."We met with the mayor of Lockport and the landlord [of the new location] at the beginning of February. We actually had plans to open the new location in June, but we received the lease on the same day that [Governor] Pritzker issued the stay-at-home order. All we could think was, 'come on!'," said Bisch.
So, instead of thinking about a second location, they immediately had to — to use the term for the umpteenth time — pivot. "We had to put the plans on pause. We didn't know if the funds we had for the new store would instead have to go towards saving the existing business," explained Bisch.
However, Patrick and Julia worked tirelessly to develop their online store and curbside program, and its resounding success prevented any need to dip into the new-store funds. The only change in plans came with the timeline, changing from a summer opening to a winter one.
The experience gained by turning their unique idea in 2015 into an influential craft beer enterprise has significantly lessened the owners' learning curve in opening a new store. The Lockport location will roughly be the same size, offer the same number of rotating drafts (12), and exhibit their love for craft beer. "We love the breweries in this industry, and we are dedicated to being a part of that," said Bisch.
However, the new place will have one wrinkle: spirits. The new location will offer a limited cocktail program and sell some select spirits. But, think of it as a bonus, not an equal player. "From day one, our mantra has been to stay focused. To do what you do well. For us, that's craft beer, " explained Bisch, a Certified Cicerone. And, like the Tinley location, the store will likely close around 10 p.m. "We are not trying to be a bar with shots being thrown around. We have integrity, and we want to maintain that," said Bisch. He added, "We respect the quality of the products we sell; they are made by quality people."
---