No Comments
Dogfish Head Craft Brewery | Campfire Amplifier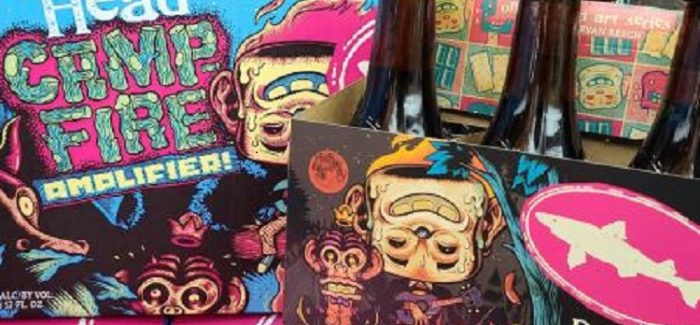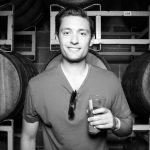 Dogfish Head Craft Brewery has built their brand around off-centered beers. While their IPA often drives consistency in their portfolio, it's the consistent addition of adventurous new offerings that keep their brand fresh.
The brewery's latest, seasonally-inspired addition is Campfire Amplifier, a 6.5% ABV milk Stout brewed with marshmallows, graham crackers, cocoa nibs, cinnamon, Madagascar vanilla beans and a dose of smoked malt. Built to invoke the timeless memories of roasting s'mores over an open campfire, this beer is an ambitious undertaking that appeals to fall flannel-lovers and craft beer nerds alike. 
According to Dogfish Head founder and brewer, Sam Calagione, the idea for Campfire Amplifier wasn't a spur of the moment decision. Brewers at their Milton Tasting Room & Kitchen had been cooking up the idea for more than a year.  
"I specifically remember our brewmaster, Mark, roasting countless marshmallows over the open flame of our Kitchen's outdoor, wood-fired grill to use during our first brewday," recalled Calagione.  "The resulting beer was a big hit among both our co-workers and guests. After all, there's really nothing better than a gooey s'mores sandwich … except maybe a s'mores beer."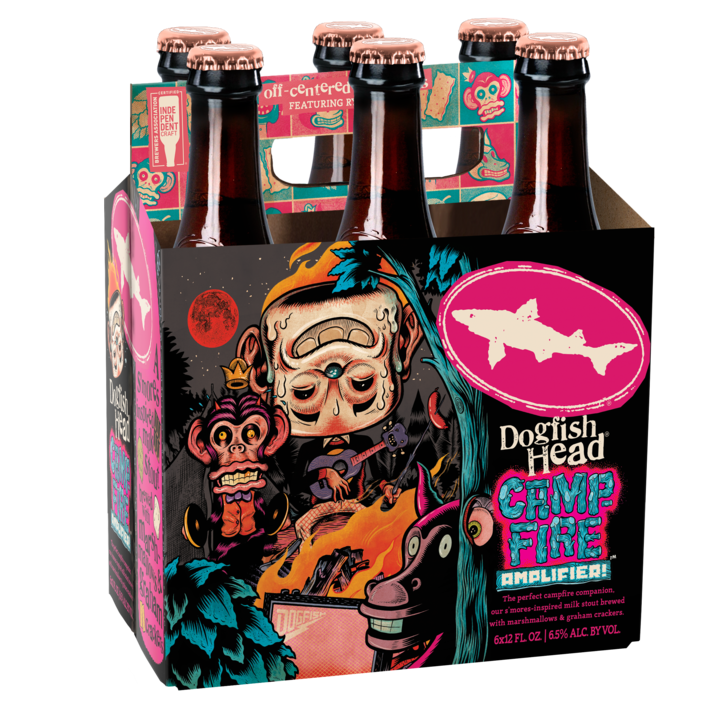 Incorporating strong, flavor-packed ingredients like cocoa, vanilla and marshmallow while weaving in a subtle smokiness is a tough equation to get right. Finding that balance and allowing each flavor to build on the other was the key challenge. 
Campfire Amplifier pours pitch black and settles smoothly with minimal head. After swirling the beer, the initial whiff is dark chocolate with a hint of enticing smokiness mimicking the campfire. On second pass, fleeting scents of cinnamon are also present, mostly in the background.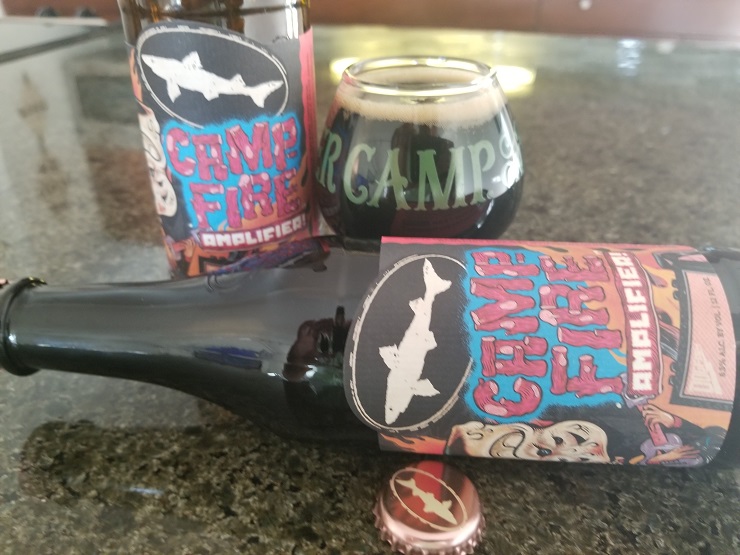 Like many beers, the depths of flavor in this Stout change as the beer warms. On first sip, you get smooth those hits of dark chocolate and a graham cracker sweetness, aided by the creamy milk Stout body. The promised marshmallow and vanilla needed to complete the full s'mores experience are a bit elusive at first, but thankfully enter the spotlight once this one warms up.
The robust melange of flavors in this beer can make it difficult to tease each one out, but Campfire Amplifier exerts such complexity, rounded out by the addition of smoked malt, that it's an undeniably entertaining beer to drink. It's not s'mores in a glass, but drinking one as you eat the real deal around a campfire won't disappoint. 
Campfire Amplifier is now available on taps and shelves nationwide. Check it out if you're the adventurous, Stout-loving type. Cheers! 
Feature image courtesy of Dogfish Head Craft Brewery
---