No Comments
Veterans Bring Military Discipline to Wild Blue Yonder Brewing Co.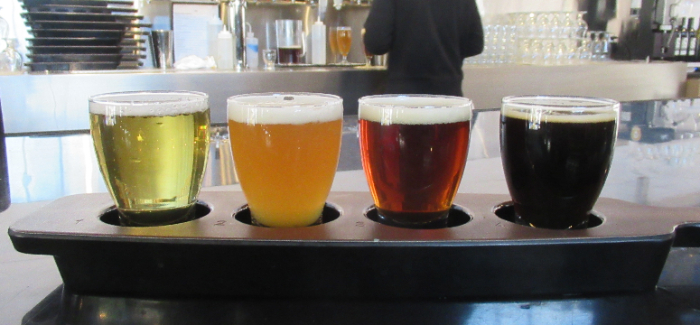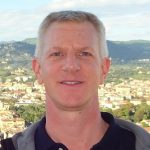 The U.S. boasts a large and diverse number of veteran-owned breweries. With Veteran's Day coming up on Wednesday, Nov. 11, it seemed like a great time to look at why military service provides practical preparation for brewery ownership by checking in with Wild Blue Yonder Brewing Co. in Castle Rock, CO.
Brothers Andrew and Dean Wasson and Andrew's wife Rachel opened Wild Blue Yonder in October 2018. All three served as captains in the Air Force and, between them, have more than two decades of military service.
Located in a historic Victorian house in the Denver suburbs, the Wassons designed Wild Blue Yonder to create a community space for individuals, couples and families of all ages. The taproom features a broad spectrum of beers, a liquor license and a full-service restaurant with unique dishes such as smoked wings and Bavarian nachos.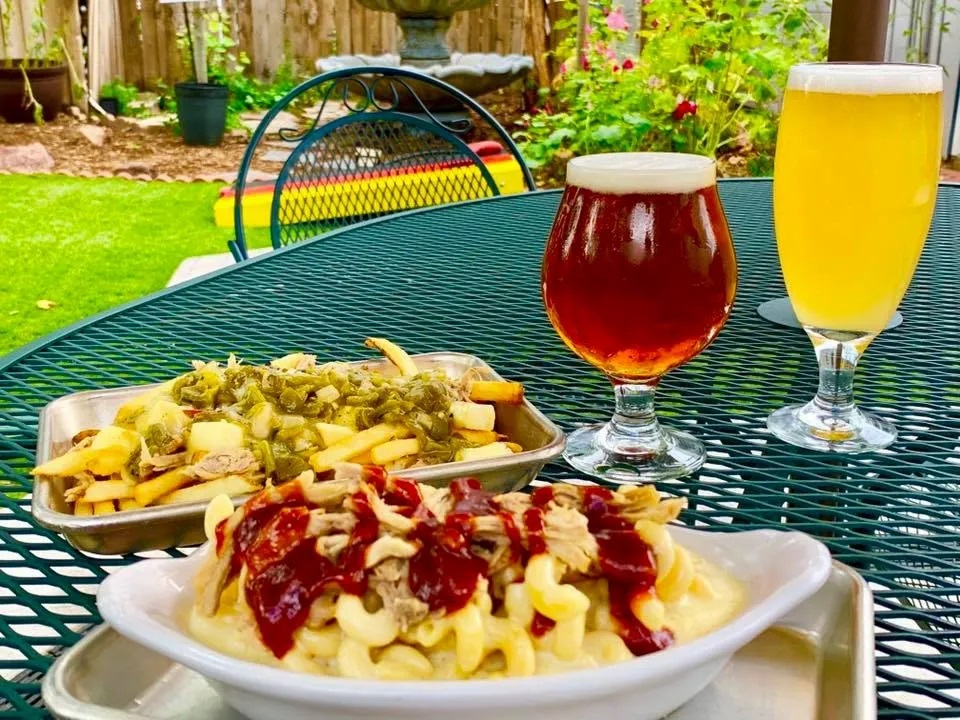 Although the brewery is relatively new, the Wassons' love of good beer goes back a couple of decades. The Wasson brothers discovered craft beer in college and knew it was something they wanted to pursue. "It just blew us away that you can brew your own beer and it's phenomenal," Dean said. Rachel discovered the joys of well-made beer growing up with a military father in Germany.
Getting from a simple love of good beer to a full-service brewpub took teamwork, discipline and lots and lots of patience.
Military Experience Turns Brewery Dream Into Business Reality
After completing their service commitments, the Wassons were eager to realize their dream of owning a brewpub. Their military background gave them the perspective to recognize the importance of allowing time for thorough planning and perseverance. The site selection alone took two years, followed by a year spent navigating permits and licenses and then the inevitable construction surprises.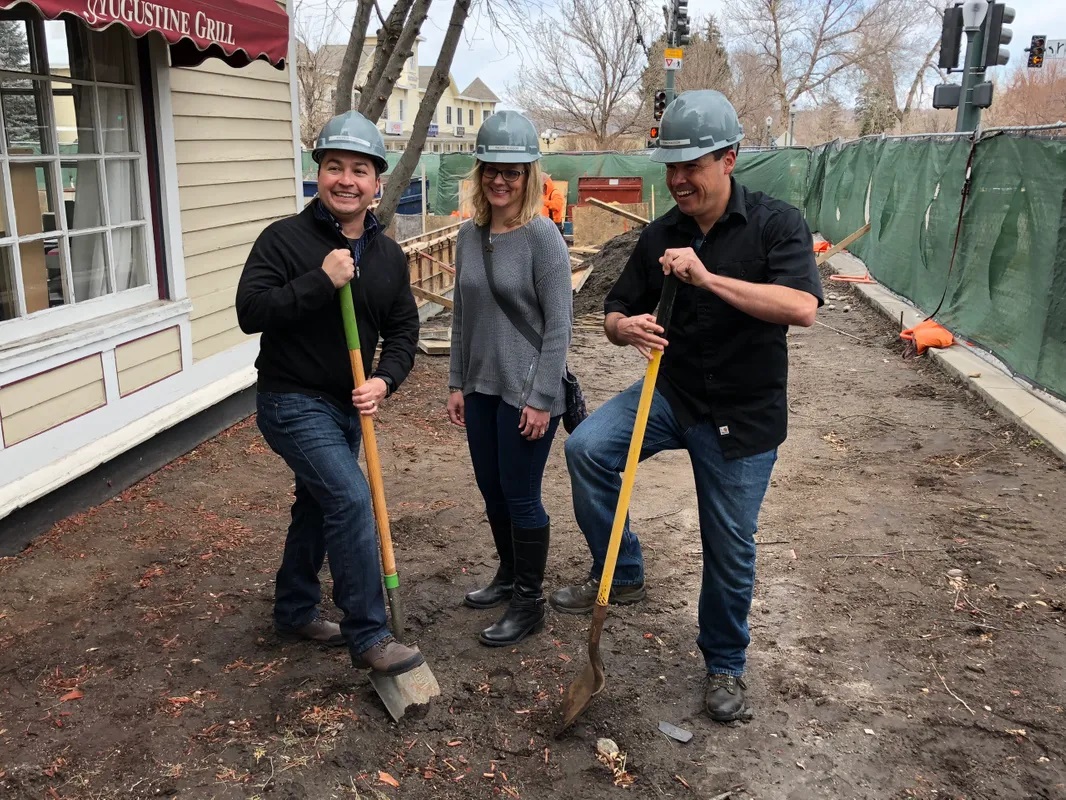 Rachel joked that military service prepared them for the process by teaching them to "hurry up and wait," and explained that they're accustomed to bureaucracy: "Gotta fill out another form."
Dean added, "We knew eventually it was going to happen but the waiting around was the hardest part. Being in the military, waiting in line and doing all that kind of stuff – hey we're used to it."
On a more strategic level, the Wassons learned a critical lesson during their time in the military: Always have a backup plan. In fact, Andrew said, always have a backup to the backup. For example, they used the time waiting for city approvals to further develop the taproom concept and business plan.
Growing, Learning and Improving
Clearly, their discipline paid off because from the grand opening, the business exceeded all expectations. The menu has proven so popular that the Wassons are currently working to double the kitchen size. The unexpected popularity of both the beer and food required numerous adjustments on the fly.
"You're constantly learning from your mistakes and trying to get better," Andrew said, drawing a link between military performance and the brewery's evolution.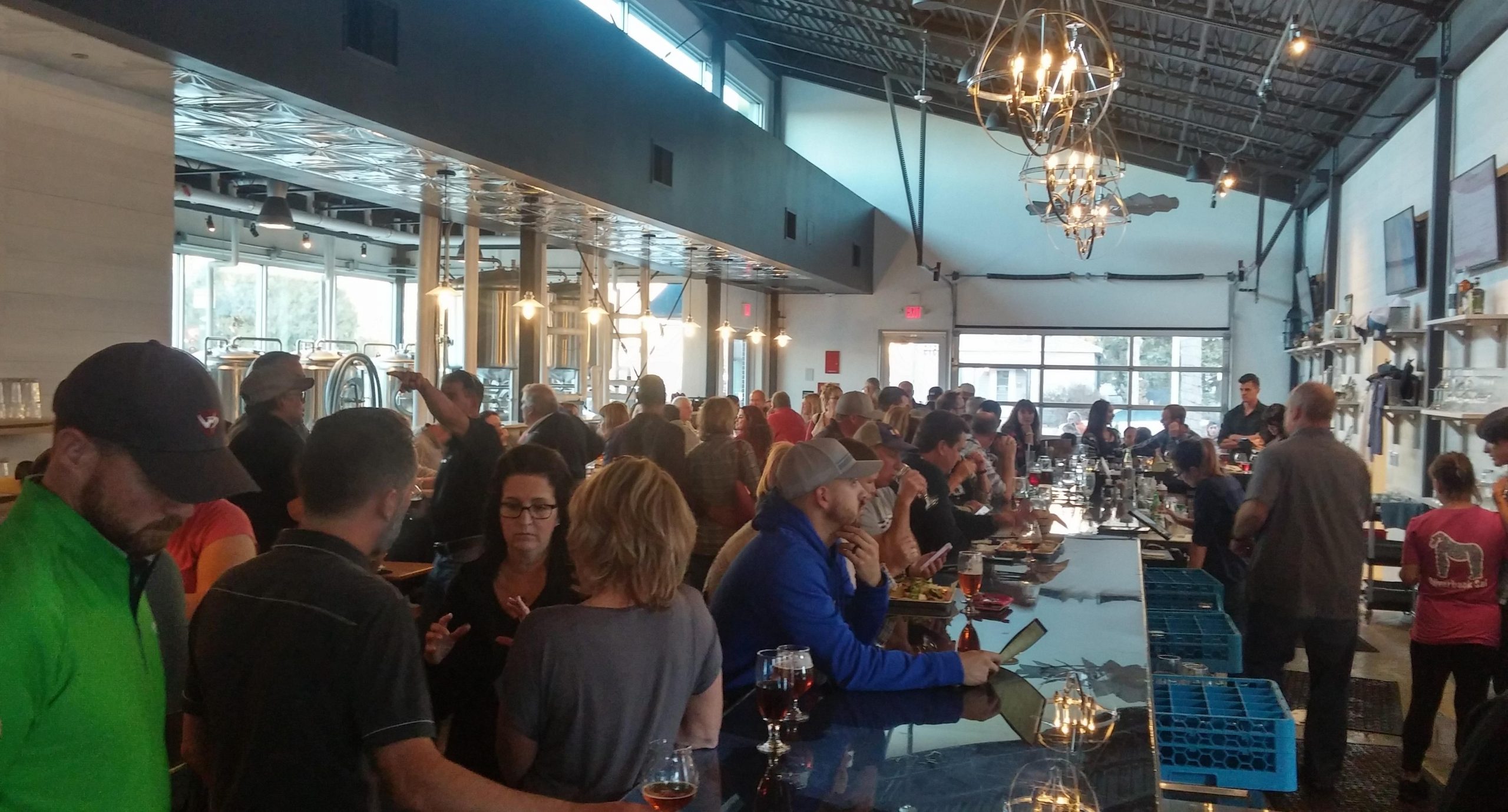 Business continues to grow even in the face of 2020's unexpected COVID closures and restrictions. Summer and fall business has increased over 2019. "We're just trying to keep that momentum going," Andrew said.
By other measures, the venture is a great success as well. In addition to several local awards, Wild Blue Yonder was recognized by Google as a highly-rated veteran-led business in 2019.
Always Have Backup
Backup planning lessons learned in the Air Force also helped secure the business through the pandemic. During brewery planning, the Wassons set aside flexible spaces, including plenty of outdoor seating, so they could adapt to changing customer behavior. This flexibility paid off in the face of government-mandated restrictions and new consumer preferences.
"It was a massive push to patio seating and we were well primed with our location," Andrew said. "It's been the gift that keeps on giving."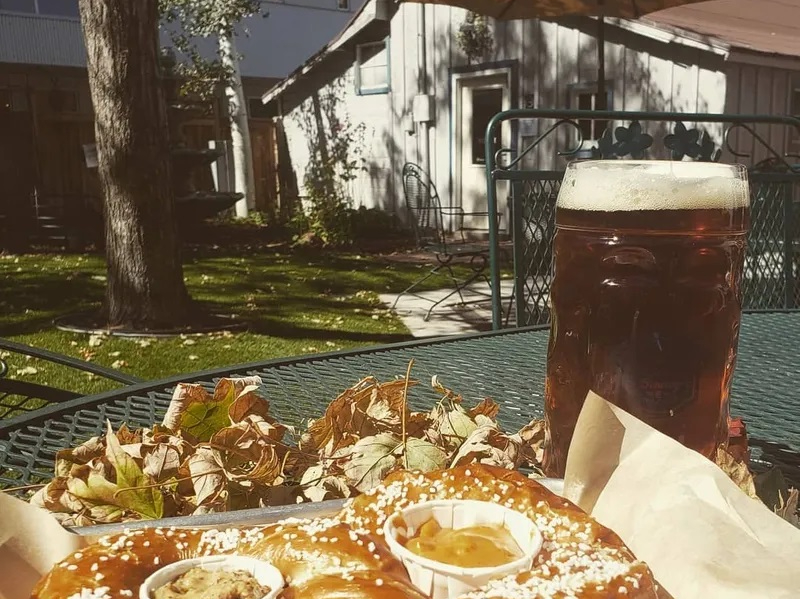 Similarly, the sudden March shutdown threw a wrench into spring beer releases. The team quickly replanned and switched to barrel-aging several of the beers to keep production moving and set something aside for the future. As a result, they've had several indulgent fall releases. One of the highlights is Tropical Storm, a Stout made with coconut, banana, macadamia nuts and vanilla beans aged in South American rum barrels.
Same Family, Different Skills
It helps that the three family members have complementary skills to navigate all facets of the business. Andrew's background in commercial real estate helped them secure and develop the property. In the front of the house, Dean brings his brewing and hospitality background to menu creation, kitchen operations and beer selection. Meanwhile, Rachel put her management consulting background to work. She crunched cost analysis numbers during construction and continues to monitor the growing business operations.
Rachel said that planning for both current and future needs is critical. She explained that a key question to consider is "What's going to work for us longer than today? Sometimes you have to spend a dollar today to get more later."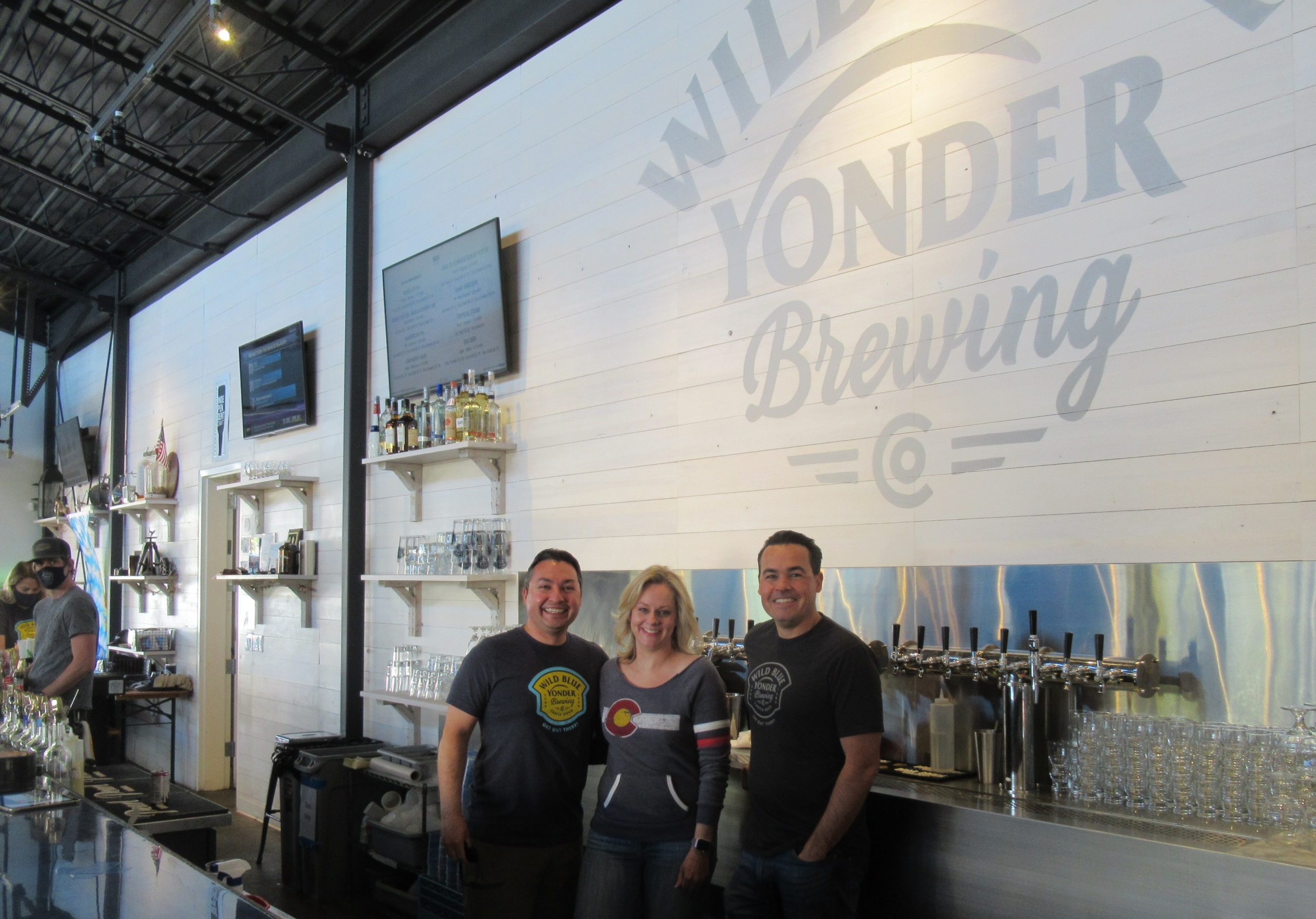 Veterans Rise to the Challenge
Asked why starting a brewery is a great fit for veterans, the Wassons explained that service members push themselves to succeed and military experience helps provide perspective.
"It's a challenge. I think a lot of veterans see a challenge and we take it head on. Just go for it and dive in, make a plan, make sure it's going to work," Rachel said. Andrew added, "I think we've all seen more challenging things in our previous careers in the Air Force so this actually a breeze."
The Wassons view their time serving as giving back to the country along with gaining valuable skills and personal growth. Andrew explained: "The military was basically the benchmark for our success. We would not have been here if we did not have that education and training."
As a veteran, Dean utilized benefits from his service to prepare for success with Wild Blue Yonder's food and drink. He deployed his GI Bill allowance to attend the University of California-Davis for a Master Brewers Certificate. He augmented that with pastry and baking degrees from Johnson & Wales University in Denver.
Service Matters
As Veteran's Day approached, the family reflected on what the day means to them personally. All three of the Wassons have a family history of military service going back generations.
Dean was thankful for those older generations who served as role models.
"I think Veteran's Day is a great day for us to recognize that it's not just the sacrifice that we made," he said. "Our parents, our uncles, our aunts who were also in the military . . . made plenty of other sacrifices to be where they are and we wouldn't be here today if it wasn't for the sacrifices they made."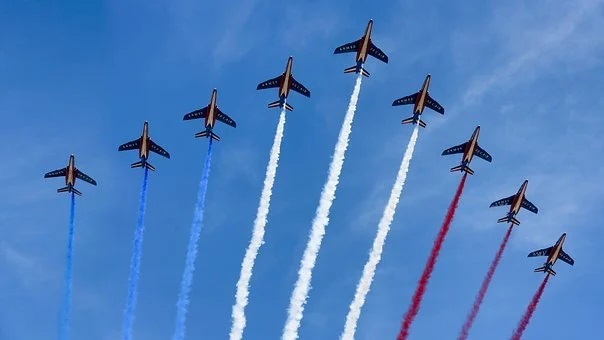 For Rachel, the day is about "doing something that's bigger than yourself. It's a sense of giving back." Andrew concurred, "For me, it's important to recognize folks who have served and have had the courage and the commitment to represent the country."
Making a Difference Locally
Naturally, the Wassons view the brewery as a way to give back to the service community. They focus on locally-based veteran and first-responder charities and often donate proceeds from beer sales to those organizations. They've also hosted charity fundraisers at the brewery.
While Veteran's Day reminds us to recognize and thank those who served our country, we don't need to confine our appreciation to a single day. With dozens of veteran-owned breweries across the country, there's plenty of opportunity to stop in and raise a glass to our veterans–any day of the year.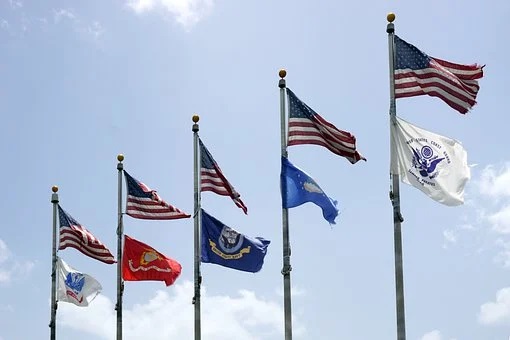 ---