No Comments
Brewery Showcase | Waypost Brewing Company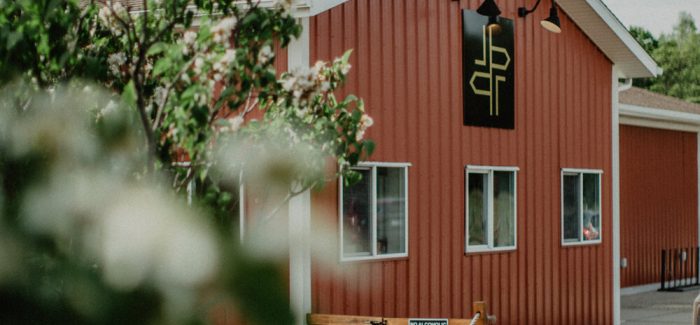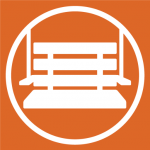 One of the most wonderful things about Michigan, given its vicinity to the Great Lakes, is the multitude of mini climates that make the state ideal for growing grapes, hops, wheat and, of course, cherries. However, despite a great deal of hullaballoo over Michigan cherries, it is far from the only fruit grown in the Mitten State. Mirabelle plums, apples, pears and quince are also grown throughout Michigan's western fruit belt, as well as the luscious and lovely blueberry. It stands to reason, then, that breweries throughout the fruit belt region embrace the blueberry and other fruits as a way to make authentically-Michigan, fruit-based beers from locally grown fruit. Few are more locally grown than Waypost Brewing Company, a farm brewery that prides itself on its ties to the land.

"We define Waypost as a farmhouse brewery, and our beers are created to reflect the place and the people who make it what it is. Whether that's the water, the fruit or the feeling on the farm the day the beer was brewed, we want our product to be a reflection of this truly unique place," said Waypost's co-owner and brewer, Hannah Lee.

Finding the Right Place
When Waypost Brewing Company opened in September 2018, it was the culmination of a seed planted long before, said Lee, a Canada native. She and her partner, Chuck Steinhardt, originally from Grand Rapids, Michigan, met while working as itinerant vineyard hands in southern Ontario. At the time, Lee was in a brewing program at Niagara College, and Steinhardt was studying viticulture and enology at Brock University.
"We had always thought about opening our own house, and right away, we knew that we had to find a location that could a) support both wine and beer and b) inspire us creatively, the way the concept of terroir is central in the winemaking industry. It was important for us to be able to blend both our backgrounds; to have our feet in both the wine and the craft beer world," Lee said. "We searched for a long time to find the right place where we could sink roots into, and when this farm came up on the market, I knew it was the place."

"The place" is a 58-acre farm in Fennville, Michigan, situated in the southern part of the state's fruit belt, approximately one mile east off the shore of Lake Michigan. Tender fruits had been growing there for decades, mostly blueberries, Lee said, but also a strawberries, raspberries and blackberries. They chose to name their brewery "waypost" because of its meaning as a gathering place for travelers.
"It seemed a simple choice at the beginning, as we are literally between two highways," said Lee, "but it's come to mean so much more as we invite more people into this little community we are trying to grow, and the more we learn what this is about."
Lee and Steinhardt got to work, turning a building on the property that was once a farm market and bakery into a brewery and tasting room. The goal, Lee said, was "to invite people to the place where the beer originates, not just where it's made."
The Farm

The origin of Waypost's beer is the farm – its land, its air and everything that it provides. The farm informs everything they do, and no matter what direction they go, it is the farm that grounds them and the beer they make, as well as helping them stand out in a crowd.
"Towards the end of the year, we look ahead to what we want to brew in the coming year, which brands we want to bring back, or experiments to embark upon," Lee said. "We always return to our farm as an anchor. There are hundreds of breweries in Michigan, and so many of them doing great things, and it can sometimes feel easy to slip into the crowd. And of course, there's the race to chase the next new thing, which can also feel tedious. So we always try to focus, and come back to the farm, and let that inspire us and direct our product."

Much of Waypost Brewing's focus falls on the use of fresh ingredients in their brews, but the ingredients often influence the beer as well.
"For example, this year, the Thai basil came up really strong in our herb garden and that was the starting point for our Blueberry-Basil Sour," she said. "It's a provisional way to brew – using what we have on hand, what's in season, what the farm is producing at any given time – which is such a farmhouse approach to brewing."
Fresh ingredients allow the brewery to be more experimental, but it's the seasonal edge that allows Waypost to craft beers with precision.
"Seasonality is important to us too – as a tender fruit farm, in the fruit belt of Michigan, we are lucky to have such an abundance of high quality, ultra fresh ingredients to brew with, as long as you can respect the season. For example, for our annual release, the Blueberry Porter, we handpick the fruit just before it is totally ripe. For this beer, the touch of acidity from the fruit balances out all the malt layers. For jams/jellies/pies, you might want to wait a little longer. Timing is everything."

The yeast used in Waypost's beers is found on the farm as well, with Lee often "dabbling in mixed and wild fermentations."
"We use yeasts found on the property, or on the fruits themselves. We recently released Bramble, our wild-fermented blackberry beer, which utilized native yeasts on the berries. Earlier this year, we released a Bière de Coupage, which was a mixed ferment with saison yeast and wild yeasts," she said. "We create recipes around how an ingredient can best express itself, how we can present an ingredient in a way that it complements others, and really work to enhance the overall product. I think of yeast no differently; how can we create the conditions for something to develop into the best expression of itself?"
Lee said the true star of her farm is the most important of all ingredients: water.
"As a brewer, I feel it necessary to note that our farm provides us more than fruit and botanicals. We are fortunate to pull truly delicious water from our well. I know most people make a big deal of hops, grain, or other ingredients (don't get me wrong, they are important!), but for me water is the foundation of it all. It was the first thing I tested before we made an offer on the property. We don't change or strip down our water, we use the naturally occurring mineral profile of the water. Seasonal shifts are welcome and worked with, as it is a way of expressing where the product was made."
The Community Cycle
While most of the fruit and aromatics that go into Waypost's beer are grown onsite, anything they don't have is found locally.
"If there's something we want, but don't grow ourselves, we know there's a neighbor who does. We've sourced peaches, cherries, flowers and more from nearby farmers. And I don't think this needs to be said, but Michigan's reputation as a hop-producing state is also growing. We purchase all our hops from Michigan suppliers and are working to source grain from a local maltster as well."
There are many challenges to running a farm brewery, but it appears that Lee and Steinhardt have turned any issues into opportunities to be good citizens.
"Being on a farm, it's necessary to think more about our resources and the full cycle of processes  than we might if we were located in a city or an industrial park. For instance, our water – which I mentioned comes straight from the well – is used in the brewery for a variety of tasks, not a small one is cleaning. We then treat the wastewater to the point where we can use it for irrigation of our fields. It's second nature now to think about how much and how we use our water, the chemicals we use and the efficiency of all production processes. Groundwater quality is critical to the functioning of this brewery, and we are careful to preserve that precious resource.
"And then of course, our spent grains are highly sought after by anyone with a small herd of livestock. So far, we have had the pleasure of feeding cattle, buffalo, pigs, goats and chickens with our spent grains. There was a batch of spent grain that went to the resident deer, but that was due to a scheduling mix up."
The Beer

In addition to its Blueberry Porter, Bramble and Blueberry-Basil Sour, Waypost makes a wide range of beers, including Sea Salt Stout, Farmhouse IPA, and a house Lager done in a Zwickelbier style.
"Our core beers span a pretty wide range of flavors, and it is a good jumping off point for anyone wanting to know what Waypost is about," said Lee.

Of course, no farm brewery would be complete without a Saison, and Lee wouldn't have it any other way. She describes her classic Saison, always on tap, as "dry dry, a little white pepper, soft wheat character and a spritzy little number."
"Saison is my true love. It's the quintessential farmhouse style beer. It's a Franco-Belgian style, traditionally brewed to be enjoyed by farmhands after a hard day's work. This is a light bodied, highly effervescent, dry, food-friendly beer. Super crushable. It was brewed with the ingredients on hand, considered a provision, and typically uses a very expressive yeast strain to drive its unique flavor," she said.


Like most breweries, as the days shorten, Waypost's line darkens as well.
"This time of year, we find ourselves favoring anything with a little more malt character, slightly more body, a touch roasty," said Lee. "We currently have a dark beer lineup I'm pretty proud of, which includes a Schwarzbier, a creamy Blueberry Porter, and Imperial Brown Ale conditioned on hazelnuts and of course, our mainstay, the Sea Salt Stout."

Although they'd eventually love to one day make wine, Lee said right now they'll stick with what's brought them success.
"The focus here is beer! We hope to produce wine in the future, since both Chuck and I worked in that world in a past life, but for now, it's about the beer."
Changing Focus

Waypost Brewing has not been immune to the effects of COVID-19. Michigan has shutdown indoor dining twice in 2020, and for many business, that isn't great for the bottom line. Just as many breweries have done, Lee and Steinhardt have had to adjust their business model to work for the current climate.
"It's been a challenging year to say the least, particularly as we're a small and young company. The pandemic has called us to change up our business model towards take-out and distribution, develop our online presence, and really strive to create a safe and relaxing environment for all when tensions can sometimes be high," Lee said. "Running a small business in the times of COVID can feel like we are asked to move twice as fast, jump twice as high. On the bright side, we have learned not to take certain things for granted, and to adapt, to change, to grow, and I think it's brought our small team closer together — in a safe, socially distanced way, of course!
"In the early days of this second shutdown, I guess we can take some small comfort in knowing that we were able to be resilient through the first shutdown this spring, and though there are still a LOT of unknowns out there, we are going into this knowing at least a little more than before."
The good thing, for Michigan beer lovers at least, is that switch to distribution.
"Michigan readers: look for us on shelves near you! Like many other breweries, we are focused more on distribution than before. We currently self-distribute within the West Michigan area, and that little footprint is steadily growing."
Gathering

No on-site dining, no meeting in groups larger than 10 and safe social distancing means it's impossible to do events anywhere right now. For the folks at Waypost, that can be a bummer, but Lee looks forward to the future rather than concentrating on what can't be done in the present.
"Ah, we used to do those things called events," she said. "We enjoy hosting anything that encourages folks to go play outside, but it seems like a challenging season to be doing things like that, with all that's going on in the world today. We do miss our gatherings, our live music, our little festivals and fêtes, and look forward to the day when that's within reach again."
When that's in reach again, someday soon, one thing is very clear. Waypost Brewing Company just might be the perfect spot to start your travels.
"The archaic meaning of the word 'waypost' is a gathering place for travelers on a journey. Although we are all, somehow, on a journey of life, when we are able to travel again, when we are able to gather again, I hope that people who love a straightforward, well-made, thoughtful beer in the warm company of good people can swing on by to the farm. We'll have a spot at the table for you."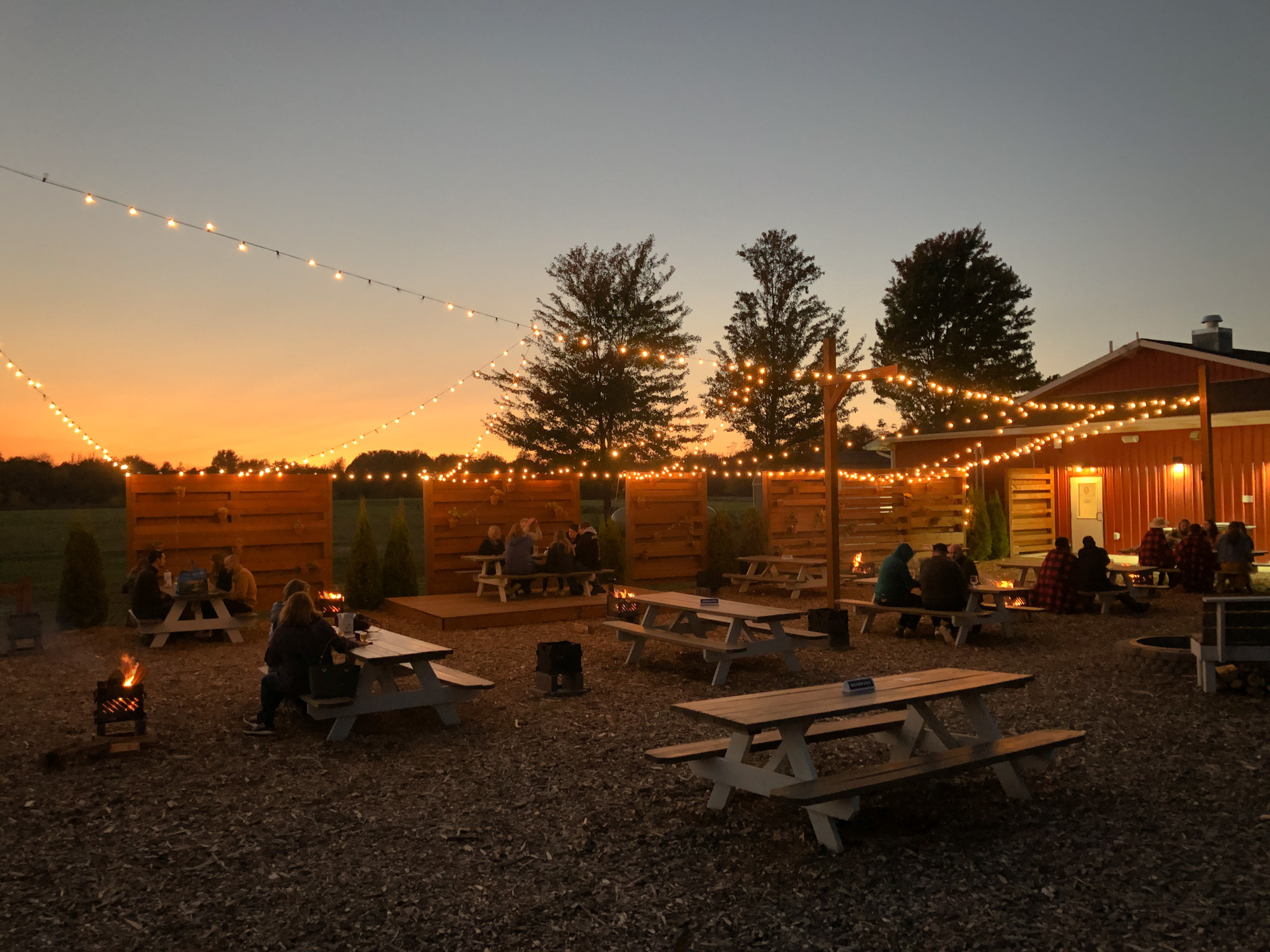 Images courtesy of Waypost Brewing Company.
---