No Comments
Sour Series: Urban South HTX & Imprint Beer Co. | Spilled Schmoojee Fruited Sour Collaboration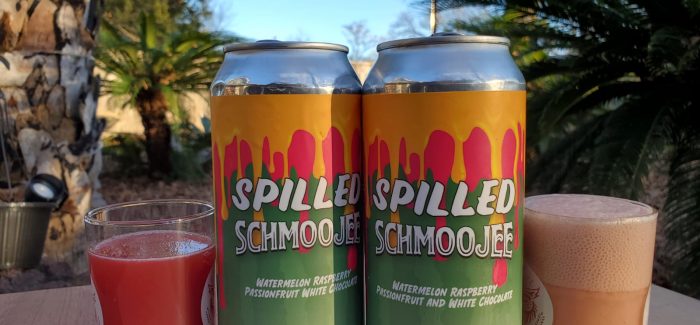 Texan Fruited Sours tend to fly deeply, almost suspiciously under the radar. Not because we're not proud of them – on the contrary. The truth is that they are so lip-smacking-tasty that we want to keep them all to ourselves. Choosing just one Fruited Sour from a truly dizzying array of outstanding options was a small challenge in itself, but when we heard about new kids on the block Urban South HTX's ultra flavor-dynamic collaboration with Pennsylvania's Imprint Beer Co., we heeded the call. Spilled Schmoojee was the result of their collaboration.
NOLA's Urban South Brewing opened their HTX 'research and development' taproom last February, just before the pandemic hit, but their strong brand presence and hugely popular Spilled Fruited Sour range, available only in Texas, have worked to successfully see them through the past 11 months. Urban South jumped straight into the Texas Fruited Sour market with a smashing high game that's allowed them to quickly establish their place in a competitive local scene. The Spilled Fruited Sour series is known for its clever, sophisticated flavor mash-ups and rich, full-body — there's nothing half-hearted about these beers, yet they evade the trap of overwhelming sweetness or undrinkable heaviness that can beset less experienced brewers. Their moreishness is at the heart of their success.
The connection with East Coast Fruited-Sour-scions Imprint began online. "We share a lot of the same beer fans, so we figured we should reach out. We sent them a package of beer and they did the same to us.  We both really seemed to enjoy what the other was doing so we set up a call to just get to know each other, but before we knew it we were talking beer, and then the collab and the beer itself all just came together from that conversation" says Urban South HTX General Manager and Brewer, Dave Ohmer. The fit feels very natural. Ohmer agrees, adding "It was really one of the easiest collabs that have ever come together for us, we shared a lot of the same thought process behind the ingredients we were discussing so before we knew it we had a beer to brew". Imprint's highly regarded Schmoojee Fruited Sour series shares similar creative and qualitative heft to Urban South HTX's Spilled beers, and the names neatly fit together to create the Spilled Schmoojee.
View this post on Instagram
While the ingredients list – an equally mouth-watering and eye-opening combination of watermelon, raspberry, passionfruit and white chocolate, was shared by both breweries, each worked their unique magic to create two beers that, like siblings, blossom in their difference as much as their similarity. Urban South HTX's beer lands a gorgeous pastel baby-pink, thick and frothy as a milkshake to the eye, but light and gluggable on the tongue. The full, creamy white chocolate flavor takes the lead, with the raspberry and watermelon forming a smooth juicy undertow with an occasional hint of bright passionfruit. Imprint's deep ruby red version kicks off with a rich and intense hit of raspberry puree, underpinned by crisp refreshing watermelon and zingy-tart passionfruit. The white chocolate builds slowly as the can settles, ending on top of the fruit flavors like a layered trifle. Equally delicious and complementary to one another, enjoying a vertical tasting of these beers was a very special treat.
The balanced sweetness and firm but supple body of both beers allow them to fully showcase the clever, imaginative flavor profile at work. This is a brilliant example of the way that breweries have collaborated effectively during the pandemic, and how reaching different results from the same jumping-off point can be a win for everyone. Happily indulgent, these are Fruited Sours you don't need to worry about sharing – polishing off a full-pint can is not going to be a problem.
---