No Comments
Women in Beer | Apocalypse Brew Works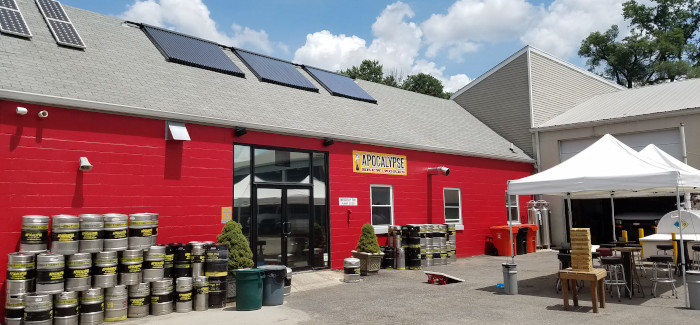 Apocalypse Brew Works in Louisville, Kentucky, has been preparing for the apocalypse since it first opened in 2012. The brewery's name came about from a brainstorming session with co-founders Leah Dienes, Bill Krauth and Paul Grignon. All the good regional names had been taken and they were struggling for a name that would stand out. Seemingly out of nowhere, Krauth brought up "that end of the world thing." "You mean, the apocalypse?" responded Dienes, who happened to have a label in her pocket she had designed for a humorous beer label competition at the Kentucky State Fair. She had made a zombie-themed label for a beer called Apocalypse Pale Ale. Realizing that it was prime fodder for coming up with all kinds of unique beer names, they decided they had a winner.
Sustainable Brewing for the Zombie Apocalypse
The serendipity continued once they located a spot for a brewery and taproom. Krauth, an HVAC specialist, had some extra space at his business, located in a mixed-use industrial/residential area. Because of the security needed for the expensive equipment housed there, the area is surrounded by a chain-link fence with razor wire. Krauth employed his knowledge in plumbing and HVAC to design and build all of the brewery's plumbing systems, and to install solar water heaters on the roof. Lots of beer, well-fortified and able to operate off-the-grid … the perfect spot for riding out the apocalypse.
The reduce, reuse, recycle ethos has continued to fuel the brewery's operations. They pre-heat their brewing water using the solar panels on the roof, repurpose their grains as cattle feed for a local farm and recycle/reuse what equipment they can. This includes constructing the taproom bar and other furniture from lumber and items leftover from renovating the former warehouse they're housed in. The brewery uses steam-jacketed mash kettles from 1969 that they ordered for cheap off the internet, cleaned up and welded into brewing equipment. The fermenters are on wheels so they can be wheeled in and out of the cooler when switching between lagers and ales.
Pink Boots for Surviving the Fallout
Apocalypse Brew Works is headed (both as the owner, along with Bill Krauth, and head brewer) by Leah Dienes. Being a woman who owns a brewery shouldn't be a "thing," and for Dienes, it isn't for the most part. "Being a female brewer and brewery owner has mostly been a pleasant surprise for people when they find out," said Dienes. "Our brewing community has always been accepting and in professional situations, even more so," she added. "With the accelerated growth in breweries in general, the fact that more women are involved makes it less of a 'thing,' though the percentages are still small and even smaller on the production side." To help these percentages rise, Dienes, along with a number of other female industry professionals, is a member of the Pink Boots Society, an international nonprofit which supports women working in the brewing profession.
View this post on Instagram
When it comes to customers, it brings out curiosity more than anything. "When I tell folks that I'm the brewer and partner at Apocalypse Brew Works it's always positive and garners a lot of curiosity of my brewing history and how I got into the business," said Dienes. Her decades-long history as a brewer is something she always enjoys discussing. Prior to starting Apocalypse, she was an award-winning homebrewer for more than 17 years, having won local, regional and national awards. She is also a National Beer and Mead judge in the BJCP (Beer Judge Certification Program) and a professional beer judge for national competitions such as the GABF (Great American Beer Festival).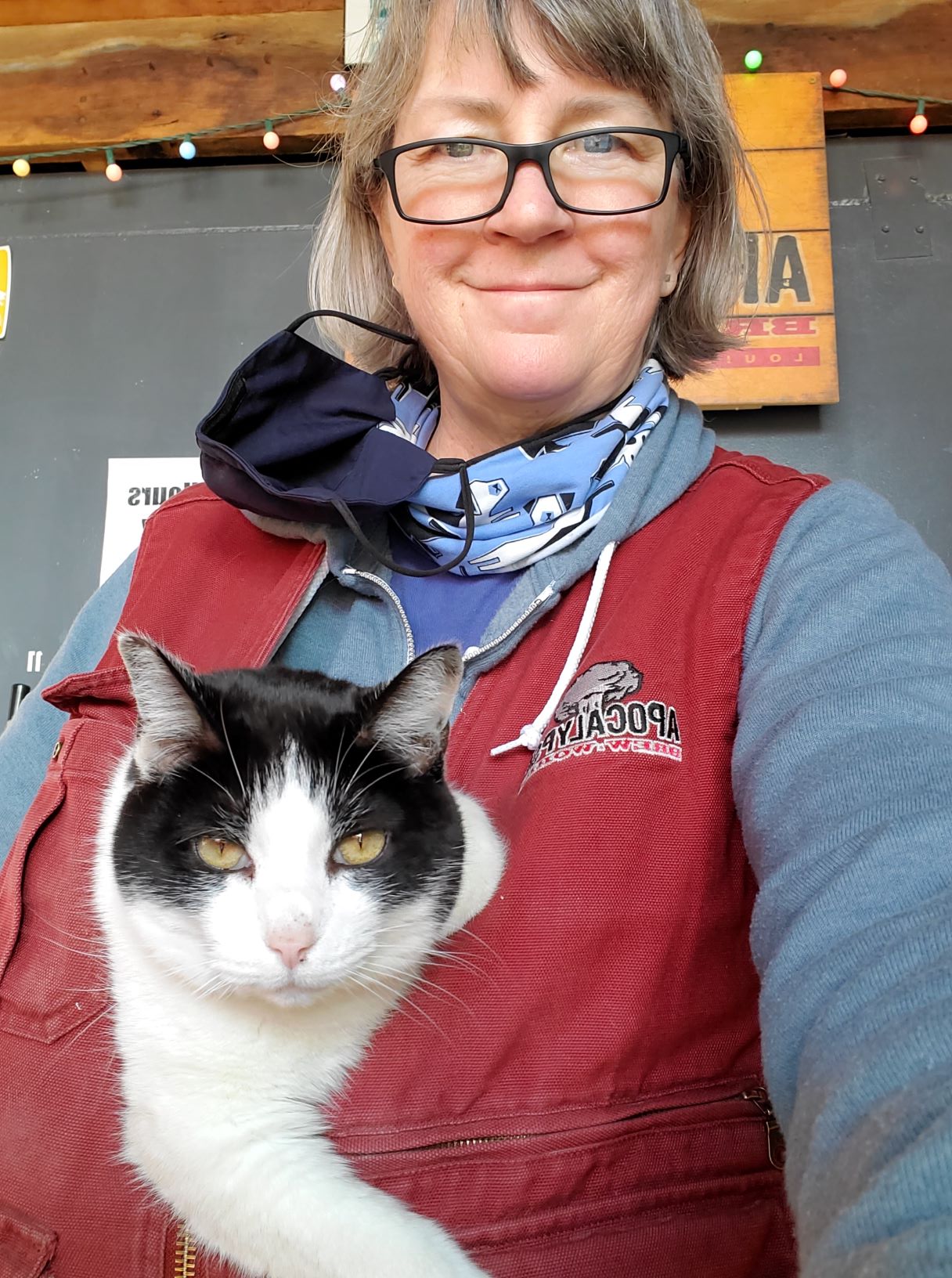 A Healthy Helping of Apocalyptic Beers
Although she and her co-brewers brewed many styles of beer over the years, the top three sellers at Apocalypse Brew Works are:
Apollo IPA — Because, IPA.
Fallout Dust — A light-drinking ale with a peppering of peppercorns to please your palate.
Cream-ation – An American Cream Ale.
Their rotating tap consists of a number of seasonals and special brews. Watermelon Crack, a light, refreshingly fruity drinker, is extremely popular during the brutally hot Kentucky summer months. For the colder months, they have dark, malty beers such as Irish Red Rapture, Pestilence Porter and Sunspot Stout. For the gluten avoiders, they have the gluten-free O'Danny Pivo.
Dienes and the crew have also delved into historical beer brewing. One that they brewed with the help of local beer historian Conrad Selle is a Kentucky Common Ale, a near-lost style unique to the region that had died out after Prohibition. Fortunately, thanks to Selle, they had access to the original logs from Oertel's Brewery, an early Louisville brewery run by German immigrants. The meticulous notes the German brewers kept helped to ensure they were brewing a beer that was a near clone of the original.
Surviving the Current Apocalypse
Despite all of the uncertainties brought on by COVID-19, Dienes is optimistic about the future. "Craft beer in Kentucky has been steadily growing the past nine years, even during the pandemic," she said. "The future for beer in Kentucky is bright!"
Due to the small size of the Fallout Shelter taproom, Apocalypse Brew Works responded to Kentucky governor Andy Beshear's issuing of restrictions on indoor dining during the COVID-19 crisis by moving to outdoor-only seating and opening seven days a week rather than three. Due to their large outdoor seating area, there is plenty of room to spread out. They are also currently building a larger indoor taproom and are planning to start canning their beers, apocalypse be damned.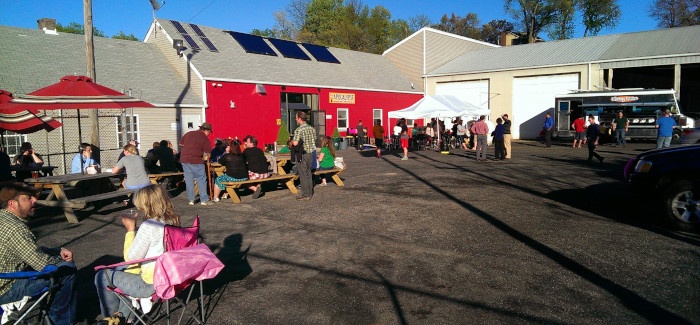 ---