No Comments
Queer Beer Festival Q&A with Grace Weitz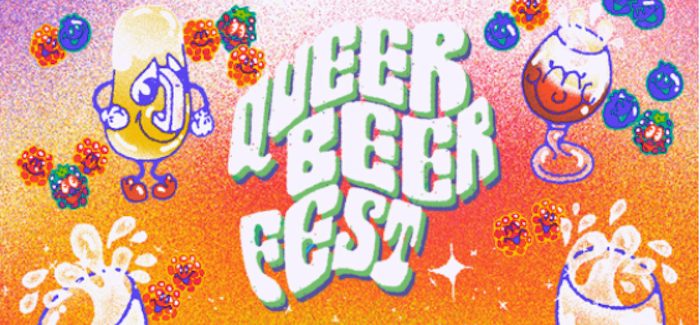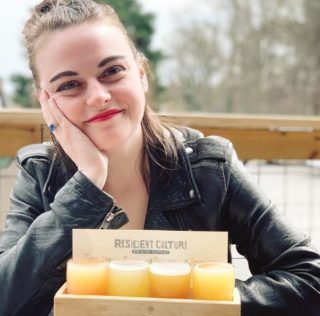 Many groups in the craft beer industry are underrepresented, including the LGBTQ+ community. When Grace Weitz of Hop Culture let PorchDrinking know that a Queer Beer Festival was launching this year after the success of the Beers With(out) Beards festival, I knew I had to chat with Weitz to learn more about the festival and what sort of virtual events we can expect. The festival will be held on June 5, 2021 and tickets can be purchased here.
PD: What is the Queer Beer Festival?
Grace Weitz: The Hop Culture x Samuel Adams Queer Beer Festival is an evolution of Hop Culture's women in craft beer festival: Beers With(out) Beards (BW[O]B). In 2018, I launched BW(O)B as a part of my graduate school thesis capstone project at NYU. Over the last three years, this revolutionary festival has attracted more than 3,000 attendees and 50 women-led breweries. In the same period, the event has featured 30 events aimed at celebrating the achievements of women across all aspects of the alcoholic beverage industries.
Building on the success of BW(O)B, l conceptualized Queer Beer as a way to celebrate the unique, vibrant, diverse, thriving and often underserved queer community in beer. As a queer woman myself, I want to showcase LGBTQ+ drink makers and tastemakers, express stories of empowerment from top queer-owned breweries or breweries actively supporting the queer community, and build a stronger culture of inclusivity in the beer industry.
Most importantly, I hope that we can make a tangible difference, using our platform of craft beer to create ripples of cultural change across the entire queer spectrum. For this festival, we're donating a portion of the proceeds from every sale to a specific LGBTQ+ organization (at this time I'm not officially allowed to announce our partners to the public yet) and we've collaborated with several partners to create festival-specific merchandise that will go on sale in May with all of the net proceeds from the limited-edition merch going to GLAAD, a fantastic organization rewriting the script for LGBTQ+ acceptance by tackling tough issues to shape the narrative and provoke dialogue that leads to cultural change, and other LGBTQ+ organizations.
Starting at noon EST on Monday, April 5, 2021, you'll be able to purchase a ticket to Hop Culture x Samuel Adams Queer Beer Fest that includes a box of 10 craft beers from either specifically queer-owned breweries or breweries that have demonstrated a dedication to supporting the LGBTQ+ community as allies such as Lady Justice Brewing Co., Bow & Arrow, Marz Community Brewing, Almanac, Collective Arts, New Belgium, Samuel Adams and more. Plus, you'll also get access to an entire day of live stream programming — we're featuring a virtual cooking class with a queer chef, a panel on LGBTQ+ and BIPOC pioneers in craft beer, an artist gallery featuring four queer artists and more. All digital content (including tastings, panels and workshops) will be accessible to anyone and will be aired across YouTube on June 5, 2021.
View this post on Instagram
Was this a natural next step from the Beers With(out) Beards festival?
With BW(O)B we wanted to give a voice to what we saw and what the statistics have painted as a minority in a predominantly male, white craft beer industry. Similarly, with Queer Beer we're aiming to build a foundation and a platform for the queer community–an often unrepresented group in craft beer–to shout from the rooftops our amazing and colorful achievements and to come together to claim a safe queer space in the industry.
Who is involved in the Queer Beer Festival?
Before reaching out to any breweries, we developed criteria to follow that we felt would best speak to our mission to create a platform for the queer community in the craft beer industry. To be considered for this fest, breweries had to fit in one (or more) of the following categories:
Queer owned and operated – breweries owned by queer folks or breweries with queer folks in prominent leadership positions
Breweries making Pride beers that directly donate the proceeds to organizations that support the queer community
Breweries with robust diversity, equity, and inclusion programs and with a commitment to social justice work and the LGBTQ+ community.
For this event, we wanted to recognize breweries that are queer-owned along with breweries that may not be specifically queer-owned but are still creating incredible change in the community and supporting LGBTQ+ organizations. Together, each of these queer-owned and queer-supporting breweries are integral to moving the conversation of inclusion, equity and justice forward in our industry–breweries such as Samuel Adams, which joined us as our presenting sponsor for our inaugural year. Samuel Adams is not only one of the world's leading independent craft breweries, but is also a long-time and passionate supporter of the LGBTQ+ community. Because of this, they made the perfect partner for our new event. Likewise, an inclusive network of Samuel Adams and Boston Beer Company coworkers, aptly named Labels Out, recognized the importance of the festival as part of their ongoing mission to support and encourage their peers as members and allies of the LGBTQ+ community.
In 2020, Samuel Adams announced its partnership with GLAAD, including a $100,000 donation to the organization committed to rewriting the script for LGBTQ+ acceptance in addition to a commitment to education and training for coworkers. The brewery launched Love Conquers All, a Pride platform created in partnership with GLAAD, inspired by Love Conquers Ale, a blackberry basil lime Gose limited release brewed by and for the LGBTQ+ community. To introduce Love Conquers All, Samuel Adams created a powerful video series called Poetry of Pride, to illustrate the power of poetry as a medium and expression designed to unite communities and amplify voices. Filmed inside the historic Stonewall inn, the series featured original poetry written by Teddy Geiger and Richard Blanco, recited by notable Broadway members of the LGBTQ+ community.
All in all, Samuel Adams has made huge strides to support the queer community and Hop Culture is honored to partner with this revolutionary brewery as a presenting sponsor for its Queer Beer Festival.
What do you hope to see come out of this event?
Like a well-crafted beer marries a slew of different ingredients to create one fantastic pint of liquid, the queer community is equally made up of a colorful palate of vibrant voices, experiences, stories and people. With Queer Beer we want to create events that showcase these LGBTQ+ drink makers and tastemakers, unify the craft beer community, enjoy beer from queer-owned breweries or breweries actively supporting the queer community, express stories of empowerment and success in queer beer culture and respect differences in the industry. Much like BW(O)B has been a foundation for women to connect around drinking and working in the industry, I'm hoping Queer Beer will be an event that creates spaces for authentic queer representation in craft beer.
Again, most importantly, I hope that we can make a tangible difference. In addition to donating a portion from every sale to Transgender Law Center, the largest national trans-led organization advocating self-determination for all people, we've also created two unique merch collaborations that will be supporting the community. You can learn more about Transgender Law Center and the amazing work they are doing here.
First, we'll be putting out a limited-edition run of 300 Hop Culture x Samuel Adams x YETI Colsters (generously donated by YETI) that features artwork from a queer artist. These Colsters will be available through Hop Culture's store starting in May (exact date TBD). And, all of the net proceeds from the sale will go to GLAAD, a fantastic organization rewriting the script for LGBTQ+ acceptance by tackling tough issues to shape the narrative and provoke dialogue that leads to cultural change.
Second, we designed a limited-edition festival glass in collaboration with Collective Arts showcasing a design from the queer artist Henri Campeã. We've only ordered 480 of these glasses, so once they're gone they are gone. They will also go on sale starting in May (exact date TBD) with all of the net proceeds going to a still-to-be-determined LGBTQ+ organization.
What kind of events are happening for the Queer Beer Festival?
A whole bunch! All the content will take place this year virtually on June 5, 2021. The schedule details are still under construction so I'm hesitant to list anything out specifically, but to give you a sneak peek we'll be putting together:
A panel featuring LGBTQ+ and BIPOC pioneers in the industry in collaboration with Samuel Adams
A workshop on how breweries can be authentic in queer spaces led by Patrice Palmer (they/them), New Belgium's new Diversity and Inclusion Specialist. They are a fantastic part of New Belgium's team making incredible strides in diversity and inclusion. We've been so impressed with New Belgium and Palmer's work to create and manage programs, projects and lead initiatives on diversity and inclusion within the brewery that we actually named Palmer our most important voice in craft beer in 2020. In addition to Palmer's revolutionary programs, New Belgium recently received recognition as one of the Best Places to Work for LGBTQ+ Equality from the Human Rights Campaign's (HRC) Equality Index, with a perfect score of 100. They're the only brewery to be awarded this distinction in the industry. Additionally, New Belgium released Biere De Queer last year to celebrate National Coming Out Day, an annual LGTBQ+ awareness day observed annually on October 11th. New Belgium's dedication to creating inclusive communities has been unparalleled and we're beyond excited to team up with them for Queer Beer.
An artist gallery featuring work and participation from four queer artists. We produced this event in collaboration with Collective Arts, a Hamilton, Canada-based brewery well-known for bringing together art and beer. Last June to celebrate Pride month the brewery released a series of special edition cans of its flagship Life in the Clouds IPA showcasing designs from four different queer artists around the world. They're bringing this fantastic initiative back in 2021 and we're honored to promote the artwork from Ethan Barry (Vancouver, CA); Matthew Willie Garcia (St. Joseph, MO); Gabriella Grimes (Philadelphia, PA) and Henri Campeã (São Paulo, Brazil) during Queer Beer.
A virtual cooking class featuring a queer chef created in tandem with Allagash and the Queer Food Foundation, an amazing organization dedicated to the advancement of LGBTQA2S+ workers in food and beverage.
Okay, so I spilled a bunch of the beans, but I'm just too excited with the breadth and depth of the events we created with some fantastic brewery partners. People should stay tuned to HopCulture.com for exact details coming later down the line.
What has the process been to launch this event since this is the first year?
You know, to my knowledge, I haven't seen any other type of event like ours being produced in the craft beer space in our country. To be the first or at the vanguard means that we're carrying the torch, setting the standard and exploring new territory. We're using the success of launching Beers With(out) Beards virtually last October as a framework and building the rest from the ground up. Combine that with the fact that we're still in the middle of a global pandemic and you can certainly make the case that challenges exist. But, to me, that's actually the beauty of Queer Beer because change is only created by surmounting challenges. We're in an unprecedented space during an unprecedented time but equality, justice, and inclusion will only be achieved if we take those large leaps into uncharted territory — if we persevere and keep putting one foot in front of the other every day. Hop Culture is definitely culminating all of its event expertise here, but to us, the most integral component has been finding the support from revolutionary breweries such as Samuel Adams, New Belgium, Collective Arts, and so many more to help launch Queer Beer in its inaugural year.
What can breweries do to support the LGBTQ+ members in their community, both as a whole and within the craft beer industry?
There are so many ways breweries can support the LGBTQ+ community. It can be something as simple as making the bathrooms in your taproom non-gender-conforming to brewing a beer that donates proceeds to a local LGBTQ+ organization or even hosting a queer event in your space (once it's safe to do so).
If you're looking for the ultimate paragon, I highly recommend learning more about the work behind Samuel Adams' Love Conquers Ale initiative and New Belgium's new diversity and inclusion programs. These two breweries, along with many others, have put in the real work to be more inclusive, equitable and just–especially within the queer community.
How can the craft beer industry become more inclusive towards the LGBTQ+ community?
For breweries or businesses in craft beer, I would say be intentional. As a person who identifies as queer, I would respectively recommend that you refrain from slapping a rainbow on something and calling yourself inclusive. If you're going to truly be more inclusive you need to go a step further by donating a portion of the proceeds from that beer, event, etc. to an LGBTQ+ organization or starting those critical conversations that can provoke authentic, tangible action in your own communities. We're doing both with Queer Beer.
For consumers, find those breweries in your neighborhood, state, city, or local beer store that are queer-owned or supporting the LGBTQ+ community and drink their beer. Or, of course, come check out events like Queer Beer.
Having gone to the Beers With(out) Beards festival back in October, I can personally attest to how great the Hop Culture events are and how passionate the people that are hosting the events and putting on the panels are about creating inclusive spaces in craft brewing. Hopefully, by then, you could even enjoy the festival with a couple of vaccinated friends in the comfort of your own home!
---