No Comments
Sonder Brewing Releases Collaboration Beer With Kings Island Amusement Park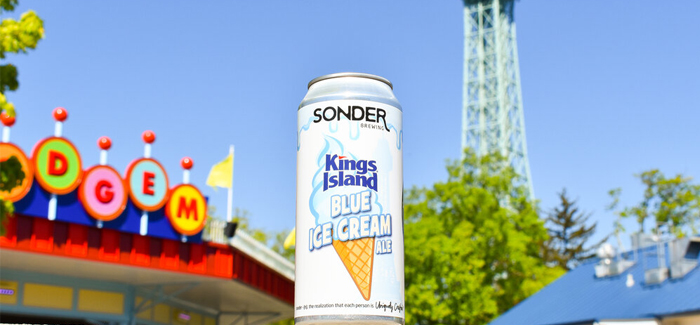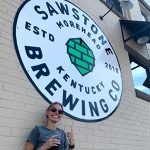 After an eight hour day of riding every roller coaster and ride possible at Kings Island in Mason, Ohio, there was nothing better than ending your day with the infamous blue ice cream while sitting under the Eiffel Tower look-alike overlooking the fountain. While attempting to not spill the blue ice cream on yourself, you realize how much your feet hurt and that you forgot to apply that second coat of sunscreen. At that point, nothing tasted better.
To take us back to those summer afternoons, Sonder Brewing has released Blue Ice Cream Ale, a collaboration beer with Kings Island Amusement Park.
"We're big believers in storytelling here and it's part of our brand," Danny Herold, Sonder Brewing's director of marketing, said. "And every beer and every person has a story. So here at Sonder Brewing, we feel that when you talk about Kings Island, you have to talk about blue ice cream, it's insanely nostalgic. If you grew up going to Kings Island, you loved getting blue ice cream. It's a Cincinnati staple. So we felt like this is a really unique opportunity to come out with a cool, fun beer that really is playing into the hearts of Kings Island fans."
The hardest part for Sonder was getting Blue Ice Cream Ale was to match the same flavor profile of the ice cream. Blue Ice Cream Ale is a Cream Ale style beer that boasts aromas and flavors of blueberry and vanilla. And yes, it pours blue. The only thing missing is the waffle or cake cone.
"A tough thing to tackle was nailing that blue ice cream flavor because people are so accustomed to a consistent product of the ice cream," Herold said. "We want to make sure that the beer emulated that [flavor profile] and we feel like we did just that."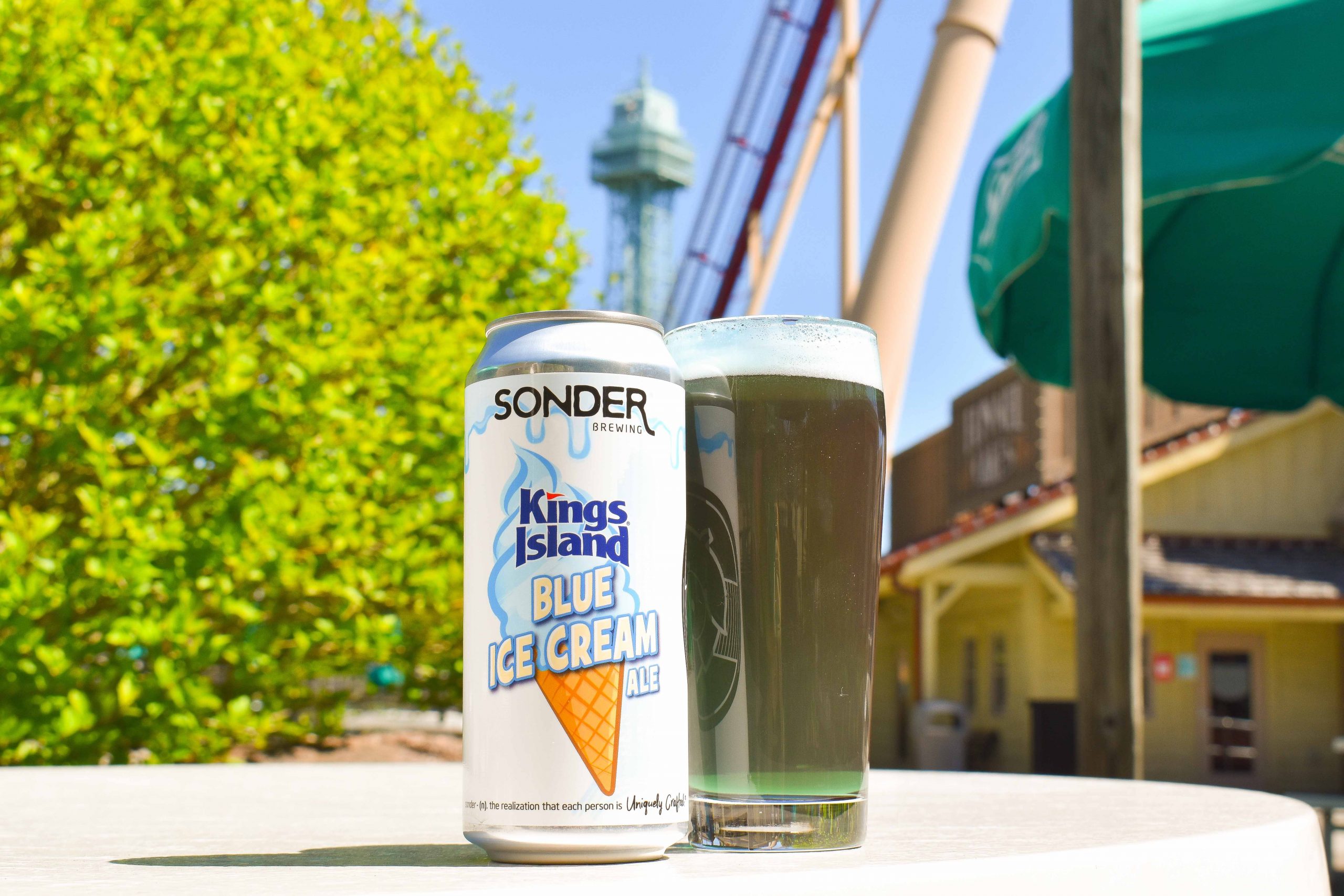 It was important for Sonder not to use artificial flavor to color the beer blue. While the beer does have artificial flavoring, that is not what colored the beer.
"The color was an exciting challenge as we knew we didn't want to add any artificial ingredients or coloring to achieve a blue hue," Chase Legler, Sonder's Chief Operations Officer, said in the press release. "We did a lot of research and testing to find a natural product to get the color. Both balancing the ice cream flavor without being overly sweet and achieving the fun blue color were definitely the main challenges."
This is Sonder's second collaboration beer with Kings Island. The two Mason businesses are only a little over three and a half miles away. The success of Giga Coaster Lager, a beer brewed to celebrate Kings Island's new rollercoaster Orion, made it easy for the two Mason businesses to team up again.
"It's just such a great partnership," Herold said. "We love working with our friends there at Kings Island. It really was a true partnership. Everything from the design of the label to launching. Just a really great partnership and really great collaboration and we're excited to see where it goes in the future."
The Blue Ice Cream Ale will be available at Kings Island all summer; getting it at the taproom might be a little more difficult. Sonder sold out of 4-packs in their taproom on Monday.
Since Sonder announced the beer collaboration on Facebook on Wednesday, May 12, the post has accumulated 1.5k likes, 2.5 comments and 3.8k shares. The brewery has less around 10k followers.
"It was nuts, it was crazy," Herold said of the viral post. "We couldn't have ever predicted that it would go that crazy, but we knew it was gonna be big," Herold said. "We knew we were playing with the heartstrings of the Cincinnati folks here, really leaning into the nostalgia they have as kids."
The Blue Ice Cream Ale is available at eight locations throughout Kings Island. The amusement park is currently open Saturday and Sunday until Memorial Day weekend. After that, Kings Island will be open for daily operation. To learn more about the Blue Ice Cream Ale, visit sonderbrewing.com.
Feature image courtesy of Sonder Brewing
---