No Comments
Metropolitan Brewing | Krankshaft German-Style Kölsch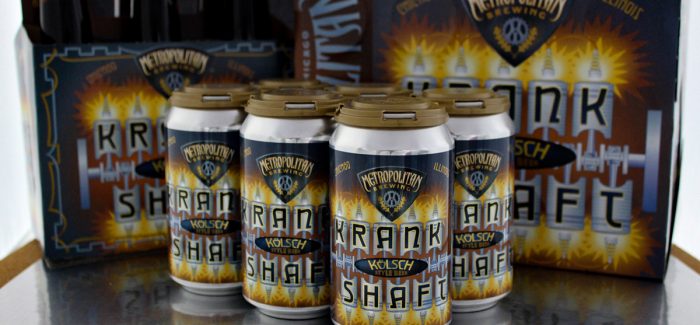 In 2008, long before breweries populated every Chicago neighborhood and suburban town, Metropolitan Brewing opened its doors. Today's Chicago beer market now supports several Lager-focused breweries, but Metro served as the city's trailblazer. There's nothing pretentious or Bourgeoisie about Metro; it's a come-as-you-are brewery. (And a Malört-friendly place, too.) And one can revel in the brilliance of its brewing at its gorgeous taproom and patio spot located on the Chicago River, a location they opened in 2017. Among the many beers they produce, there's one that isn't technically a lager: Krankshaft German-style Kölsch. Drinking Krankshaft provides insight into why Metro has evolved into one of Chicago's most respected and recognizable breweries.
The Kölsch style, born many moons ago in Cologne, Germany, is ostensibly a hybrid, fermented first in ale yeast and then finished in cold temperatures like a lager. Thus, Kolsch-style beers exhibit some of the best qualities of both ales and lagers.
Krankshaft: A Beautifully-Crafted Kölsch
A properly poured Krankshaft is something to behold. The bright, but slightly murky, yellow Kölsch-style beer is topped with a heavenly white head. It's like a summer cumulus cloud amidst the bright sunshine. So beautiful, in fact, that it's almost a shame to drink it and ruin its lovely appearance. But, c'mon, you'd be crazy not to drink it.
Along with the typical aromas one expects, such as cracker and grains, the beer presents a subtle lemony and floral scent—quite pleasant. The slightly sweet malt notes include a hint of biscuity flavors (especially with the first sip) along with the lemon and floral notes, all working harmoniously. There's nothing over the top about Krankshaft. Indeed, its beauty comes from its simplicity—simplicity executed to perfection!
Krankshaft is available year-round. While it's spectacular on a summer day, don't miss out on the chance to sit on the Metro patio after fresh snow blankets the river banks with a freshly poured Krankshaft at your side. Ansel Adams and Thomas Kinkade have never produced anything more beautiful than that scene. Or, grab a few cans and drink them at home. It's the beer that's perfect for almost every occasion, in any setting.
View this post on Instagram
---