No Comments
Athletic Brewing Takes Biggest Step Yet with its NA Athletic Lite Release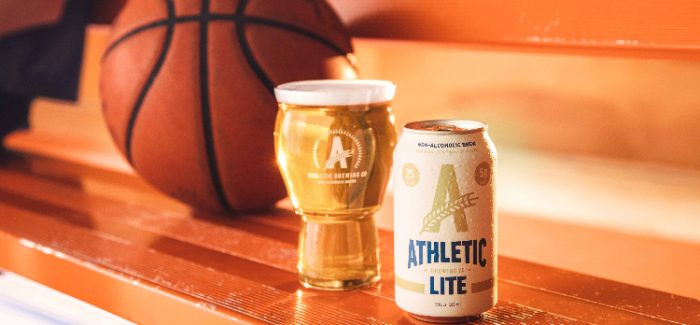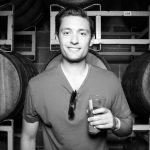 Even the most avid craft beer fans get tired of beer after a while. Sometimes you want to change things. Maybe you decide to stick to spirits, Light Beers or Hard Seltzers, or you choose to refrain from alcohol altogether, One appealing option that continues to grow in popularity and variety is Non-Alcoholic (NA) beer, a rapidly expanding segment that continues to draw new buzz and more eyeballs – and tastebuds. NA-brewer Athletic Brewing is widely considered the giant of NA beer, taking big swings at releasing NA-versions of Hazy IPAs, Sours, Stouts and Witbiers. Their release focus on complex flavors and style gave them an appealing niche to sell to beer'd-out beer drinkers. Now, they're leaning into the largest category of beer drinkers – Light Beer lovers, with the debut of Athletic Lite. Here's why.
For a Hazy IPA lover, Athletic's Free Wave IPA allows them to revel in their preferred drinking style without the added carbs, calories or booze. Current Light Beer options like Miller Lite or Michelob Ultra don't suffer from those consumption criteria. Maybe you've seen one of the many adverts from Miller or Michelob professing the low-calorie count and carbs of their alcoholic offerings. So, why release a Light, NA-alternative if the perceived value and nutritional gap between Light and NA-Light are minimal? Demand and drinkability.
"When we are coming up with new releases, we are basically brewing the beers we want to drink – and the same is true for Athletic Lite. [We've] been working on Light development for almost two years now, in order to make sure even if it is so light in calories and carbs, it still tastes good, has body, and is flavorful," said John Walker, Head Brewer and Co-Founder of Athletic Brewing.
Achieving an NA-version that reflects the subtlety of a Light Lager or Pilsner is difficult, which is why you don't see a wealth of NA-Light options on your shelves. Times are changing, though. Athletic says that a Light NA offering was their #1 request from retailers, wholesalers, and distributors. Beer drinkers want options. They want the ability to choose to drink any style under the sun while also having an NA-version available. "Drinker demands are changing, and the category needs innovative brands to keep up with it."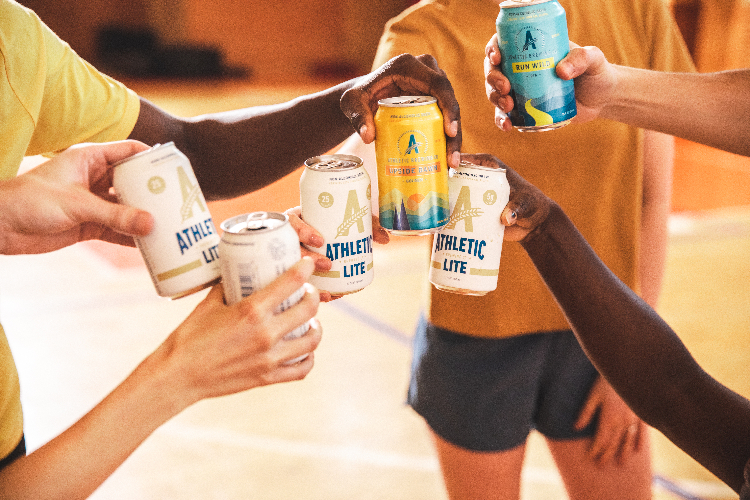 One exciting business consideration of this rollout is the sheer size of the potential beer-drinking demographic Athletic Lite opens up for the NA brewer. It's well known that while craft beer generates buzz, macro Light Beer options build the bottom line. Providing an NA alternative lets Athletic "double-dip" into this massive customer segment while also giving committed NA beer drinkers an approachable option they can consume on any occasion.
"We are opening up social occasions to the 50% of adults who consume 1 alcoholic drink or less per week. We think non-alcoholic beer is the biggest occasion driver beer's had in decades, adding days of the week and population back to the category," said Walker. "It is fair to assume non-alcoholic beer will continue to grow, and could be enormous in the next few years."
The marketing push behind the release of Athletic Lite, is also considerably larger than average, especially for NA brewers. Along with out-of-home, TV, and radio ads during March Madness, Athletic Brewing is also getting NCAA basketball players into the action. "For the first time ever, college athletes are able to endorse products they believe in, and we've seen that Athletic appeals to the younger generation – people will be able to see that popping up on social media," said Walker. With the current advertising craze of the NIL era, advertising for an NA brewer represents a new opportunity for athletes who typically cannot advertise alcoholic products due to age restrictions or university codes of conduct.
What's next for Athletic post-launch? More expansion. Athletic plans to open up a new brewery in Connecticut this summer, adding to their flagship location in San Diego. With two breweries on opposite coasts, the NA brewer will be able to brew up to 400,000 bbls, a sizable increase for any brewery, but particularly in the NA space.
What comes after that? Maybe brewing some alcoholic offerings? Don't get too crazy. Cheers!
Feature image courtesy of Athletic Brewing
---