One Comment
Walker Brothers Kombucha | Tell Me I'm Pretty High Gravity Kombucha
Nashville's Walker Brothers Kombucha, brewers of high-gravity (i.e., alcoholic) kombucha, have an exciting new product: Tell Me I'm Pretty High Gravity Kombucha. As with their other category-bending brews, Tell Me I'm Pretty isn't technically a beer, but shares a lot of commonalities with Fruited Beers, Sours and Lambics.
According to Walker Brothers Kombucha, "Sam and Luke [Walker] take their love for the world of craft beer combined with the desire for a wellness-led, intentional lifestyle and use it as the foundation for each product they conceptualize."
Tell Me I'm Pretty is first aged over a Hard Kombucha base in a red wine barrel. Next, it is re-fermented over locally grown chambourcin grapes from Arrington Vineyards in Tennessee. Tell Me I'm Pretty is part of a limited-edition bottle series, and is the first Hard Kombucha fermented over red wine grapes.
View this post on Instagram
"For Tell Me I'm Pretty," said Luke Walker, "we wanted to continue using local ingredients and to do our own tribute to wine with classic Walker Brothers funk." Always looking to source as locally as possible, Walker noted that "it was a no brainer to work with Arrington – utilizing both a red wine barrel from them, as well as red wine grapes."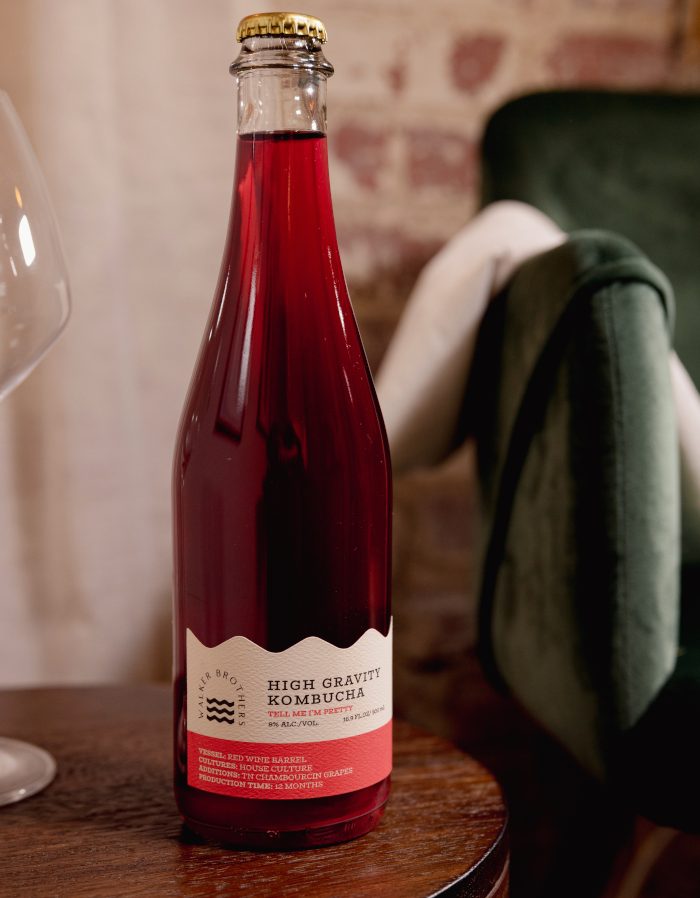 While inspired by wine, Walker explained that "Tell Me I'm Pretty still offers those nuances reminiscent of sour beer, especially since we utilize wild yeast in everything we do."
Tell Me I'm Pretty derived its name from how it started out a bit … awkward … but over time turned into something special. "When we first transferred the liquid to the wine barrel," Walker noted, "it had a bunch of off flavors for the first 7-8 months." Giving it some time while it refermented on grapes took care of the off flavors, leaving behind just enough funk to keep things interesting.
Tell Me I'm Pretty offers a drinking experience that can be enjoyed by just about any drinker. A bit of funky Kombucha and Lambic sourness is balanced by a bright, effervescent dryness with notes of fresh grapes and juicy red fruit on the front, and a hint of berry yogurt at the finish. "I'm really pleased with the depth of flavor and bright color," noted Walker, adding "it's a layered, multidimensional experience."
Tell Me I'm Pretty is available for local pickup only at Walker Brother's Kombucha's Nashville location. Place your order here.
Feature photo by MJ McGeeney, courtesy Walker Brothers Beverage Co.
---