No Comments
AleBlazers Series | One Year Later with Funkytown Brewery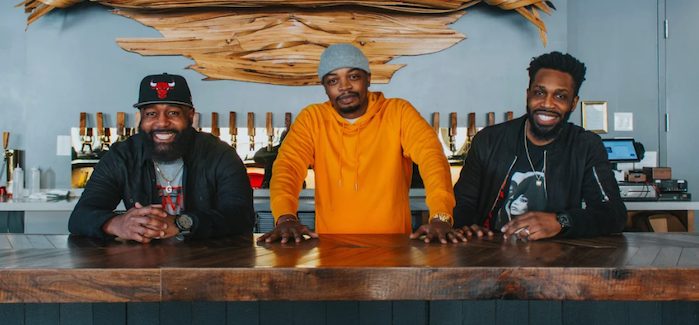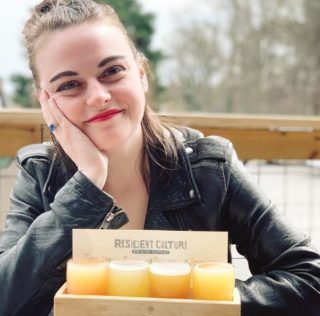 A brewery that has made a huge splash on the Chicago craft beer scene over the past year has been Funkytown Brewery, who brews at Pilot Project Brewing in both Chicago, IL and Milwaukee, WI. Owners Richard Bloomfield, Zachary Day and Gregory Williams chatted with PorchDrinking in February 2022 as a part of our AleBlazers series, so naturally we needed to catch up with them and see how the last year has been and where 2023 is taking them!
The last time PorchDrinking chatted with Funkytown Brewery, you guys were getting ready for the Haymarket residency in February 2022. What have you been up to in the last year?
This last year has been a lot! The beer journey has been an amazing experience. When we spoke last year, we had about 150 accounts in the Chicago area. Currently, we have over 500 accounts in Chicago and Milwaukee metro areas. We brewed a total of 11 different beers in 2022, with most of them being seasonal offerings, and including a couple of collaborations with other breweries in the mix. We had huge accounts pick us up like Whole Foods, Jewel-Osco, Foxtrot, Binny's Beverage Depot, and 7Eleven which provides an easy outlet for people to find our beer. Also, these large retailers have locations in or near communities underserved by the craft beer industry that we are trying to target. Our beer is in the United Center, home of the Chicago Bulls and Blackhawks and Ravinia Festival, a summer concert venue. We won a trophy at the "Hazy Days of Summer" beer festival held by the Chicago Beer Society, and we won a plaque along with a $100,000 marketing and advertising promo package from iHeart radio. We poured our beer at a bunch of festivals highlighted by Barrel & Flow in Pittsburgh and the Oak Park MicroBrew Review held in our hometown (Oak Park). We've had the opportunity to collaborate and support different non-profit organizations, and we've curated our own events for people to come out and enjoy. We're in a position now to focus on upgrading our banking relationships and courting investors so that we can open our own Funkytown brewpub in the near future. All of this occurred outside of the full-time (non-Funkytown) jobs we hold, which is why our initial response was "this last year has been a lot!"
Personally, I feel like I see you guys everywhere, which is quite a difference from when I interviewed you last year. You also were recently featured on The Great 28, which honors Chicago's most influential leaders. How has this increase in exposure and support affected Funkytown?
It's been crazy how quickly the expansion has been happening. We're grateful that our message has resonated with people and that they choose to support, promote, and share our brand. We strive to serve the people and community as much as they've supported us.
The Great 28 honor was really cool! We woke up one morning, checked Instagram to see if we had new followers or comments, then noticed that we were tagged by WGCI, a hip-hop and R&B radio station we grew up listening to, and still has our ears to this day. Receiving that award felt great because it showed that people were noticing the hard work we put in and the values we try and promote in our messaging and actions. The exposure has really helped us when it comes to landing new accounts or partnerships. We (all three co-founders) still have our full-time non-Funkytown jobs, so it is difficult to create relationships during the normal 9a-5p working hours. The exposure we've been receiving helps drive potential partners to our Instagram, Facebook and website to connect with us directly, which fits in well with our full-time schedules. Also, when meeting a potential partner for the first time we have a warm introduction as they may have seen us in a Chicago Bulls commercial, or one of the publications that have highlighted our work in the past year.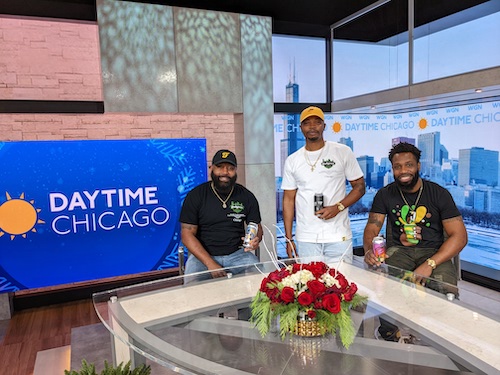 What was the expansion into Milwaukee, WI like? How did it differ to your experience with Pilot Project in Chicago?
The expansion into Milwaukee was seamless for us as Pilot Project Brewing has been a helpful and transparent partner. We would like to approach the Milwaukee community the same way we entered the Chicago market. We partner with non-profits that are focused on community, we pour at festivals and events and introduce ourselves to as many people as possible through those interactions. It's not often that people get to meet the founders of a brewery, even less so having that founder pour your beer for you! When you speak to us at a tasting or festival you get to learn about the Funkytown brand and mission straight from the source. That aspect of our experiential marketing is our advantage in the craft space currently.
Late last year in December 2022, we supported an event called "Brown, Black & Brews, the 5th ingredient" at the Sugar Maple, a woman-owned craft beer bar in Milwaukee. The event proceeds supported "True Skool", a non-profit focused on engaging, empowering and educating youth, families and communities through transformative hip-hop culture. The venue and non-profit were a perfect match for how Funkytown likes to focus on community. The only difficulty with Milwaukee is the distance, which doesn't allow us to be physically available in-market frequently like Chicago.
When we chatted last, we discussed some of the systemic issues within the brewing industry. Do you think we've seen some progress in the last year? If the industry has become a bit stagnant in progress, where do you see improvements to be made?
It's a little hard for us to assess the landscape as we've kind of had tunnel vision trying to get Funkytown off the ground, but we have noticed significantly fewer breweries participating in the "Black is Beautiful" beer campaign since it launched back in 2020. I'm sure the same can or will be said for the "Things We Don't Say" beer for mental health awareness and "Brave Noise" beer that calls out the unchecked sexism in industry. We do understand that sometimes there is a lack of agility in beer production schedules and that those social cause beers were intended to be a one-off beer for some breweries. At the individual brewery level, we hope that breweries simply strive to make their spaces open, comfortable, and hospitable for diverse groups.
At an industry level, we do see more funding opportunities from the larger trade organizations and space created specifically for minority brewers, which is great. But with the roster of minority breweries nationally being so small, I hope that there is some direct outreach to these breweries to build awareness for the opportunities available.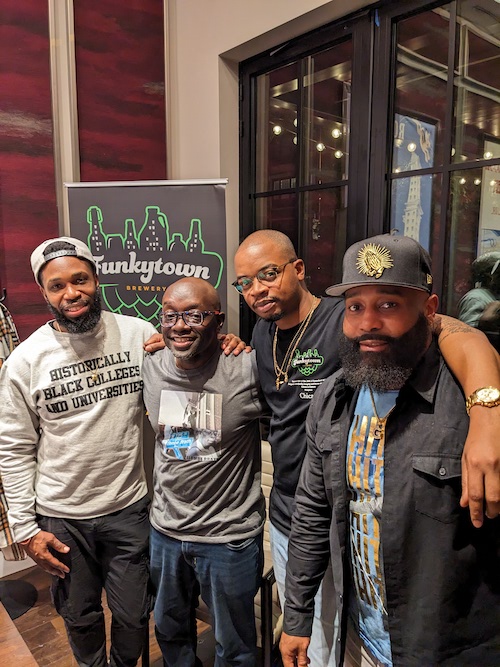 Last year, you guys were looking forward to some in-person beer festivals and to do some more market research on the Funkytown identity. I think you may have achieved a little bit more than that. What has been your favorite part about the previous year?
Meeting people and building up the Funkytown network has been the best part of this journey. We get to meet people from all industries, social-economic situations, gender, race, culture, etc. and find that common ground that bonds us as beer-drinkers and people. Many of our opportunities have come from word-of-mouth referrals which feels amazing because the community that we serve wants us to grow. We always felt that we had a good product and approach to beer that would resonate and bring us some quick success, but what we didn't expect are all the "feels" and heart-warming moments from people that genuinely want to see us succeed. The well-wishes, the encouragement, really fuels our desire to build a brand that is cooperative and integrated in the community.
Finally, what's on the horizon for 2023? What are you most excited about?
This is the year that we finally go full-time Funkytown! We've been blessed to grow at such a rapid pace, but it definitely feels like the business is running us rather than us run the business. There are so many ideas and collaborations that we haven't been able to share or act on because of how our time is split between two jobs. There are so many business owners that we need to meet and thank for supporting our young company. Working for ourselves was the dream and we're so close to realizing it.
Other than that, we're looking forward to more and bigger events. We've partnered with the non-profit called The Simple Good who is focused on social-emotional learning (SEL) to throw a dope afterparty on the outdoor patio of the Sears Tower June 24. We know it's called the Willis Tower now, but we probably won't update our language. All the proceeds of that collaboration are supporting the kids! We also have a big collaboration this summer with one of the heavy-hitters of the Chicago craft beer scene!  We're going to dive deeper into the origin story of Funkytown, our successes, our mistakes and be more consistent with engaging our supporters across our social channels.
Featured image courtesy of Funkytown Brewery
---