2 Comments
Saint Somewhere/Prairie Artisan Ales – Plus Tot L'etat Farmhouse Ale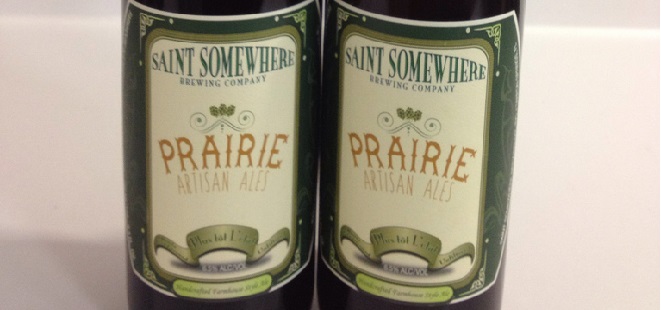 Avg. Reading Time:
1
min
Saint Somewhere/Prairie Artisan Ales – Plus Tot L'etat Farmhouse Ale
ABV:  6.5%
IBU: 25
A farmhouse style ale that is brewed with persimmon and elderflowers.
This Saison pours a hazy orange pour with big fluffy white head.  The cork was erupting out as I untwisted the cork and cage. Aroma brings notes of lots of elderflower (think of a freshly opened bottle of St. Germaine), floral notes, large amounts of spicy yeast, big mineral notes, and some tropical fruit. Pineapple and kiwi-esque esters but I am sure that is the persimmon. Upon first taste, there is a mix of tropical fruit that transitions into a more spicy, yeasty, slightly earth funkiness. There is a fluffiness and fullness to this Saison (as other blokes on the west coast have mentioned about the Prairie Ales) that is bright and refreshing here.  There are some soft white fruits, lots of floral and elderflower on the mid-palate. The aftertaste finishes with dry, spicy, peppery, yeasty, barrage of brett. I will be returning to the bottle shop to hoard more of this.