No Comments
Deschutes – Fresh Squeezed IPA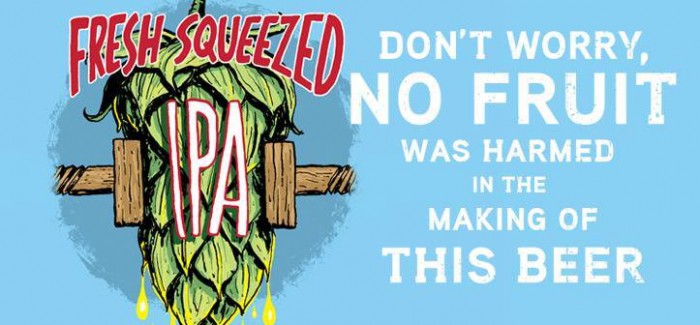 Nearly every weekend I enjoy hitting the local shops in search of the latest brews from around the country. An unabashed IPA fanatic and admittedly obnoxious beer freshness advocate, I'm typically the guy who's rooting through the coolers, holding bottles up to the light looking for bottling dates.
As I scoured the shelves, my eyes lit up like a pinball machine upon seeing one of Deschutes' latest bottled offerings, Fresh Squeezed IPA. Generously hopped with Citra and Mosaic (two of the more trendy, popular hops right now), this one had my mouth watering before I could even get it home and into the fridge. The question is though – would it live up to its name?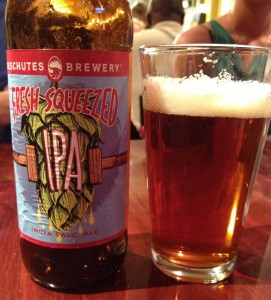 After waiting for this 22 ounce beauty to cool down on a scorching hot afternoon, I popped the cap and slowly poured into a pint glass. Fresh Squeezed IPA is a softly hazed copper-auburn color, highlighted by some amber hues, then topped with a crop of creamy beige head.
The aromas are just as sexy as the hop-crushing label art indicates, radiating intensely juicy, fruity scents with accents of mango, pineapple, tangerine and passion fruit. Softly sweet and hoppy, a dash of warmth and caramel malt balances the tropical party out just a hair.
My taste buds recklessly cannonball into the brew, met head-on by a one-two clobbering of fruit and hops, with the tropical bonanza hanging ten on a wave of hoppy bitterness. Pineapple, mango, passion fruit and citrus juice happily crush the palate, as the beer waves the "Fresh Squeezed"' flag proudly. A soft, doughy malt backbone wrapped in a lacing of caramel leads into the juicy, lightly sweet finish.
The sticky hops cling to the tongue long after swallowing, allowing Fresh Squeezed IPA to remind you of its inherently dominant and expressive flavor profile even after the glass is empty and the bottle is in the recycling bin. As more IPAs flood the market, unearthing the handful of beers that stand above the mediocrity line can become a time consuming task, but thankfully we have brewing veterans such as Deschutes to keep our hop-cravings in check.
Fresh Squeezed IPA is only available from June to September, so don't sleep if you plan on tasting it this season – and remember, check your freshness dates!