No Comments
If in Doubt, Barrel Age It | A Look into the Vast Barrel Aging Program of Alltech's Lexington Brewing Co.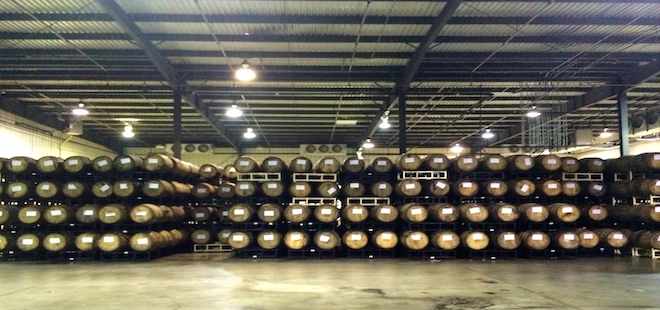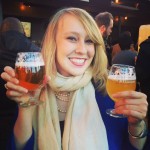 As a Kentucky native, bourbon is in my blood. Needless to say, we have been barrel aging things for quite awhile. Though bourbon is not a uniquely Kentucky product (though it is a uniquely American product – one thing you can actually thank the federal government for!), many agree that the Bluegrass state does it best. Maybe it's the limestone bedrock that adds that special blend of minerals to the water that is used to distill the spirit; or perhaps it is the Kentucky climate – with its frigid, ice-storm bringing winters and ever-so-muggy, sticky hot summers – that allows those oak barrels to expand and contract just the right amount to impart those woody, caramel, and toffee nuances from the barrel char into otherwise clear corn liquor; or maybe it is something about the Kentucky spirit that lends a warmness and hint of Southern hospitality to the things we are passionate about. Whatever it is, Kentucky bourbon is something special and the rest of America – especially the craft beer industry – has recognized that, as well.
We have a running joke at PorchDrinking (or perhaps it is just my joke that I assume everyone is on board with) that if in doubt, barrel aging is probably the answer. We even have a recurring column – Getting a Woody – dedicated to wood aged beers. I have toyed with the notion of experimenting in barrel aging the most garden-variety of brews (read: Beast, Natty, Bud Ice) and seeing how they would react to barrel aging, though I haven't quite committed yet. For now, I will just leave it up to the experts. And that is exactly what I did when I spoke to Ken Lee, Master Brewer at Alltech's Lexington Brewing Company, because no one barrel ages more beer than they do.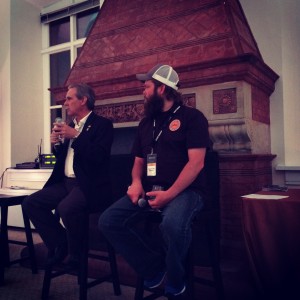 I first met Ken during a salon discussion on barrel aging in bourbon country at the Brewers Association sold out SAVOR event in Washington, DC, a fantastic event which showcases brilliant beers from breweries from across the country and pairs them with specially prepared dishes designed to completed the flavor nuances of craft brews. (It's a wonderful event and well worth a trip to the District.) Ken was joined by another friend of the blog, DH from the ever-rowdy and always superlative craft brewery just down the road from Lexington Brewing, Country Boy Brewing. Ken and DH were tasked with introducing this room – comprised of everyone from beer experts to relative neophytes – to the process of barrel aging beers. It was a fantastic discussion. I'm not sure what it is, but when people bring bourbon into a conversation the excitement it imbues is palpable. Ken and DH agreed that Lexington is uniquely situated in bourbon country for prime use of the freshest bourbon barrels; this is what makes the barrel aged beers in Kentucky truly special. Most of the barrels Lexington Brewing receives are only recently relieved of their spirited contents. For Lexington Brewing, once they are dumped at one the brilliant distilleries across the Commonwealth (for blending and bottling), they are trucked to Lexington to be filled with Kentucky Ale.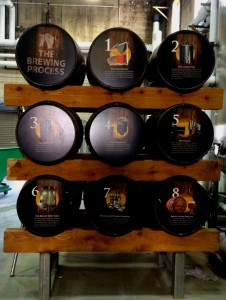 Founded in 2000, Lexington Brewing first released Kentucky Ale – somewhere between an Irish red and an English pale – and (as we then knew it) Kentucky Ale Light – a kölsch-style ale – to Lexington. I remember these being some of the first locally-brewed Kentucky beers that actually stuck around (other breweries came and went but Kentucky Ale has been going strong for 14 years now). But it was the release of Kentucky Bourbon Barrel Ale that people really noticed. Kentucky Ale used to be the flagship beer of the brewery. Bourbon Barrel Ale was a favorite among Lexingtonians (I especially remember an ill-fated "pint night" at Pazzo's Pizza Pub that featured pitchers of the 8.2% barrel aged beer with take-home logoed snifters – let's just say it isn't the most forgiving beer to drink by the pitcher) and it was the beer that out-of-towners recognized as more unique. However, it was not until the 2010 World Equestrian Games (sponsored by Alltech) that there was a shift and Kentucky Bourbon Barrel Ale became the standard-bearer for the brewery. And it makes sense. They wanted something that would be more quintessentially Kentucky; what is more Kentucky than bourbon?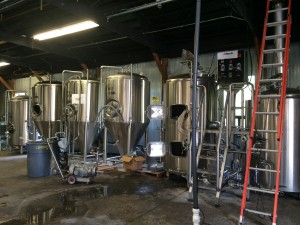 Lexington Brewing (and Distilling) has a gorgeous and relatively new visitor's center on Cross Street in Lexington. It features a large tasting room that is reminiscent of a pub-lined Irish street, exquisite landscaping, and a gift shop. However, what I wanted to see is not on the normal tour: I wanted to see where they kept the barrels. After surveying the actual brewery – which (for now) features an 8-tank system that is slated to be sent to Lebanon (Lexington Brewing also wears the hat of international brewing consultant) – we drove over to the brewery's warehouse (which also houses the bottling and canning lines, as well as the Lexington Brewing offices) on Angliana Avenue. This is where they keep the good stuff.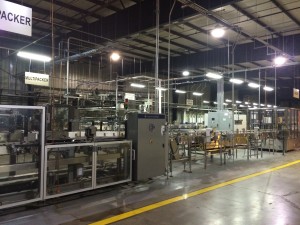 From the outside, it looks like any warehouse, but the moment the door opened, I was greeted by the most adorable classic Ford Model A pickup truck emblazoned with the Alltech logo and the scent of something familiar. Once I managed to wedge myself in and out of the tiny car (I don't know how people did it back then), it was time to see the barrels.
It was a hot day in Kentucky and the 38-degree (F) barrel house was an oasis. Or maybe that was just the smell of bourbon that still lingered in the air. Before me, as Ken noted, was a small inventory of beer-filled barrels for the brewery. There were 3,000 barrels in this room. All filled with beer: Kentucky Bourbon Barrel Ale, Kentucky Bourbon Barrel Stout, and various other barrel aged seasonals.
"When I see it like this, it makes me nervous. The room looks much more normal when we are at 5,000." A warehouse full of 5,000 barrels of beer being married with bourbon is a normal day here. Once the freshly decanted bourbon barrels are filled with Kentucky Ale, they go to this warehouse for a six-week transformation period. The air is kept between 38-40 degrees (F) to ensure that only the softer notes of the whisky (and that quintessential char) are imparted upon the beer. The cool temperature allows for consistent, good flavor; any warmer and the beer risks becoming harsh. This is a delicate process.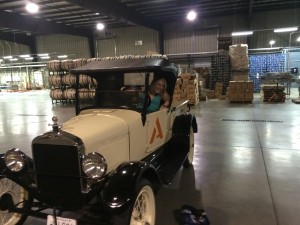 Though the numbers aren't out there, Lexington Brewing definitely has the lead on the barrel aging process. Many breweries tout barrel aging programs (and some excellent ones, to be sure) but no other brewery quite has the size nor the access to the freshest barrels like these guys do. A few years ago, when the shift toward barrel aging really took off, the brewery began experimenting with and releasing other barrel aged brews, including a barley wine. Now, beyond the year-round staples of Bourbon Barrel Ale and Bourbon Barrel Stout, Lexington Brewing is releasing barrel aged seasonals throughout the year to expand the scope of their barrel aging program.
As with any trend, I asked Ken if he thought barrel aging would lose steam anytime soon. We have witnessed the rise and fall in popularity of various food and beverage fads (remember when Zima was a thing? – not that I am comparing craft beer to Zima, but you get the picture). Thankfully – and to the pecuniary relief of Alltech – Ken insists that barrel aging won't be going anywhere for awhile. It's a taste people have grown attached to and keep wanting more of. But just in case the beer drinkers of America (though Alltech currently sells the beer in Ireland and China) begin to lose a taste for barrel aged beers, Alltech has a few other tricks up its enterprising sleeves: beer school.
Though an opening date has not been set yet (on my visit, it was still very much a work in progress – dry wall dust and all), Alltech is in the works of opening a beer academy that will offer certificates to the gamut of beer nerds, from newbie home brewers to the seasoned professionals. Dr. Pearse Lyons, the steam and the brain behind Alltech, holds a passion for education, especially in ensuring a bright future for the craft beer industry. Perhaps it's time for me to pursue another degree and go back to school – I don't think I would mind the homework.