No Comments
Wicked Weed Brewing's Funkatorium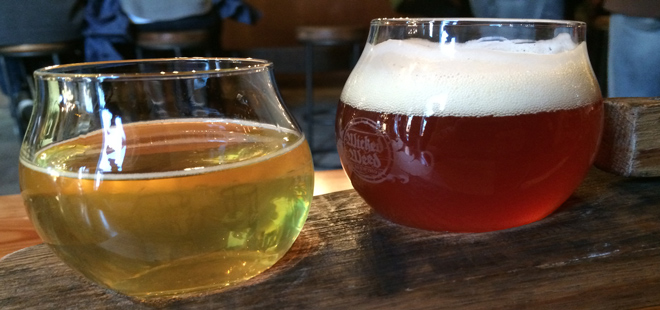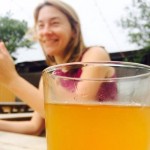 If you love serious sour and funk, be warned: you won't want to leave Wicked Weed Brewing's Funkatorium in Asheville, North Carolina. You'll wonder if they'd notice if you hid among the barrels and spent the night. At 5'4", this thought seriously went through my head.
The Funkatorium opened in October 2014 on Coxe Avenue, just about a half mile west from the original Wicked Weed Brewing. While there are some crossover beers you can get in both locations, the Funkatorium is all about the wild. When we visited about four weeks after the Funkatorium opened, the beer list featured seven sour beers and six funky beers, nearly all aged in either white or red wine barrels.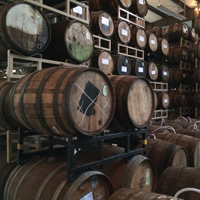 The chill vibe reminded me a lot of the downstairs bar area at the original Wicked Weed location. A large wooden bar lines the left side of the room while long picnic tables line the right side. Look a little further to the back and you'll notice it's a large open space where beautiful barrels are aging. It's like looking into the future of beers that'll make you want to pucker up. Wander back and take a look — and a few photos. Seeing so many aging barrels up close will give you chills.
You'll want to try everything on tap, and the flights of six are the best way to pace yourself. The house favorites on that blustery weekend in November were hands down the Framboos Morte, a blonde sour blended with North Carolina raspberries, and Perzik Morte, also a blonde sour, but this time aged with South Carolina peaches. Even the bartender (who recognized us when we returned for a second time) said every time he had one or the other, he decided it was his favorite — until he had the other again. Those are the best kind of beer problems to have.
The only problem we had was forcing ourselves to leave, since we only had 48 hours to hit up Asheville's jamming beer scene. We couldn't stay away too long, and went back on Day 2 of the birthday beercation to buy some bottles to take home, and of course have one more Perzik Morte.
Wicked Weed's Funkatorium
91 Biltmore Ave, Asheville, NC 28801
Hours:
Mon-Thur: 2p – 10p
Fri-Sat: 12p – Midnight
Sunday: 12p-10p
---