No Comments
Lakefront Brewery | Fuel Cafe Organic Coffee Stout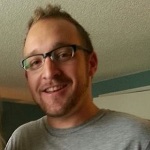 ABV: 6.4%
I am not a frequent shopper of Whole Foods and nothing about my daily activities would make you confuse me for someone that buys organic. Whenever I see the word "organic" on a label, I automatically think, "Well this is going to be expensive." Luckily for me, Fuel Cafe Organic Coffee Stout from Lakefront Brewery has all the goodness of organic foods without the typical organic price tag.
This brew partners two Milwaukee staples: Lakefront Brewing Company and Fuel Cafe, a local restaurant that has been serving amazing coffee and sandwiches for more than 20 years. Lakefront and Fuel Cafe are both focused on quality and their community, which shows in this beer.
The head was a dark caramelly color and extremely thick and creamy. The head dissipated quickly, but the aroma hovered over the mouth of my glass, making sure I did not forget about this tasty treat in my hand. The smell is what you would expect if a chocolate shop was flooded with delicious dark roast coffee: Sweet, roasty, and coffee-y.
When you taste Fuel Cafe, there is no question if coffee is in this beer. In fact, the coffee flavor punches your taste buds. The bitter coffee flavor blends perfectly with the roasted malt and dark chocolate notes. There is a slight hop to the beer, but it plays second fiddle (actually it's more like third or fourth) to everything else. The finish has some creamy sweetness to it, which makes for a perfect ending to this coffee experience.