No Comments
Aspen Brewing | 10th Mountain Oatmeal Stout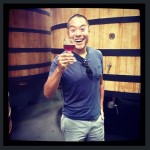 It's May 11th. In Colorado. It snowed this weekend. I cannot even begin to explain just how ridiculous yet predictable that is due to the fact that this happens every single year in Colorado.
Most Coloradans know that weather in the Centennial State is extremely unpredictable. One day you're lathering up on suntan lotion in Wash Park, Denver's adult Disneyland, surrounded by a cavalcade of volleyball nets reaping the benefits of mid 70 temps, and the next you're digging your car out of a blizzard, so that you can trek it up I70 to catch some freshies.
By now I've become accustomed to spring's cruel guarantee that no gardens will survive an early planting, at the hand of winter's cold finals grasps. That same mentality applies to my beer selection, which is why my fridge is still fully stocked with the likes of Aspen Brewing's 10th Mountain Oatmeal Stout.
10th Mountain is the perfect, mid spring snow day beer, also wildly appropriate as an apres ski beer, in that its bold roast-y natural chocolate-y coffee flavors immediately provide the backbone needed to warm your pallet. It's not overly abrasive or heavy and it wont put you down and out for the rest of the night, but rather the oatmeal provides a smooth creamy mouthfeel that'll help ease you into your local hot springs.
Appropriately Aspen Brewing is nestled right in the heart of some of the best ski/snowboard terrain in the country and has developed over the past two years into more than just a convenient watering hole for tourists. Their lineup has grown to boast an impressive lineup of core and seasonal offerings, with highlights including their crisp, refreshing, citrusy spiced, spring Belgian Farmhouse Saison, the robustly hopped Conundrum Imperial Red, a clean and light pack-in pack-out canned variety of This Season's Blonde, and a host of impressive one off's and experimental brews that have generally hit on the mark.
To outsiders, the weather in Colorado has a certain element of unpredictability, but for those who call this place home, that mercurial nature has become expected and revered. Aspen Brewing draws many similarities. While initially it seemed a bit all over the map, but over time, those who've kept rallying behind this mountain brewery has seen it shine and elevate it's game to the quality beers we see today.