No Comments
Event Recap | Brooklyn Brewery's Chicago Beer Mansion 2016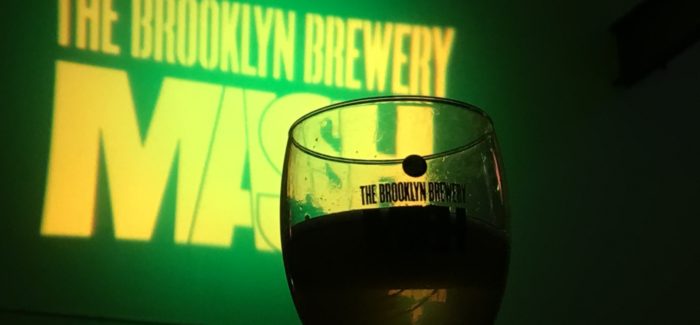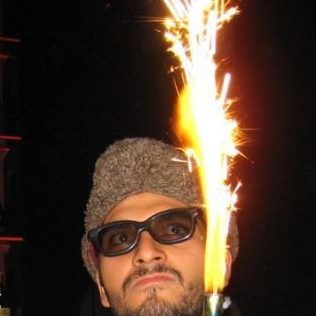 On August 13, 2016, Brooklyn Brewery brought their A-game to Chicago and threw down one of the more unique beer festival experiences. The Brooklyn Brewery Beer Mash, which was part of a four day mini trip to Chicago, is part of a larger worldwide recurring event. You can view the other events held in Chicago in my preview article here. Little was known of the Beer Mansion or what to expect, with research bringing up only the "weirdest, wildest, most unexpected beer festival". This simple, vague phrase was all my girlfriend and I needed as we adventured to our first, but hopefully not last, Beer Mansion.
Arriving at 5:00 p.m. to a throng of festival attendees waiting anxiously, we were quickly and efficiently ushered in. Upon entering the foyer of the "unique event & production space" which is Moonlight Studios, a certain je ne se quoi hung in the atmosphere. Everyone was given an adorable miniature snifter, with the event emblem engraved on them. Brooklyn partnered with Cholula for these events, as such, mini bottles of their famous hot sauce were offered, which we thankfully accepted – because hey, one never knows when hot sauce will come in handy.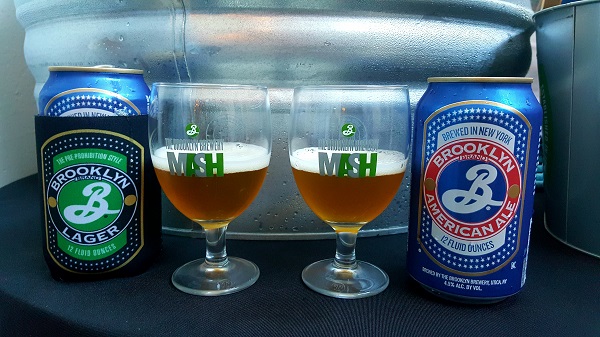 Upon admitting ourselves to another wait, there were big cooler tins filled with Brooklyn American Ale cans sitting atop tall round tables, accented with free koozies. What does one do when life gives you a koozie? None other than stuff it with a cold beer of course! This was a straightforward, yet very effective arrangement. Having this setup at the entrance, set in motion interactions among the crowd and got their taste buds salivating; a sort of amuse-bouche. Along the walls, Brooklyn light designs projected yet another design element to the room, in addition to imprinting their brand in the brains of the attendees. Realizing the line was for food and neither of us being hungry at the time, we followed the light and emerged into the largest space of the multi-room, Moonlight Studios.
What an astounding event hall this truly was. People were in awe as they took pictures of the dark rock concert layout intermingled with art hall decor. A stage, which would be used by live bands later in the night, sat in the back drop. Again, creative marketing by Brooklyn could be seen throughout as you"ll notice in the picture below. Reckless Records had a booth set up selling some vinyl, while a photo booth was mixed in between them and the stage. A photo booth which provided us with some very hilarious end-of-fest pictures. Beers being poured in this room were a couple from Brooklyn, Aquanaut and Solemn Oath.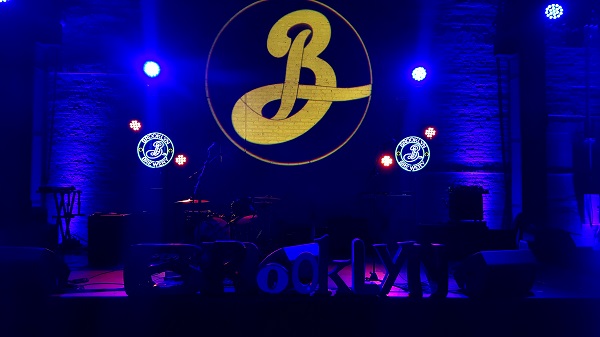 Eager to continue, we topped our glasses and decided to finish our walk-through of this never-ending, enchanted space. Back to the foyer, we went like a pair of children reading one of Edward Packard's Choose Your Own Adventure stories. This time choosing the other path. Turn to page 38. "You walk into a room filled with glee, as adults are enjoying their favorite pastime arcade games provide by Logan Hardware. Comic book decorations sit atop tall, round tables. They also wallpaper the exposed brick wall. Reckless Records provides the soundtrack for this area, as a DJ selects the best of their vinyl collection. While along the back, Marz Brewing is pouring various bottles from their esteemed collection. Do you 1) Play an arcade game 2) Examine the comics 3) Bust a move or 4) Get a pour of some Marz Brewing? Cut to the chase and chose #4 DUH! Luckily for us because within a couple hours their bottles went dry. Of the beers they offered, I had a sampling of Rubusflux, a collaboration with 4Hands, The Bubble Creek with Yuzu, and The Splash. All of which were very tasty.
There was another table adjacent to Marz serving some of Brooklyn IPAs and pales, but there were still two more rooms to conquer. Dancing through the crowd led you into the "Saison Room", featuring Farm and Family Saison from Hopewell Brewing and Brooklyn's 1/2 Ale and Sorachi Ace. On one side was a charcuterie cart serving an assortment of sausages, while the other had a hand built booth with a fresh Hamachi (yellow-tail) hors d'oeuvre. Off to the corner a random virtual reality chair was set up. In this room is where we were introduced to Bel Air Sour.
A limited release, draft-only offering, Bel Air Sour is a sour ale, brewed with Brooklyn Brewery's house ale yeast, house Lactobacillus and a "generous helping of Amarillo dry-hopping". Truthfully, I was not expecting such a good sour from BB, but like everything else they brew, they brew it well. Pouring a lemon yellow hue, Bel Air Sour leads with a nice fruity hop aroma and finished surprisingly tart. On subsequent taste, you may notice some fruit undertones and a delicate funkiness. The bitter from the hops addition help round out the finish, simply begging you to have another round or 3. Bel Air Sour complemented the fresh Hamachi snack provided in the room, bouncing notes back and forth and enhancing the overall flavor of both. This is such a pleasure when it happens.
Apparently, there was still another room to visit. Leading up to this, we had experienced so much so it was hard to imagine what else could be in store for us. This must be the dull room, right? If your definition of dull is a room full of very limited, barrel-aged beers, well you need a new definition of dull. It was hard to be impressed after all one had seen, but take a gander at the picture below and tell me what comes first to mind:
Whoa. Did we just happen to stumble into a little piece of heaven? Bottles of hard-to-acquire Brooklyn barrel age program filled the table. Even with all these phenomenal beers, there were two standouts: Saison Kataya and The Discreet Charm of the Framboisie, or DCF as I'll call it.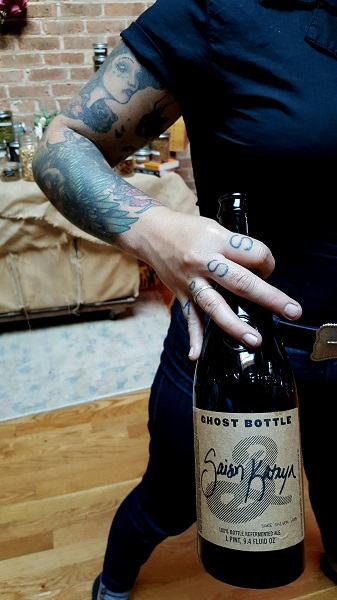 While waiting in line, we were greeted by one of the most energetic and charismatic persons in the industry we've had the pleasure to meet, Miss Gabe. You can see her holding Saison Kataya, a stellar release from BB's Ghost Bottle series, in the picture to the left. Also, props on that sleeve, Miss Gabe! The only detail I could muster of this beer was from the descriptions on the menu, "Saison aged on sake lees in bourbon barrels".  The aroma is very barrel aged forward and the color is very traditional. This brew was layers upon layers of flavors. I got saison notes intermingled with the bourbon and oakiness, while hints of sake linger in the background. This was a pleasure to have and truly one of the best saisons I've ever had. This Ghost Bottle series is highly classified and equally difficult to locate, so if you ever come across a bottle, snatch it!
Being sour and lambic fans we had to get our first taste of DCF, a barrel-aged Framboise, "(fræmBWäˈ), a traditional sour ale style aged on raspberries". This poured an amberish hue with a refined raspberry perfume. Hints of the barrel and funkiness from the Brettanomyces lambicus danced on my nose as I indulged in my first taste. Brooklyn takes their base sour beer, the same which is used for their Bel Air Sour, and ages it with 15 pounds of fresh raspberries in Woodford Reserve bourbon barrels. They then bottle condition with the aforementioned Brett and a Champagne yeast. Lacking better words, Brooklyn nails the description: "The result is a sharp, dry, bombastic beer that is excellent with food. It is often enjoyed as a double feature with 'Goat Cheeses,' 'Salads,' 'Chicken,' 'Duck,' 'Barbecue' or 'Game Meats' ". I had the opportunity to pair this beer with a pork meatball bánh mì, which were generously provided by an endless onslaught of servers. The brightness of the beer cut right through the fat of the meatball, while the fruitiness and funk danced in perfect harmony with the Vietnamese herbs and seasoning. Another spot-on pairing; This big foodie was happy! And after a couple other pours of this, the craft beer guy in me was extremely pleased.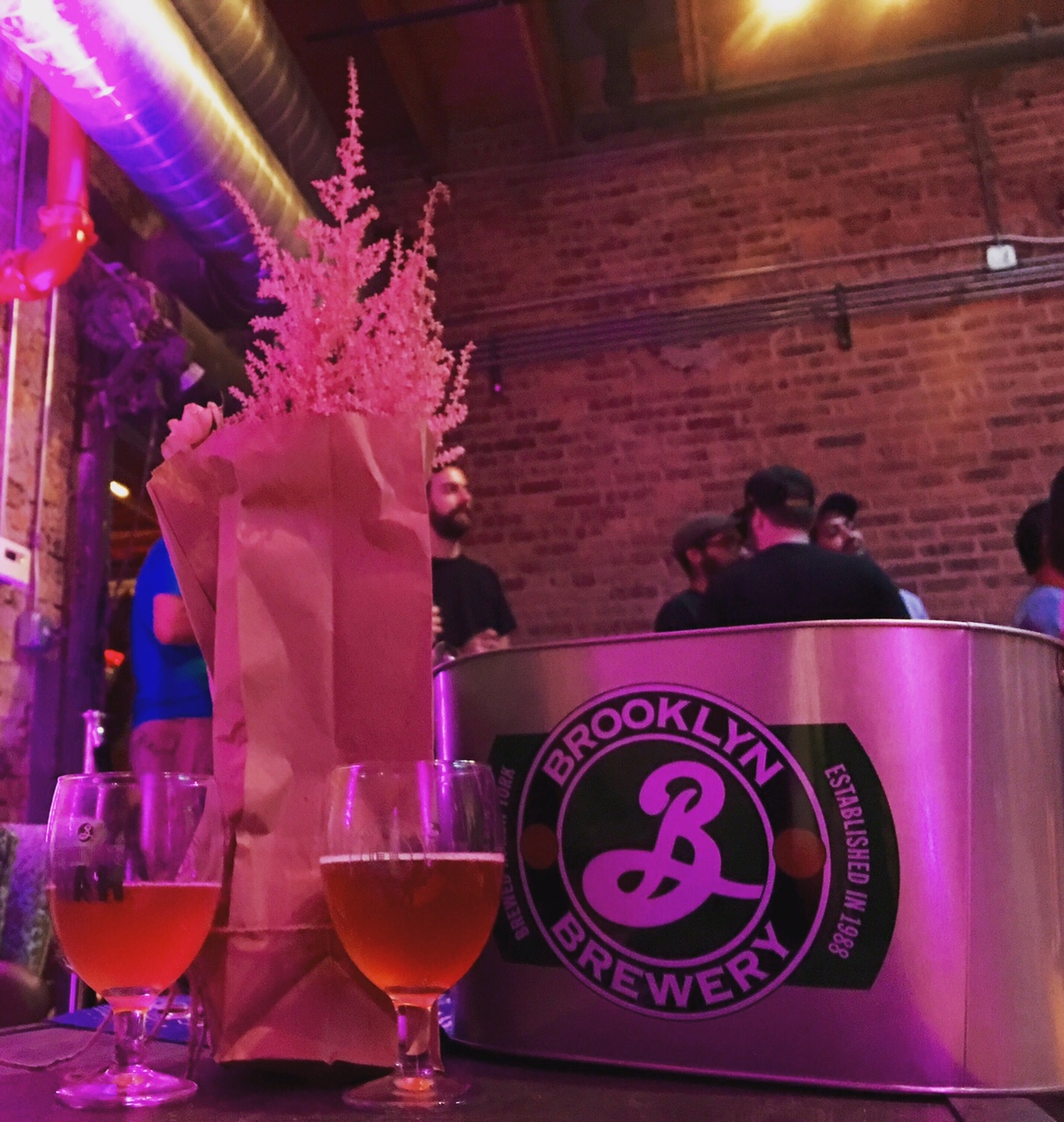 Three hours in and the crowd had trickled down to only the fearless, and a couple late starters. So with our stomachs and hearts content, we headed for the exit. Walking in, we had the thought "weirdest, wildest, most unexpected beer festival". We were captivated by the amount of time, effort, sweat and beer that went into the making of Beer Mansion. From the colossal live band hall to the multi-rooms filled with endless amounts of beers, to the minute details like koozies and photo booths this festival was a Kris Bryant home run. It was time to say our goodbyes, but wait, there was more! As we were leaving, our generous host gave us a parting gift: a case of beer each. The look on our faces was priceless. "Are you serious?" is all I could muster. "Yes, of course, thank you for coming and enjoy." Dear sir, we enjoyed ourselves and as I sit writing this article I am enjoying one of those Brooklyn Lagers you graciously gave us. Thank you, Brookyn Brewery, for including Chicago as a location on your Beer Mash tour and for the one of a kind experience.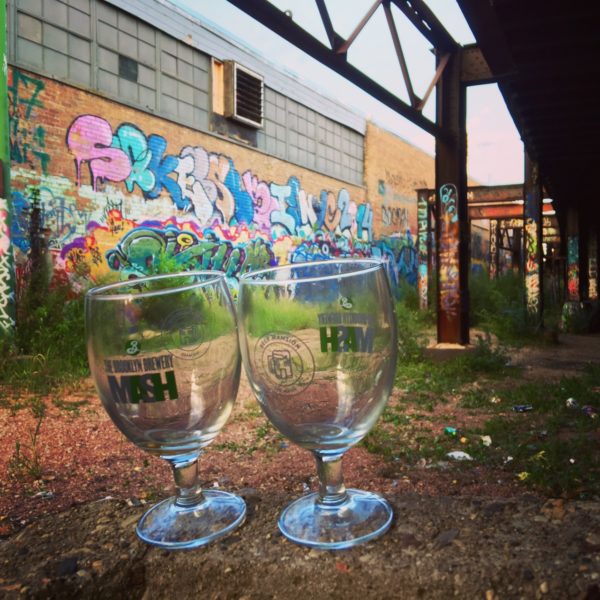 ---