No Comments
Cidery Showcase | Right Bee Cider (Chicago)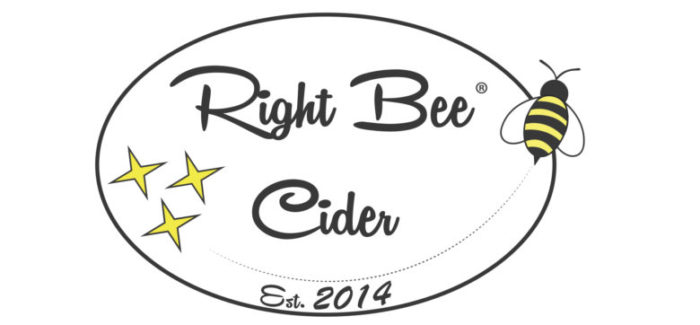 Leave it to a Siebel Institute graduate to ferment a plan to impress a girl. Charlie Davis attempted to win Katie Morgan's heart with hard cider. It worked. She not only fell in love with him, she married him. Katie also fell in love with the cider. In fact, the two of them thought so highly of that magical moment that they turned it into a business — Chicago's first cidery. Today, you'll find Charlie right-beside-her — Right Bee Cider, churning out well crafted cider to a growing fan base. He wooed her, and now they are wooing Chicago. You might say, it is cider at first site.
Okay, maybe that's a silly way to describe it, but there's nothing silly about Right Bee Cider. Charlie explained, "When I worked for PBR, there was this point where they moved the company to L.A. and didn't renew my contract. So, I'm like, 'I always wanted to start my own brewery, so I want to know the implications of being that low hanging fruit that might get fired. I was the assistant brewer and bartender at tap room at Crown Brewing and a shift brewer, and then marketing director at Finch Beer Co. So, I just kinda worked my way up. I needed to know everything about this business to get this place started." Katie added — with a big, proud smile, "He's won medals for his brewing, so it's really nice to have such a skilled person as a business partner."
But cider, Charlie? "Yeah, it was odd that it was cider not beer… but it translates well and we have a great opportunity and are doing great."
https://www.instagram.com/p/BK52ghODIzK/?taken-by=rightbeecider
Right Bee Cider tastes nothing like the overly sweet cider you drink at fall festivals – it's impeccably well-balanced.
Right Bee's unfiltered, gluten-free, all natural (no artificial sweetening) 5.7% ABV hard apple cider enjoys sensational balance and offers drinkers a refreshing, crisp, natural flavor.  It almost reminds one of a wild farmhouse sour, but not quite as tart. If you long for dessert, try apple pie or apple cobbler. If you want a nice fruit-forward libation that is brewed with the deft touch of a picky Siebel Institute graduate, Right Bee Cider is for you!
The first step, of course, is to convince people to try Right Bee Cider. That's where this writer's personal story must be interjected. One night, on Chicago's north side at a beer event, I noticed Katie taking pictures and overtly, clearly, looking like someone "in the business." I introduced myself to her, and before I knew it she was selling me on her cider, and providing me with a sample. I had my doubts… until I tried it. To convince this hop and/or barrel-aged head to enjoy cider is no easy task. Now, I yearn for it. And that's what Katie and Charlie hope to do more often.
https://www.instagram.com/p/BLrr0z_jc5k/?taken-by=powers_mathew
Katie and Charlie's grit is something to behold.
Starting any business, let alone the first cidery, involves tremendous fortitude. Katie mentioned, "It can be emotionally draining sometimes. It's more than just making the cider, which in of itself is a huge undertaking, but handling legal things, taxes, sales, festivals, plumbing or anything!" Indeed, one night when the power went out and production demands approached – they simply stayed up all night and got it done. But, they do it together, and I have yet to find a time when the two of them weren't smiling and filled with exuberance! Katie noted, "When we are at a bar and people that don't know us and order it, drink it and have a great reaction, it's an incredible feeling."
It's a feeling they hope occurs more often. Katie explained, "We hope expand our production to different parts of the state, Charlie added, "Yeah, I definitely want to do some seasonal offerings and barreling, but right now I wanted to focus on one product and make it consistent. Once we do that, I can't wait to do some fun things."
It may be hard work, but that's okay because it is truly theirs.
Cider is,for Katie and Charlie, part of their story, it's what brought them together, it's what brings them together every day. Right Bee Cider is, in a metaphorical sense, their child. They created it, nurtured it, cared for it, watched it grow, and they even post pictures of it with regularity.
If none of that matters, maybe you can take the reaction of Xander of Lombard, who commented to his buddy Dan from Elmhurst, "Have you tried Right Bee Cider? It's good. Damn good. That's not like, a really sweet cider or anything. It's just [bleep]ing good."
I had the same reaction. You will, too. Just try it. You'll like it.
---