No Comments
Brewery Showcase | Cheluna Brewing Opens in Stanley Market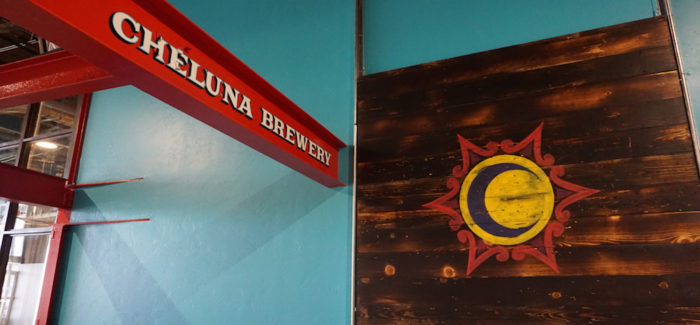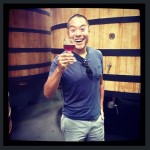 Address: 2501 Dallas St, Aurora, CO 80010
(Until Stanley Marketplace fully opens, enter through South Entrance)
Hours of Operation:
5-10pm Sunday – Thursday
5-11pm Friday – Saturday
It's 7pm on a Thursday evening and Javier Pérez Koch is just beginning his shift as an ER physician at Denver VA Hospital. He wears an inviting smile, short peppered hair and gives off a cool sense of confidence that's required of someone in his line of work. These evenings are ones met with chaos, and uncertainty, a far cry, from Koch's moonlighting gig just 12 hours earlier.
Javier, or Javi as friends refer to him, along with co-founder and wife, Jennifer Pérez have spent the last three years working toward launching Cheluna Brewing, which officially opens at 5pm today, in Stapleton's still-in-progress mixed use facility Stanley Marketplace. And while many startup breweries require its co-founders to retain a day job to provide a sustainable source of income, few of those occupations involve the patience, skills, and mental fortitude required to treat burn victims, patch together broken appendages, or revive those on the brink of mortality. Javi, juggles all of that and more three days a week, and for the past seven months, has spent every other waking moment building a brewery.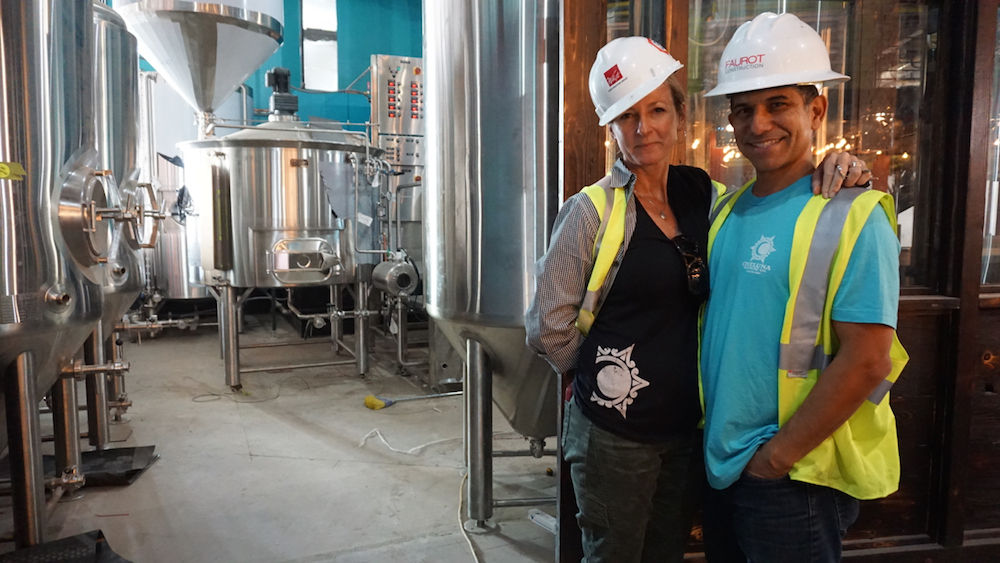 "Sleep is overrated," jokes Javi. "There's a strong work ethic that runs through both of our families. But also brewing allows life to slow down. It's relaxing." It's that same work ethic that fueled him through medical school, when his high school teachers told him would never be able to become a doctor. "I never like listening to people, my teachers never helped me get to where I am, I got there on my own," laughs Javi.
And while Javi is often quick with a joke about needing little sleep, or an account of brazen stories calling back to a more rebellious youth, Jennifer provides a more measured approach and offers a bit more clarity to his hyperboles. "I want to make sure everyone knows he gets seven solid hours of sleep each night. I don't want anyone to think he's irresponsible in the ER," noted Jennifer. "She's great at creating a calmer atmosphere and practicing self awareness, whereas I run straight into the fire," laughed Javi.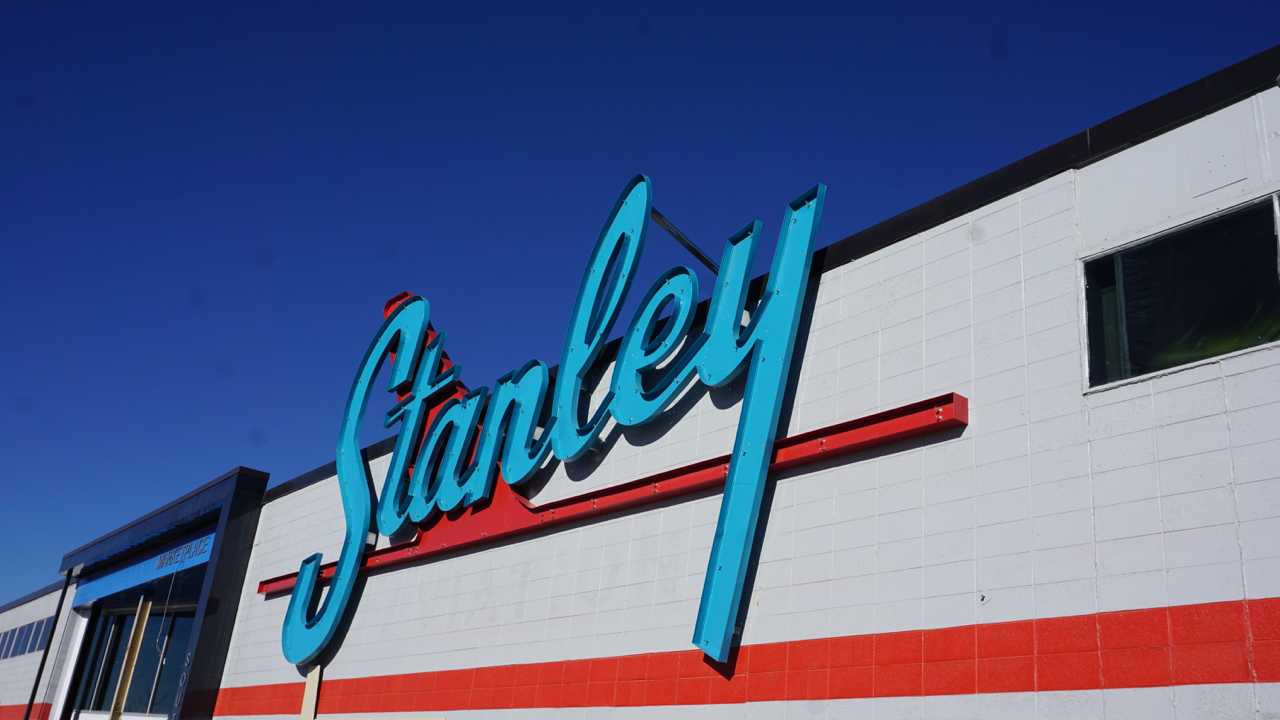 Balance and service are a common refrain for Javi and Jennifer Pérez. The two have always complemented each other, and it has become the manifestation of Cheluna's sun and moon logo, which represents the "balance of their energies," explained Javi. The two first met working at New York City's Outward Bound Program, both creating tactile experiential learning modules for at-risk youth. The Pérezs found commonality in spontaneity, with stints in Alaska, California, Texas and New York, but the decision to start the brewery stemmed from their desire to place roots and create a true sense of community.
Already Javi and Jennifer have begun working with neighborhood groups like the Asian Pacific American Community, the Colorado Africa Association, Aurora Burmese Coalition, while also serving those in need at the Ronald McDonald house. The Pérez's view Cheluna as a vehicle to support various social justice issues with aims to reinvest in these types of community groups through donations, events and outreach.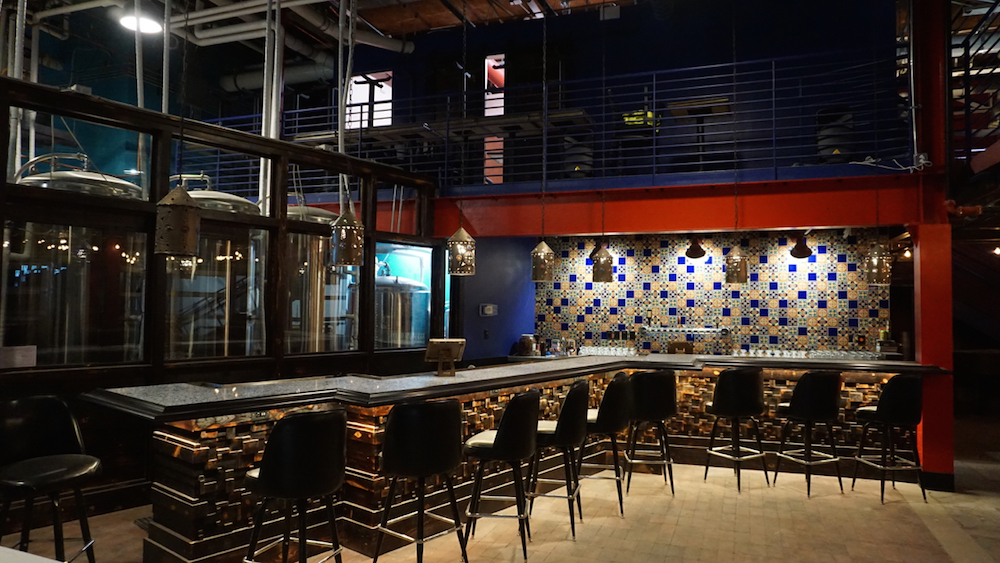 However, for all the positives this passion project represents, the Perez's recognize an equal level of sacrifice and risk. As parents of two children Celia and René, Javi and Jennifer noted the importance of their roles as parents to take extra precaution in their calculated risks. "Sometimes it's tough on our family to have to make the compromise of being a bit more cautious with money, or not being able to take many family vacations during this process," explained Jennifer.
But the Pérez family balances those risks and sacrifices with an opportunity to bringing in a wider communal circle, while also honoring their own rich familial and cultural background.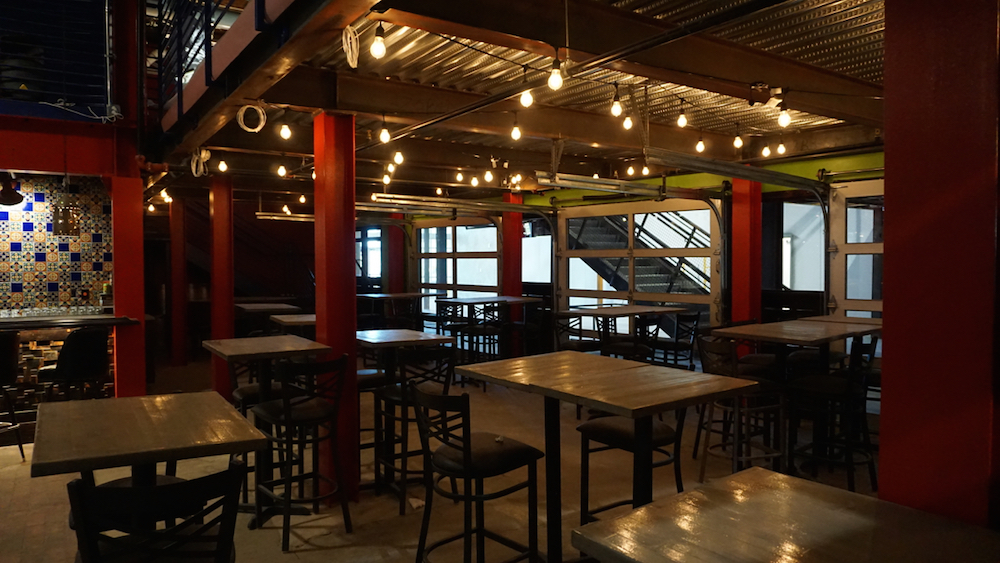 Paying homage to Javi's Mexican lineage from his father's side, and German heritage on his mother's side, Cheluna's lineup of beer will prominently incorporate elements from both countries. The initial tap lineup consists of a Hefeweizen, Doppelweizen, a Coco-Xoco Porter featuring cacao nibs, coconut and vanilla bean, as well as a Belgian Saison with Passionfruit. Along with the utilization of Passionfruit, Javi plans to incorporate other tropical fruits and ingredients indigenous to Mexican cuisine such as tamarind and prickly pear as well as barrel-aging beer in active Mezcal barrels.
That taproom interior is modeled after a traditional Oaxacan-style house/workshop with open air, and plenty of vegetation. The second story mezzanine, which overlooks the tap room's royal blue and patterned, tiled back bar wall, creates the ambiance of a lively bustling courtyard and gathering place, intentionally designed to convey a welcoming, hospitable environment.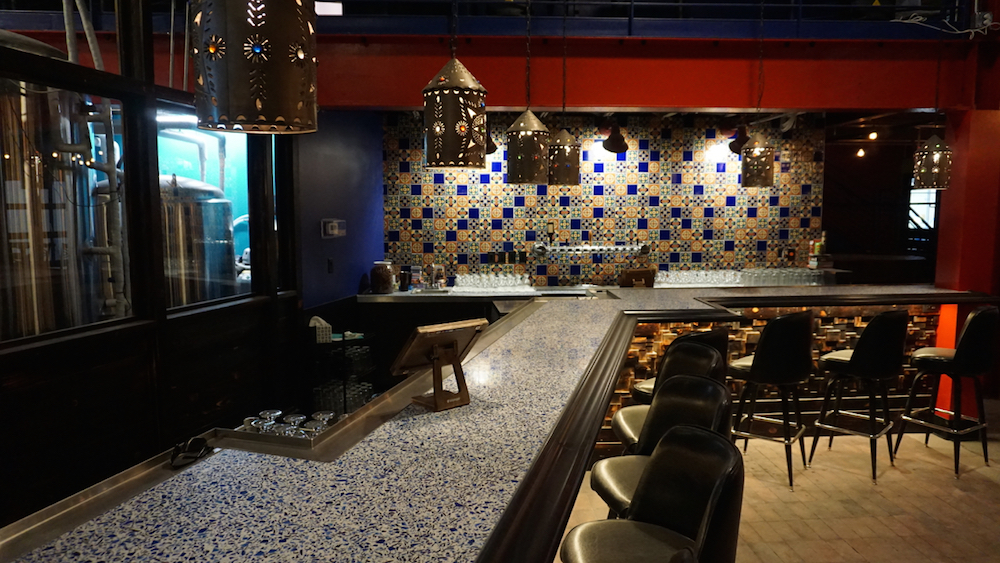 In the final hours counting down to opening night, Javi continues to navigate through a multitude of precision details. What color should the wiring be painted? What's the best approach toward stabilizing the lighting underneath the bar? What's currently fermenting in tank one? All while answering questions about their opening lineup of beers. The man is a machine.
Pérez's magnetic personality and his herculean will, are what drew the assistance of Austin Wiley and Darren Boyd, co-founders of Spangalang Brewery in Denver's historic Five Points neighborhood. Javi, who had homebrewed for over 26 years but never before on a commercial system, enlisted the help of Wiley and Boyd for guidance in installing the brewhouse, scaling up his recipes, and serving as his "training wheels" in getting the brewery off the ground.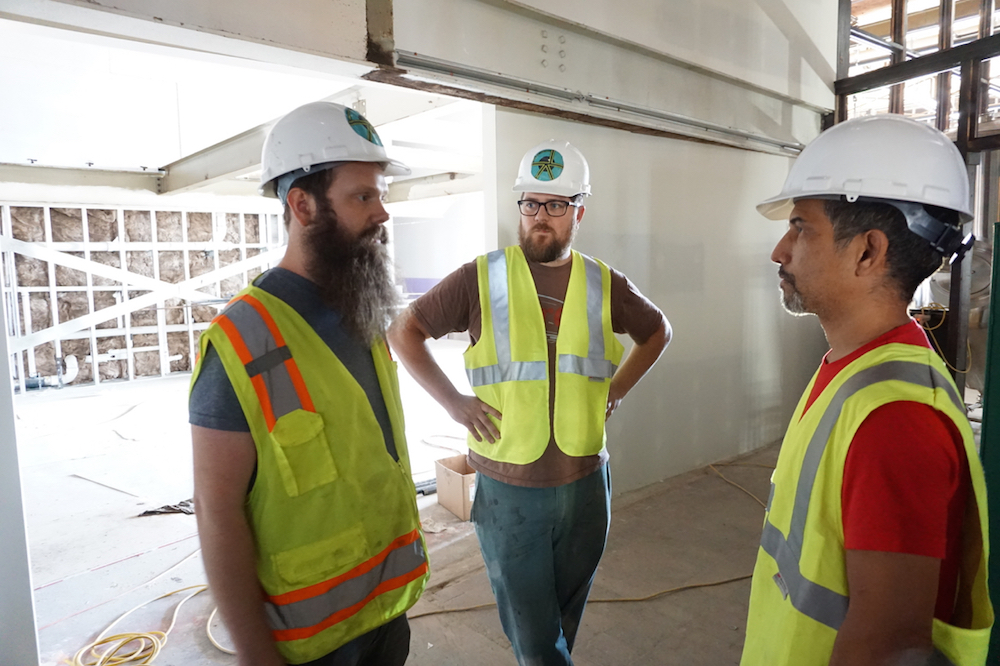 In no other industry, would large or small business owners in the same field, provide this level of assistance to a competitor. When asked why they so willingly offered their time and knowledge toward another startup brewery, Boyd stated, "He's an emergency room doctor, that says it all about Javi's generosity toward others." Boyd continued, "When we're going to help another brewery, we want to help a great intelligent person, who will make great beer, and build up another neighborhood."
"Everyone's got to have confidence in what they do, we make great beer and we know Javi will make great beer, we're not competition, this industry was founded on collaboration," echoed Wiley.
The Pérez's hopes that Cheluna Brewing can serve as common ground for people of all cultural backgrounds, distinction and classes, while also serving as an extension of their own family. "We always wanted to create something entrepreneurial, a family business for our kids, and a place for our friends to find community," said Javi.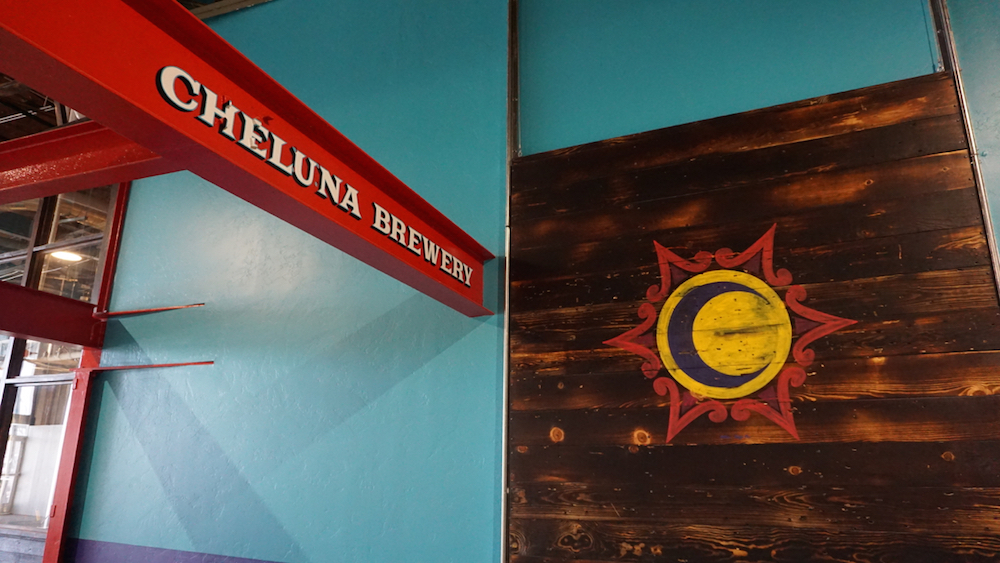 Cheluna Brewing Flagship Beers on Tap
La Morena Hefeweizen– An intentionally darker hued hefeweizen that focuses more on the clove-forward spice notes rather than banana esters. Fantastic easy drinking beer that nods to Javi's dark skinned Mexican but also German roots.
Le Belga Saison– Le Belga is Spanish for The Belgian, which captures the essence of this classically Belgian-style Saison. With gentle sweetness and highlights of the Belgian yeast strain, La Belga is great as a gateway beer and for those who enjoy more complexity as well.
Passion de Belga– Javi plans to enlist a host of Mexican inspired ingredients in his future beers, but the use of passionfruit within Le Belga is the perfect compliment of sweetness to bring balance to his already tremendous Belgian Saison offering.
German Doppelweizen– While La Morena was more spice forward Cheluna's Doppelweizen focuses more on the fruit forward side of this wheat beer
Pálida IPA– While IPA's aren't indigenous to either German or Mexican brewing culture, Cheluna knocks it out of the park with this tremendously balanced juicy IPA. This has instantly become one of the better IPAs in the city.
Coco-Xoco Porter– Perhaps the crown jewel of an already all-star Cheluna tap lineup, Coco-Xoco is only a Porter in the sense of its color and base elements. While carry very little bitterness in the form of hops, and even less roasted notes from its malt-base, Coco-Xoco focuses more on the sweet but also natural bitterness taken on from the cacao nibbs, coconut and vanilla bean. All three ingredients were sourced by Miette de Chocolat, which will also be housed in Stanley Marketplace, but the coconut was also toasted by Miette de Chocolat in their ovens specifically for this beer. A friend of the family described this beer a German Chocolate Cake in a glass, and I'd be a fool to attempt anything better.
---