No Comments
Funky Buddha Brewing | I'm So Excited, I'm So Scared! Imperial Stout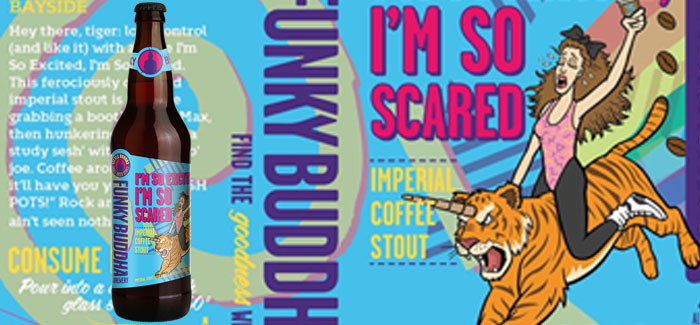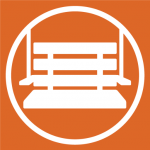 Cover Courtesy Funky Buddha Brewing
ABV: 10 | IBU: 40
It's always a joy for me when a beer not only has a really good name, but the name is also perfect for the beer when describing it. Funky Buddha Brewery's I'm So Excited, I'm So Scared hits the nail on the jittery head with this imperial coffee stout; once I took a whiff of it I got excited, and it was so delicious upon tasting it I was a little scared!
I was able to get my hands on a bomber of this over the holidays in Florida, intrigued by the label and immediately lassoed in by the Oakland Park brewery's rapidly growing name. I hadn't heard anything about this specific beer, and wasn't disappointed one bit going for it based on reputation and past history drinking Funky Buddha products. Released in December,  I'm So Excited, I'm So Scared came from their Little Buddha small batch series, with its name being a Saved By The Bell episode reference in which Jessie Spano becomes addicted to caffeine pills (coffee = caffeine, get it?).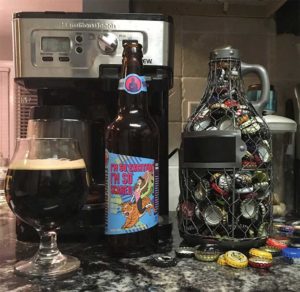 Sharing is caring, so it was a pleasure splitting this beer with a couple of PD colleagues of mine while collecting their thoughts to pair with my tasting notes. The smell is of a rich, bold coffee with a keen nose picking up an aroma (and initial flavor) familiar with a milk stout. The head of the beer is persistent, with a near black color to the beer. It is full-bodied with a smooth mouthfeel like a strong cold brew coffee concentrate. Various flavor points include cherry notes, some nuttiness as typical from a dark roast, and a sweet aftertaste. To me, it tastes like the perfect balance of a cup of strong, dark coffee with a splash of milk and half a teaspoon of sugar. I loved every sip from beginning to end!
Pairing suggestions worth highlighting from the Funky Buddha site include French onion soup, blue cheese, tiramisu, and oxtail stew. One of our resident foodies in my circle suggested an even easier option, topping a bowl of vanilla ice cream with a few splashes.
I'm So Excited, I'm So Scared is on draft in their taproom currently, as well as in 22oz bomber bottles in various liquor stores across their home state. This beer is worth a look or a trade if you like your beers super dark, with a bunch of coffee and a little sweet and silky.
---