No Comments
The Weekly Buzz | February 17 – 23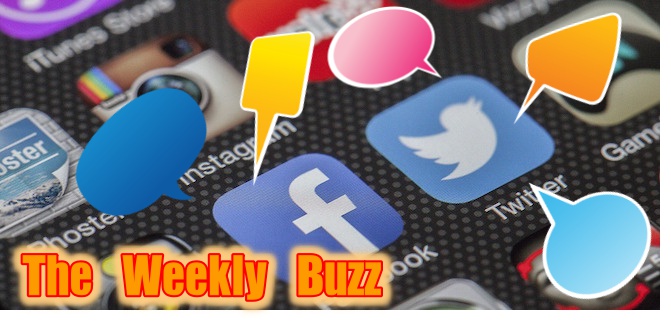 I didn't have President's Day off from work, but I hope that all of you had a free day to taste new beers. Being on a diet means that my beer tastings are limited, so I'm counting on all of you to tweet your experiences at me. I'm serious! Living vicariously through PorchDrinking.com's readers is all I have (until the weekend)! Please?! Anyone?! I'm itching for a beer over here! Anyway… here's The Weekly Buzz…
That's 36,000 pounds! 18 Tons!
When we say the Barrel-Aged Series beers are hand-crafted, unloading 288 empty barrels (125lbs each) a few times a day is just the start. pic.twitter.com/sbLmgyfDHH

— Founders Brewing Co. (@foundersbrewing) February 18, 2017
---
Another ATL brewery makes good on a Super Bowl bet.
Those @MondayNight folks sure delivered on our Super Bowl bet! Classy bunch, even in defeat. Now where to display this trophy… pic.twitter.com/fqQLafYOtg

— Night Shift Brewing (@NightShiftBeer) February 18, 2017
---
I'm excited, too! Can I come?
Getting excited for tomorrow's Mattina Rossa release at the brewery. Then ships out to all our distro. pic.twitter.com/cSinkQ6QYc

— Allagash Brewing Co (@AllagashBrewing) February 18, 2017
---
I wonder if there will be a mosh pit!
https://instagram.com/p/BQqpcjrl9SI/
---
I heard that the bottle transforms into a robot!
Introducing #Erraticus #Elita! Try this bottle conditioned, barrel aged cider on 2/25. #DrinkMICider @StarcutCiders https://t.co/FvQzmy6FRC pic.twitter.com/UJLCif4BLn

— Short's Brewing (@ShortsBrewing) February 18, 2017
---
Get your tickets while they last!
Celebrate 20 Years of Chicago Craft at our #TwoBrosBeer20 Anniversary Party w/ live music from @JCBrooksBand! Tix: https://t.co/gZ8KaaILYf pic.twitter.com/mpAwWoDKcp

— Two Brothers Brewing (@TwoBrothersBeer) February 18, 2017
---
Happy anniversary!
https://www.instagram.com/p/BQrDLE4FEoZ
---
Thar she blows!
Mandatory @TheRareBarrel stop. All the ?. pic.twitter.com/bWJZagWWGU

— Cerebral Brewing (@CerebralBrewing) February 19, 2017
---
What did you drink for #drinkitnow day?
.@AllagashBrewing Really digging this one from @creaturebeer! pic.twitter.com/ZpKM02Rshl

— Firestone Walker (@FirestoneWalker) February 20, 2017
---
These brewers made a wise choice.
It's #drinkitnow day, and we're raising a glass of St. Klippenstein to a great idea, a beautiful stout & brewers with an independent streak. pic.twitter.com/QQyq1OW1F0

— Tröegs Brewing (@TroegsBeer) February 19, 2017
---
Remember when he was Ronon Dex? It was his finest role.
https://www.instagram.com/p/BQtzY3aA9KY/
---
Guinness is joining the effort!
Here's hoping our Maryland lawmakers do what is best for Maryland beer. https://t.co/AbclENroY7 pic.twitter.com/EJs4p4XTMk

— Flying Dog Brewery (@FlyingDog) February 20, 2017
---
If there's one thing I need, it's more beer glasses.
https://www.instagram.com/p/BQwRvC2AYlT/
---
It's like trying to guess the secret flavor of Airheads!
The leading hops in #LuponicDistortion Rev. 005 hail from the Pacific Northwest & include _____, _____ & _____! #topsecret #confidential pic.twitter.com/Q46Mbe9TlH

— Firestone Walker (@FirestoneWalker) February 21, 2017
---
Need a job?
https://www.instagram.com/p/BQwQctTgHsM/
---
The beers at night are big and bright deep in the heart of Texas!
Bottled today: Am I Right or #Amarillo, brewed exclusively for #Texas. Launch events week of 3/6: https://t.co/hXijK55clj #AmIRight pic.twitter.com/u5qg1MuZBz

— Bell's Brewery (@BellsBrewery) February 20, 2017
---
I truly hope this isn't "fake news!"
Do you know which beer-loving president named his hounds "Drunkard", "Tippler" & "Tipsy"? https://t.co/l7fOnhgm3M @intellectualto pic.twitter.com/u7Fh0xWomA

— Ska Brewing (@skabrewing) February 20, 2017
---
Let's build a time machine, cure his illness, and elect him a fifth time.
#presidentsday #becausewithoutbeer pic.twitter.com/ziXFT0su5g

— Free State Brewery (@FreeStateBeer) February 20, 2017
---
Tickets go on sale (2 days ago)!
Today's the day! @BLVDia ticket packages, including Taps & Tastes tickets, go on sale at 10am CST! Brewery lineup: https://t.co/NCyfUKDrEp pic.twitter.com/k6gN5ZCkZt

— Boulevard Brewing Co (@Boulevard_Beer) February 22, 2017
---
Anybody wanna get drunk?
Alt-#MargaritaDay recipe:
1 Citradelic Exotic Lime Ale
1/2 ounce tequila
Combine and enjoy, then spread your infinite wisdom to others. pic.twitter.com/zYCZbwcfSc

— New Belgium Brewing (@newbelgium) February 22, 2017
---
Good thing it's been an unseasonably warm February!
We're gearing up for spring with a brand new beer! Short Sleeve Saison is shipping to stores now. Details: https://t.co/OHtPjwqjBl pic.twitter.com/2ZgQaDo26t

— Brewery Ommegang (@BreweryOmmegang) February 22, 2017
---
Check out this lineup!
Thrilled to announce the 2017 Telluride Blues and Brews Festival Grand Tasting Brewery Lineup. View the lineup → https://t.co/mPsOLJvrNJ pic.twitter.com/T36NE4Dc9d

— Telluride Blues (@TellurideBlues) February 23, 2017
---
Kölsch, Märzen, Pilsner, Altbier, Braunbier, Gose, Berliner Weisse, Bock, Doppelbock, Hefeweizen, Dunkel, Helles… Need I say more?
Sample local and authentic German brews at @PhillyBierfest! https://t.co/SIyZg8BpVX pic.twitter.com/pSzAfDCF3l

— Sly Fox Brewing Co (@SlyFoxBeer) February 23, 2017
---
Science is the coolest!
We're over here checking the seams of our cans, ensuring no oxygen is getting in and no beer is getting out! #beergeekery ? pic.twitter.com/XGC6GCqjnz

— Dogfish Head Brewery (@dogfishbeer) February 23, 2017
---
I'd need a shower after that meeting.
https://www.instagram.com/p/BQ3gavjgNpb/
---
Is this a brewery or a crime scene?
https://www.instagram.com/p/BQ3-8JKgtmN/
---