No Comments
Event Recap | New Belgium's Le Kriek Noir Bottle Release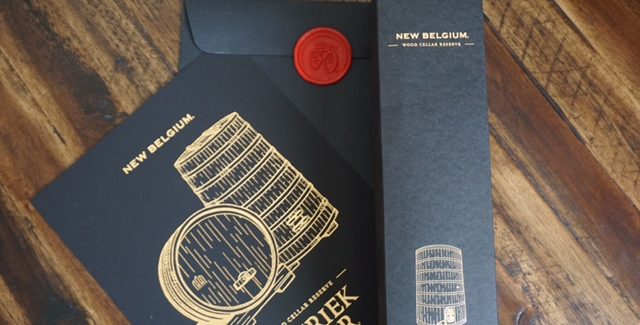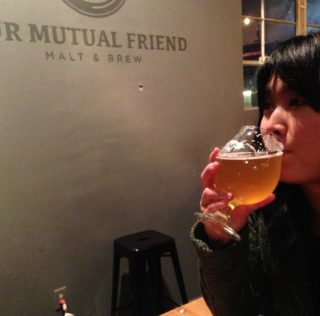 At 10:30 p.m. we approach a line that spills out the door of New Belgium Brewing Company in Fort Collins. The red carpet is rolled out, and folks are dressed to the nines wearing elegant cocktail dresses, suspenders, and fedoras to go along with the "film noir" theme of the evening. In a return to the cork and cage format of La Folie's past, New Belgium's Unveiled & Uncorked bottle release party was a celebration of the launch of the brewery's Wood Cellar Reserve, a series of very rare, small batch wild and sour ales—and the star of the night was Le Kriek Noir, the first release from Wood Cellar Reserve.
An assertively sour dark blend from two continents and three years in the making—This is Le Kriek Noir.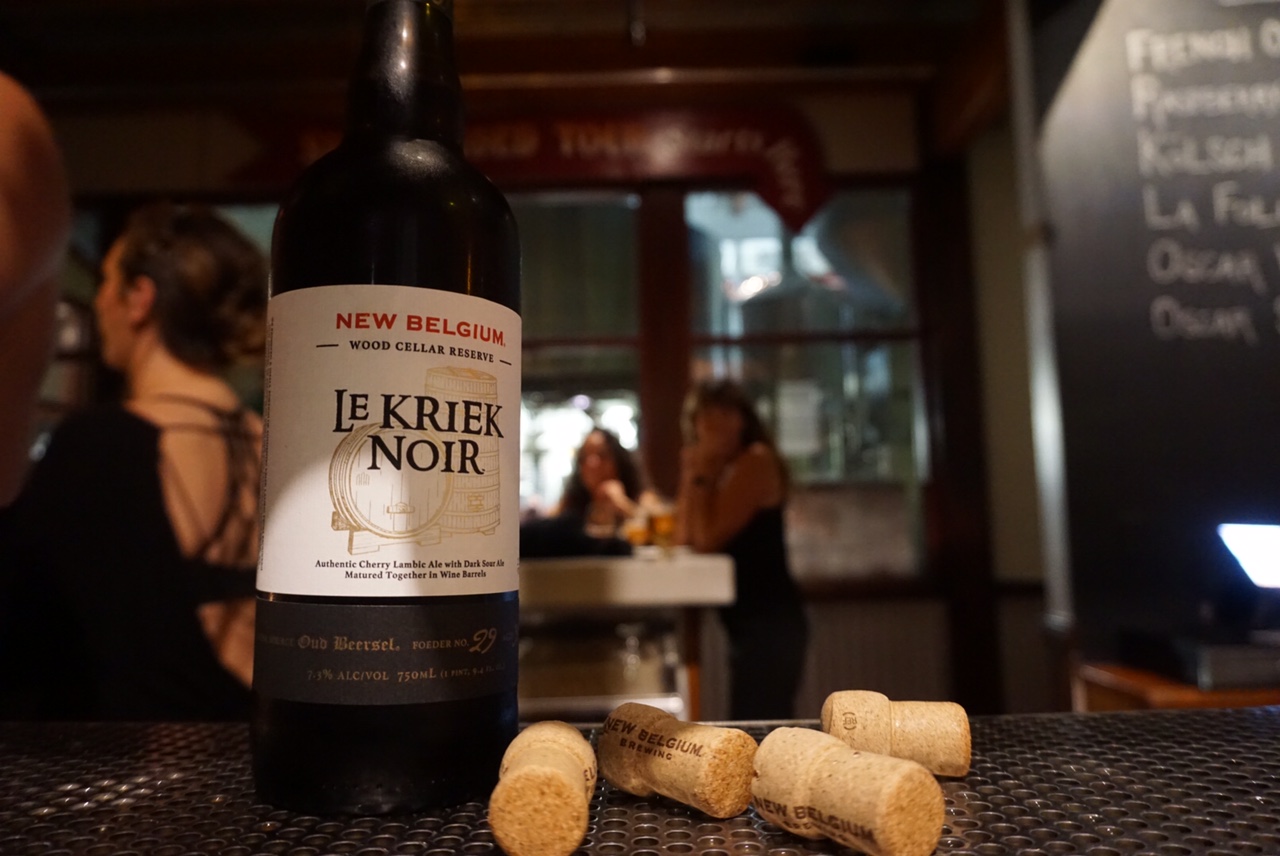 Knowing that we could only get one pour of the super limited batch release, we quickly made our way to the bar where bartenders were busy popping corks and filling glasses. Le Kriek Noir is an authentic Belgian Kriek Lambic, in which a small portion is reserved Oud Beersel from Belgium traditionally used to create 2016 Transatlantique Kriek. It's then blended with a single foeder of dark sour beer and aged in the brewery's original wine barrels that stem from New Belgium's sour program from 1998. While guests were only allotted one pour, they were able to purchase up to two 750 ml bottles of Le Kriek Noir.
Cherry notes from the Kriek Lambic produce a sharp, lip puckering sour upon first sip. After a few more sips, the complexity from the aged and blended beer take hold. It is a very approachable dark sour that showcases great wood characteristics with a rich easy finish.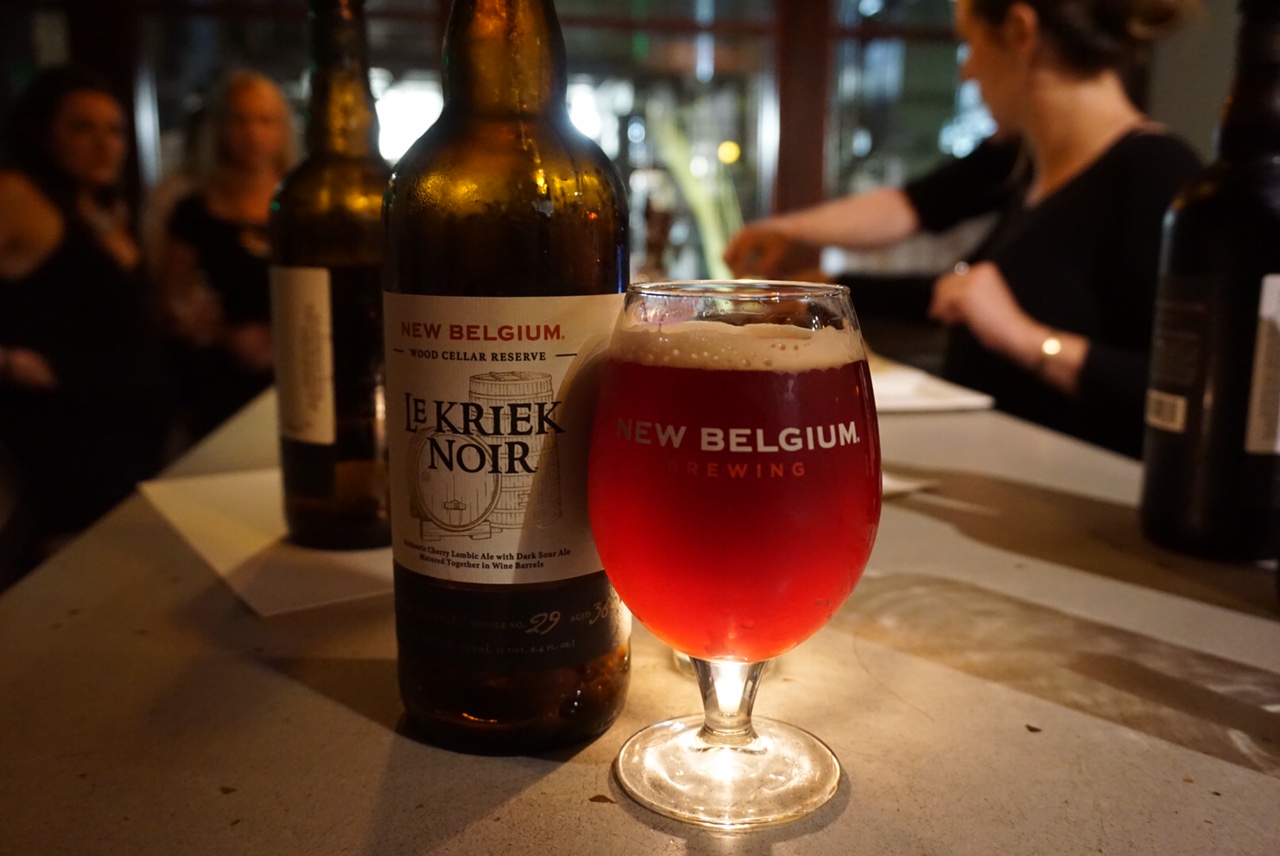 After we tasted the most coveted beer of the evening, it was time to keep things rolling. New Belgium's core, seasonal, and specialty beers were on tap for unlimited tastings that came with the $50 ticket price. Mile High Soul Club's record spinning kept the energy flowing while The Farmhouse at Jessup Farm served up tasty morsels of pork belly and infused chocolate cake. Similar to Lost in the Woods, New Belgium's notorious small batch sour extravaganza, portions of the Foeder Forest was open to the public to roam about.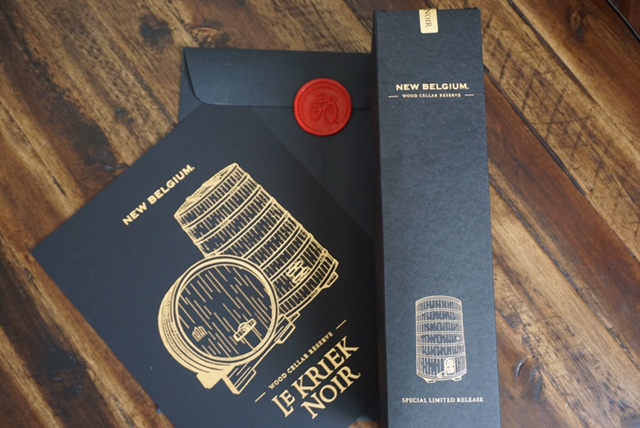 For many years, New Belgium's mixed fermentation sour program has been approached without much pomp and circumstance. As one of the country's earliest and most prolific pioneers in the style, one could argue that groundbreaking brands in La Folie, Transatlanique Kriek, Le Terrior honestly haven't been given the platform typically associated with beers of that magnitude. Ever since La Folie made the transition from cork & cage, joining the Lips of Faith series, it seemed that New Belgium's sour lineup had lost a bit of the cache and hype typically associated with a beer of that level of craftsmanship and quality. Le Kriek Noir, the first entry in New Belgium's Cellar Reserve Series signals a shift in focus, doubling down on their already elite level sour program. Plus perhaps the limited quantities and sleek new packaging will finally reawaken those beer nerds, who seem solely focused on chasing rarities and the next shiny new cork and cage wax dipped release, which their one friend swears will be worth the trade bait without having ever tasted a drop. (Sorry we'll step back off our soapbox for a second).
Upon departing guests were provided with a take home bottle of Le Kriek Noir and a wax sealed poster-sized envelope; Inside was a gold embossed print commemorating the evening, a perfect keepsake that captured the new frontiers of sour at New Belgium.
While Le Kriek Noir was a Fort Collins and Asheville New Belgium brewery site only offering, those that missed the release parties still have a have a chance to try it. The brewery had a one day sale web sale today with a two bottle limit for the limited quantity release. Hopefully you were able to snag a bottle or two! The brewery notes that you can experience the beer now, or cellar it for later—the souring culture inside the brew will develop in the bottle for up to five years. We think we'll wait it out to compare and contrast. In the meantime, we'll eagerly wait for the next round of master blends to come out of the Wood Cellar Reserve series, more on those tomorrow.
---