No Comments
Hayes' Public House | Where Irish Hospitality Meets Minnesota Nice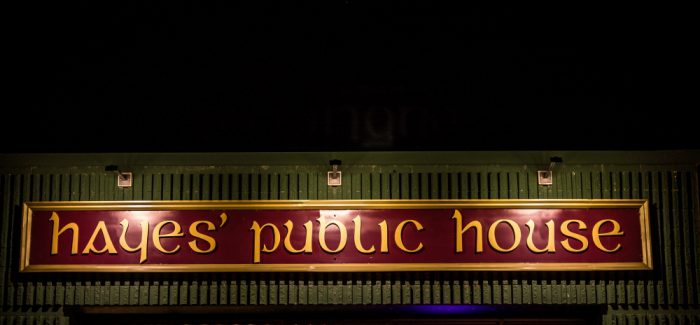 Located in the heart of Central Minnesota — a state known for its fierce Scandinavian pride — is a small Irish pub that almost seems out of place.
Hayes' Public House provides the most authentic Irish experience some Minnesotans may ever have. And that's the point. Owner and Head Brewer Pugs Hayes and his wife spent two months touring Ireland, absorbing as much of its culture as they could. With the help of friends and family, they recreated what they saw, heard, felt and tasted in a small brewery that has become the hub of Buffalo, MN.
Located 50 minutes outside of Minneapolis, Hayes' is just far enough outside of the metropolis and off the beaten path to make it one of Minnesota's best-kept secrets. The first time we walked in, it felt more like we had stepped into someone's home rather than a brewery — the laughter of milling patrons, clinking of glasses behind the bar, Irish soccer club flags hanging from the ceiling, various instruments hanging from walls and friendly shouts of greeting from bartenders created a warm welcome unlike any we'd experienced on our ale adventures. To be fair, our camera gear might have made more of a scene than they were used to. Still, any ideas of special treatment we may have been given have been discredited on all of our following visits; they really just are that warm and friendly at Hayes'.
As is typical of the Irish beer scene, Hayes favors darker, maltier beers — his Irish Stout, Smoked Export, Red Ale and Barleywine are solid staples. However, it's his seasonal or specialty beers that are truly worth noting — the distinguishable taste of spiced raisin bread in the Barin Breac, the potency of the Daiker's Wee Heavy and the dangerous smoothness of the Russian Imperial Stout make Pugs' beers second to none. Maybe that's the reason Hayes' is such a hidden gem; if the rest of Minnesota knew what was brewing, there'd be less to go around! Fortunately, Pugs just upgraded to a 7bbl system, so there really will be more to go around!
https://www.instagram.com/p/BhzRBa_BXZ0/
We recently stopped in Hayes', and one of the beertenders — Aaron — said, "You know what I love about you guys — I love following your ale adventures and that you guys get out and explore. But you always come back." Hayes' just has that effect; it's the kind of place you keep coming back to. We've made friends there, and we've taken family there. To us, Hayes' is more than just a brewery; it's home.
– Adam & Katie, Ale Adventures
---