No Comments
Fretboard Brewing | Mellowship India Session Pilsner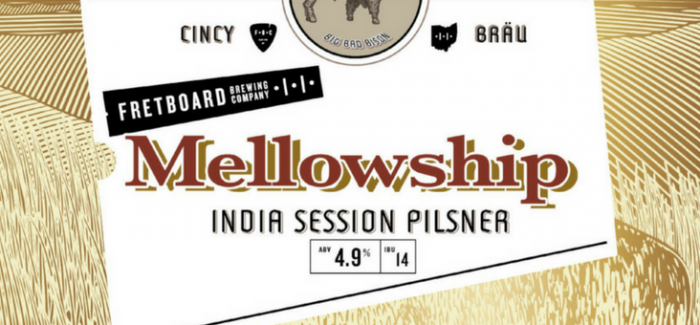 In a culture that is often obsessed with the notion of "more", craft beer has fallen victim to chasing high ABV and over-hopped beers. But the real truth is, that most beer drinkers prefer light and/or moderately hoppy beers. This is where Cincinnati's Fretboard Brewing Mellowship ISP really shines.
Beer geeks love big stouts or a fruit-forward New England IPAs, but the majority of what beer consumers order are either light-bodied lagers or hoppy beers. Understanding this truth, Fretboard Brewing set out to create a new style that would provide customers with what they want.
Enter the birth of the India Session Pilsner.
The result is a low ABV, low IBU beer that is full of the clean crisp lager flavor accompanied by a flavorful hop profile. But with low IBUs, these hops do not add much bitterness. It combines old-world lager with new world dry-hopped characteristics.
ISPs are light and slightly hazy due to being unfiltered and showcase hop aromatics and flavors, while the lager yeast and malt drive the body and finish that we've all come to love from a pilsner.
Beer drinkers will fall in love with the India Session Pilsner (ISP) because it doesn't sacrifice flavor while still remaining a sessionable beer.
ISP will be an ongoing series at Fretboard Brewing with the third in their series available now.
https://www.instagram.com/p/BkQdnR5BcHD/?taken-by=fretboardbrewing
Fretboard Brewing Mellowship ISP
Fretboard's latest version in their ISP series is called Mellowship and hit their taps on June 20, 2018.
Mellowship imparts all the great characteristics of an ISP: clean, crisp, hoppy, low bitterness and low ABV. But this time, the use of Mosaic hops highlights citrus, earthy and dank notes.
The bitterness remains extremely mild balanced by the lager backbone. Now, Mellowship has become part of Fretboard's core lineup so you'll be able to enjoy this one over and over.
Whether you are a lager fan, or a hop head, you'll love Mellowship and the rest of the ISP series.
---