No Comments
4 Hands Brewing Company | Single Origin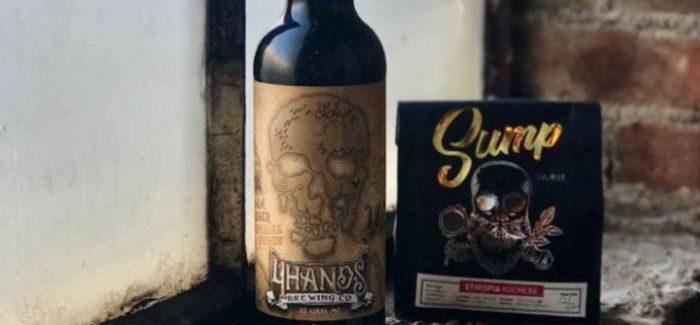 The latest brew from St. Louis' 4 Hands Brewing Company comes just in time for a palate switch up. After getting my fill of bourbon barrel stouts the past few weeks, I'm ready for the switch to big coffee stouts.  In the case of St. Louis beer lovers, we have two biggies coming out, both with a common link: St. Louis' own Sump Coffee Company. One of which being 4 Hands' Single Origin.
The Backstory
The inspiration for Single Origin came from the brewery's new supplier of single origin cacao nibs. 4 Hands' brewers ordered a huge assortment of chocolate made with single origin nibs; they were really blown away by how completely different and distinct they are. As the brewery enjoyed their new find, they decided that the new ingredient would make the perfect fit for a collaboration that was being discussed with Scott Carey of Sump Coffee. So, it was decided they'll create a project that focused on these distinct ingredients grown from different regions. For the first release, they selected Ethiopian natural process coffee from Sump. They then added Madagascar vanilla beans. It's the same incredible vanilla beans that they use in their Madagascar Imperial Milk Stout. They also added cacao from Tanzania and a touch of blueberry to accentuate the natural processed coffee.
https://www.instagram.com/p/BrVmX0lAt85
The Beer
The result is a big beer, with an 10.5% ABV. This beer pours black in color with a tan head. On the nose, Single Origin is all coffee up front with some more subtle notes of vanilla and berry. After the nose, you'll get rich chocolate up front on the draw. Silky vanilla notes follow in the middle and finishes off with a hint of berry.
On The Label
The original inspiration was a kind of pirate map showing the origins of the different ingredients and of course they wanted to be sure to feature the iconic Sump skull logo. Artist Josh Rowan created the label.
The Future
Keep an eye out for Single Origin to join the annual tap list at 4 Hands. Also, lookout for the next collaboration with Sump they are releasing in December over the next few years. The focus of the beer will continue to be to highlight very high quality, very unique ingredients and make it really show in the finished product.
Featured image courtesy of 4 Hands Brewing Company.
---