No Comments
Eff Milwaukee: A Minnesotan's Impression of the First, Funkiest & Favorite Breweries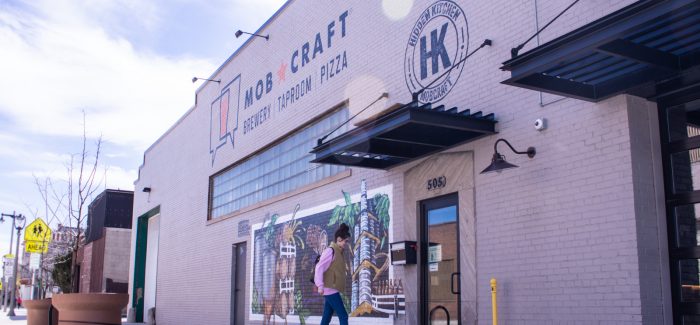 It's been a few weeks now since we made a quick beercation to Chicago and Milwaukee.
We thought about compiling all 17 breweries we visited into a single post but decided that wouldn't be any fun to write or for you to read. We considered highlighting our top five favorite breweries in each city, but thought that would be too cliche. Instead, in a moment of clever wit, we decided to feature three breweries: the first brewery we visited, the funkiest brewery and our favorite brewery in each city. We hope you enjoy "Eff" Milwaukee!
First
Pro tip: If you're planning a trip someplace new, crowdsource ideas.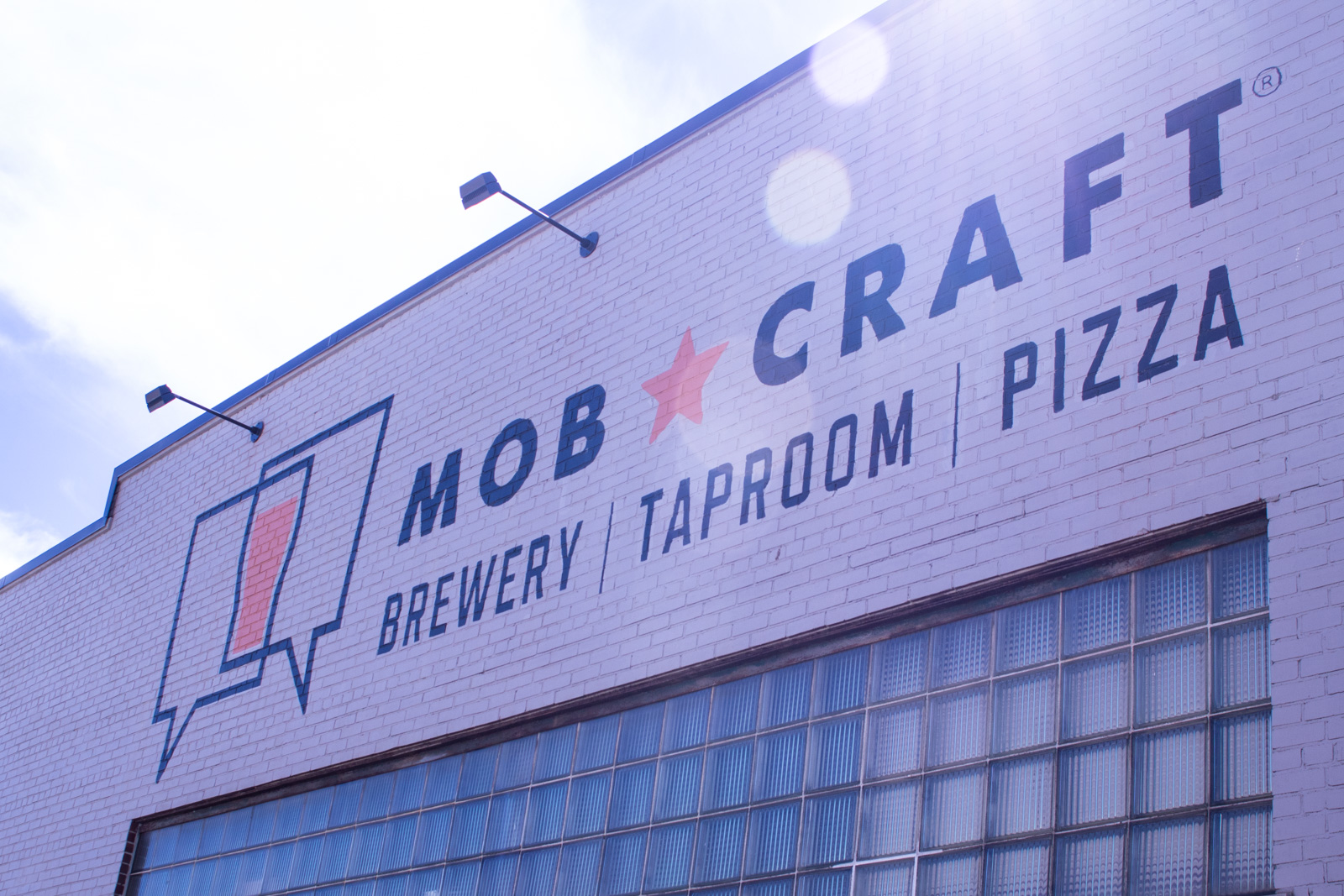 Leading up to our Chicago/Milwaukee trip, we took to Instagram to ask for brewery suggestions in each city. Mobcraft came highly recommended by many in Milwaukee, and for good reason
Everything about Mobcraft is just cool. They've got an awesome, spacious taproom in downtown Milwaukee with plenty of window space and a brilliant view of the city. The people are cool. The beer is super cool. We spent some time at the bar chatting with some of the locals before moving towards a window to soak up some sun.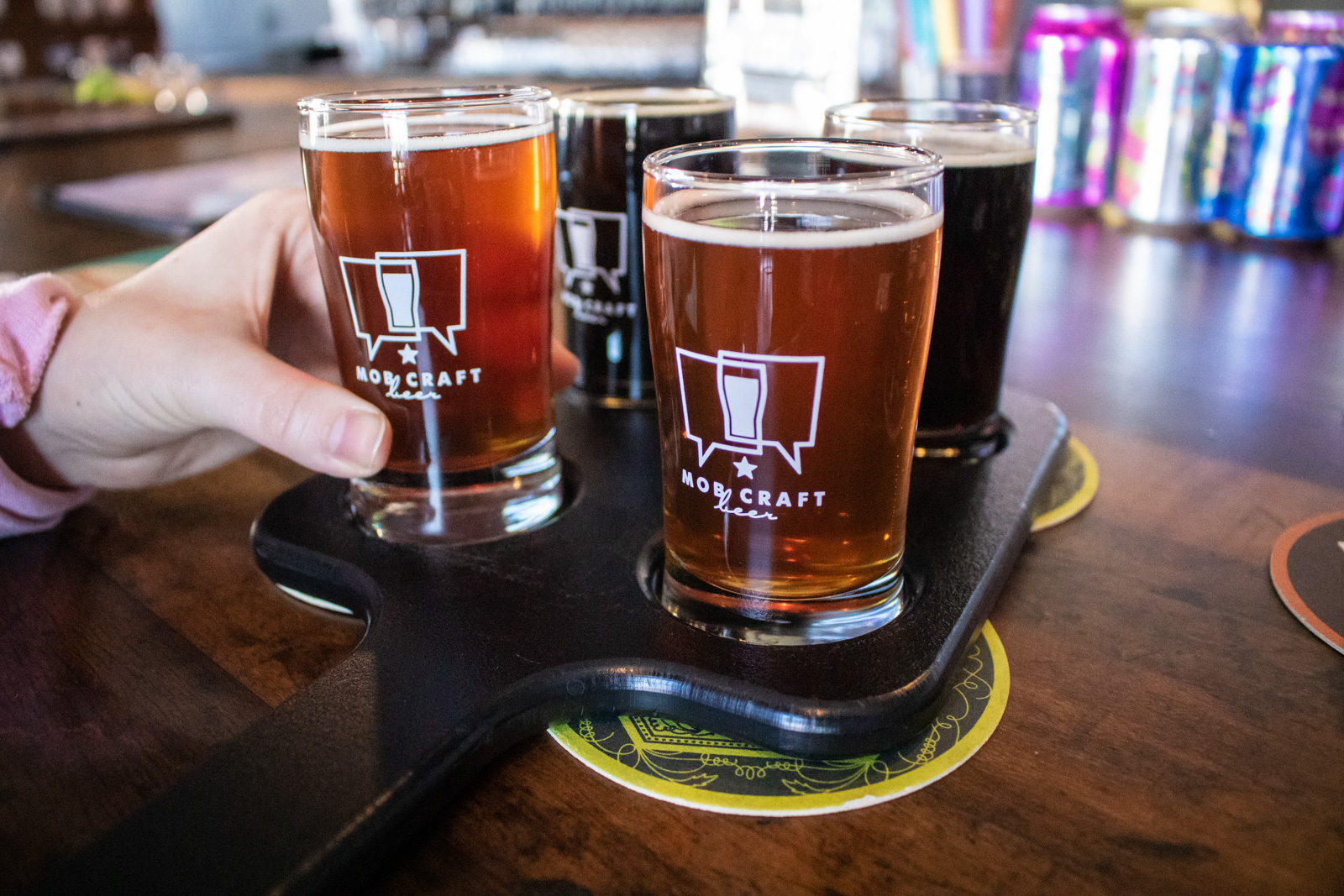 Established in 2013, Mobcraft is the world's first crowdsourced brewery (remember what we just said about crowdsourcing ideas?!). In other words, the people decide what gets brewed! In addition to their own flagship beers (Oddball Kolsh, Rhubarb IPA, Vanilla Wafer Porter, Bat$h!t Crazy Coffee Brown Ale, to name a few), Mobcraft brews beers submitted by, and voted on, by the people! Think a lemon and blueberry wheat beer sounds like a tasty summer sipper? So did Michael Stirmel, Love Reese's Peanut Butter Cups? Drink yours in a Peanuttin' Butter Than This Chocolate Porter submitted by Jeff Cottam,
Funkiest
We tried really hard to feature three different breweries as our first, funkiest and favorites in Milwaukee. But c'mon — a crowdsourced brewery?! Mobcraft makes our first and funkiest in Milwaukee.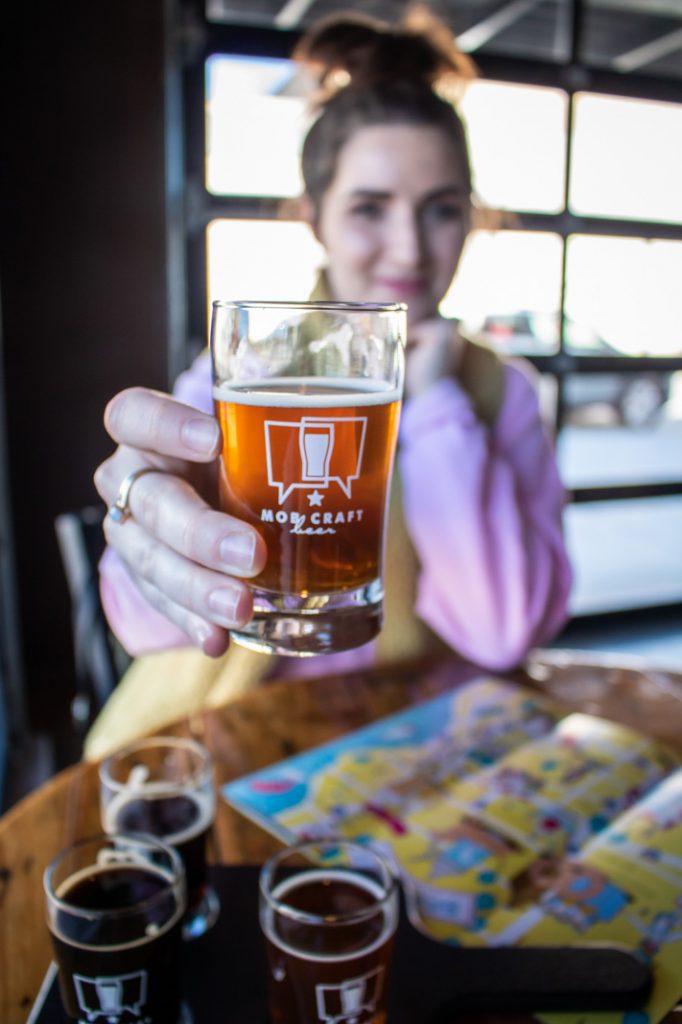 We mentioned a couple of those crowdsourced beers before, but they just scratch the surface of what Mobcraft is brewin' up. When we visited, the January winner, Caramel Brownie Sundae (an Imperial Milk Porter with vanilla, pecans and cherry) was on tap and yes, it was about as sweet and desert-y as you'd imagine. The February winner Ja'maican Me Coconutz (a Barrel-Aged Milk Stout with coconut, molasses and vanilla) will release in 2020 after taking a year to age. Other previous winners include a Grasshopper Milk Stout with mint, cacao nibs, vanilla and lactose, Cherry Andromeda IPA with cherries, coconut and lactose and Screwdriver Hefe with orange peel and grains of paradise. Keep in mind, these are all crowdsourced ideas that have been submitted and voted on!
From flagship to crowdsourced, Mobcraft is brewing some frickin' funky and hands-down tasty beer. Check out their full list of crowdsourced beers here.
Favorite
If Mobcraft ranks both "first" and "funkiest" brewery in Milwaukee, we'll make it up to you with several favorites. Turns out, we couldn't agree on a single favorite brewery in Milwaukee, so we're giving you three.
Adam's favorite brewery in Milwaukee was Third Space Brewing.
As far as taproom goes, Third Space Brewing wasn't necessarily anything unique or something we haven't seen before: a long, open space; the brewing equipment visible to one side; mostly brick and pretty much reflective of the industrial part of Milwaukee it's located in.
What did make an impression, though, were the people and beer.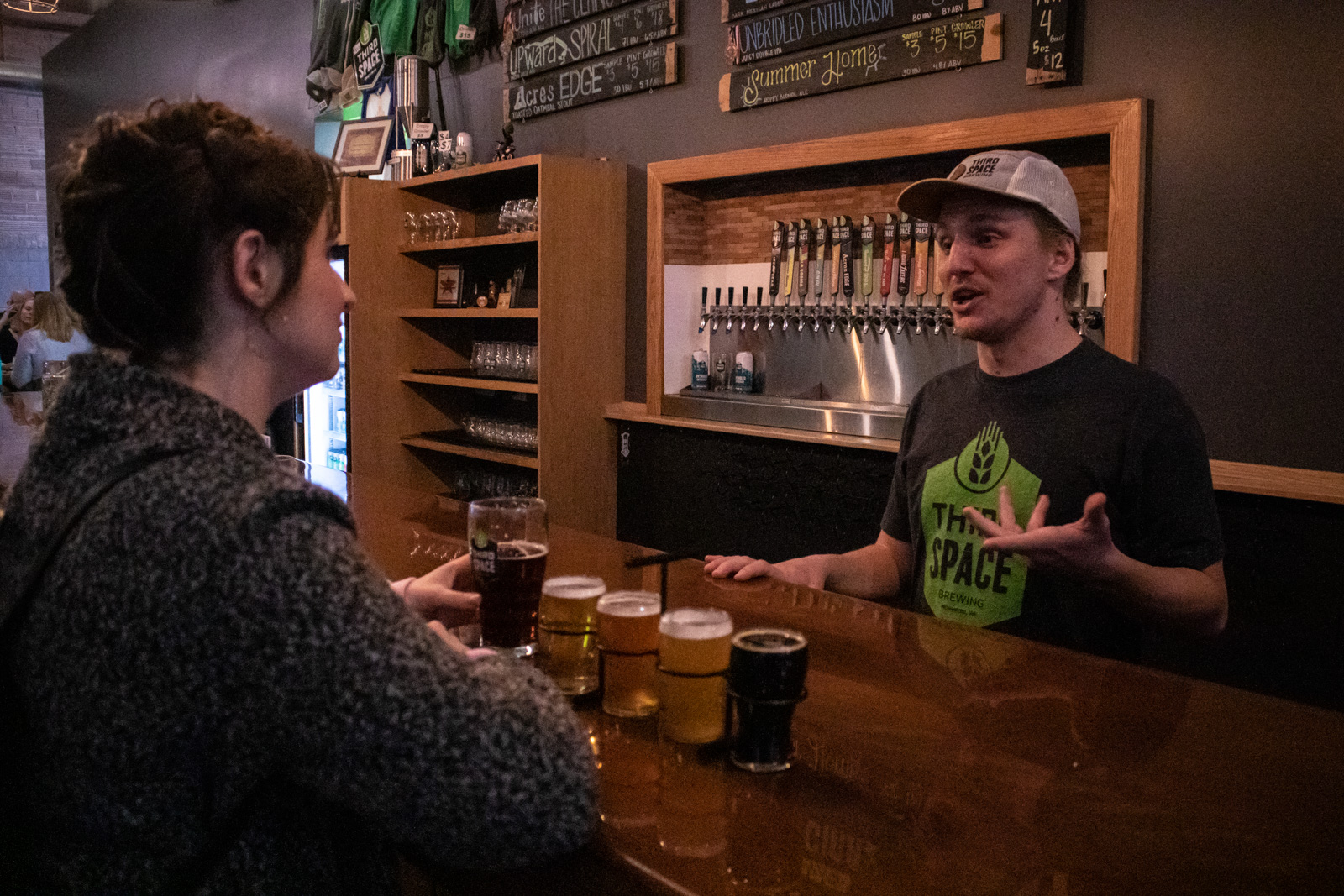 The guy behind the bar, Alex, was super cool. We learned that he'd lived in the Twin Cities for several years, which led to some great conversation about breweries and the differences between the Minnesota and Wisconsin craft beer scenes. We went on to swap life stories, and at some point he mentioned he'd been shot.
"You've been shot?!" we asked incredulously. "What happened?"
One night at home, he shared, he'd heard some screams outside. Rushing to the door, he opened it in time to see a man with a gun running across his lawn with a couple of purses. Without hesitation, he took off after and tackled the guy, but not before getting shot. Basically, Alex is a real-life BA.
"Do you mind showing us where?"
Alex turned around, pulled up his shirt and showed us where the bullet had entered his side and exited out his back! As if that wasn't wild enough, his wife — who he'd just married two months ago — was the physical therapist he worked with after the surgeries! Crazy stuff, right?
Kevin and Liz were another cool couple we met at Third Space Brewing. Seeing our Pub Passes, we explained what they were and that we were beer bloggers visiting from Minnesota. They thought that was super cool and we got to talking about beer, relationships and hobbies. As they left — they were supposed to be at a Milwaukee Brewers game but lost track of time chatting with us — we gave them a couple of extra Pub Passes we had.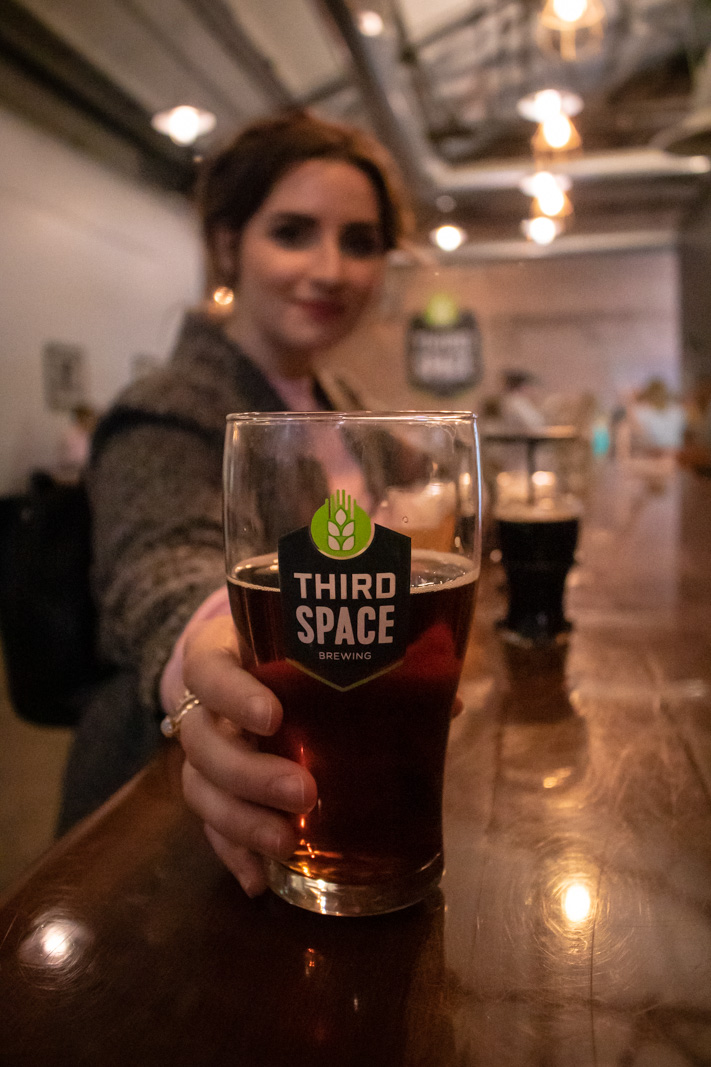 With an extensive list of Milwaukee breweries still to check out, we had intended to only have a drink each at Third Space. Katie had the GABF gold-medal winning Unite the Clans Scottish Ale and I tried the La Cocina Dark Mexican Lager. Both were really fantastic beers and we would have left with a great impression of Third Space as a whole. Alex insisted, however, that we try a flight of his four favorite beers on tap. Pouring us an IPA, a DDH IPA, a Baltic Porter and a coffee cream ale, it was — four-for-four, hands down — the best flight I've ever had! I'm afraid I'll sound absolutely ridiculous if I go on raving about this flight, but it was genuinely, I thought, without fault. I highly recommend making a stop for yourself the next time you're in Milwaukee or looking for Third Space beer in Central/Southern Wisconsin liquor stores.
Katie's favorite breweries in Milwaukee were Company Brewing and City Lights Brewing.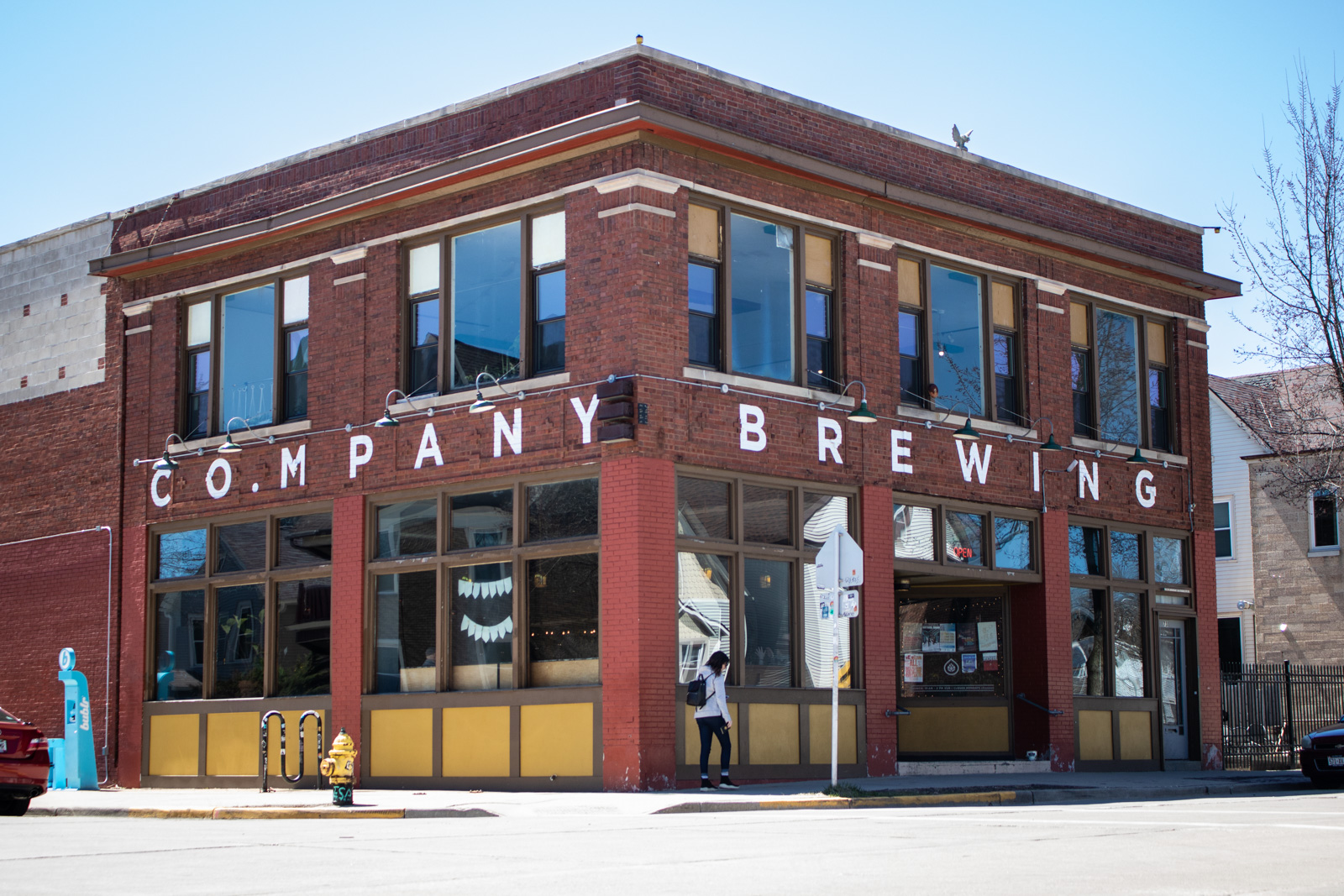 We happened upon Company Brewing as after leaving Black Husky Brewing, on our way downtown. Katie spotted an eclectic building with the brewery's name across on the side and hollered, "Pull over!" The interior was like West Elm and Anthropolgie merged to design the taproom; it was incredibly cozy and full of greenery. It's also a restaurant and had a stage in the far left corner. If we had more time it would've been a blast to see a show there.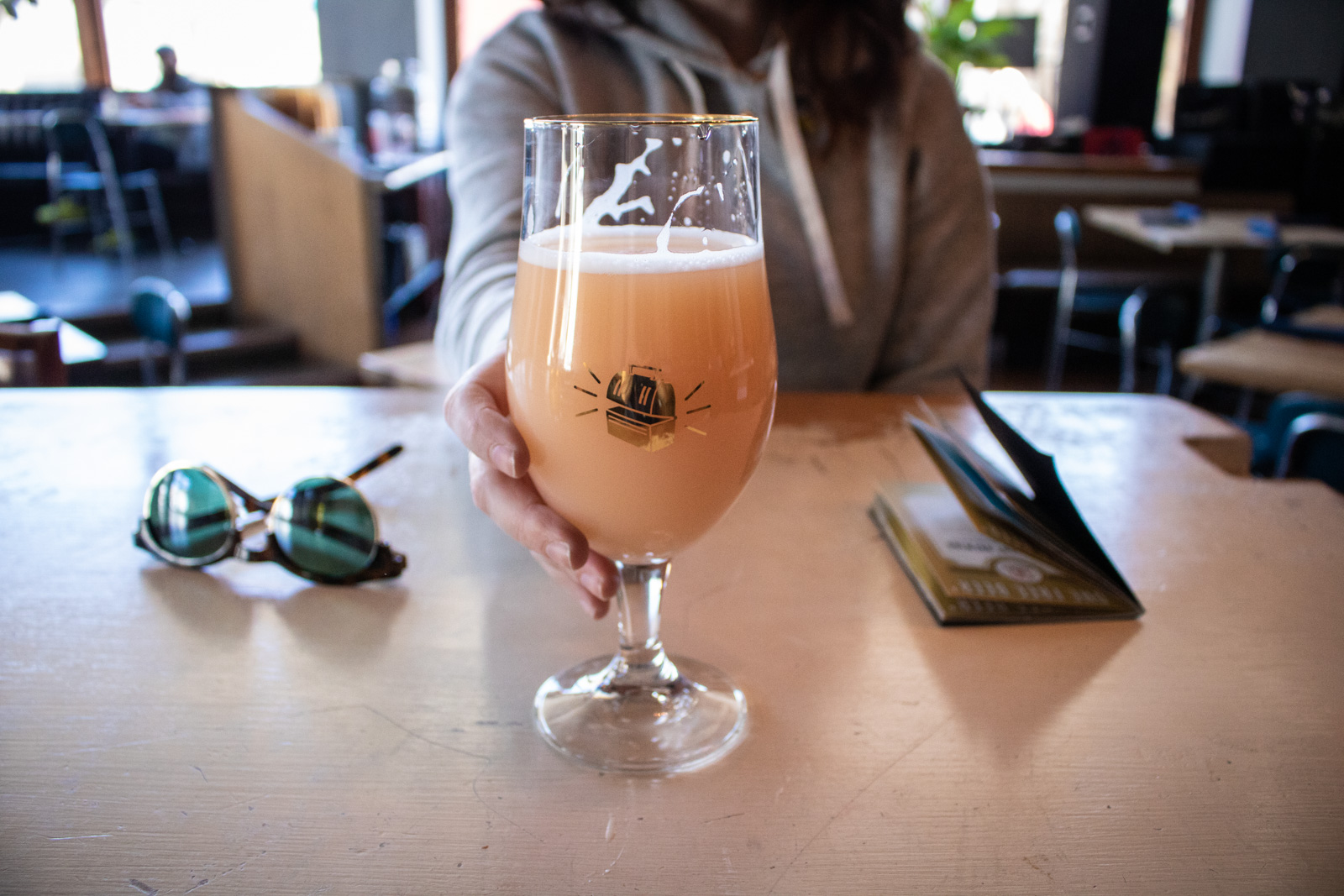 One of Katie's top three favorite beers of the Chicago/Milwaukee trip was the pink guava Gose. It's he perfect brunch beer: super fruity, slightly tart and super delicious.
City Lights Brewing Co. was the perfect hang out for a Saturday afternoon. The huge taproom opened up to an equally spacious patio. Katie's TOP favorite beer from our adventure was the Chocolate covered strawberry milkshake stout.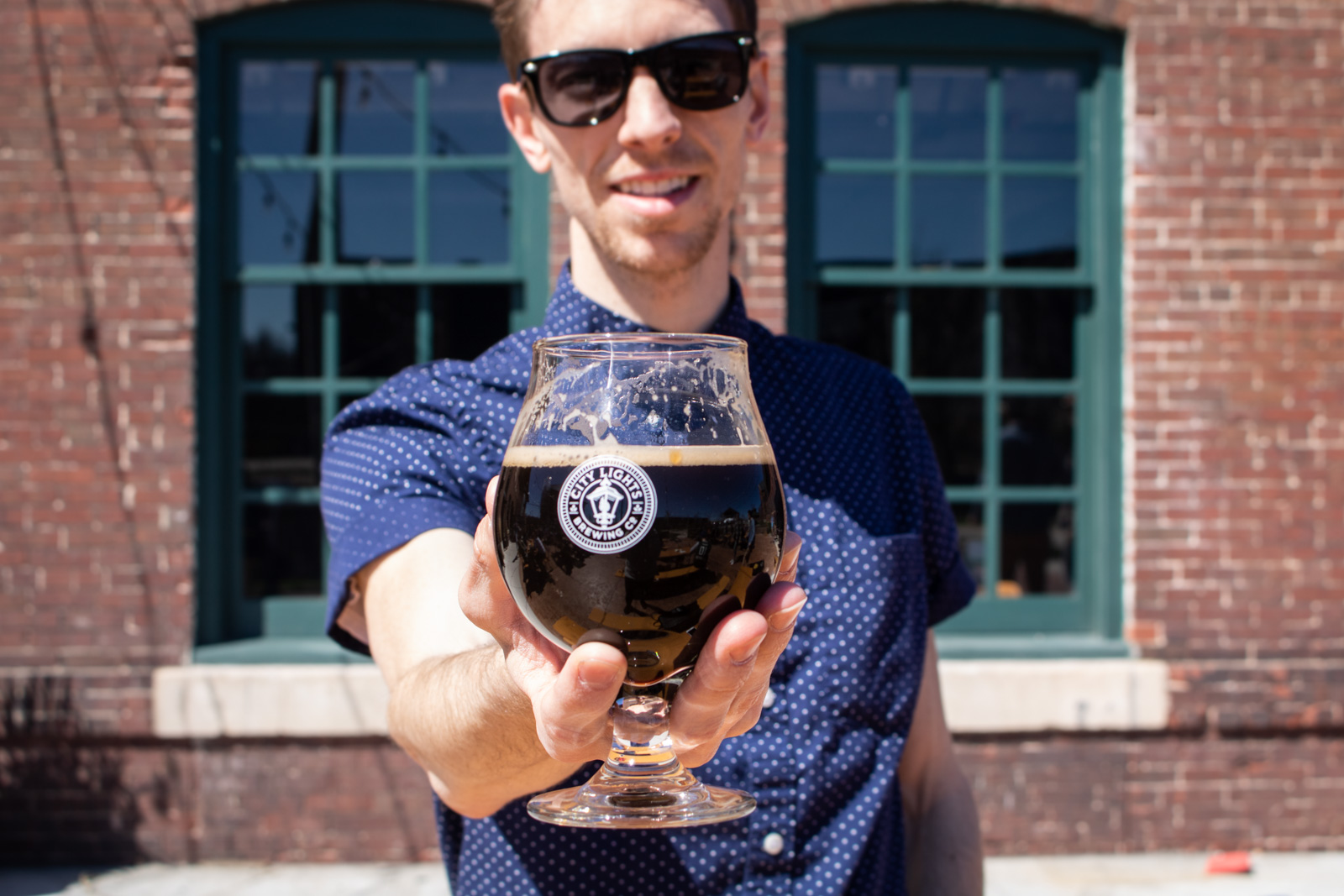 This beer was perfectly balanced with chocolate and strawberry notes and was soooo creamy. It was so good that Katie insisted on getting a growler to enjoy at home. The only bummer was the sticker shock we received once it was time to pay for the growler… $42! *Insert jaw drop* We did share the wealth a few weeks later over dinner with friends, though.
Check out a full list of all the Chicago and Milwaukee breweries we visited at our Adventure Map here.
And there you have it: our first, funkiest and favorite breweries in Milwaukee. What are yours?
(This article first appeared at AleAdventuresMN.com)
---