No Comments
2 Days 2 Nights | Portland, Maine (Part 1)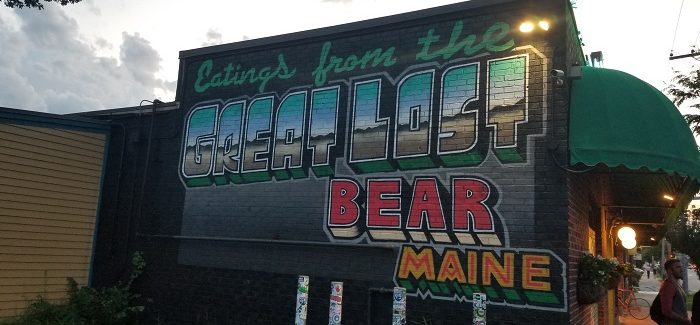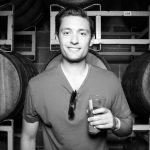 When I told my friends and colleagues I was heading to Portland for the weekend, the most common follow-up was "Oregon?" And while the largest city in Oregon is well known for its established beer scene, I was actually headed to the burgeoning beer city of Portland, Maine, which boasts the most breweries per capita in the U.S. It continues to garner accolades as one of the best beer cities in the world. After a smooth two-hour flight, I was smack dab in the middle of one of America's hottest beer cities, home to the likes of Allagash and Bissell Brothers along with a bevy of beer-focused neighborhoods like Yeast Bayside, delicious Maine cuisine and wonderful sunrises—all positioned neatly around Casco Bay. Here's a look at how you can get the most of your experience in Portland, Maine. Part one of this Two Days Two Nights feature is below. You can read part two here. 
Thursday
Arriving on Thursday afternoon allowed us (myself and my mom) a bit more time to experience the full depth of Portland's brewing scene. After your flight, I recommend checking in to your hotel before heading out. There's a pocket of hotels 10 minutes from the airport and a larger group in downtown Portland that are a bit pricier but obviously get you closer to the action. Uber is super accessible here but having a rental car is also nice for travel to the more remote spots—beware of the tolls though!
Once you've accomplished the necessary travel checkpoints, it's time to delve into the beer. Westbrook, located a bit west of Portland, has several great beer spots, including the booming Mast Landing Brewing, which offers a variety of juicy IPAs and delicious porters—all available in a convenient flight.
Flights so good, had to order two. pic.twitter.com/YopUWS1ztI

— Taylor Laabs 🍺 (@TaylorLaabs) August 8, 2019
Their variety of fruit-forward beers were the highlight, with my personal favorite being the deliciously sweet and light Paper Plates: Strawberry Shortcake Session IPA. While the dank goodness of Paper Plates, Dash and the DIPA behemoth called Pantsless Thunder Goose all deserve accolades, their best seller is actually their deliciously creamy and rich Gunner's Daughter Peanut Butter Milk Stout. All can be enjoyed on their patio, which is perfect for a sunny day. Nearby is YES Brewing, which wasn't open at the time in the afternoon I was around, but seems like a fun pitstop as well. 
Next, we made the 15-minute drive over the bridge to South Portland, which is home to one of Portland's more culinary-focused breweries, Foulmouthed Brewing. Named after Portland's county of origin, Foulmouthed provides an elevated brewpub experience that features a bevy of thought-provoking beers alongside delicious passed apps and entrees. Their Yuzu Kosho Gose with Yuzu peel and chiles was a bright and illustrious drinking experience that was equal parts salty and spicy, but 100% refreshing. Their Iron Goddess Saison with wheat and honey is also a great sipper that pairs well with their apps, particularly the falafel tostadas.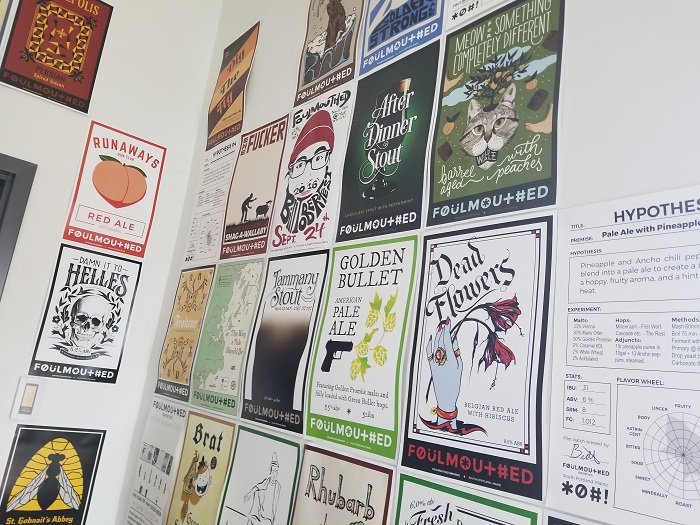 If you're looking for another option within driving distance, Bunker Brewing has a big, dog-friendly garage-style taproom and a tap list full of big IPAs. My favorite beer from them, however, was their Machine Czech Pilz. 
After bopping around to a few different breweries that ran from the west perimeter to the south of Portland, it was time to settle into a central focus of its brew scene: Bissell Brothers Brewing. Bissell Brothers is one of the most hyped breweries in the Northeast—and beyond—due to its commitment to churning out consistently excellent IPAs and other modern beer styles on an almost weekly basis. While I wasn't able to get any Swish, perhaps their most sought-after beer, I did enjoy a few of their flagship The Substance IPA, which was a delicious alternative due to its incredibly juicy and smooth mouthfeel and delicate citrus hop flavor profile.
The Substance Ale from @BissellBrosBrew straight from the source. Well worth the trip. 🙏🙏 pic.twitter.com/sO2ujyBOdV

— Taylor Laabs 🍺 (@TaylorLaabs) August 8, 2019
Their DIPA Preserve and Protect was also released during the weekend and drew lines, which is a credit to both the marketing and brewing expertise of brothers Peter and Noah Bissell respectively. I was lucky enough to connect with Peter during my second visit (I went again on Friday). I was floored by his vision and commitment to building the brand, which continues to draw rave reviews across the beer community.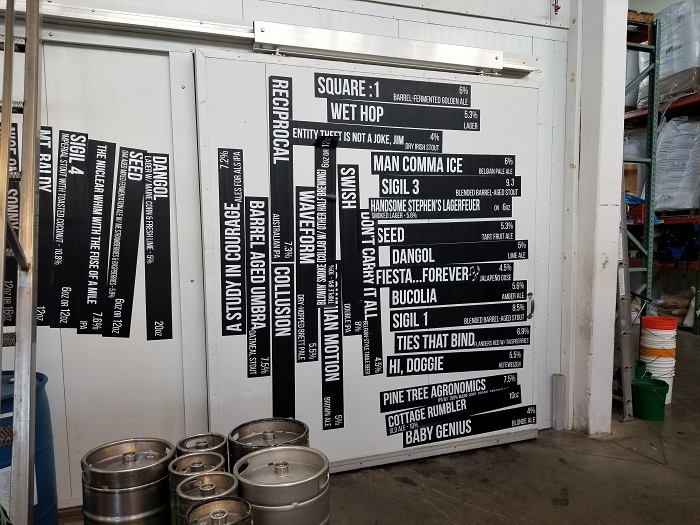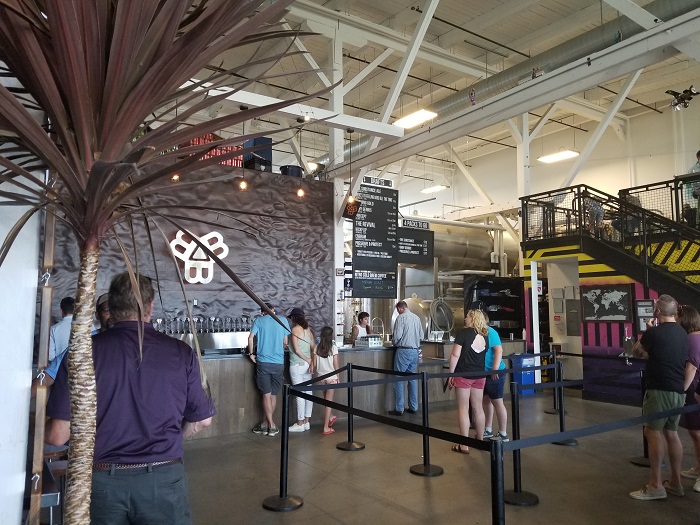 Because Bissell Brothers is typically a place you'll want to have a few beers at, they have an embedded food truck located next door, which serves some delicious burrito bowls and other Mexican cuisines. The brewery is also coincidentally right next to Thompson's Point, which frequently hosts a festival with food, beer and live music to celebrate the stunning sunrise visible nearby. It's well worth a stop after the brewery and is a great way to wind down the night. 
At this point, sleep might be in your near future, and for good reason. But, if you have time for one more, the Great Lost Bear is a well-known beer bar in the area with a bevy of local and rare taps and delicious late-night eats—including their locally-sourced Haddock sandwich wrap. 
Friday (Part 1)
Portland has two main brewery hubs and you should absolutely devote a full day to make the most out of your trip. After a much-needed breakfast and hike, we headed to the epicenter of Portland's brew scene: Allagash Brewing Co., which is nearby and offers a huge list of on-site pours, a spacious patio and local food offerings available for purchase. 
Only in Maine: 200 feet separates this view from this lineup. pic.twitter.com/cszPLX3FK9

— Taylor Laabs 🍺 (@TaylorLaabs) August 9, 2019
Allagash is unique, both in their place within the local brewing community and in how they lead the Portland brewing scene to new heights. While Portland is objectively IPA-heavy, much like other hyped-up beer cities, Allagash has made their own, massive niche of brewing wonderful, thought-provoking beers. They're also committed to elevating the other breweries around them, which is a testament to founder Rob Tod's vision and core values. 
Happy place @AllagashBrewing pic.twitter.com/g1ILCodQEC

— Taylor Laabs 🍺 (@TaylorLaabs) August 9, 2019
Their beautiful taproom anchors what is called the Industrial Way brewery hub, which boasts over five breweries, a distillery and several food options within a 10-minute walk of each other. The taproom is stunning and illustrates Allagash's attention to detail for both their brand and beer. It was very exciting to see all of the recent innovations Allagash is making to further expand their operation, including a soon-to-come expansion of their canning operation, a newly planted orchard, and the continued innovation found in their wild and koleschip programs, which churn out excellent brews like Pick Your Own Sour Ale and Coolship la Mure. 
The small but mighty @AllagashBrewing orchard, producing Maine peaches and cherries. pic.twitter.com/loz2lmNMlZ

— Taylor Laabs 🍺 (@TaylorLaabs) August 9, 2019
A quick note on their cans. I got the full experience of Allagash's current setup and potential moving forward. The current canning line is slow and methodical, prioritizing quality over quantity. Soon, that line will get even larger as they move into a bigger setup in the back of the building. The potential for Allagash cans is massive. Seventy percent of their business is on-draft, but they currently can't keep up with the demand for their can portfolio, which only exists in four Northeast states so far. Keeping their tap business stable and further growing their can presence on shelves would mean another big uptick for the brewery, which I have a feeling will be well-received by beer fans.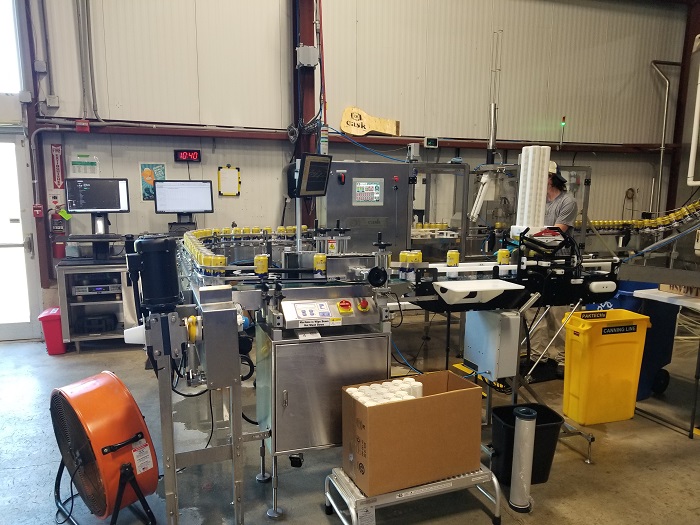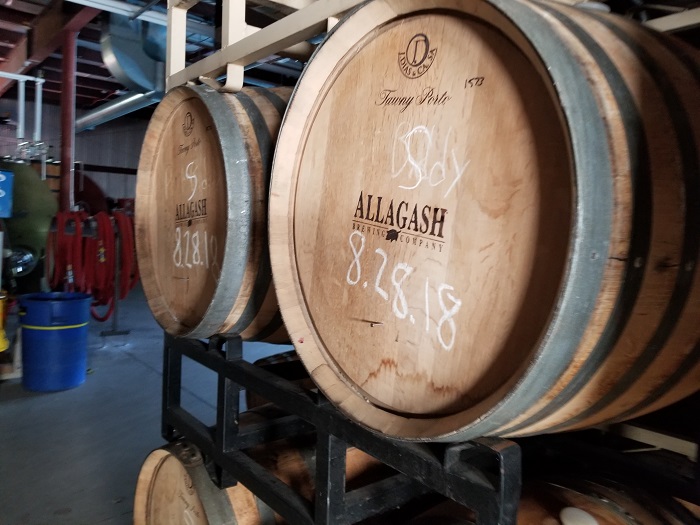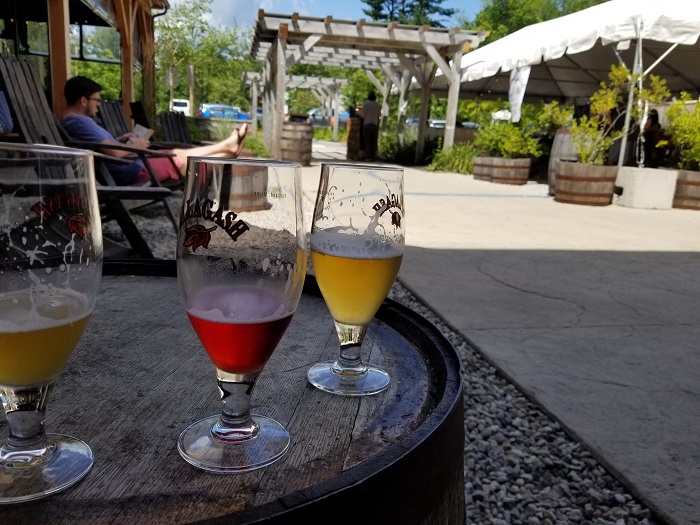 It's hard to leave Allagash because of how comfortable it is, but Industrial Way also boasts several other fun options that appeal to the hop-heads in new and exciting ways. A quick walk across the street and you end up at Definitive Brewing Company. 
Are brewery pigs a thing? pic.twitter.com/dN8NuCJO9t

— Taylor Laabs 🍺 (@TaylorLaabs) August 9, 2019
The taproom has a simple setup and an extensive patio, which allows you to focus on their great tap list. You'll find their Portals fruited sour line and Stainless Oasis IPA, which is their flagship beer for a reason. Another quick walk across the parking lot gets you to the industrial warehouse that houses the operations of Austin Street Brewing, Battery Steele and Foundation Brewing Co. All three boast solid, IPA-focused beers and share a food cart that serves as a nice midpoint in the parking lot. New England Distilling is also next door and Geary's Brewing Co., New England's oldest brewpub, is up the street. If I had a choose a standout from these few, I'd have to opt for the Tropical Jam Kettle Sour from Foundation that was brewed with lactose and fermented with passion fruit, pineapple and guava. At 5% ABV, it's extremely packed with fruit flavor and well worth picking up a 4-pack—I know I did.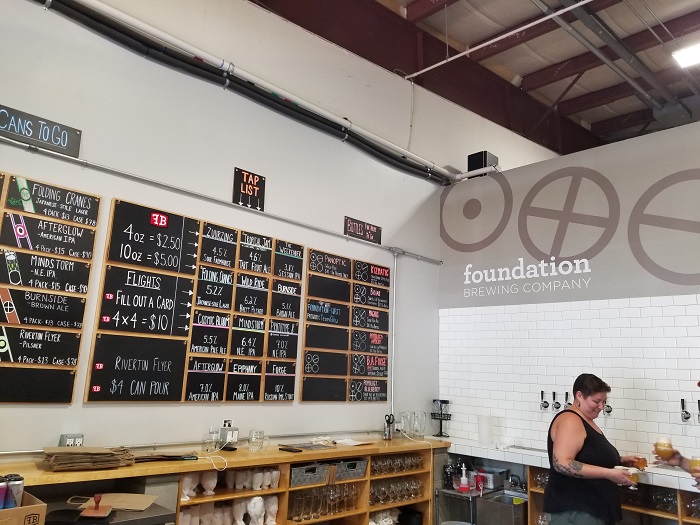 After the full experience of Industrial Way, I recommend a quick nap to get yourself re-calibrated for the beer-drinking experience to come. Situated on the hilly streets around downtown and a quick jog to scenic Casco Bay, Yeast Bayside has over 10 breweries within a mile of each other. 
---