No Comments
Event Recap | The Side Project Invitational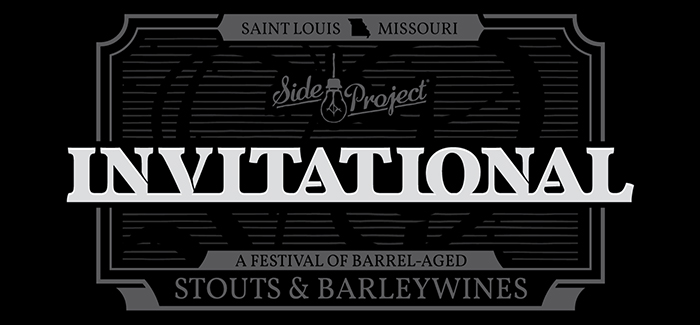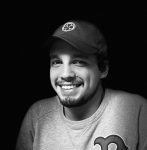 An Inaugural to Remember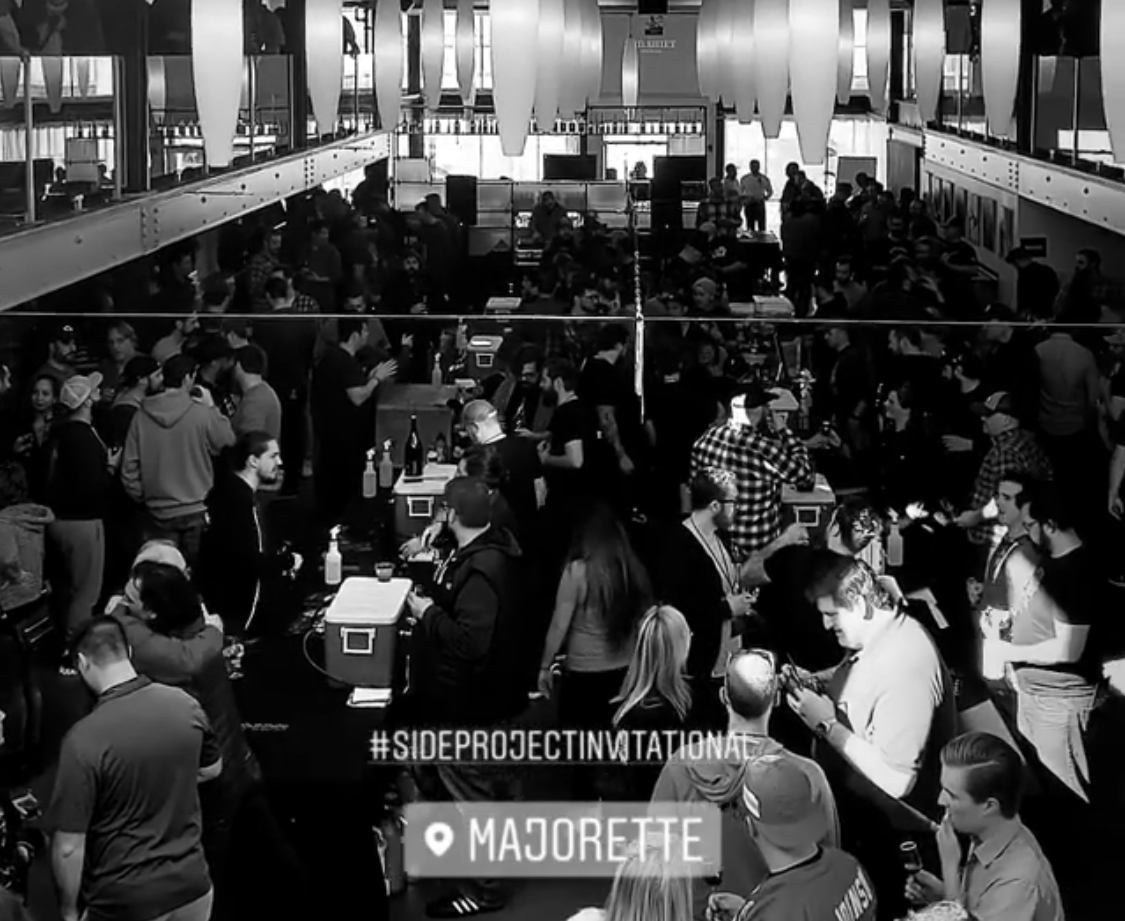 It's been almost two weeks since the Side Project Invitational, and attendees' heads are still spinning over the experience. Subtitled as "A Festival of Barrel-Aged Stouts & Barleywines," it was immediately advertised as not for the faint of heart. Strategically placed on Super Bowl Sunday, February 2nd, as the kickoff to Side Project's annual Stout Week, it brought people from all over the United States to Maplewood, Missouri to see what all the hype was about.
The exclusive nature of this invitational was the real catch here. Side Project announced they would be conducting ticket sales in three separate formats: Two in-person releases on-site at the brewery in Missouri, and one online sale, neither with any advance notice. Adding to this, tickets were also one-per-person and were both non-refundable and non-transferable. Now let's keep in mind here that we're talking about a no-advance, extremely limited release for the inaugural festival of one of the most highly-regarded breweries in the country…these were going to go fast. When the day came, even I couldn't believe just how quickly "fast" was. In this case, it was roughly 10 seconds. Luckily, I snagged one.
The Rundown
Above all, Side Project's goal with this invitational was simply to bring great people together. The craft beer community is an incredible place, and pairing that with some of Side Project's closest friends and fellow brewers, they really achieved something special. Below was the lineup of breweries for the event:
2nd Shift Brewing

3 Floyds Brewing Co.

3 Sons Brewing Co.

4 Hands Brewing Co.

Anchorage Brewing Company

Boulevard Brewing Co.

Casita Cerveceria

Creature Comforts Brewing Co.

Crooked Stave Artisan Beer Project

Cycle Brewing

Deschutes Brewery

Evil Twin Brewing

Firestone Walker Brewing Company

Goose Island Beer Company

Half Acre Beer Co.

Hill Farmstead Brewery

Holy Mountain Brewing Company

Mikerphone Brewing

Mikkeller

Monkish Brewing Co.

Narrow Gauge Brewing Company

Off Color Brewing

Omnipollo

Other Half Brewing Co.

Perennial Artisan Ales

Pips Meadery

Private Press Brewing

Sante Adairius Rustic Ales

The Bruery

The Veil Brewing Co.

Tired Hands Brewing Company

Toppling Goliath Brewing Co.

Trillium Brewing Company

WeldWerks Brewing Co.
The event itself was being held at The Majorette, a very small event space in downtown Maplewood. With the layout in mind, this lineup needed to be both impressive and intimate, and it was widely believed that Side Project was successful in both with this list of breweries.
Leading Up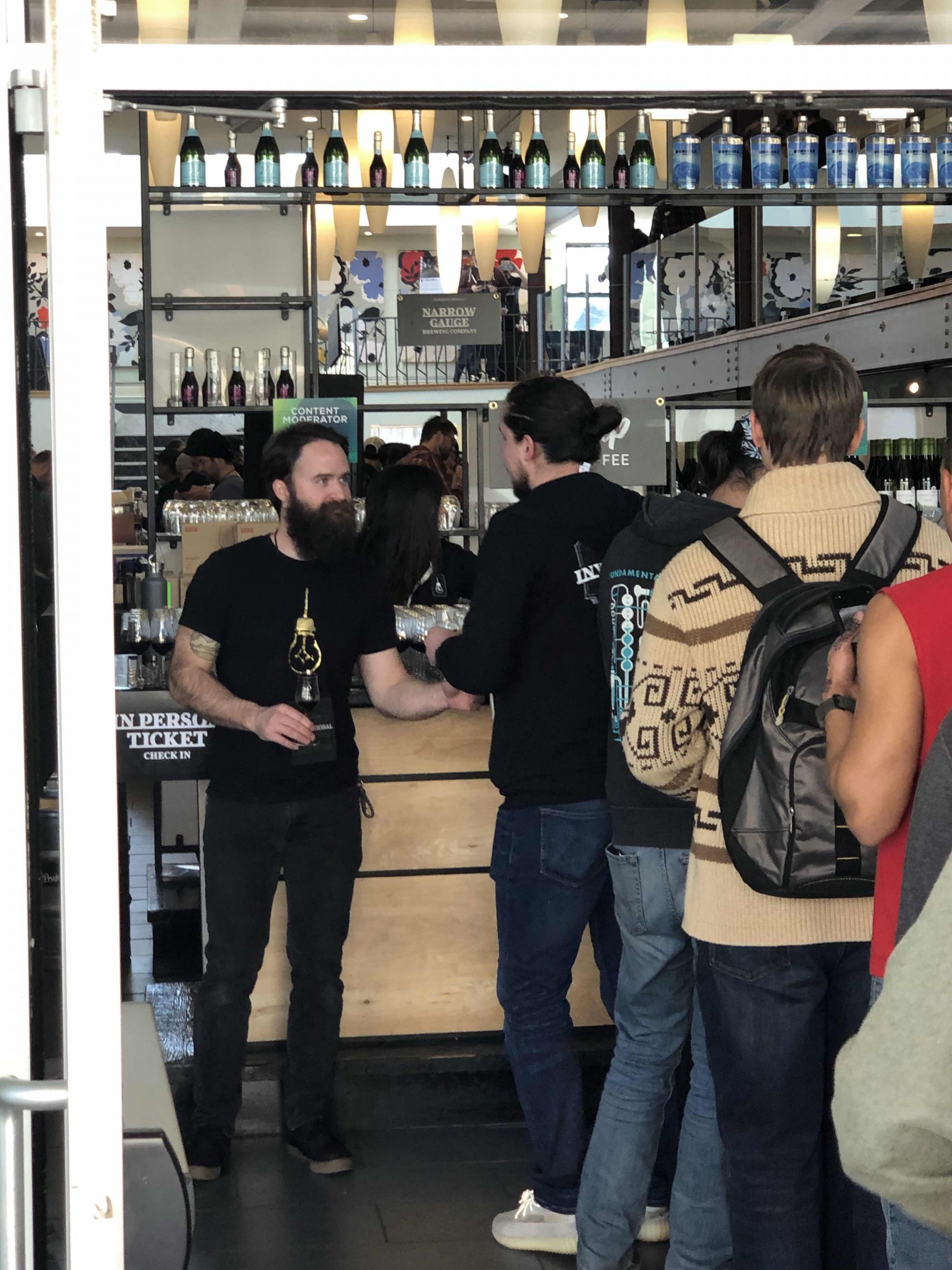 All in all, I estimate that around 300 people received tickets to the event. I found myself pretty early to the Majorette (around 11:15), with probably about 15 people ahead of me in line. Not long after, the line rapidly grew until the end was nearly indistinguishable all the way down Maplewood Avenue.
Doors open at 11:45. I step into the doorway and into the venue,  greeted by the the faces of Owner/Master Brewer Cory King and fellow brewer Drew Durish. Each person entered and checked into their corresponding line of "Online" or "In-Person,"receiving a glass filled up with 2 oz. of beer. As either Drew or Cory handed you your glass, they uttered three simple letters, three letters which every attendee of the festival knew and silently accepted all while bearing a huge grin: "O.W.K."
O. W. K.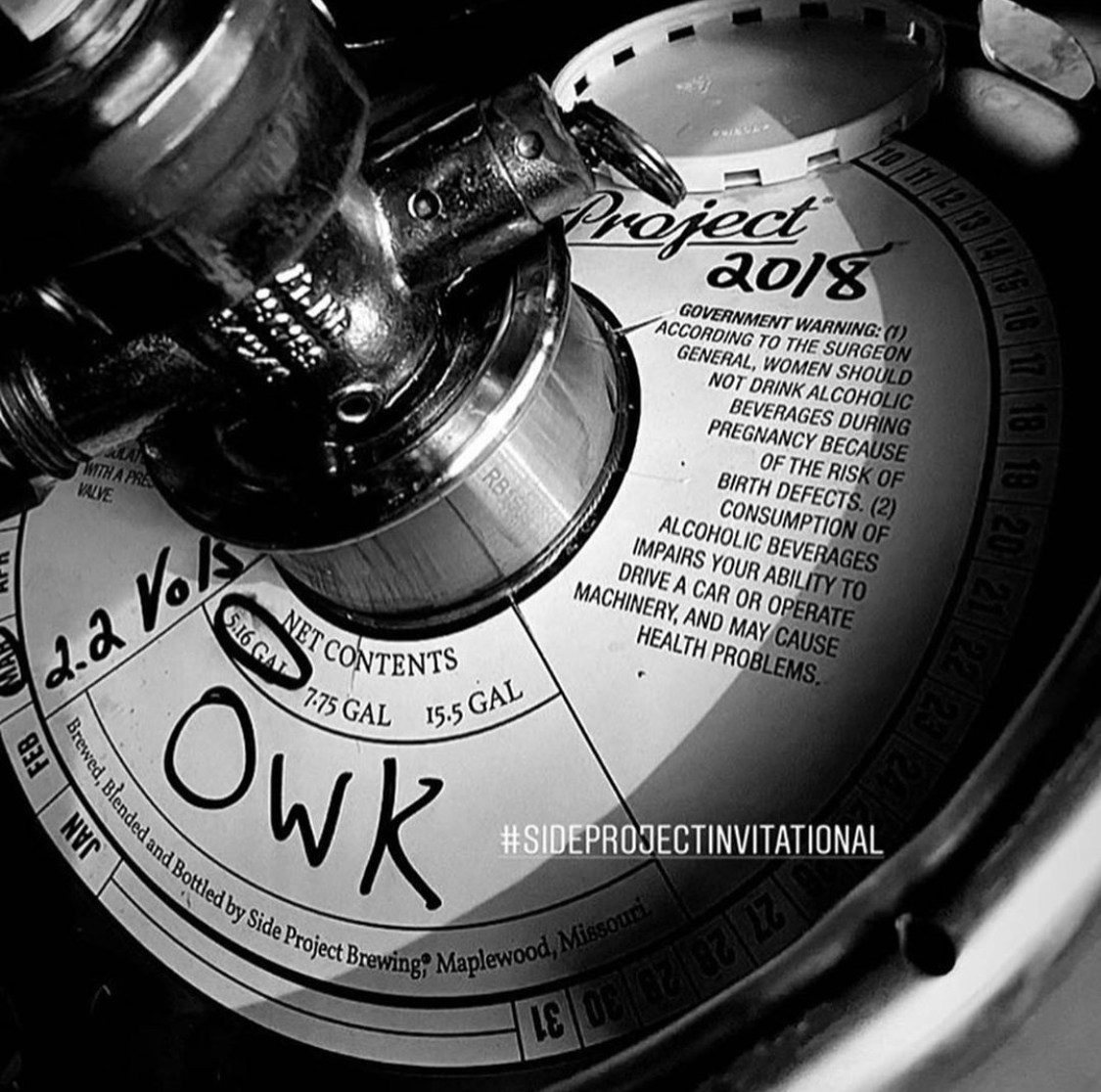 Now a brief intermission here about O.W.K. This beer is quoted by Cory as being "the culmination of our stout production." It is a beer not only representative of the progress and ingenuity of their previous beers, but more importantly it is something he did for his son. Cory said that he wanted to brew a beer worthy of his son's name and one that he could one day share with him and tell him what it is about. This beer that really exemplifies why he loves brewing and blending. Brewed and released on May 26, 2018, this beer was released for on-site enjoyment at the brewery only, with a very limited number of member bottles given out. The stout itself is several of the team's favorite recipes intertwined, then subsequently aged for 15 months in 15-year-old Willett Family Estate Bourbon barrels, which were hand-selected by friend of the brewery Drew Kulsveen of Willett Distillery. Once mature, the 2018 O.W.K. was rested on Ugandan Vanilla Beans, adding layers of milk chocolate, decadent fudge and earthy vanilla to the rich, luscious body of the Barrel-Aged product.
O.W.K. was the beer that Cory decided to greet everyone at the door with for Side Project's first festival. A beer so near-and-dear to his heart, showing the love and dedication he has not only for family and beer, but for the craft beer community and those who are a part of it.
The Big Day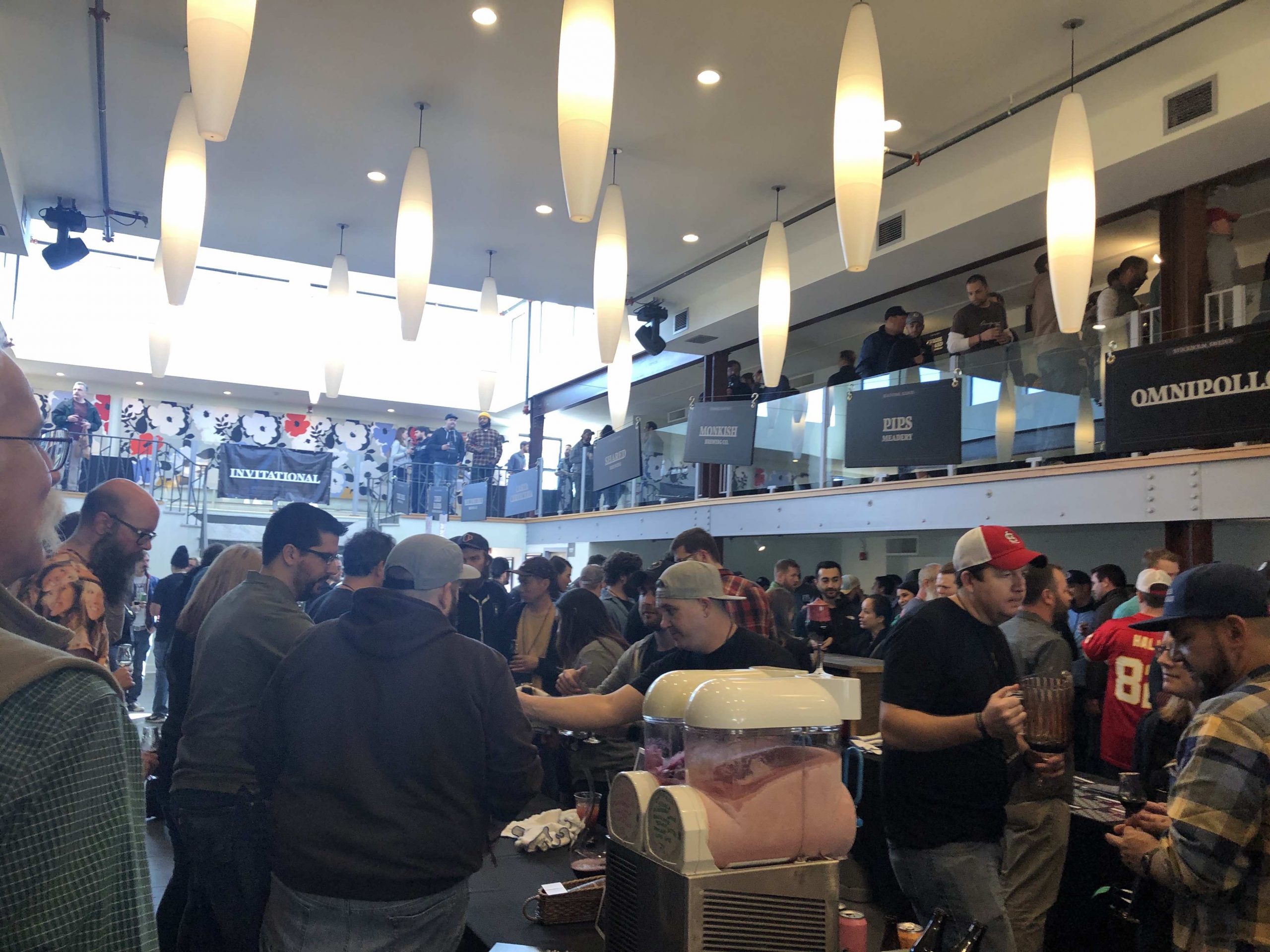 Immediately people walk in to the Majorette with glasses full and minds already blown. And yet, 34 breweries stood waiting behind long tables ready to bring their A-games as well, serving up some of the best Barrel-Aged Stouts and Barleywines in the country. That is, until 4 p.m.
I bounced from brewery to brewery like it was nothing, astonished at the efficiency and speed at which I was receiving pours and able to move on to the next. With such a small setting, I didn't feel rushed nor was I avoiding mad crowds and rushes of people jogging over to grab the occasional rare tapping among thousands of people as is so common at most festivals. Not only that, but many of the actual brewers were the ones pouring their beers for us. Some of the great minds in craft beer today, including Henry Nguyen from Monkish, Sam Richardson from Other Half and Gabe Fletcher from Anchorage brewing, were all assembled and available to chat with and meet all while sipping their beers.
The Venue
The Majorette has two floors, with this layout featuring an open space on the ground floor with brewers in the center. The upstairs bordered the venue itself, with breweries lined up along the upstairs walls around the entire perimeter. Another important thing I noticed immediately was the abundance of available water. Specifically, kegs were strategically placed throughout the venue so festival-goers could stay hydrated, and spray bottles and dump buckets were placed at every brewery location for cleaning out glasses between samples.
I saw Rachel Manning, the mastermind behind the event itself, quite a few times. I had spoken to her briefly prior to the festival, and you couldn't help but feel her passion and excitement as she spoke about the event. Her goal? To simply to keep this event clean, fun, and intimate. Not only that, but also to include the people who truly respect and appreciate the art of craft beer and brewing as much as those pouring the beer themselves. And credit to her, she did a superb job. At no point were there broken glasses that needed replacing, unruly guests that needed tossing, or vomit that needed cleaning. Additionally, people enjoyed the craft french fry food truck, and at times it was really nice to step out into the patio area just to unwind, get some fresh air, and sip on a favorite.
The Beer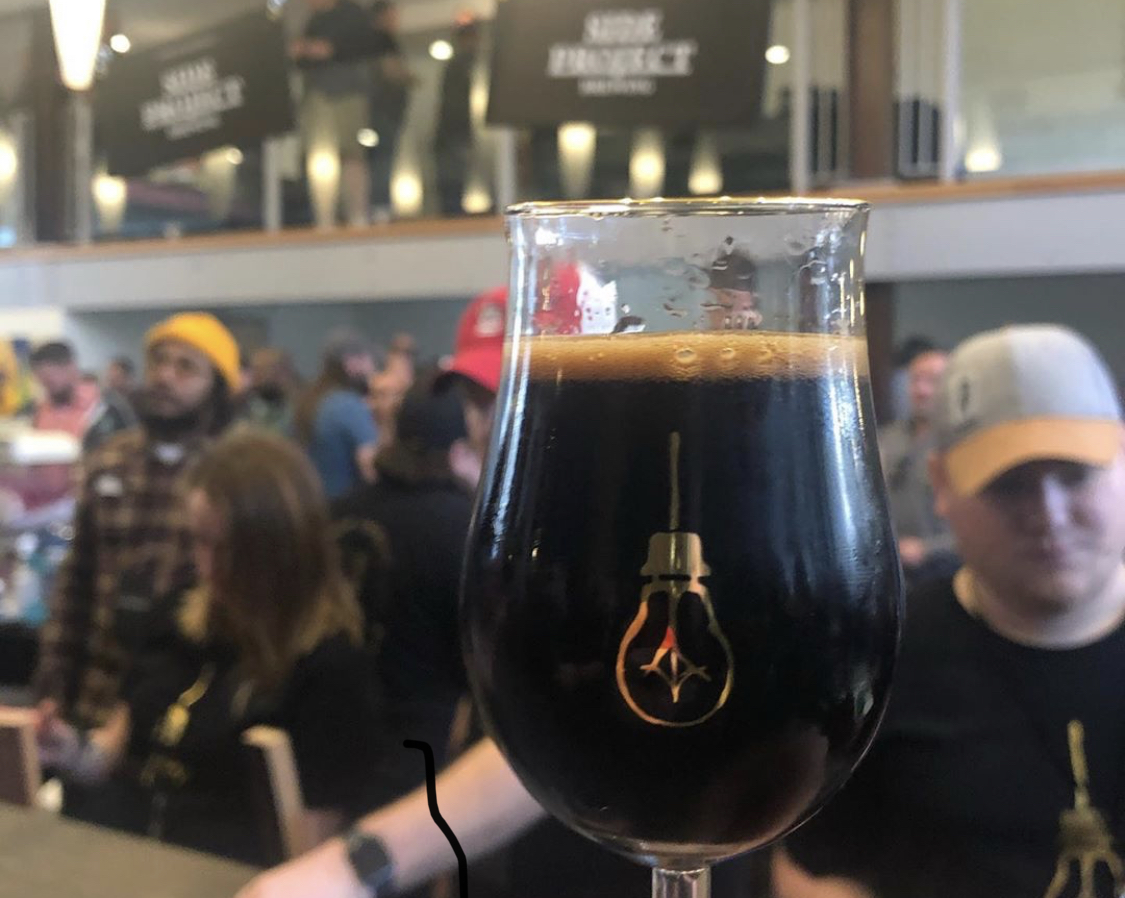 It's hard to have any complaints about the list for this event. Believe it or not, many of the brewers brought out even more brews for bottle pours, and some of the beers listed even differed from what was released on the list itself. With so many world-class pours, there were concerns from many that they would have to pick and choose which booths to hit before their "must-stops" ran out. On the contrary, it turns out that it wouldn't be an issue at all.
With it being such a small event, I didn't hear from anybody that they didn't get to try everything that they wanted and more. At one point, the line for Modern Times Monster Tones got pretty lengthy, and was actually the first keg to kick at the event. In addition, Anchorage's Triple-Oaked A Deal With the Devil, Shared's Barrel-Aged Coconut Vibes and Side Project's Beer : Barrel : Time (2019) and Derivation #9 all saw briefly long lines as well, but as far as I could see everyone got to fill their glass. At the end of the event, just for fun I laid out my top 5 from the Invitational as well as some honorable Mentions.
Side Project – Derivation #9
Side Project – O.W.K.
A Deal with the Devil – Triple Oaked (Batch #1)
Modern Times – Monster Tones
Side Project – Beer : Barrel : Time (2019)
Honorable Mentions:
Side Project – BVC
Side Project – Anabasis (Blend #2)
Hill Farmstead – Aaron (2015)
Monkish Brewing – Meditatio
Shared – Barrel Aged Coconut Vibes
The Veil – Bourbon/Maple Amun Ra
Mikerphone – Barrel-Aged One Man Wrecking Machine
Holy Mountain – Hand of Glory (2018)
Other Half – Barrel Aged VIP Snowbirds 3
Conclusion
This was a very well-done event, hands-down the best and most well-organized that I have ever attended. An unmatched beer list, and everything from venue cleanliness, to layout, to food was all great. Adding to this, the people there were fantastic. Everyone I talked to was friendly, no one was belligerent, and no one gave off the "craft beer snob" personality. Rather, there was this unique vibe among the whole event; an unspoken understanding that everyone was cool and respectful of each other and of the event itself. Consequently, if Side Project chooses to do this again or even make it an annual gathering, be sure to get that Golden Ticket.
---