No Comments
Bootlegger's Brewery | What the Huck! Huckleberry Cream Ale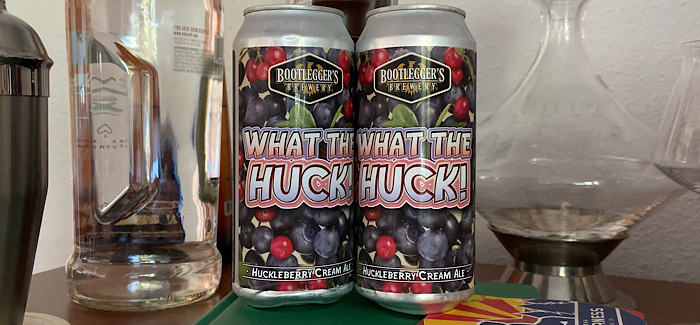 A fruited cream ale might not be the first thing you think of when you hear the words "huckleberry" and "beer."
Bootlegger's Brewery, based in Fullerton, California, is working to change that. The brewery's Huckleberry Cream Ale, What the Huck!, made its debut in late January, 2020, and has gained many a fan since. Brewed with Cascade hops, 2-Row barley, flaked corn and, of course, loads of huckleberries, What the Huck! was the brainchild of Bootlegger's Regional Manager, Kristyn Biggerstaff.  
Huckleberries are similar to blueberries; in fact, the two fruits are often mistaken for one another. With huckleberries, the redder the berry, the more tart the fruit, whereas those with more blue/black skins tend to be sweeter. If you find yourself in a patch of wild huckleberries, it might not be the best thing to hang around too long, as grizzly bears are known to be very fond of this fruit.
The color of the What the Huck! is somewhere between a red and an amber ale. It pours with an ample amount of carbonation, and with the first hit of the beer's aroma, you get pure berry and just a bit of sweetness. While the nose might lead you to believe that this beer is a syrup bomb, rest assured that it's an easy-drinking ale that finishes crisp and dry.
https://www.instagram.com/p/B_BHMx0hqzT/?utm_source=ig_web_copy_link
What the Huck! is a perfect koozie beer to enjoy while drifting around the pool in your favorite flotation device. The beer screams pool party and BBQ, and it also might be the answer when you are looking to accommodate your seltzer-loving friends. At 6% ABV, What the Huck! certainly has more body and character than a seltzer, but it also blurs the lines between these two grain-based beverages.
Whether you're chilling at the pool or in recovery mode from your weekly yard work duties, What the Huck! is worth including in your summer beer lineup.
---