No Comments
Halloween Beer Treat | Pelican Brewing Midnight Malt Cocoa Porter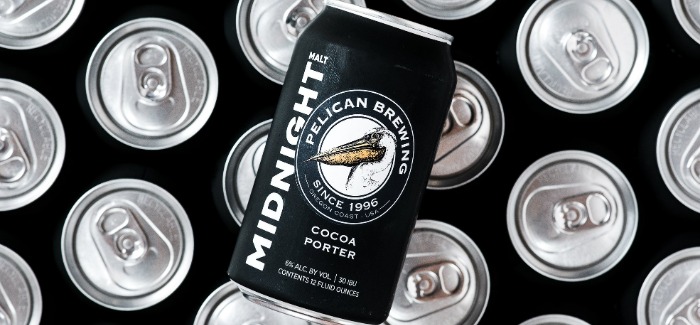 As Halloween approaches, treat yourself to Pelican Brewing Company's newest release, Midnight Malt Cocoa Porter. As the late Michael Jackson sang, "Darkness falls across the land, the midnight hour is close at hand." In this case, the Midnight Malt Cocoa Porter should certainly be in your hand. Brewed with Meridian Cacao Company nibs, which are sourced from farmers in Tanzania, this Porter boasts a rich, dark chocolate flavor with subtle caramel undertones, coupled with light roasted coffee notes and a classic malt finish. Whatever your Halloween plans might be this year, crack open a can of Midnight Malt Cocoa Porter under the full moon and let it thrill you.

Tasting Notes
This beer pours dark as midnight with deep amber highlights and a thick, tan head of foam. For all of the adults not able to sneak into their kids' bucket of candy this year, the dark chocolate aroma is enough to quench your Halloween night cravings. At first sip, the rich cocoa notes are at the forefront, followed by roasted coffee and caramel flavors. Following the first sip, a classic malt finish, derived from four different strains of malt, rounds out the flavor profile. Midnight Malt comes in at 6% ABV, and 30 IBUs.
View this post on Instagram
Pelican Brewing
A brewery that was "born at the beach," Pelican Brewing was founded in Pacific City, Oregon, in 1996 by co-owners Mary Jones, Jeff Schons, and Darron Welch. A quarter of a century later, Pelican Brewing now has three locations on the Oregon coast, and is planning to expand to a fourth soon. In addition to their brick-and-mortar locations, the brewery now distributes beers to bottle shops across the United States. Dreaming of the beach but drinking the Midnight Malt Cocoa Porter somewhere other than Oregon's northern coast? Check out Pelican Brewing's live feed of the Pacific City coast and get swept away. And if you're excited to try other Pelican beers past Halloween, check out Pelican Brewing's stacked brewery calendar, and get ready for their Bad Santa Cascadian Dark Ale this winter, as well as Skyryze Pale Ale in the new year. In the meantime, head to your local bottle shop to pick up a six-pack of the Midnight Malt Cocoa Porter before the witching hour cometh!
Feature image by Pelican Brewing Company.
---