No Comments
5 Questions with Co-Owner & Head Brewer of Athentic Brewing Co.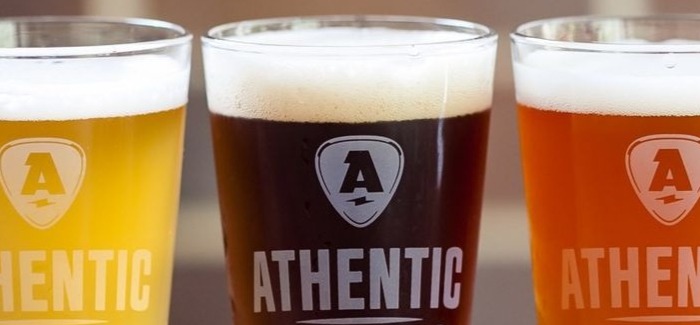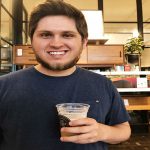 While Athentic Brewing might be the most recent member of the Athens, GA craft beer scene to open in August 2020, they certainly are not strangers to brewing. Or to setbacks. For anyone who doesn't know, though, take my word when I say that many people would have likely called it quits before opening. Fortunately for the Classic City beer scene, Paul Skinner and Mark Johnson didn't quit. I sat down with Paul and head brewer Chris Willis over a beer (Insubedience Black IPA) to discuss all things Athentic and what it meant to be part of the growing Athens beer scene.
I know that initially Kudzu Brewing was the planned name but that shifted, so what's the inspiration behind the name Athentic Brewing? How did that name change happen?
We homebrewed under the name of Kudzu Brewing and really enjoyed that name for a few reasons. For starters, we felt a kinship with Kudzu plants since it's an invasive species and we were originally from Iowa, trying to establish our own roots here in Georgia. Kudzu Brewing led to a trademark discussion. Ultimately, we decided to look back over our 300+ list of names a few more times instead. We eventually landed on Athentic, which was great because it was made up and so there could be no trademark on it! Also, though, we felt that the name tied to a lot of the wonderful aspects of Athens. The music scene and local food and beverage scene help make the feel of the Classic City and we wanted to be part of it. 
Can you tell me the thoughts behind wanting to implement the self-serve tap wall at the brewery prior to COVID-19? Is this still something y'all hope to move forward with when it's safe?
Honestly, we'll just keep pivoting with the information and determine what is safe as we go. We do like the idea of using the tap wall, as it was developed with the customer in mind. The system allowed them to pay for as little or as much of a particular beer as they want in order to try it or find something that they enjoyed. Also, though, it helps us by seeing what styles people purchase more of, but for our Alliance members, it also allows us to be able to reach out to them individually to let them know of new tap offerings that we think they might enjoy based on their purchase history. At the end of the day, we feel that the tap wall allows for individual customer service as folks can try what they want, but also not always have to wait in long lines–when that's possible again.
View this post on Instagram
It's obvious from our conversation that the Athens community is important. What's the community support been like during the opening process?
We've done a number of collaborations with local businesses and their staff, like Hi-Lo Lounge and some local bands. The benefit that we get from operating on our additional pilot system is that we can be with them throughout the process of brewing for any questions or hands-on issues that happen. It's educational, which is important to us. The brewing community has been awesome for us too, though. From using propagated yeast to another brewery having an excess of hops or grain and even letting us use some brewhouse equipment or even collabing on a beer. We hope to be the community spot for families and people to hang out, but also this year definitely taught us that we can support local and suffer together but it makes the community that much stronger for it.
One detail that I have noticed about Athentic is the commitment to offering a diverse tap list: I've seen everything from Red Ales and Coffee Brown Ales to Japanese Rice Lagers and Black IPAs. What's the reasoning (if there is one) behind wanting to have such a range of beer styles on tap?
One of the reasons is that it's simply just fun to do. Brewing such different styles allows us to stay process-focused in brewing the best offering of the style that we can. Also, though, we feel that it makes the experience for our visitors more fun by having more uncommon options on tap available for them to try. That moment of exploring a new beer style–and enjoying it– leads to a unique beer experience that they will remember after leaving. It'll bring them back. Ultimately, we strive to have approachable beer styles and enough options so that everyone can find a beer that they truly enjoy. 
As we all hope to put 2020 behind and look ahead, what short-term goals or changes can we expect to see from Athentic in the coming months?
Well, one of the biggest changes that we are looking forward to is canning! We're installing a canning line at the end of the month, so we'll be able to release new beers in the 16 oz four-pack format rather than the 22 oz hand-bottled bomber that we currently do. Those might stick around for big releases, but we're definitely looking forward to being able to offer cans to-go from the brewery.
Feature image by Athentic Brewing Facebook page.
---