No Comments
Revolution Brewing Releases Cuvée de Grâce for Second Time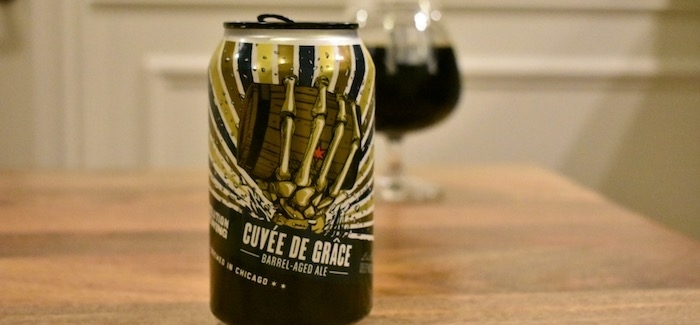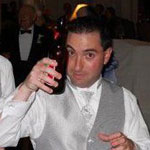 When Revolution Brewing Cuvée de Grâce was last released in January 2020 there was a line around the brewery, a big release party inside the taproom and just three U.S. airports were beginning to screen for COVID simply as a precaution.
A lot has changed over the last year and as Revolution prepares to release Cuvée de Grâce next week, things will be different. This will be at least the fifth Deep Wood release to be held solely online with the blended barrel-aged beer presale starting Tuesday and pick-ups beginning Friday. There will also be limited distribution in Chicago.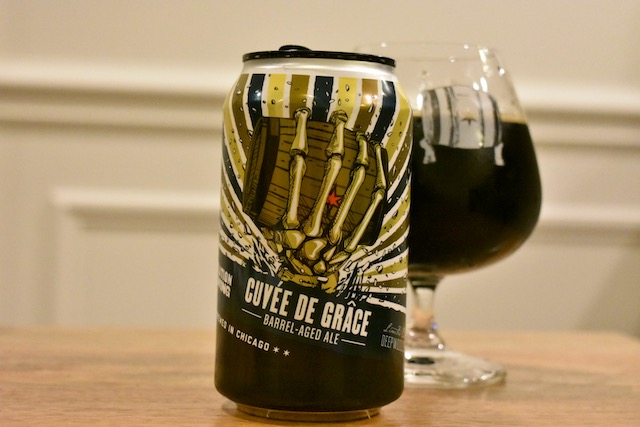 Cuvée de Grâce became a reality partly because Revolution owner Josh Deth didn't want to carry over as many barrels each year. So Marty Scott, who leads the barrel program at Revolution, had to find a way to use the barrels that didn't have enough volume to warrant another release on their own but could be used in other ways. His idea: cuvée them.
"I wasn't feeling super strong about any new recipes and we had a couple of barrels that would have been draft only, like the Tawny Port and Madeira, and a handful of other specialty barrels that didn't have a designated purpose," Scott said in an interview back in January 2020. "We knew we could execute a cuvée pretty much at any point and we could pick the right gravities, ABVs, and barrels to hopefully be complimentary."
The beer was a massive success and so to see it return in 2021 is no surprise. The blending of barrels has changed which makes the concept of Cuvée de Grâce the same, but it's a completely different beer. One thing Scott has been known for over the past few years with the Deep Wood series is his blending acumen — perfectly combining components of the beers to produce some of the city's best barrel-aged beers.
"Mathematics was key in the blending," he said last year. "We looked at the finishing gravities and at the different batch numbers and actually put them on the cans. We brew everything in the Deep Wood program either way too sweet to drink or way too dry to drink and then age them and bring them back together in just the right numbers."
While Revolution put the blend of barrels on the cans of Cuvée de Grâce last year, this year they opted to release the blend on their blog prior to the presale.
The breakdown for 2021's version is:
11 barrels of Deth's Tar sweet component
7 barrels of Ryeway to Heaven
14 barrels of Straight Jacket
2 barrels of Thundertaker
2 barrels of Ryeway to Heaven/Straight Jacket blend
Put them together and what do you get — 2021 Cuvée de Grâce.
Like last year, this beer is complex with layer upon layer of flavor developing throughout the sip. Most notable is the Straight Jacket component in both the appearance of the beer and then the flavor.
When you pour Cuvée de Grâce you'll see that dark golden color like you'd get when pouring Straight Jacket but once it settles in the glass it'll be darker than the brewery's iconic Barleywine.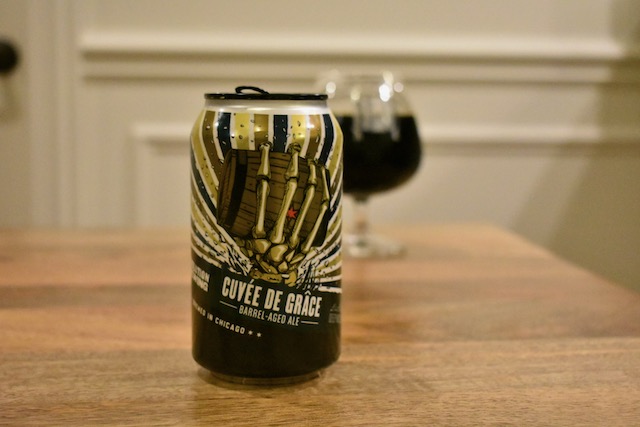 On the sip, it's a combination of sweetness and spice ratioed so well that all the components work together.
You can get notes of the different barrels being used. The sweetness from Deth's Tar and Straight Jacket is probably most notable but there's an underlying spice throughout the entire taste that can be contributed to the Ryeway and Thundertaker. It's chocolatey but not too sweet, you get the barrel heat but it's not overpowering.
It's what you've come to expect from a barrel-aged beer from Revolution and 2021 Cuvée de Grâce is the next in a line of beers that since 2017 have been some of the best barrel-aged beers in Chicago.
As some breweries today see how many adjuncts they can cram into a stout, Revolution has shown that restraint in ingredients but the expertise in blending can produce a barrel-forward beer that consumers go nuts for.
---