No Comments
Le Beez Collab Brings Together Gold Medal-Winning Breweries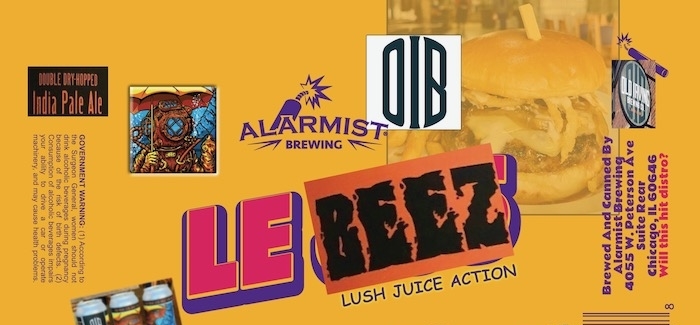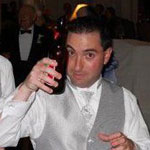 Not only did Chicago breweries win the first two gold medals in the Juicy or Hazy India Pale Ale category at the Great American Beer Festival, but Alarmist Brewing and Old Irving Brewing are just 10 minutes from one another. Now they've teamed up to collab on a Hazy IPA—Le Beez.
The label for the beer was created by Alarmist's Joe Hehl and is a riff on the Le Jus label with lots of clip art. Both teams laughed at the label and loved it so it stuck.
"We all thought it was the funniest thing," Old Irving Co-Founder Trevor Rose-Hamblin said. "We had the label before the beer."
The beer will be released on May 7th and see distribution.
When Alarmist won in 2018 for Le Jus, the inaugural year for the category at GABF, they weren't in Denver to receive their award and in 2019, Old Irving almost wasn't even in the awards ceremony when their name was called for Beezer.
"We were getting ready to leave as they announced the winner," Rose-Hamblin said. "I thought someone else named their beer Beezer."
Collabs and Pandemics
The collaboration idea started getting talked about shortly after the 2019 GABF but both breweries needed to focus on supporting the market with their Hazy IPAs. Then in 2020 the pandemic stopped things abruptly, and surviving as taprooms shut down was the only priority.
"Our plan was to brew and release it immediately after that, but ultimately we both were super busy supporting production for Le Jus and Beezer, and it didn't happen," Alarmist Brewing's Aaron Dahl said. "2020 was obviously an incredibly devastating year for everyone, but luckily we both were able to be in a more comfortable place towards the end of it. We started kicking this idea around again then."
The two breweries were excited to be working together once again. With their close proximity, they would constantly go to each others' spaces and hang out after work and drink beer. In 2020 all of that was stopped.
Working together brought a sense of normalcy back to the breweries after a very tough year.
"We took things for granted," Rose-Hamblin said. "Just going to Alarmist and hang out, Ice each other or play guitars; we had a full year without all of those memories. I didn't realize how important those things were until we didn't have them."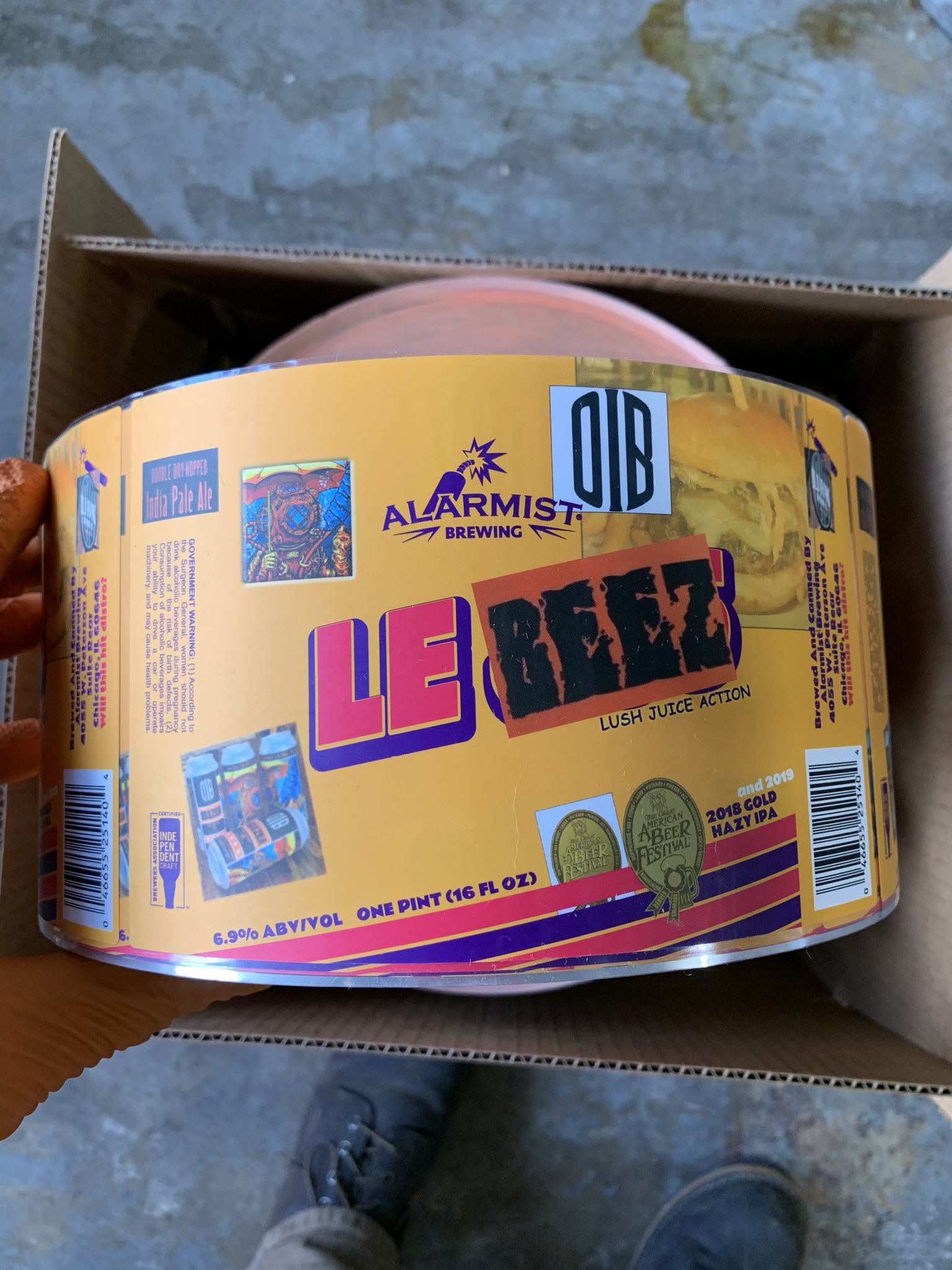 New Collaborative Recipe
As for the beer, it's a Hazy IPA, but it's a new recipe that combines elements from both Le Jus and Beezer.
"Le Beez is a new recipe that Trevor and I designed together," Dahl said. "It's a love letter to the Hazy IPA that brings together all our cumulative knowledge, expertise and accolades we have. It's a true showcase of the best parts of Le Jus and Beezer. Initially, we threw out all sorts of different ideas of what the beer could be but ultimately came back to wanting to create the best hazy we could together that embraces the strong bond between our breweries."
Both beers feature Mosaic and Citra, so those hops are a big component of the beer. But Dahl and Rose-Hamblin also added Simcoe and Comet. Mosaic hops are actually derived from Simcoe and Citra derived from Comet, so getting the parent hops in the beer was an additional element not in either of the two base beers. While Le Jus features lactose, there is no lactose in Le Beez
"We leaned into what makes both Le Jus and Beezer great, which is the juice-like sweetness and flavor both beers have," Dahl said. "On brew day, we ran my brewhouse with a ton flaked oats and wheat to rock the body of the beer. To add some beautiful orange color (like orange juice) we chose a specialty malt I have been particularly fond of in hazy IPA. This malt also lends as super fruity cereal layer to the beer."
While collaborations are definitely not a new thing to craft beer, doing the collab after the pandemic hit differently.
"This 100% meant more because our industry is so closely connected," Rose-Hamblin said. "When you got to see people again for the first time, words can't describe the feeling."
The Taste?
As for the taste of the beer, while Rose-Hamblin hasn't tried it yet, but he expects Le Beez to have more hop bite than Beezer because of the increased amount of hops. He also thinks the Simcoe will add a layer of piney and dank notes to the beer.
After over a year since the idea to collab together first came about, both breweries are excited to finally be able to release the beer.
"This was such a fun collaboration to do, and I am so glad it finally was able to happen," Dahl said. "Trevor and the crew at OIB are not only some of the best people in the industry but great friends to me and Alarmist. I hope people enjoy this beer as much as we enjoyed making it together and making the ridiculous label for it."
---