No Comments
Ethereal Brewing | Baba Yaga Imperial Stout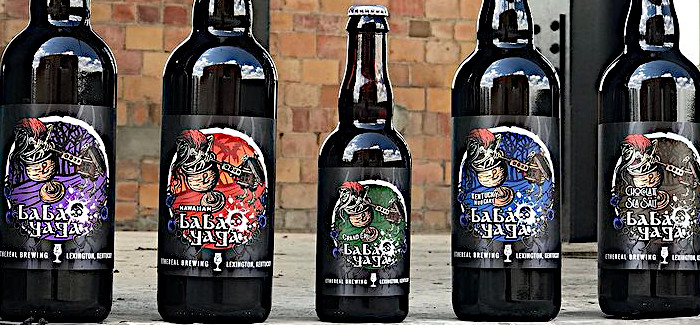 Lexington, KY's Ethereal Brewing is known for brewing a wide range of outstanding Belgian farmhouse and American craft beers with a focus on quality and a penchant for creativity. Their annual Baba Yaga Imperial Stout, a shining example of this approach, is aged exclusively in Four Roses barrels for 8-12 months.
"We approached this beer with the intent that it will be aging for long lengths of time in barrels," said Ethereal Co-Founder and Head Brewer, Brandon Floan, "meaning we go with a higher-than-normal percentage of roasted malts and bittering hops so the beer is more balanced and complex when we take it out of the barrels."
Baba Yaga's basic ingredients and structure are the same for each year's release, although Floan noted that they do try to make it a bit bigger each year (as in "fuller in the flavor and finish, so that it stands up to the barrel character and never comes off too thin," Floan said). Baba Yaga's base is 70% Pale Ale Malt, which is accentuated by Aromatic, Chocolate, Roasted Barley, Pale Chocolate, Special B and a small amount of flaked oats for creaminess.
Like its namesake witch from Russian folklore who lives in a hut perched on chicken legs, Ethereal's Baba Yaga has the power to help or hurt anyone who crosses its path–depending on how it is treated. Its 13% ABV is deceptively hidden beneath silky layers of soothing, warming chocolate, oak, vanilla and dark fruit undertones, along with various other complexities.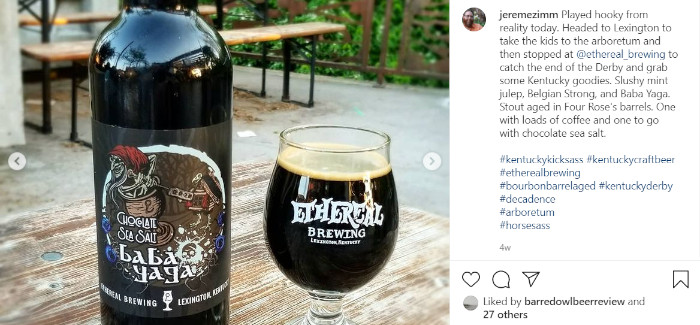 Once the beer has fully aged, they create additional flavors for each release by adding various adjuncts to the barrel. This can be anything from Mayan chocolate or chocolate and sea salt, to macadamia nuts, Madagascar vanilla beans and toasted coconut (for the Hawaiian Baba Yaga).
While these ingredients scream "dessert," Floan emphasized that this is an adjuncted barrel-aged Stout and not a Pastry Stout: "We go for more perceivable barrel character and overall balance rather than an overly sweet and non-nuanced beer," he explained.
The result is a rich, bittersweet (yet smooth and balanced) wallop to the gullet. Each year, Ethereal adds new variants for the bottle offerings as well as some special draft only and experimental selections just to keep fans salivating for more.
View this post on Instagram
Baba Day (the 3rd Saturday of January) is a special day in Lexington for craft beer lovers. When a new Baba is released, fans line up outside the brewery doors for the chance to bring a bottle home. Originally released on the anniversary of their opening, they felt after the first year that it needed its own special day.
"It's quite the celebration for the local craft beer community as they (customers) tend to do a big bottle share in the morning leading up to its release," Floan said.
Be sure to ask Baba Yaga to impart some wisdom as you savor her complexities. Take warning, though: She is fickle and may demand a return from you that you don't want to pay. The real Baba Yaga will throw you in a pot and cook you up for dinner if you don't comply. To our knowledge, this has not yet happened to anyone who enjoyed a bit too much of Ethereal Brewing's Baba Yaga…yet.
---