One Comment
Event Recap | Texas Craft Brewers Festival 2021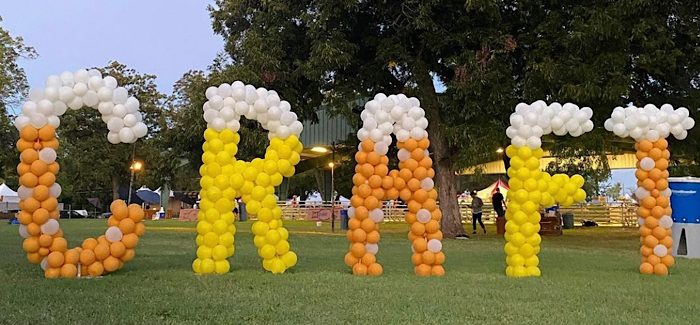 The Texas Craft Brewers Guild hosted its annual festival at Austin's Fiesta Gardens on Saturday, October 23. After the festival pivoted to an online event last November, brewers and consumers were eager to return in person to this tremendously popular celebration of all things Texas beer, with over 85 breweries from across the state serving up over 200 beers to thirsty visitors. Both VIP and General Admission tickets sold out in advance, signaling the excitement for the first major Texas beer festival since Covid restrictions lifted.
San Marcos TX's Roughhouse Brewing have made a name for themselves with their top quality foeder-aged beers. Co-founder and Marketing Director Alex Pasternak also thought that this year's festival was pretty special. "It was great to see more breweries than ever before at this year's fest!" she said. "The Guild always puts on a sharp and well-organized festival, so we are happy to show up and in turn raise money for their organization who keeps our heads on straight and gives us guidance when we're in need." With the Guild having provided so much support for Texas breweries throughout the pandemic, the festival offered a welcome opportunity for breweries and beer lovers to show their appreciation.
As well as offering up a mix of flagships and limited releases, along with special timed rotating taps, this year's festival sported two dedicated charity collaboration tents for Pink Boots and Black Is Beautiful beer releases. Breweries including Infamous, Hop & Sting, Longtab and Hold Out showed off their brews at the Pink Boots tent, with the Black Is Beautiful tent featuring brews from the Texas Beer Company, Live Oak, True Anomaly and, of course, Weathered Souls. There was also an exclusive Partners In Craft tent showcasing local breweries working in collaboration with other businesses, including Bending Branch Winery, Stephen F. Austin State University, Spokesman Coffee Roasters and much-loved local Texan beer bar Craft Pride, who also hosted the festival after-party on their last night at their Rainey Street location before closing to find a new home.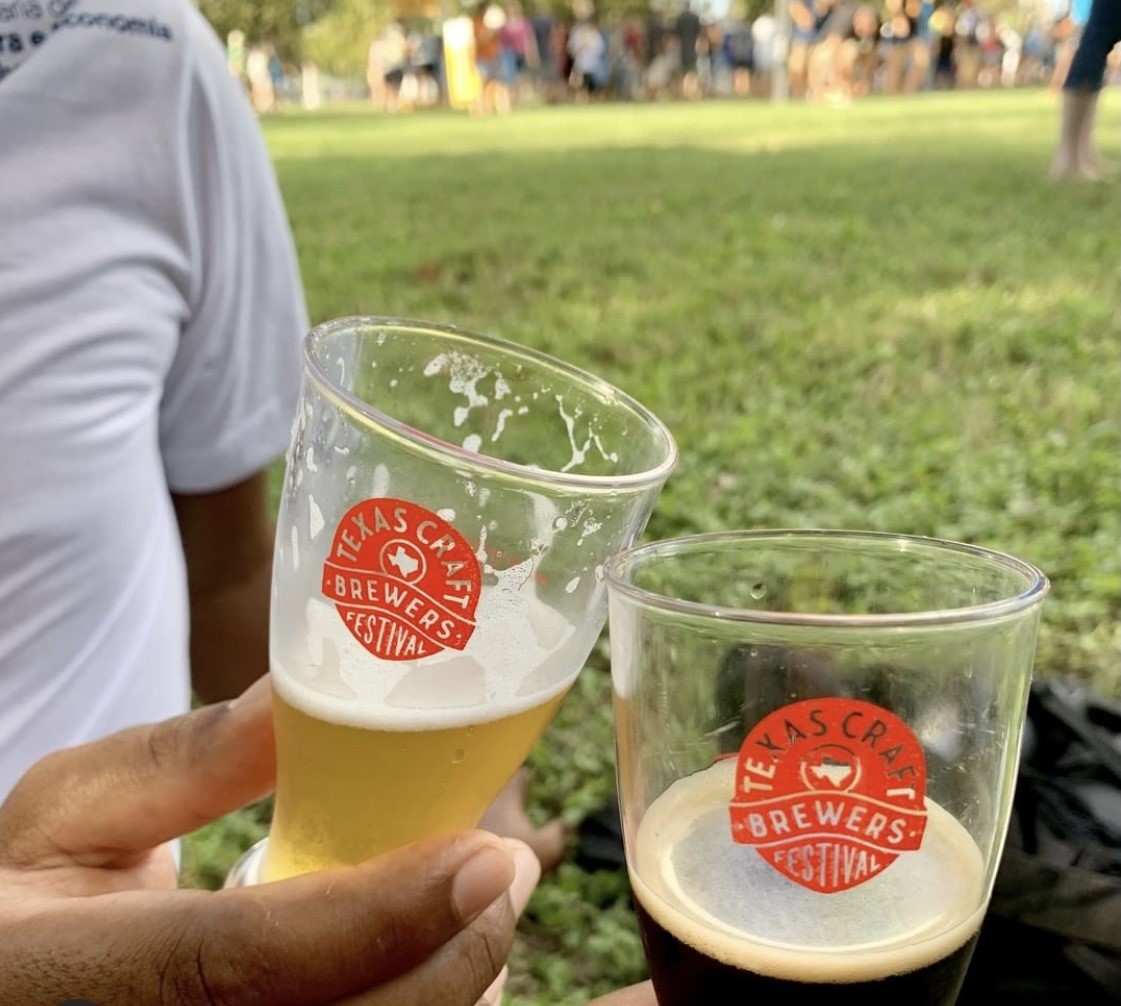 Beer writer Kerri Brown travelled from her home in Dallas to attend the festival. "There have been so many exciting things happening in the Texas craft beer scene over the past couple of years, so I was excited to see who would be out at the festival," she said. "The collaboration tap walls were interesting and highlighted some initiatives focused on inclusion, like Black is Beautiful and brews from the Pink Boots Collaboration Brew Day. There were of course so many beers that I loved, but the one that I keep thinking about is Galveston Bay Brewing's Bull Shark Scottish Ale."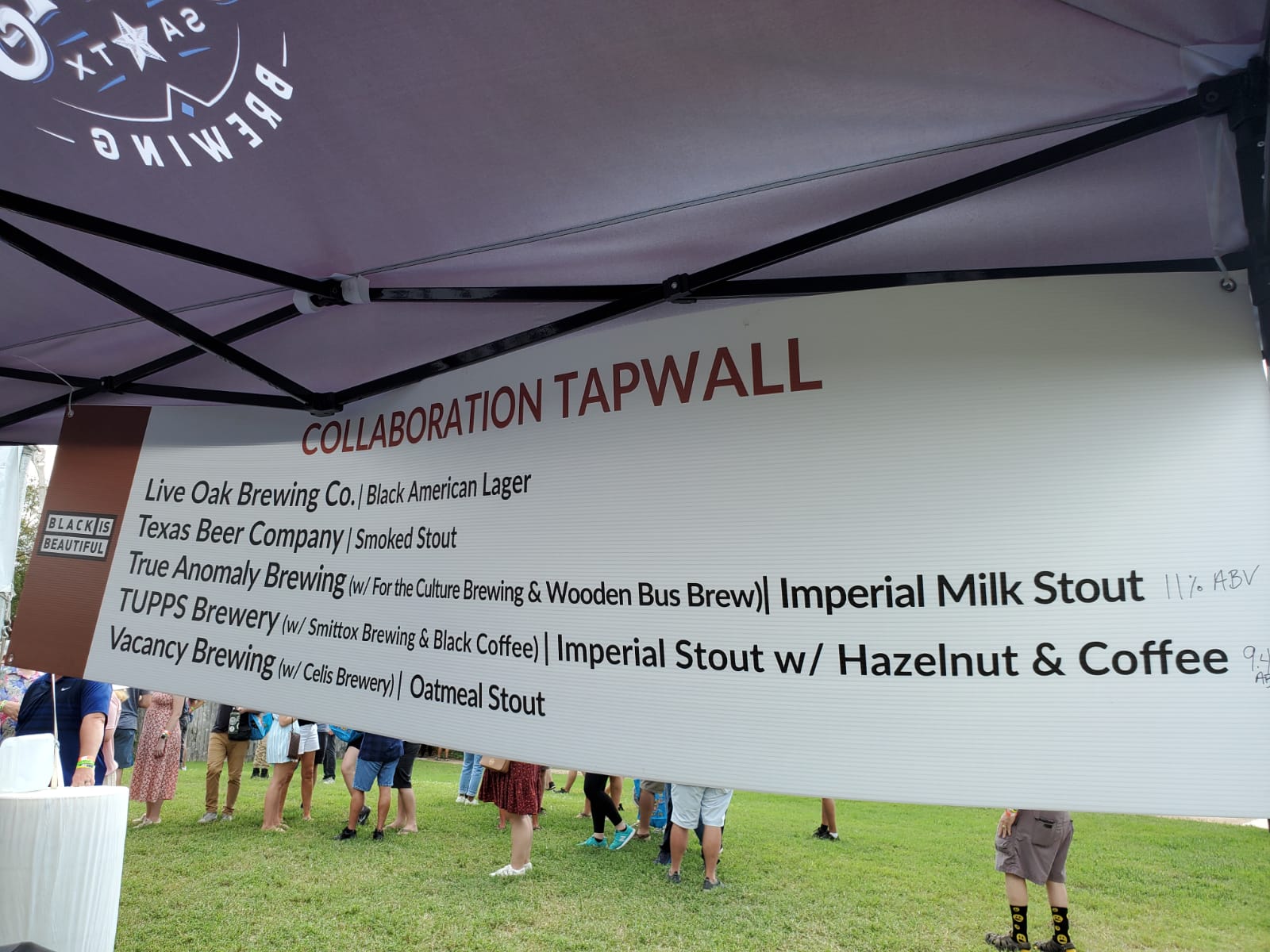 By choosing to emphasize and celebrate the charitable contributions and community partners of both our local Texan breweries and the Guild itself, the TCBG sent out a firm acknowledgement of the importance of community and collaboration to the survival of our local beer industry over the last 18 months. The commitment and dedication of Texas breweries to support and fundraise for Pink Boots and Black Is Beautiful, both important diversity and equality initiatives in the industry, was also clearly visible in the quality and range of the beers available at the tents.
Mara Young is Co-owner and Founder of Community Cultures Yeast Lab in San Antonio TX. She was one of many positive, energetic and knowledgeable volunteers whose contribution not only ensured the festival ran smoothly, but made the day really fun and memorable. "We had a fabulous time at the Craft Brewers Festival!" said Young. "Community Cultures was there volunteering for the day, in order to help support our Guild and our Texas brewing community.  In addition, we were working the Pink Boots Society collaboration beer table to help support our newly established San Antonio chapter, and to spread the word about the importance of Pink Boots and the amazing beers they made this year." As the beer industry in Texas continues to grow at pace, it couldn't be more important to highlight the initiatives helping to promote diversity and inclusion in this way.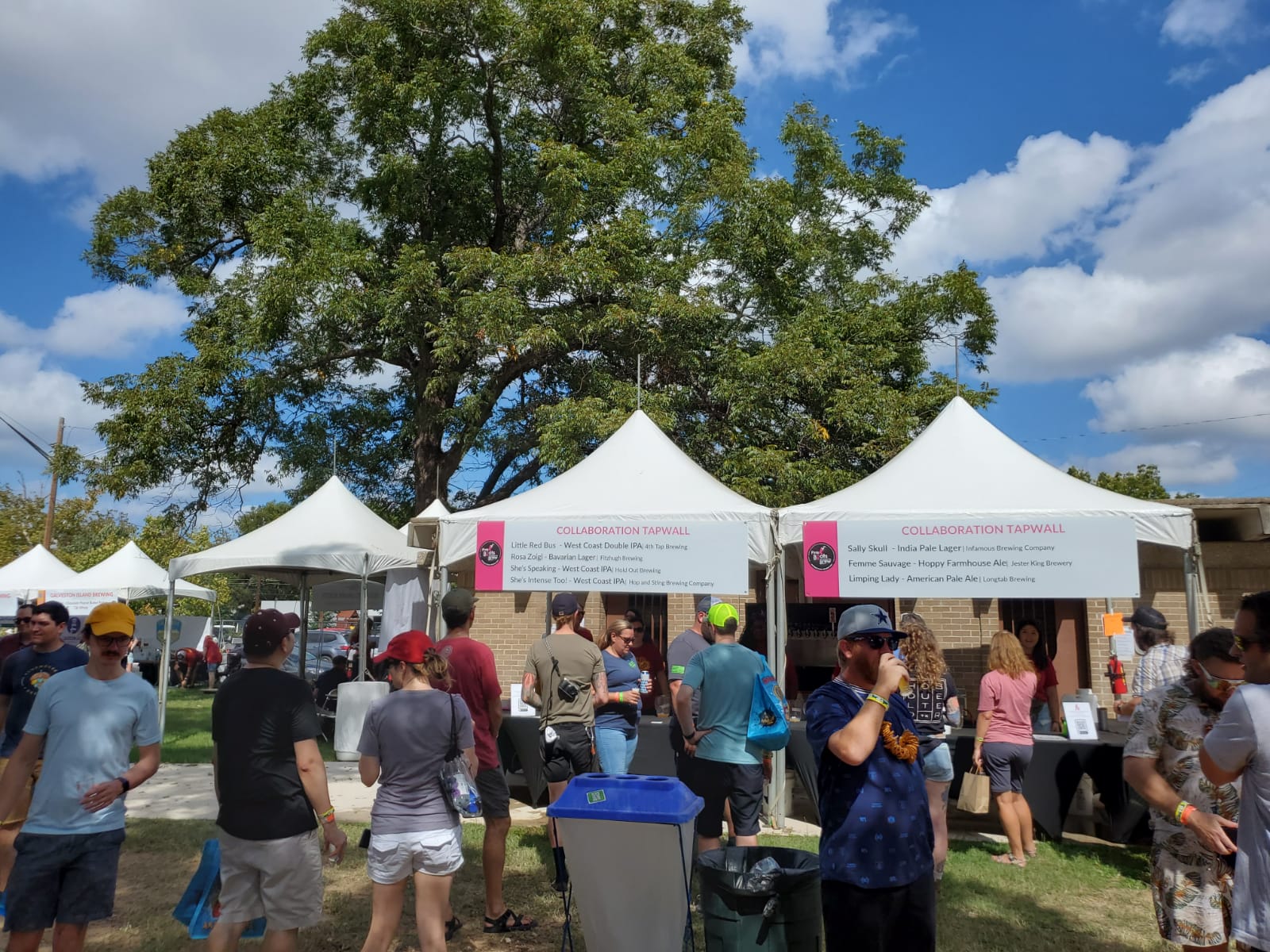 The day of the festival was hotter than expected, and festival fans and bandanas were essential items for ducking out of the shade to grab the next brew. Despite the heat, excitable punters queued in snaking lines for the timed releases, cognizant of the limited availability of these extra-special brews, and it wasn't long before kegs started kicking around the site. The atmosphere was lively and expectant, with upbeat performances from two local bands, Darkbird and Honeypunch and DJ Grossyall entertaining visitors between pours. With plenty of well-stocked water stations ensuring everyone remained fully hydrated and hand sanitizer at every booth, the festival showed off a high level of professionalism, organization and duty of care.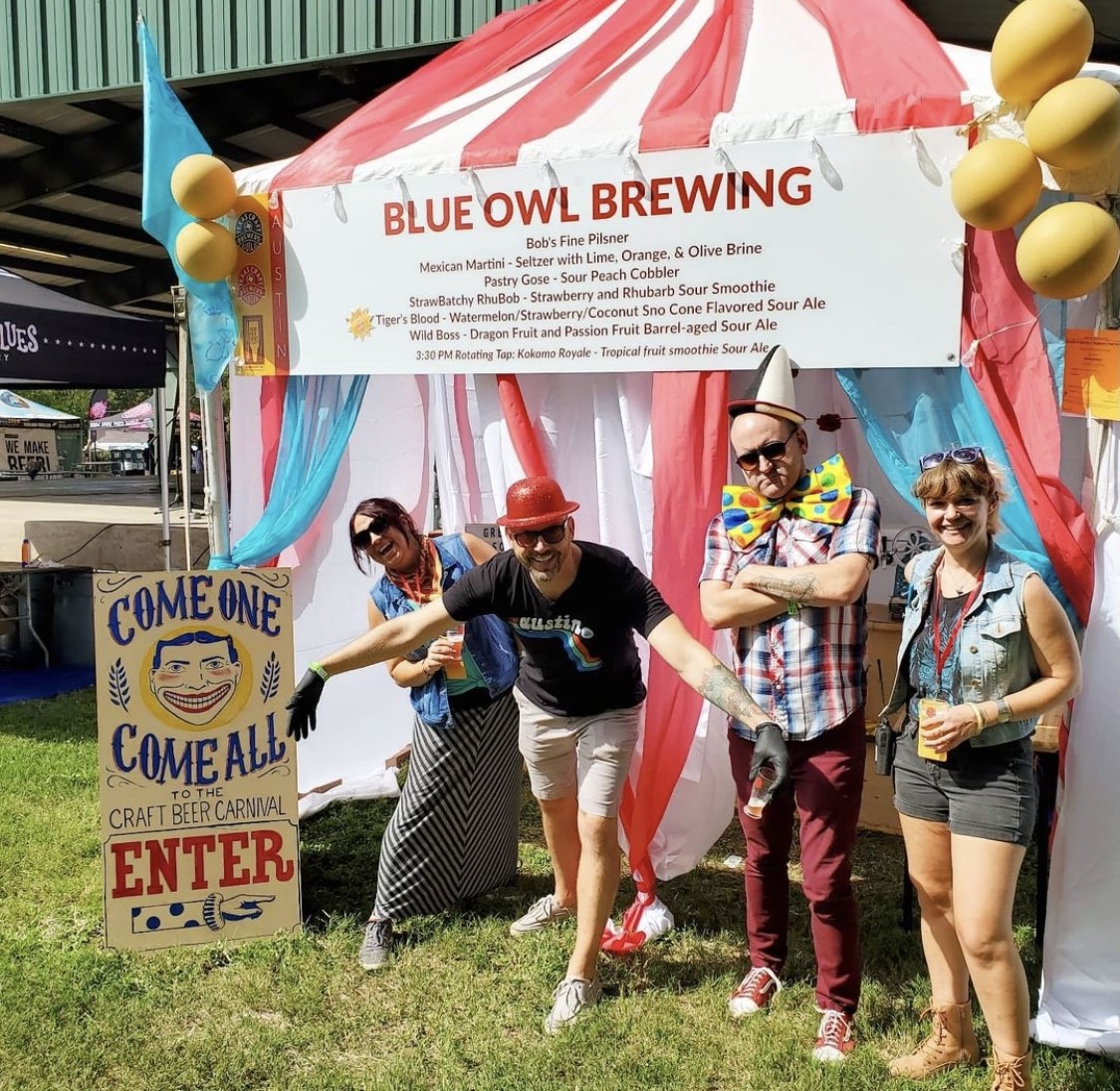 Austin's Blue Owl Brewing are known for their inventive and unusual kettle-soured beers. At this year's festival, they decorated their booth as a circus tent as well as offering an impressive six taps of beer and seltzer, plus a timed rotating tap. Co-owner & Business Operations Director of Blue Owl Brewing Suzy Shaffer is passionate about taking part in the festival. "It's an honor to work alongside the talented and passionate people of the TCBG and help coordinate Texas' best (in my opinion) beer festival. It's an all Texas and all craft beer event, making it even more special to coordinate and connect with our brewery friends and neighbors" said Shaffer, again emphasizing the role of community in the Texas craft beer scene and the work of the Guild.
Breweries from out of town were equally appreciative. Acopon Brewing are based in Dripping Springs TX, about half an hour from downtown Austin, and specialize in English-style beers. Co-owner and brewer John McIntosh has nothing but praise for the festival organisers at the Texas Craft Brewers Guild. "For us, the festival is a great way to help us expose people to what we do; make traditional low-alcohol beers" said McIntosh. "It was humbling to see people line up and wait for a dark mild or premium bitter, and to have so many brewers stop by and give us positive feedback. Hats off to the TCBG and all the volunteers. It's so much work to put on an event like this, and the TCBG made it look easy."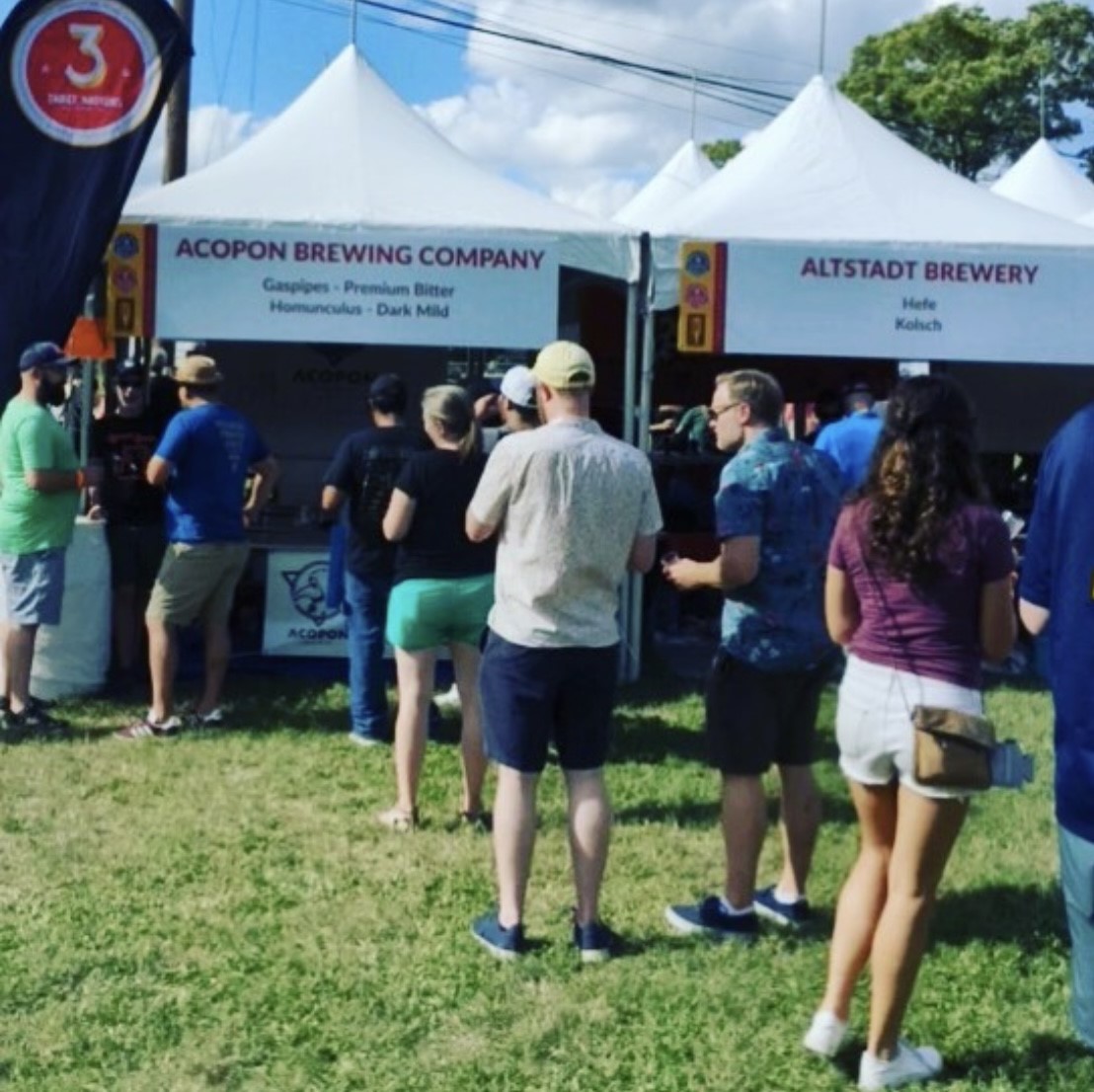 Dallas TX's Smittox Brewing's Founder and Director of Brewery Operations Kuumba Smith was also impressed with his first Texas Craft Brewers Festival experience. "The thing I enjoyed most about the festival was watching people enjoy our beer" he said, understandably pleased with how quickly his beer went down. "The smiles the beer puts on people's faces is the main reason why I want to open a brewery."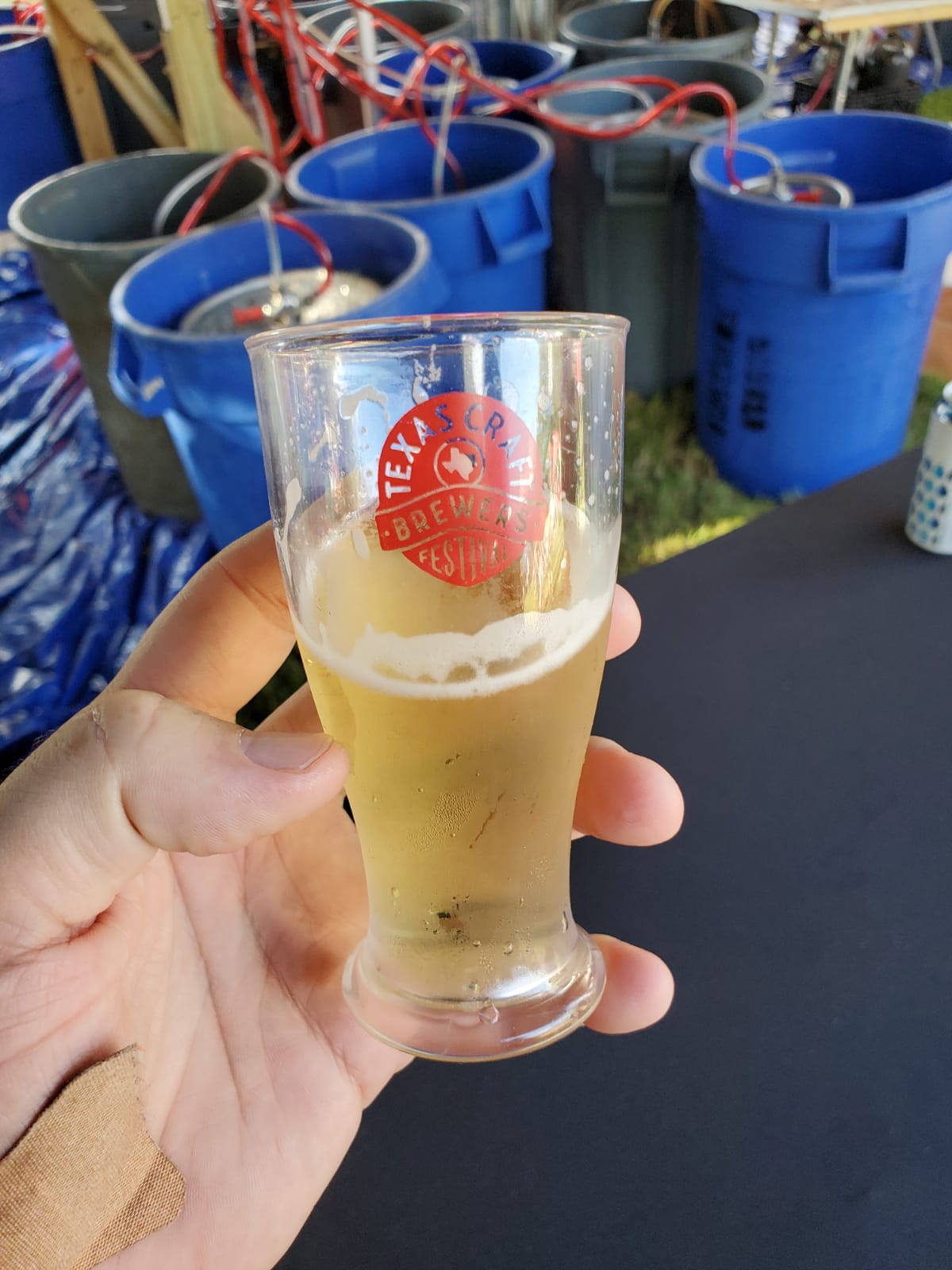 The Texas Craft Brewers Guild was delighted to be back hosting a live festival, and Deputy Director Caroline Wallace is proud of the successful efforts of her team in pulling off a really special day. "After so much time apart, it was amazing to bring the Texas craft beer community together again for Texas Craft Brewers Festival! I'm so grateful for the organizing team, volunteers, brewers, sponsors, and beer enthusiasts who came together to bring back the largest gathering of small and independent Texas craft brewers anywhere. It was awesome to see so many familiar faces, connect with folks, and raise a glass for our first in-person festival since September 2019." The Texas beer community did indeed enjoy a happy and much-needed reunion, and will be looking forward to the 2022 festival already.
Top Five Festival Beers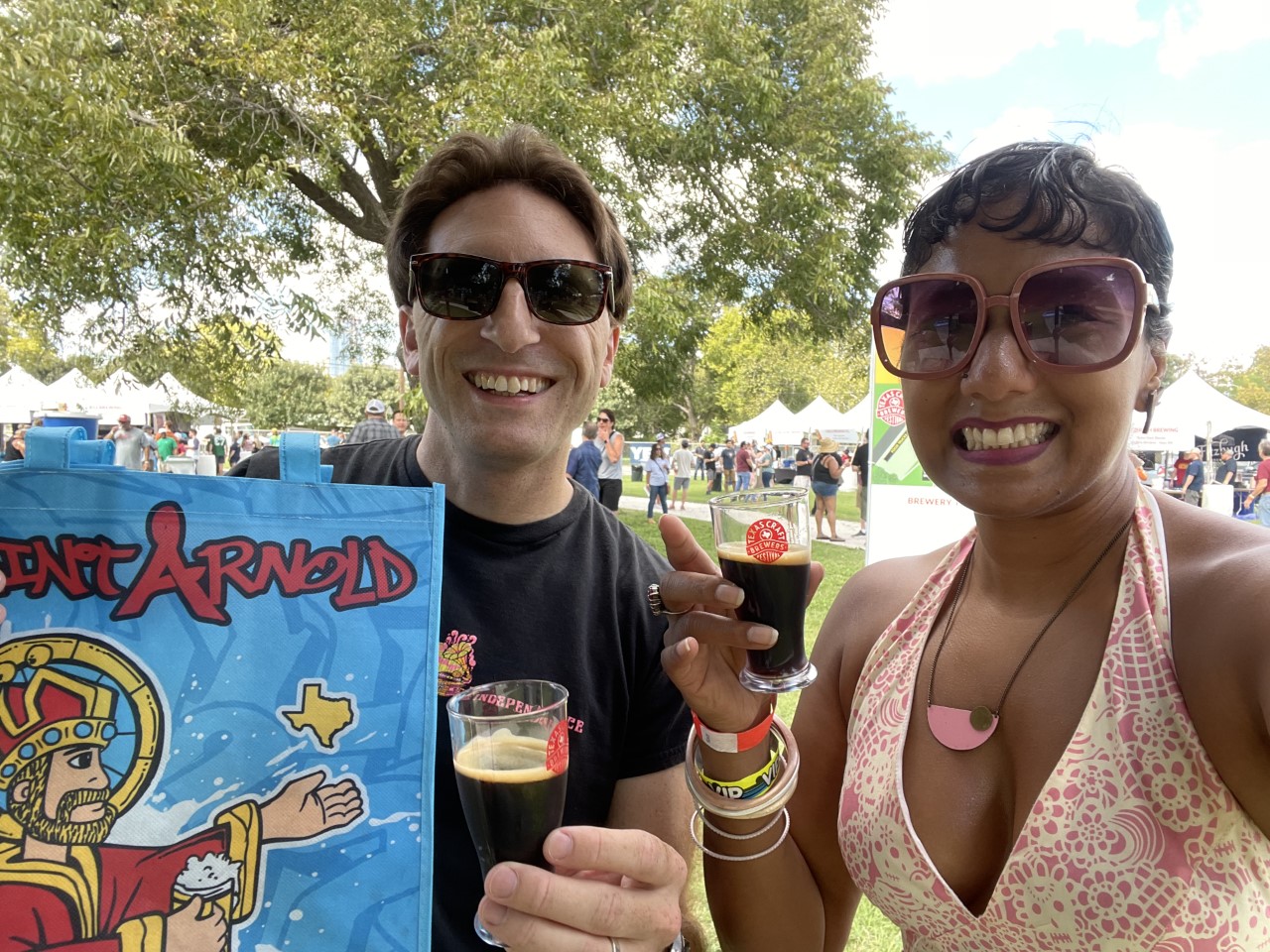 ---