No Comments
Wild Fields Brewhouse | Mountain Moonlight Oatmeal Stout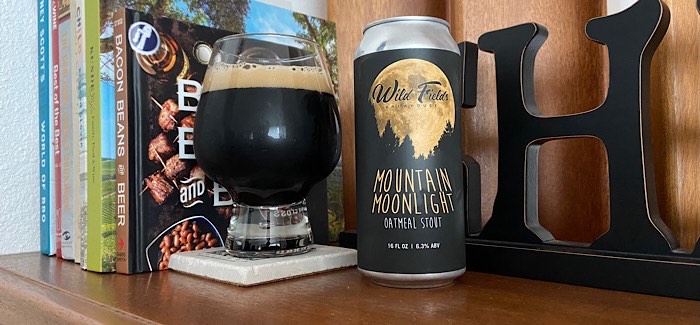 What comes to your mind when you think of a comfort beer? That beer you open and that first taste conjures up a feeling of relaxation. Maybe it brings back memories of sitting around a campfire with friends. Maybe just sitting on a patio watching the night sky or maybe just a quiet spot to relax.
Wild Fields Brewhouse Mountain Moonlight Oatmeal Stout is the kind of beer that just creates relaxation with every sip; a harmonious balance of coffee and chocolate roast. It pours dark brown with just a hint of black, and finishes with a creamy richness that perfectly balances this beer. At 6.3% ABV, it is perfect to cut the night chill without being too big or heavy.
Wild Fields Brewhouse is located in Atascadero, California on the beautiful Central Coast area, surrounded by rolling hills and a stunning coastline. Ryan and Jacque Fields of Wild Fields just celebrated their 2nd anniversary. They both got their start in the beer industry in SoCal. Ryan worked at Lost Abby/Port Brewing, Pizza Port San Clemente and The Blendery; Jacque started at Beachwood BBQ, then moved to Pizza Port, before becoming the Executive Director of the Orange County Brewers Guild.
Ryan and Jacque of Wild Fields have been inspired by the area they call home, both with beer names and instilling that local vibe. From Mouse Rock IPA, named after a reef break in Cayucos, to Pine Mountain Monolith, which was named after a monolith was discovered (and later vandalized) on a local trail.
If you find yourself on the Central Coast of California, do yourself a favor and stop in. Wild Fields is a family-friendly brewery and restaurant that cares about their community as much as they do about their beer.
---