No Comments
Six Under the Radar Breweries Worth Trying at FoBAB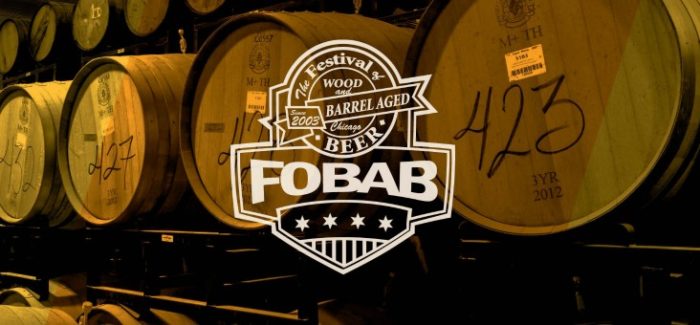 As we noted in our Tips to Have a Great Time at FoBAB article, The Festival of Wood and Barrel-Aged Beer (FoBAB) is a challenging festival to navigate. The sheer magnitude of breweries alone make it tough. And, the vast majority of beers served are either high-ABV or require one to consume some Tums. Do you want to be stumbling or rumbling? One might wonder why anyone would dare attend an event that challenges the liver, the gut, and the mind. Well, because it's some of the best beer in the world. It's where brewers meet distillers and where chemistry meets artistry. It's good to try the beers you know, but it's also good to try something new — but which ones?
One of the tips noted in the article was "Try Breweries You've Never Had Before." Mike Zoller, the author, said "I make a list of all the breweries that I definitely want to try at FoBAB." But, how does one go about deciding on breweries they've never tried; or never even heard of? It's no easy task, but the following "six under the radar breweries worth trying" might give some help on how to do that.
Most of the FoBAB attendees live within driving distance of the Chicago metro region, including this writer. So, here's a few a breweries from places outside the areas near Chicago that peaked my interest, and I note why I want to try them.
I think their website says it all: "Pretentious is the first brewery in Columbus to specialize exclusively in barrel-aged sour ales. Our extensive knowledge of the symbiotic relationship between beer and wood results in consistent, quality sours."
The Barrel House even manages a Sour Society, which is "Pretentious Barrel House's exclusive bottle club for those with an insatiable obsession for sour beer."
Sold!
View this post on Instagram
They note on their website: "Let's just say we write our brewing recipes in pencil. We explore new styles until they reach perfection. Then we keep tinkering. In addition to beer, we serve Glacial Till hard ciders, Stone Cellars wine, Blumers craft sodas (non-alcoholic), cold brew coffee and our very own non-alcoholic sparkling hop water."
Given they work with ciders, wine, and beer, one can imagine FoBAB is the perfect venue for them to present the results of their latest tinkering. Oh, and…..Psst: They won a couple of FoBAB awards a few years ago, too.
Corporate Ladder (Palmetto, FL — south of Tampa-St. Pete)
While at GABF, the PorchDrinking team listed two of their stouts among "our best finds" in our "GABF Day 1 Recap." story. For them to do so well at GABF in our eyes, it's only natural to want to see them again at FoBAB.
Will they bring stouts to Chicago? We must wait to see, but no fear because the first three or four beer styles they list on their website are very FoBAB friendly: "We focus on fruited sours, adjunct stouts, barrel aged sours & stouts, hazy IPA's & back of house favorites, lagers."
I had a chance to visit the oh-so-dog-friendly brewery and distillery in Phoenix (Gilbert) a few years back and could not have been more impressed with the beer, food, and overall concept. They work hand-in-hand with homebrewers, offer guests a tremendous beer garden and patio, make high-quality spirits and cocktails, and enjoy acclaim for their food. Obviously, they can't bring any of that, or their dog-friendliness, with them. But, they can bring the beer that's inspired by all that to Chicago.
It's a brewery. It's a distillery. There are barrels 'o plenty. So, what will they bring? Whatever it is, it's worth trying.
View this post on Instagram
FifftyFifty isn't from San Diego or San Francisco, or other brewing "hotspots," it's well east of Sacramento, near Reno, Nevada. The odds of visiting that location are slim for this Chicago guy, so I can't pass up the chance to try their beer — and it's a beer with a terrific reputation.
FiftyFifty Brewing won Brewery Group of the Year at 2018 Great American Beer Festival. In 2022,  FiftyFifty Brewing Co. won three gold medals and a silver in four separate categories at the Best of Craft Beer Awards (the third largest professional brewing competition in North America), the most golds awarded among the 482 craft breweries that submitted beer to the judges.
First of all, the brewery name is catchy. But, there's more. One look at their website and you notice that they include FoBAB as an upcoming event, with a note of their excitement in participating. If you are a 15 bbl brewery in New Jersey and are excited to come to Chicago with your beers — how can we not want to try them?
The brewery turned a old turn-of-the-twentieth-century carriage house turned Ford dealership into a brewery, and the lineup includes plenty of barrelled beers, notably strong-BA. What will they bring? Who knows? But, whatever it is, this writer will be there trying it.
I mean, a guy from New Jersey once came to Chicago and started a 15 bbl brewery. He named it Half Acre. So, why not try another Jersey – Chicago connection?
So, there you have it. The choices are seemingly endless. Have a plan. Find a few breweries you know, both in Chicago and nationally. And then, find a few new ones — from this list or your own.  After that, go rogue. (But, hydrate, hydrate, hydrate, too!)
---