No Comments
District Brew Yards Now Open in Wheeling, IL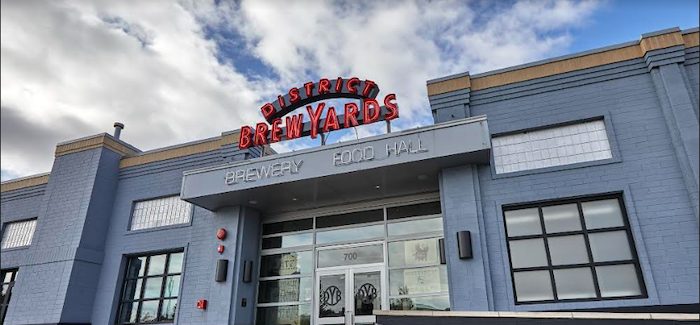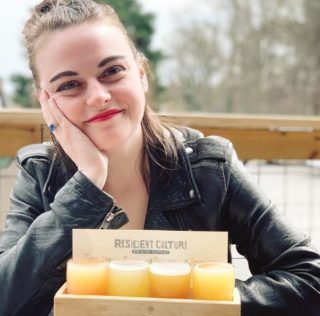 District Brew Yards is well-known within the West Loop of Chicago as a pour-your-own beer hall with four different breweries in operation. After looking for expansion opportunities throughout the past year, the previous Ram Brewing location in Wheeling, Illinois was the perfect fit. The current West Loop location has four breweries in residency: Around the Bend Beer Co, Burnt City Brewing, Twisted Hippo and Casa Humilde Cerveceria. At the Wheeling location, customers will find these four breweries, as well as Histrionic Brewlab. In addition to these five breweries, there is an Added Libations Tab, where ciders and wines will be available.
Opening this past weekend on October 28th, the location boasts lots of seating for both small and large groups, as well as a patio to enjoy late fall weather. Knowing the appeal of a good patio, the art alongside the outside wall near the patio was done by Lauren Asta. The patio is also dog friendly, though the taproom cannot permit dogs due to the full-service kitchen. Inside the space, there are taps for each brewery across the walls, and a dedicated food hall section. Additionally, for a little nod to Chicago, some of the communal tables were actually built from the old lane two from Southport Lanes (RIP).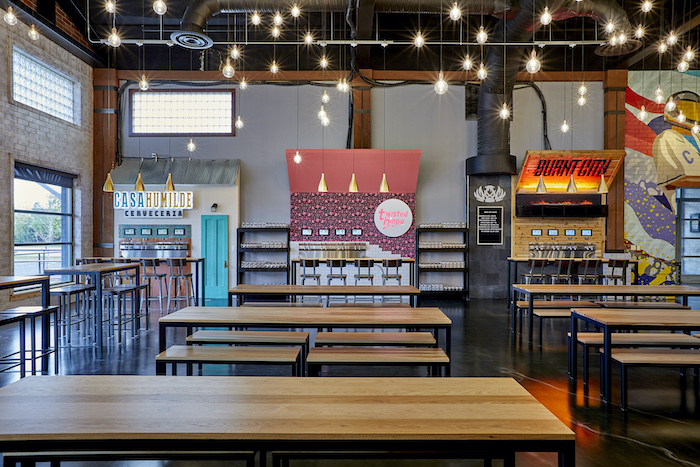 The pour-your-own set up is the same as the West Loop location, meaning that everyone can pour as much or as little beer as they want for each serving. Making your own flight has never been easier! For those that have yet to be at a pour-your-own space like District Brew Yards, they give you a card that is connected to your credit or debit card, and then you simply place the card in the tap and pour! Employees are also available to assist in any way possible.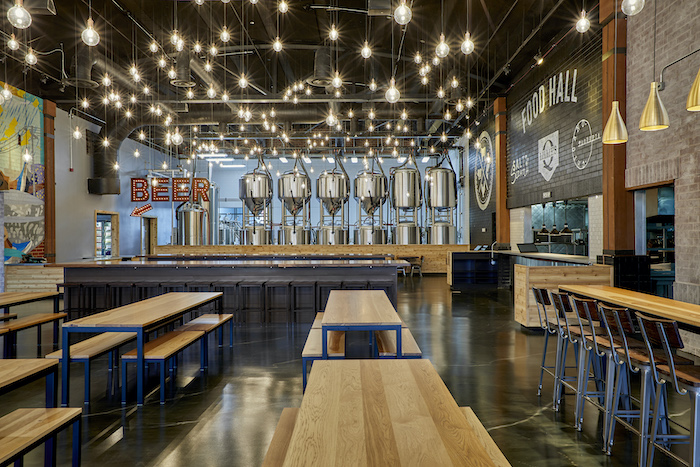 One of the best parts about their set up is that all the beer will be incredibly fresh. The five breweries will be brewing there, and all beer made there is either going directly into those tap lines or canned to purchase at the Wheeling location. With over 40 beers on tap across the breweries, the hardest part may be what to try first!
In addition to a variety of beer, the food variety is also top notch. Just like with the West Loop location, founder Charlie McKenna brought Lillie's Q to Wheeling, bringing delicious barbecue to the suburbs. This location will also hold Chicano Taqueria and Salt and Scratch (a chicken and fish concept), so anyone visiting will find something to enjoy.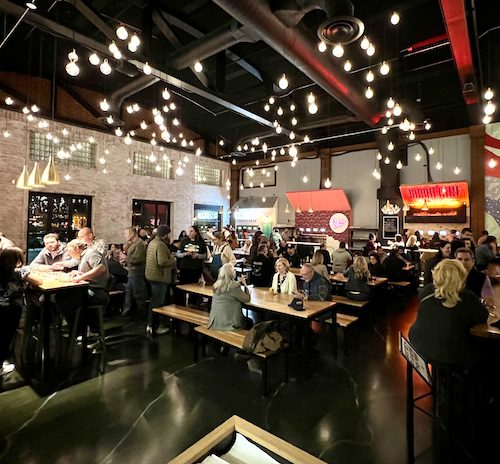 At The Opening of District Brew Yards Wheeling
You can check out the Wheeling location at 700 North Milwaukee Avenue and follow District Brew Yards on Instagram here!
Featured Image Courtesy of Neil John Burger Photographyhttps://neiljohnburger.com/
---