One Comment
Milking the Tourist Trap | New Holland Brewing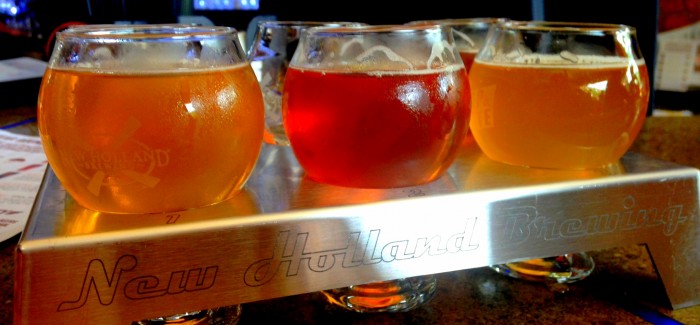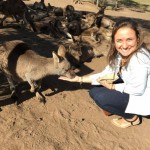 66 E 8th St, Holland, MI 49423
Tours: Sundays at 12:00pm, 1:00pm, 2:00pm and 3:00pm
Pub Hours: 11:00am – bar close
The west coast of Michigan is littered with hearty little beach towns that endure lake effect snow in the winter and hoards of Chicago tourists in the summer. One such town gets extra attention for its namesake brewery, New Holland Brewing. Nestled among ice cream stores and clothing boutiques, this brewery packs an unexpected punch in the form of creative crafts and homemade spirits made onsite.
Dragon's Milk is their best seller, and it's the one you're most likely to have seen before. It's chocolaty, malty, and has a distinct burnt oak flavor due to barrel aging. This aging process doesn't only benefit this beer though. While many breweries are jumping on the bourdon-barrel-aged-beer train, New Holland has turned this train around and begun aging their bourbon in Dragons Milk's beer barrels. The result is a bourbon with a smooth whiskey with a malty aftertaste. Not what I came for, but I did leave with a handle of it.
Another unique pour was the Blue Sunday Sour. Every year New Holland celebrates "Blue Sunday," the day that the state of Michigan lifted its ban on beer purchases on Sundays, paving the way for our beloved Sunday Funday. This sour is complex, sharp, and fruity at the finish – perfect to kick off your bottomless brunch. Have fun at work tomorrow!
The White Hatter was my personal favorite. A branch of the popular Mad Hatter IPA, the White Hatter is the fruity cousin. The cloudy orange color disguises a blend of complicated hops and traces of orange, lemon, wild flowers, and black pepper. A summer beer that doesn't bore your taste buds.
The smorgasbord of homegrown options at New Holland, from bourbon to barrel-aged stout, pose a pleasant conundrum to a tourist just passing through. Head on down the coast with the rest of Chicago's traffic, or stay and see what other surprises they've got behind the bar? Easy choice if you ask me.
To-go options: Beer and spirits are available in growlers and handles
Patio: Yes
Special events: Always! Next up is the 9th Annual Ichabod Release Party on August 18, 7:00am – 2:00pm at Logan's Alley in Grand Rapids