No Comments
Q & A | Rhinegeist Brewery 2nd Anniversary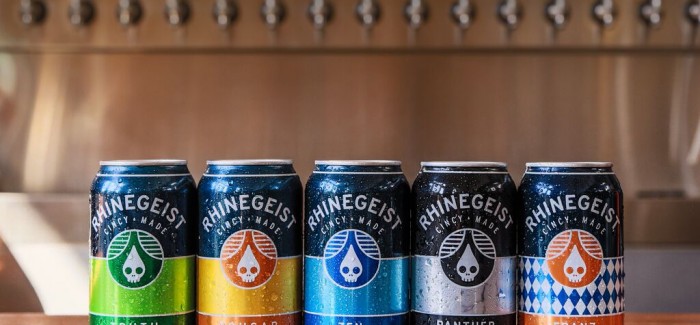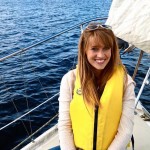 All Photos Provided By Rhinegeist Brewery
For years, Cincinnati was the epicenter of a rich and thriving brewing culture fueled by the city's strong German background. At it's height in 1860, the Queen City boasted nearly 40 breweries producing over 30 million gallons of beer, until prohibition wiped out the entire industry. However the country's recent craft beer movement has brought new life and a new wave of breweries to Cincinnati. And now in just it's second year of existence, Rhinegeist Brewery is helping to lead that charge.
This weekend marks Rhinegeist's official second anniversary and in that short time, the OTR (Over the Rhine) staple has grown from a small brewhouse to a Midwest power, winning fans over with unique takes on classic styles such as their Truth IPA, Zen American Pale Ale, Puma Pilsner, and Cougar Blonde, and Panther Porter among many others.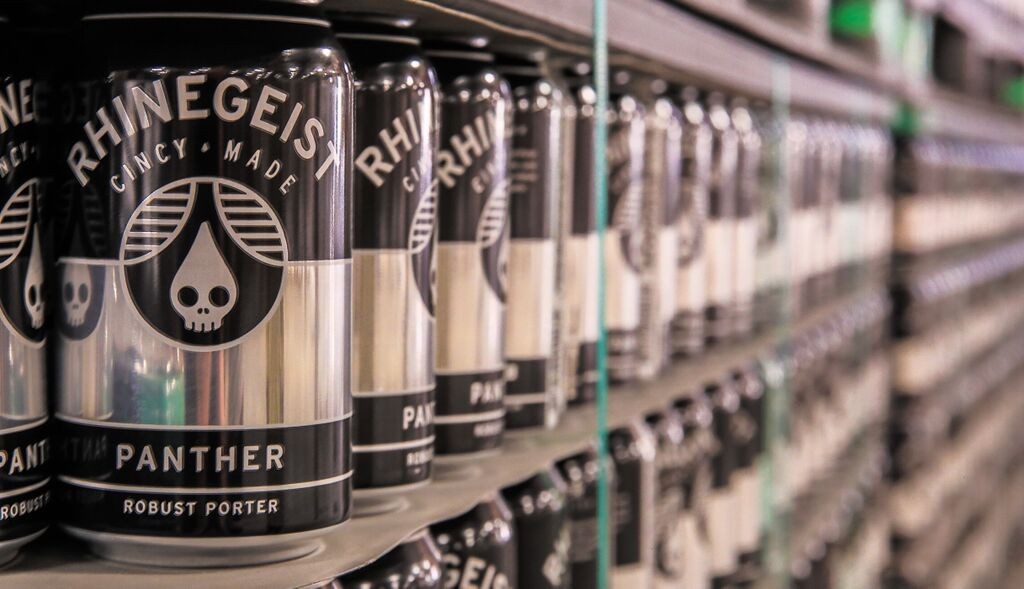 By the end of their first year, Rhinegeist expanded beyond purely brewing beer with the launch of their distributor arm Riverghost Distributing across the river in Erlanger, KY. Their goal was to be able to self distribute their own beer in addition to bringing in other out-of-state beer, wine and spirits.
However, perhaps the only ghost Rhinegeist has is, Anheuser-Busch. The St. Louis based company recently caused quite a stir in Kentucky with their own attempts to open up distribution arms, which was met by resistance in the form of House Bill 168. The bill, which goes into effect next month, will prohibit any breweries in the state of Kentucky from owning any beer distributorship.
Despite the passing of Bill 168, Rhinegeist has already begun moving forward. Earlier this week they announced that they would sign with Heidelberg Distributors, whose portfolio already includes the likes of Deschutes and Schlafly.
We were able to catch up with friend and Rhinegeist Director of Sales, Zach Moscow to hear more about the growth of the company, its recent setback, and how no matter what, Rhinegeist is positioned to become a major force in the midwest craft beer scene.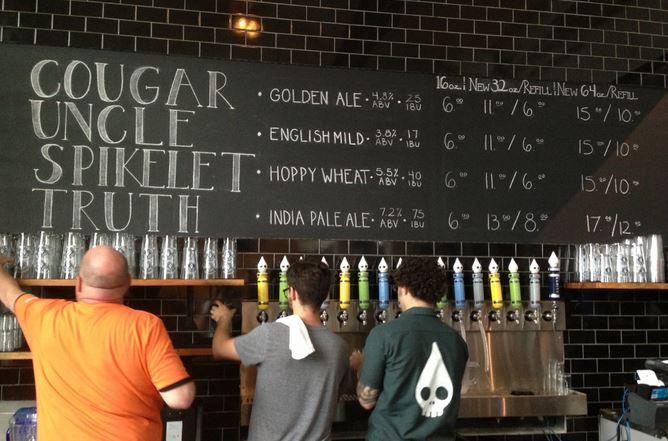 For readers who aren't as familiar with Rhinegeist, tell us a little about the brewery. How did y'all get started, what are the core beers in your lineup, do you all have a certain brewing philosophy or style that you adhere to?
Rhinegeist brewed our first batch in June 2013 with the goal of bringing hoppy and sessionable beers to Cincinnati. Our start-up team came from a diverse set of backgrounds – but all had an entrepreneurial spirit and a belief in great beer and community. We definitely lean toward the hoppy end of the spectrum… our flagship Truth IPA is an unabashedly West-Coast style IPA, hopped at roughly 3 lbs/BBL with Amarillo, Citra, Centennial, and Simcoe. Zen, a session IPA, has joined our core lineup in 2015 and gives us the flavor we're looking for with a little more drinkability (4.8% ABV vs. Truth's 7.2%.) Cougar Blonde Ale rounds out the core as a light and bright option for the low IBU enthusiasts among us. While we have certainly brewed our share of IPAs, single hop pale ales, and even some massively hopped imperial releases, we are big fans of brewing (and drinking!) seasonally. Pilsners, Berliner Weisses, Belgian Wits and Table Beers in the summer… Porters, Stouts, Tripels, and Barleywines in the winter. We are very conscious to offer a wide variety in our taproom – something for every mood or palate.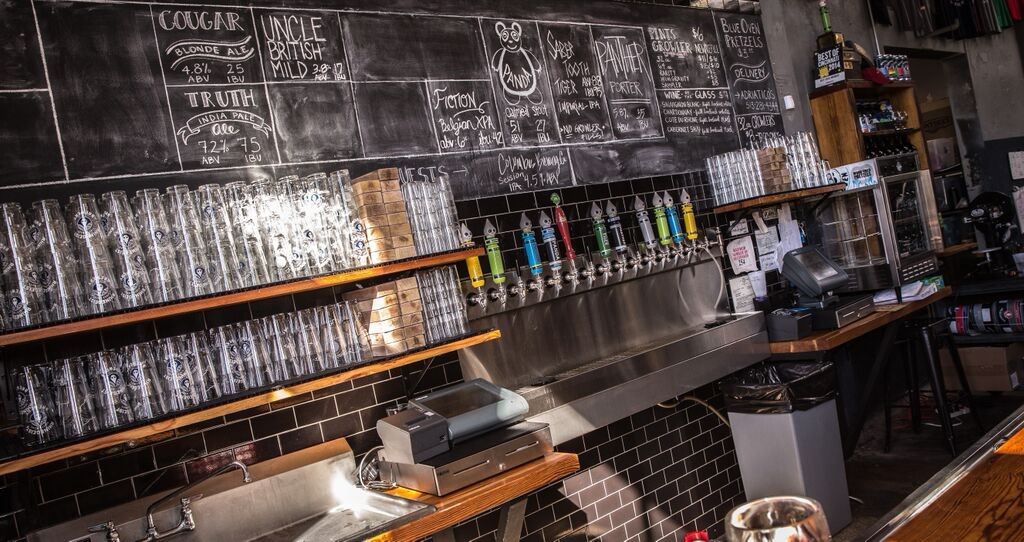 There's a ton of tradition surrounding the building the brewery is based in, tell us a little more about that.
Not just the building – our entire neighborhood! "Rhinegeist" translates as "Ghost of the Rhine" – a nod to the extremely rich brewing heritage of our Over-The-Rhine neighborhood. Pre-prohibition, this was a hotbed of brewing culture for not only Cincinnati but the entire Midwest United States. Our building is the former home of a Christian Moerlein bottling facility – through all of our expansions, we continue to find little pieces of Moerlein history. It's very fulfilling to play a part in adding to our city and neighborhood's heritage.
Congratulations on celebrating your 2nd Anniversary this weekend. When you think back, you all have grown at an unbelievable rate of the past two years. Can you tell us a bit about that growth in terms of both brewing capacity, canning/bottling and expansion?
It's been wild – well beyond what we could have imagined. We started with an old 20 BBL JVNW brewhouse (sourced in Mexico!) and four 40 BBL (barrel) fermentation tanks… and have since brought on 80 BBL tanks, then 120s, then 200s, and have now commissioned a brand new 60 BBL BrauKon brewhouse. It's fun to talk about the equipment but the real muscle behind our production are the brewers, cellermen, and packaging staff who work tirelessly to handle the demands (and growing pains) of this expansion rate.
We did around 11,000 BBLs in 2014 and should end up somewhere in the neighborhood of 25,000 – 30,000 BBLs in 2015.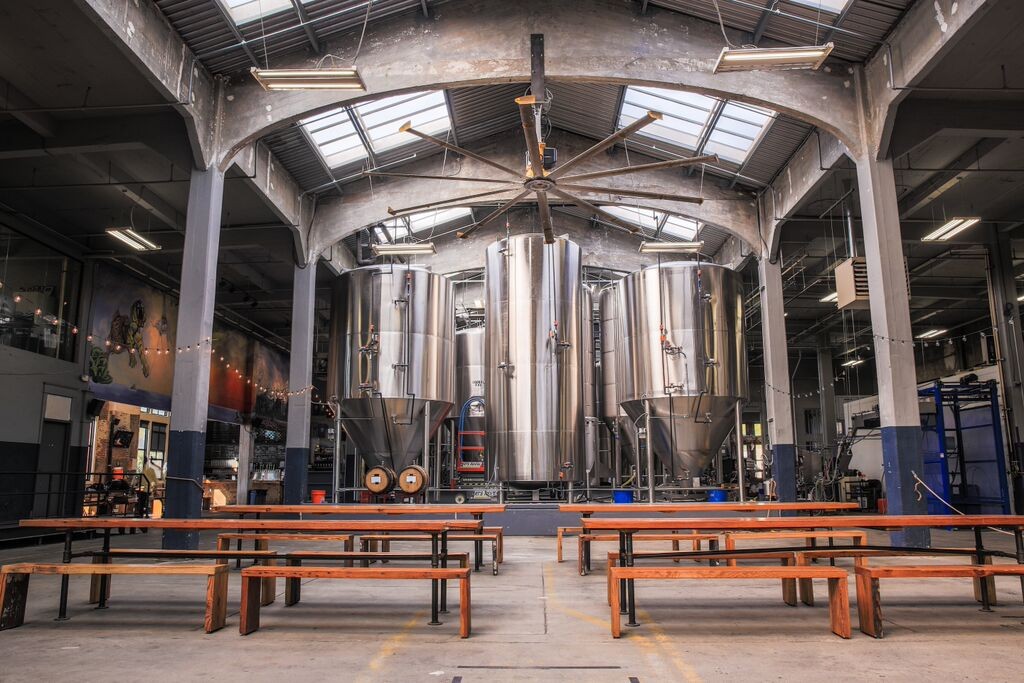 Part of your growth was this attempt to get a distributorship started over state lines in Kentucky under the name River Ghost. Kentucky legislature had some different ideas about that. Could you give us an overview of what you all wanted to accomplish with River Ghost, why there was a push back, and where you all stand on that front now?
A big point of differentiation for Rhinegeist has been our self-distribution model. Every Ohio-bound keg/case that's left our brewery has been handled by our internal distribution staff, which has had to grow and evolve as our production has ramped up. That ability to tell our story at all levels of the business, from production to sales to delivery to our customers, is very unique to our brand. So, when it was time to expand across the river into Northern Kentucky and the rest of the Commonwealth, we wanted to find a way to keep that spirit alive. We checked with lawyers and state liquor control administrators on both sides of the river and they gave us the go-ahead to form a distributor in Kentucky.
While the initial push of Riverghost was to distribute Rhinegeist beer, a huge part of our business model was the addition of other craft beverage brands. It's worked phenomenally for Stone in Southern California, who sells a ton of Racer 5 IPA over their own IPA! We've all got connections across the industry, and thought Riverghost would grant an opportunity for new brands to enter the state. We starting pitching local and national craft breweries, added an amazing import wine portfolio, signed up several domestic wineries, and just added our first spirits brand this week.
Unfortunately, we got caught in an Anheuser-Busch fight (they bought a distributorship in Owensboro shortly after we opened, sparking a lot of unrest among other distributors and local breweries.) Legislation was subsequently introduced that prevents breweries from owning any second or third tier businesses in the state – we pushed hard for a compromise to protect our small business, but weren't able to gain much, if any, traction. The irony is that the legislation was intended to prevent a big macrobrewery from monopolizing distribution channels… Riverghost was the exact opposite yet still was ultimately written off as collateral damage.
After much discussion and contemplation, we formally announced earlier this week that we would be selling Rhinegeist's distribution rights to a pre-existing distributor here in Kentucky, Heidelberg Distributing. Riverghost will continue to operate as a wine and spirits distributor, as this part of our license is unaffected by the new legislation. I'm disappointed with the outcome but am very excited about our partnership with Heidelberg and the continuation of our wine and spirits business.
While it sounds like a bit of a setback, it seems like Rhinegeist will still be in great shape moving forward, what other exciting things can people look forward to during the next year?
The new brewhouse I referenced earlier gives us a lot of flexibility – we can crank out our core and main seasonals on the big system and continue to develop new recipes on our original brewhouse. We've brewed somewhere around 40 different styles and brands already in 2015! It's an opportunity for our brewers to get creative – and as a sales guy, I absolutely love it.
We've already started rolling out limited releases of 22oz bottles and those will start to become a little more frequent moving forward.
There has also been a lot of groundwork done over the last year to get our barrel aging and souring programs up and running. While those releases have been very sporadic, I'm hopeful that we'll start to see more of these rare beers come to market. I was actually involved in the bourbon industry before I got into the beer business… so watching barrels start to pile up in our basement has been very cool.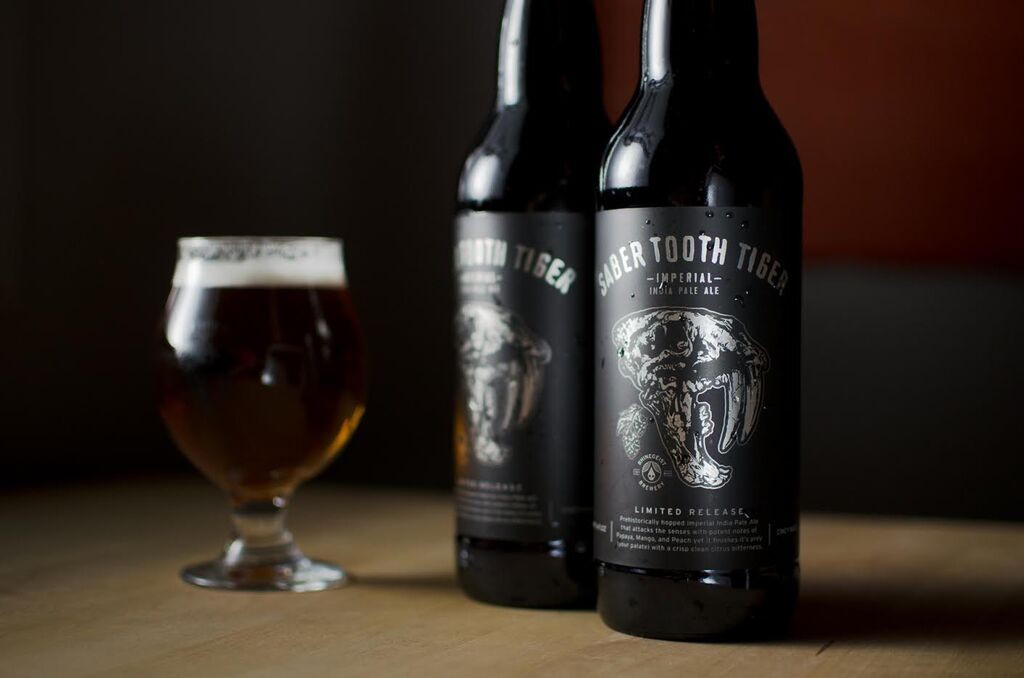 For those looking to celebrate your anniversary with you this weekend what are the details, sounds like a pretty impressive pour list will available to attendees.
It's been an exciting two years at Rhinegeist – and we're going to celebrate with all of our friends and family in a big way this Saturday! We open at noon, it's free to get in, and we're pouring some ridiculous beers including the Tart Cherry Sour Cougar, the Barrel Aged Knucklehead, the Mango Sci-Fi and the Double Oaked Gramps…. not to mention some other secret releases sprinkled in throughout the day. I'm personally looking forward to the giant slip and slide!
1pm – Tart Cherry Sour Cougar – 4.8% ABV
2pm – Barrel Aged Knucklehead (Buffalo Trace Barrels) – 10.5% ABV
3pm – Double Oaked Gramps (Hendry Ranch Pinot Noir Barrels -> Buffalo Trace Barrels) – 11.9% ABV
4pm – Mango Sci-Fi (Sour Fiction infused with Mango) – 6.2% ABV
5pm – Barrel Aged Ink (Buffalo Trace Barrels) – 11.8% ABV
6pm – Sci-Fi (Sour Fiction) – 6.2% ABV
7pm – Barrel Aged Drunkle (Buffalo Trace Barrels) – 7.5% ABV
8pm – Double Oaked Mastodon (Hendry Ranch Pinot Noir Barrel -> Buffalo Trace Barrels) – 11.8% ABV
9pm – Barrel Aged Bertha infused with Vanilla Beans, Coffee, & Cocoa (Four Roses Barrel) – 11.5% ABV
10pm – Tart Cherry Sour Cougar – 4.8% ABV
---