No Comments
2 Days, 2 Nights of Craft Beer in Denver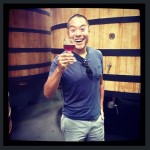 *Header photo by Kyle Cooper, on behalf of 303 Magazine*
Special thanks to Dustin Hall of The Brewtography Project for capturing such iconic photos of Denver's beer scene.
2 Days and 2 Nights of Craft Beer In Denver
Welcome to the Mile High City, where echoes of the Wild West still reverberate throughout the very fabric of the city's culture, craft, and people. Located at 5,280 feet above sea level, this is a city that's still green in its identity, still forming its foundations, and at yet at its core, still firmly rooted in supporting its own.
It's through this deep sense of community and inclusion, that the Queen City of the West has so quickly adopted the camaraderie and brother/sisterhood, which make up the fabric of the craft beer industry. This is a region that was built on beer, from the early lineage set forth by the Coors family, to the investment put forth from the likes of Wynkoop and Great Divide, casting their livelihoods where most others hadn't dare venture. Welcome to Denver, Colorado, where the beer flows like wine.
Attempting to drink your way through Denver's opulent beer scene is daunting enough over the span of a year, but to attempt to capture the essence of all this city has to offer in a mere two days and two nights is a feat beyond the mortal realm.
Day 1
Morning – The Airport
Nevertheless, let us begin at Denver International Airport. Tucked away in the deep recesses of Terminal B (seriously you'll have to venture to the farthest end of of the terminal and turn left to find it's alcove) you'll find the New Belgium Brewing DIA Hub. While the brewery itself is based an hour north of Denver in Fort Collins, you can sample many of their core lineup, as well as a few Lips of Faith series without actually leaving the confines of the airport. The tap list changes seasonally, but if any of their pioneering sours such as La Folie, Transalantique Kriek, Le Terroir, or Felix happen to be available, do not pass them up.
Afternoon – The Highlands
After a quick sampler tray at the New Belgium Hub, it's finally time to step foot onto Denver soil. Luckily, despite DIA's proximity to practically nothing, your next two beer stops aren't actually too far away. Dry Dock Brewing, who launched their original Aurora location in 2005, opened their North Dock site, located right off the highway on your drive into the city.
What to try: Staples like Apricot Wheat, Vanilla Porter, and Hop Abomination. And large format barrel-aged beers within their Signature Series: Bligh's Barleywine, Double Coffee Porter, Double Vanilla Porter, Double Hazelnut Brown to name a few.
Once you've had your fill at Dry Dock, continue along I70 toward the city and hop off for another quick stopover at Station 26 Brewing. Located in a remodeled firehouse, this Park Hill gem is producing some of the best hoppy beers in the city with their Single Hop Series
What to try: Single Hop Series, Dark Star (and any variants), Juicy Banger, Colorado Cream
But enough stopovers, it's finally time to head to one of Denver's many prolific beer neighborhoods. When presented with only 2 days to explore the Mile High City, I generally recommend sticking to four distinct regions, both for the sake of proximity and quality of beer: The Highlands/LoHi, River North, Downtown, and Baker/South Broadway.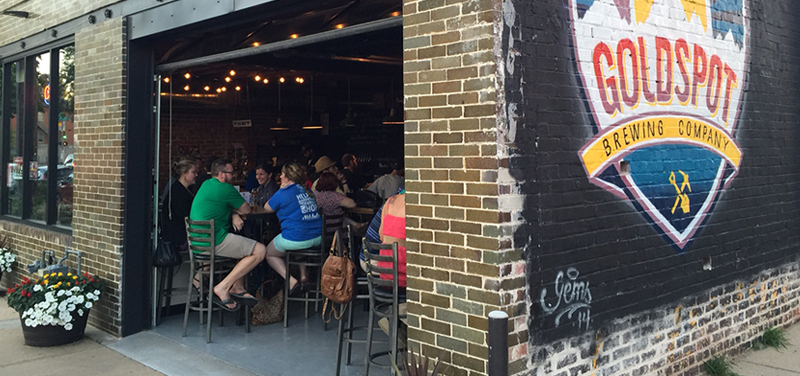 We'll kick things off in the Highlands at Goldspot Brewing, who recently celebrated their first anniversary. Drop in for a few tasters of their La Cienega Grisette, as well as their newly bottled Black Whiskey River, which is their Black River, a hoppy stout, aged in local whiskey barrels.
What to eat (while you drink):
By now you've probably worked up a bit of an appetite, so take the short trip over to Hops & Pie on Tennyson Street. This combo pizza/sandwich joint owned by Leah and Drew Watson, also boasts one of the best tap selections in the city. They're constantly wrangling rare and quality beers, as well as curating specialty themed tappings such as Pliny the Younger, Melvin 2×4, and Abraxas just to name a few. They'll also host special stylistically themed tap takeovers such as their mini Sour, Pumpkin and Christmas Beer Fests and for GABF, rarity takeovers from Sun King, Firestone Walker, and Crooked Stave Artisans (distributorship). Enjoy a slice of killer za', chow down on a mind blowing sando, or demolish some of the best mac and cheese the city has to offer.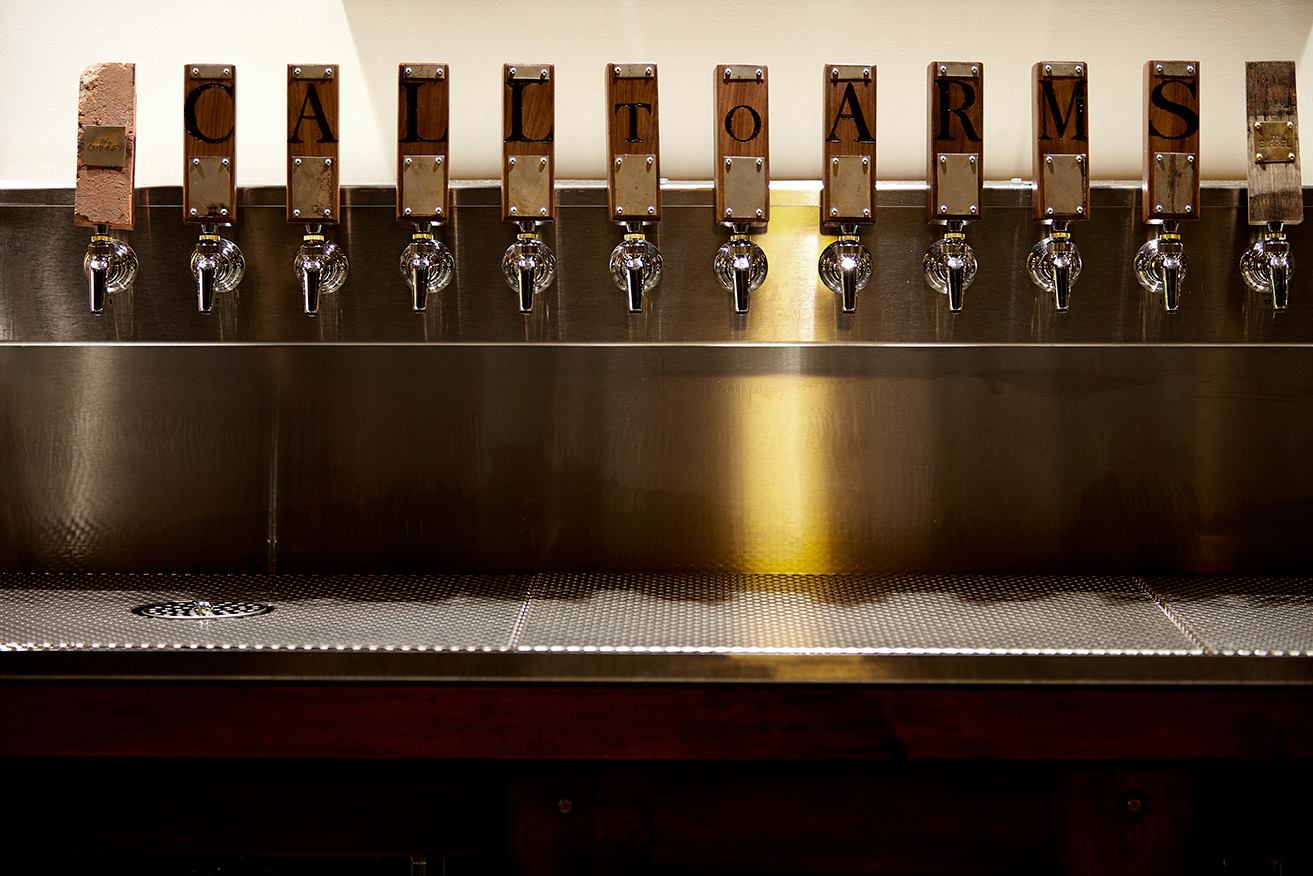 Once your hunger has been adequately satiated, take a short walk down the street to one of Denver's newest and brightest rising breweries in Call to Arms Brewing. Started by a trio of former Avery Brewing employees, CTA has quickly been garnering national attention for beers like their Burkhalter Dunkleweizen, Great Gam Gam Imperial IPA, Freedom Fries Saison,Khores Ballroom Beer and their new ballroom series featuring limited release bottles of wild and specialty beers.
Next up venture a little further south where you'll run into Hogshead Brewery, the perfect spot to try traditional English style ales, as well as many cask conditioned offerings, we recommend the Gilpin Black Gold Porter.
Where to buy bottles:
While still in the Tennyson Street area, be sure to drop into Small Batch Liquors, a humble hobbit-home looking bottle shop that boasts a big time selection in small batch, local, and national beers.
Also worth dropping into nearby is DeSteeg Brewery, Local 46, Highland Tap & Burger, which also has a great tap selection and if you plan well enough in advance Uncle on of the best ramen joins in the city. But for finer dining don't miss the small plates and beers available at Brazen. Or stop into Fire on the Mountain for a frisbee full of fries, some of the city's best wings and a killer beer selection to boot.
Early Evening – LoHi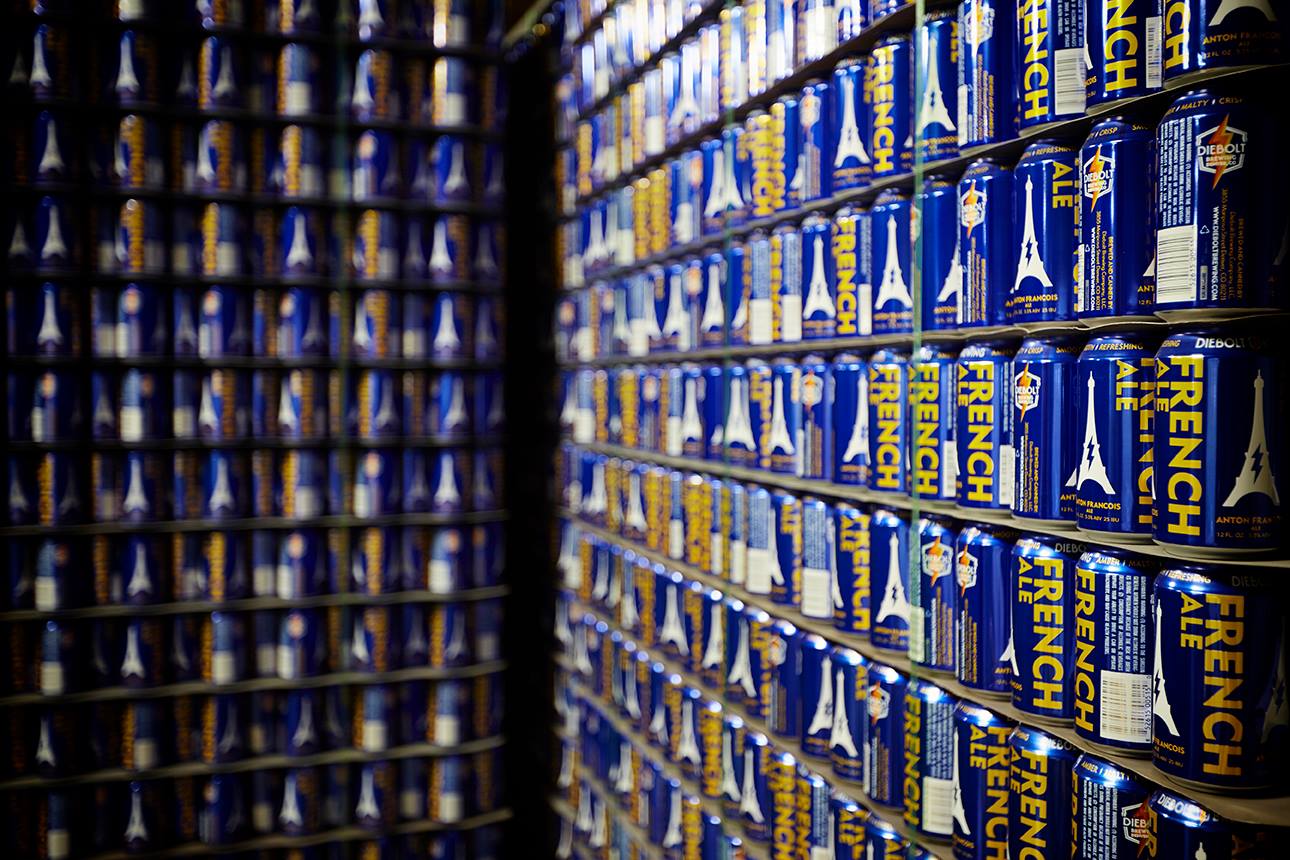 Our downhill progressions leads us next to Diebolt Brewing, who's French ancestry flows throughout the beers being produced by the Father/Son team of Dan and Jack Diebolt. What to Try: Anton Francois French Ale, Saison Viola, Biere de Triomphe a cabernet barrel aged Biere de Garde,
Where to nosh:
The next stop in LoHi touches down on one of the city's more unique new locales in Avanti Food & Beverage. Part restaurant incubator and part Mountain Region showcase for Dogfish Head Brewery, Avanti is a culinary dream for the indecisive. The venue features seven restaurant concepts under one roof, all carved into re-used shipping containers. Diners can visit any number of the seven a la cart cafeteria style spots. We recommend a Chicken Arepa from Quiero Arepas, or the fried chicken sandwich The Regional, the Asian Tots from Mijo, and sushi from Bamboo sushi upstairs. Additionally, Avanti's founders grew up with none other than Dogfish Head Brewery's own Sam Calagione. As such, the downstairs and upstairs bars both feature ten rotating Dogfish Head beers, as well as 10 beers from Colorado breweries. To top it all off, enjoy of the most scenic views of the city with an upstairs outdoor patio seating area and a glass of Choc Lobster, or perhaps a bottle of 2006 Fort. Also nearby is the higher end Root Down for tremendous seasonally harvested meals or upscale but casual Linger.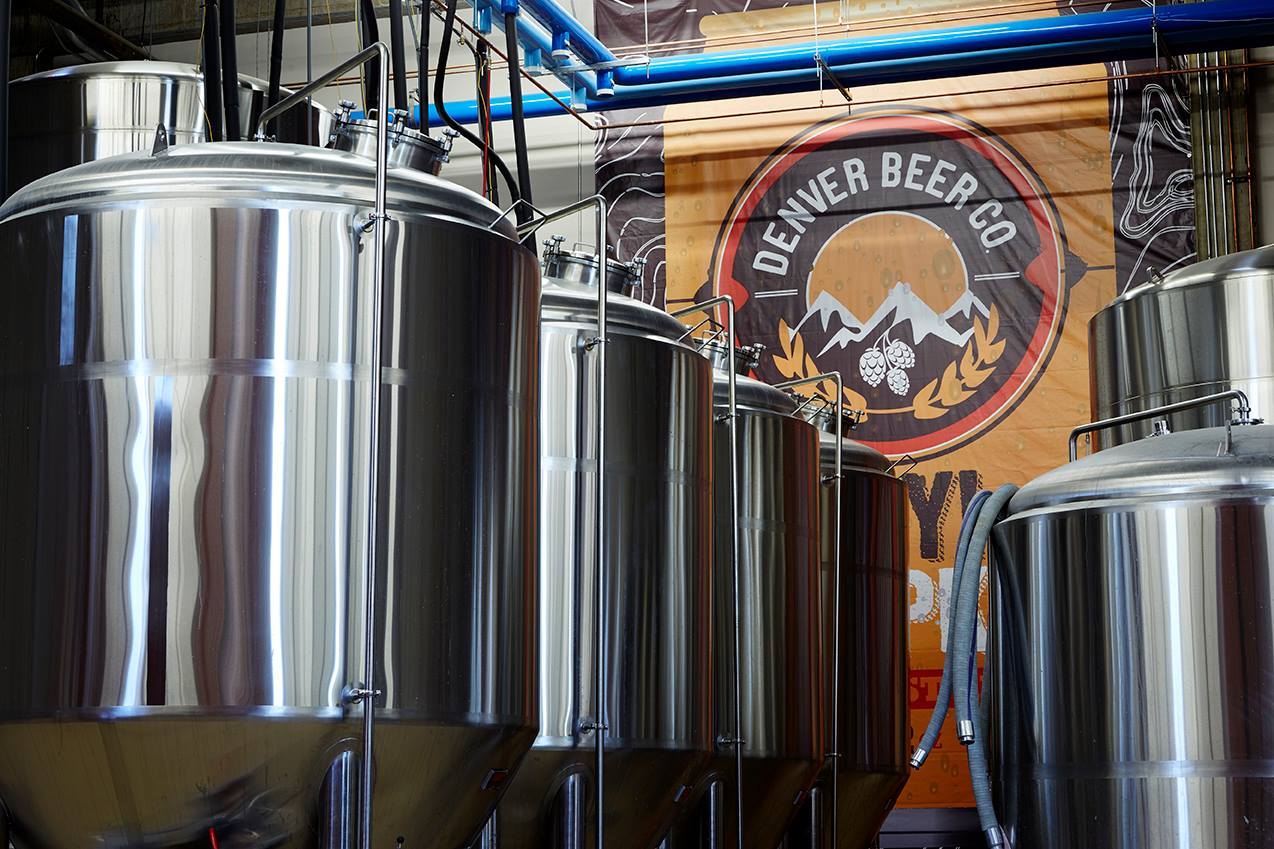 Also note worthy LoHi spots include: Prost Brewing, which features exclusively traditional German-style beers, Denver Beer Company, who's Graham Cracker Porter has become a Denver staple, and great dining options in Linger (small plates), Little Man Ice Cream (who on certain occasions will create beer infused ice cream, though we're fans of the Salted Oreo), and Colt & Gray, for one of the best cocktail programs in the city.
Night – Downtown
As night falls upon the city, head across the bridge to begin to begin your tour of downtown Denver. Right on the other side you'll discover Union Station, which just four years ago nearly abandoned and left for dead, but through deep investment from the city and an urban revitalization plan, is now a bustling hub of restaurants, bars, shops, hotel and transportation (beginning mid April, will connect downtown Denver to DIA via light rail). Its high vaulted ceilings, and old Grand Central Station-esque decor make this a unique traveller's destination. It's grand hall also conveniently houses Terminal Bar, which features beers exclusively Colorado breweries.
While typically I advise travelers to steer clear of downtown Denver's chain restaurants, Colorado flag pimping souvenir shops and TJ Maxx's (nothing wrong with being a Maxx-inista, just not on this trip) adorned along 16th Street Mall, the heart of the city does feature some of the best beer bars in the city.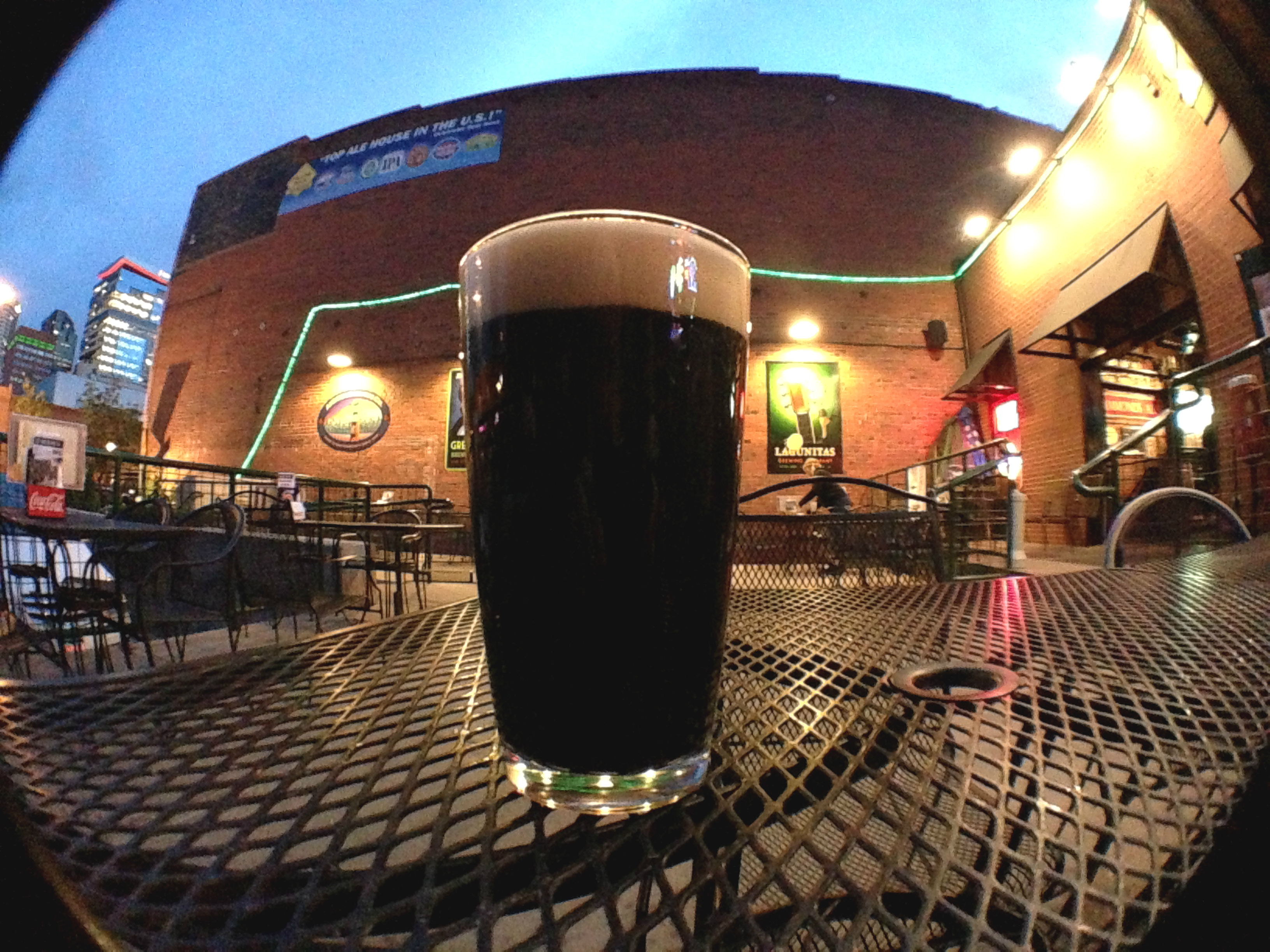 From the legendary Falling Rock Tap House, one of the original gangsters of monster tap walls, to gastro pubs like Freshcraft and Euclid Hall (try the poutine and bone marrow, then ask for the bone marrow luge), and the newcomer Rhine Haus, a German beer hall replete with bocci ball courts, the downtown Denver scene is a bounty of great beer bars.
However one of our favorite go-to spots takes on the distinction of the Mos Eisley cantina of craft beer in Star Bar, located at 21st and Larimer. While most out-of-towners flock to Falling Rock during GABF, the seasoned vets slip away to this dive retreat. The only thing fancy about this joint is the beer, and thats the way we like it. Just don't be surprised if you end the night grinding on a stranger to melodic accompaniment of equally inebriated brewers belting karaoke, all whilst downing Hill-Farmstead Dorothy.
For late night snacks, hop across the street to Biker Jim's for wild game brats/dogs such as, Rattle Snake, Reindeer, Wild Boar, and Elk. Also fried mac and cheese at 2 a.m. is never a bad decision.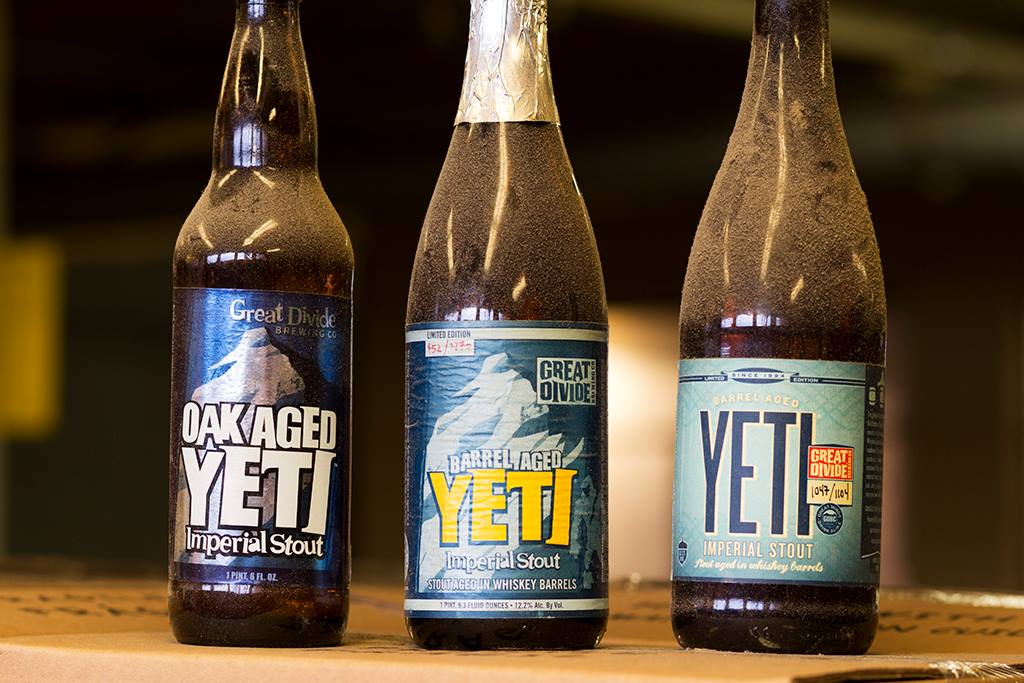 Also in the area, Wynkoop Brewing, Denver's Godfather of breweries, that helped reinvigorate life into the Downtown Ballpark District, who's co-founder is none other than the current Governor of Colorado, John Hickenlooper. What to try: Wynkoop's Barrel-Aged Quad, Patty's Chili Beer, but stay for the Rocky Mountain Oyster Stout, and yes this foreign export stout is brewed with real roasted bull testicals, ballsy move. While there hop across the street to Denver's newly renovated Union Station, part transit hub and part mixed use architectural wonder featuring a tremendous assortment of restaurants (Mercantile), book store, cheese shop, and beer/cocktail bar (Terminal Bar).
Following the trend of OGs, you'll also find Great Divide Brewing who also helped anchor a struggling strip of downtown Denver, but we'll extrapolate a bit deeper on GDBC once we head to RiNo. Also don't miss Ophelia's, located right around the corner from Great Divide, this former site of a brothel has been converted to a unique dining and drinking experience. Paying a nod to its storied history you'll be able to dine while also catching to occasional concert or burlesque show.
Day 2
Morning/Noon – South Broadway
Is your liver hurting yet? If yes… good, you're doing it right. If no, you may think you're a hard ass now, but I guarantee Denver's beer scene will get the last laugh in this game of Russian (Imperial Stout) Roulette so hold on to your butts, it's about to get weird.
Like Maryland does crab cakes, Denver does brunch. The obvious options will of course include Snooze (their pancakes are no joke), Jelly (doughnut holes) and Lucile's, an authentic Louisana-style them all the way down to their beignets (go for the biscuit instead). But my personal favorites include Shells & Sauce (weekends only, Chicken & Waffles), Sassafrass, Black Eye Coffee (chicken & biscuits and tots, trust me on the tots), The Universal (grits), and king of the crop in Denver Biscuit Company (multiple locations but for the continuity of this piece visit the one on South Broadway). Portland may have Pine State Biscuits, but Denver has DBC. And nothing quite says building a base like The Franklin, a Paul Deen's wet sopping dream of Fried Chicken, cheese, thick cut bacon wedged between a six inch biscuit lathered in sausage gravy. Follow that up with a basket of sweet potato fries and what can be only described as the devil's seed dipping sauce and you're out cold for the next two hours. Ok scratch that, eat half of everything I just mentioned, because we've got a full day of drinking ahead.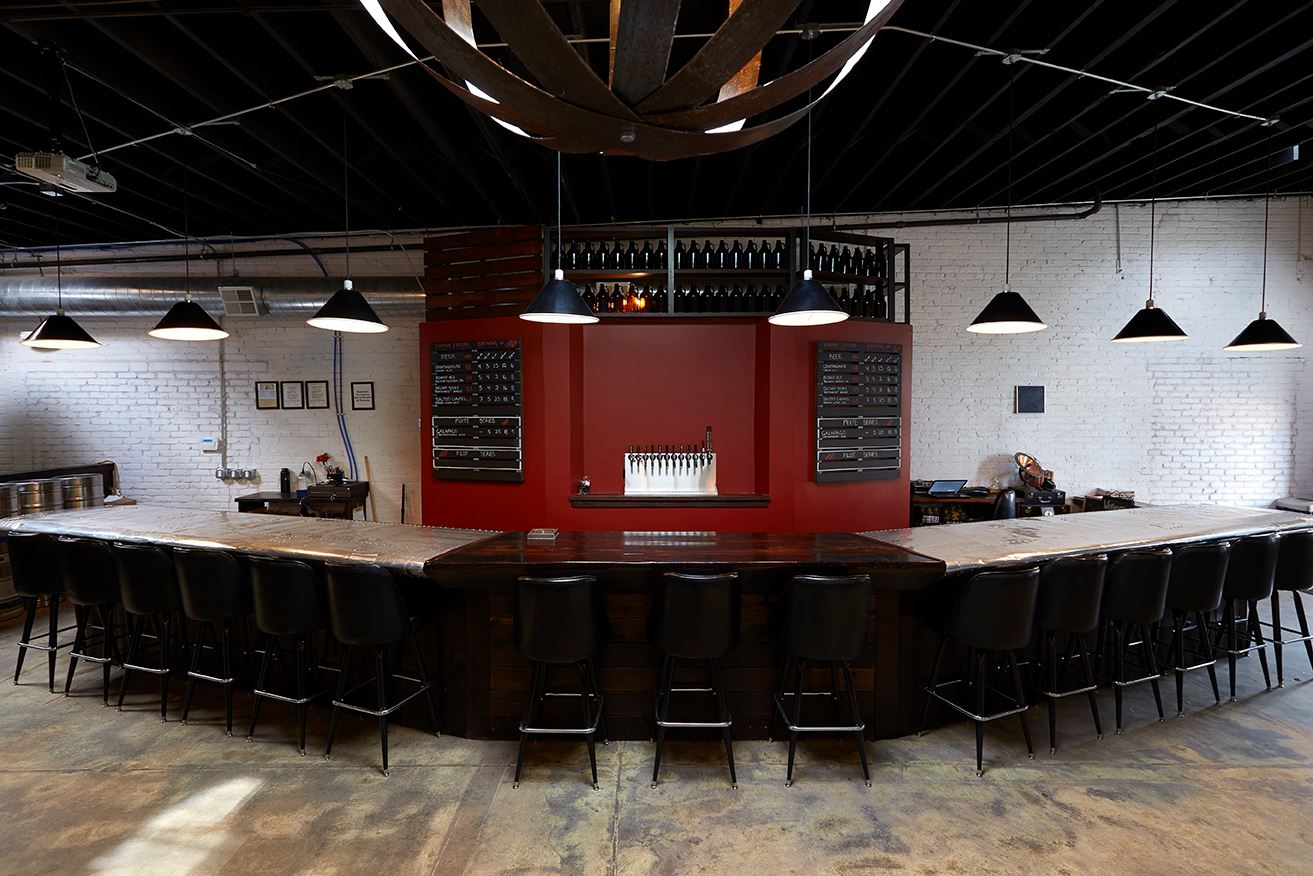 Apologies on that digression, back to the beer and for that we head to South Broadway. We begin Day 2 way down south at Black Project Spontaneous and Wild Ales. The husband and wife duo of James and Sarah Howat have been making great for over two years in their military aviation themed brewery which, features a main bar, outfitted from the wing of a Cessna airplane.. While their path originally began as Former Future Brewing, they just recently transitioned full time to their passion project, which they've received notoriety of late in the form of Black Project Spontaneous & Wild Ales. Winning back-to-back medals at the Great American Beer Festival in the Experimental Beer category for the eponymous, Black Project #1 and Ramjet, has elevated their beers to whale hunting status.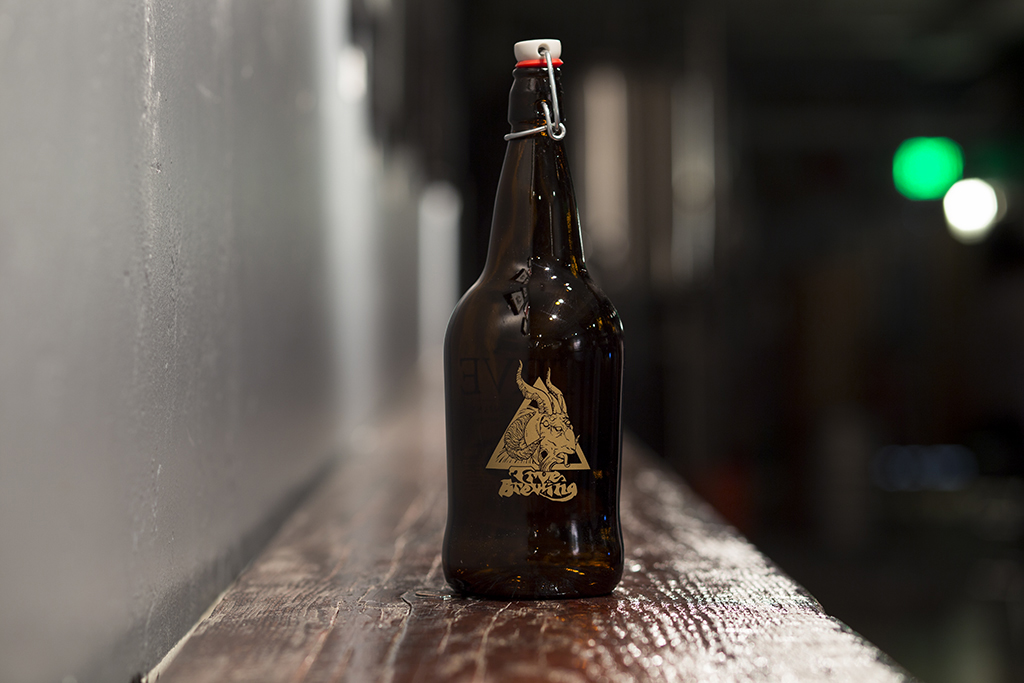 Along the theme of great sour beer, venture back toward the city on broadway to TRVE Brewing, a metal themed brewery that goes way beyond the musical theme. Sure everything's black, sure it can be louder than a presidential caucus at times, but Nick Nunns, Zach Coleman (formerly of Big Choice) and now Allison Huffman (formerly of Jester King) are making some of the best beer in the city. What to try: From Red Chaos, to Grey Watcher Grisette (french-style Saison), to Fight Fire With Fire, to Stout O))) one of the better American-style stouts in the city. As well as their Sours, from O.G.s like Manannan, Tiphareth, Eastern Candle, and their more recent release of Red Chaos, one of my early leaders for best new beer of the year, and their recent collaboration with Prairie.
No trip to Denver is completely without a stop into Illegal Pete's, so plan your lunch around a stop into their South Broadway location for mission-style burritos, tacos, and nachos. Think fast-casual made to order burritos, like Chipotle, but san e-coli and with the addition of greater volumes of Flavor Town. Not only does Pete's features add in's like fresh guac, green chili, home fries (potatoes), grilled veggies and queso, but they'll also mix all of the ingredients together before wrapping your burrito (once you've gone to mixed burrito guts, you can't have a burrito any other way). Additionally, Pete's is a huge supporter in numerous community organizations and also runs a local record label supporting a wealth of great local musicians and comedians. My personal favorite is the reverse nachos, a hearty bowl of brown rice, black beans, queso, roasted chicken, shredded cheese, mild salsa, corn salsa, guac and a side of fresh tortilla chips to dip into that hurricane of deliciousness. Remember, when it comes to beer festivals we recommend a burrito before, and a burrito after to stave off gnarley hangovers.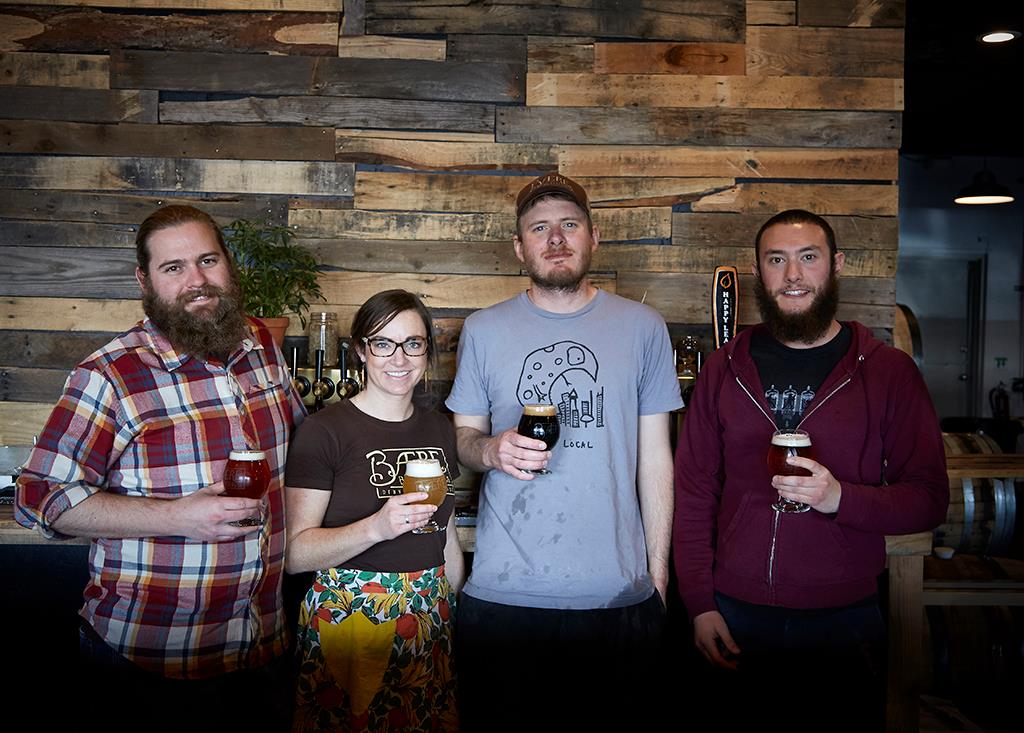 We'll continue the sour theme right on down to Baere Brewing, another relative new comer on the Denver scene, who's Baere-liner Weisse has become an instant classic. They've also been churning out some amazing barrel aged beers with use of local distillery LAWS Whiskey (located nearby) barrels. Anything from their Laws barrel aged Hoppy Brown to a Laws barrel aged stout knocks it out of the park. Also in the area, newly opened Banded Oak Brewing.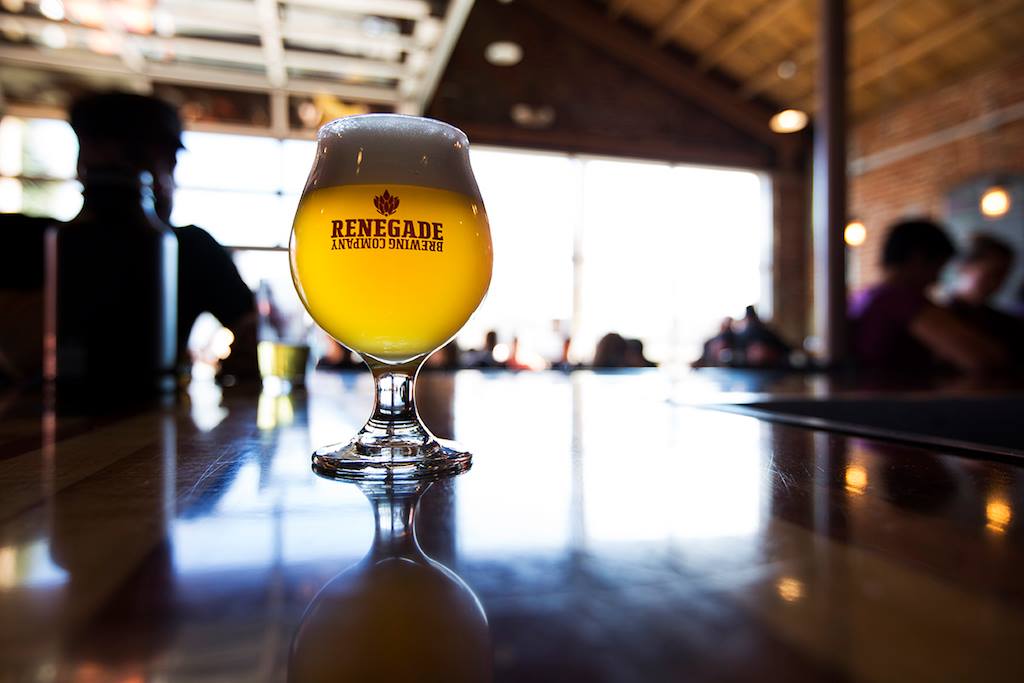 As you're leaving South Broadway and heading toward town be sure to stop into Renegade Brewing, one of the earlier members of the craft beer renaissance that started about five years ago. They splashed onto the Denver beer scene with their Redacted Rye IPA, and have remained offensively delicious with beers like Depravity, their yearly peanut butter stout release brewed with actual peanut butter cups. A trip to the taproom also guarantees some kind of great new test batch that has yielded hits like Sunday Morning a golden colored coffee ale made with the second runnings of their strong ale, and their Beetnik Beet Saison.
Other notables in the area: Declaration Brewing, located right off the above ground light rail system with a great patio, Black Sky Brewing, the newly opened Denver location for Crazy Mountain Brewing, and Chain Reaction Brewing… I once had an IPA infused/randalled with gummy bears and it changed my life.
Afternoon/Evening – RiNo
Even as a child, my motto has always been to save the best for last. That's why it was always guaranteed to find some combination of Dunkaroos, Ice Cream, Funfetti Cake, and mud pudding lingering on my plate till the very end. Such is the case with our behemoth 2 day, 2 night, brewery escapade.
Over the past two years, the River North (RiNo) District of Denver has developed into the most prolific square mile of brewing in the entire country. I hyperbolize not. The district boasts just under ten, high level breweries, with several more on the way, in addition to two equally impressive cideries.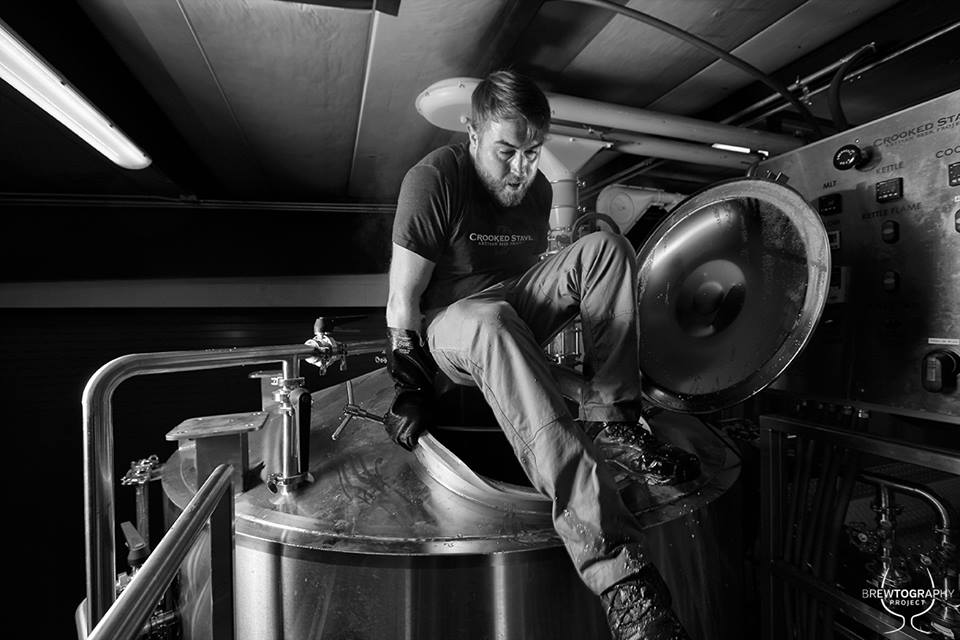 Geographically speaking, we'll start things off at one of the best sour/wild/barrel blending breweries in the world in Crooked Stave Artisan Ales. Crooked Stave is the brainchild of Chad Yakobson, who first attracted national attention for his master's dissertation on the fermentation characteristics of Brettanomyces yeast under the title, The Brettanomyce Project. Shortly after publication, he launched Crooked Stave Artisan Beer Project showcasing through liquid form, his aforementioned findings on Brettanomyces, as well as other wild and barrel-aged sour blended beers. Their tap room location nestled in The Source, a European-style indoor market, which also houses 2 restaurants, butcher shop, cheese/spice and flower shops, gallery and bottle shop, as well as the Rino Yacht club cocktail bar, features a constantly rotating tap list with bottles available for sale to take home.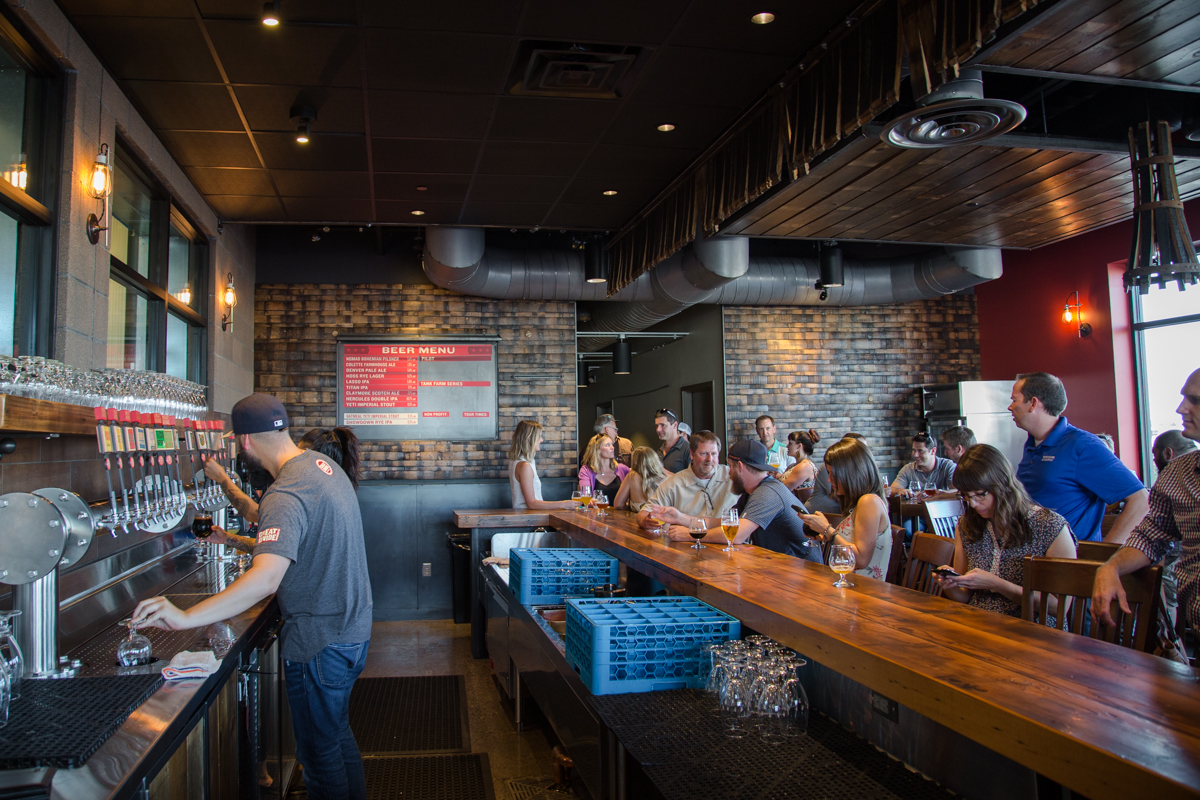 Right across the street you'll find Great Divide Brewing Company's Barrel Bar, which launched in July of last year. Great Divide was my first true love in the Denver beer scene, seduced by Titan, Denver Pale Ale, Samurai Rice Lager and Raspberry Wheat (both now retired), as well as their Belgian Farmhouse inspired Colette, and of course the dark and mighty Yeti Stout series. But it was their Grand Cru Belgian Strong (also extinct)  that had me believing I was drinking liquid gold. When you trace back through Denver's illustrious brewing history, Brian Dunn's Great Divide is at the epicenter of it all. Now with their 65,000 sq foot expansion, it'll be exciting to see what's in store for the next phase of Great Divide's evolution.
Next up on your tour de RiNo, walk across the street to Mockery Brewing who's also a newcomer in the arena, but has already impressed many with their focus on big, bold, outside the box flavors. This is none more evident than in their Cocoa Coconut Stout, Schizophrenic Narcoleptic Double Imperial Coffee Stout aged in Whiskey barrels, Straight Outta Pumpkin, and Lemon Zest Pils.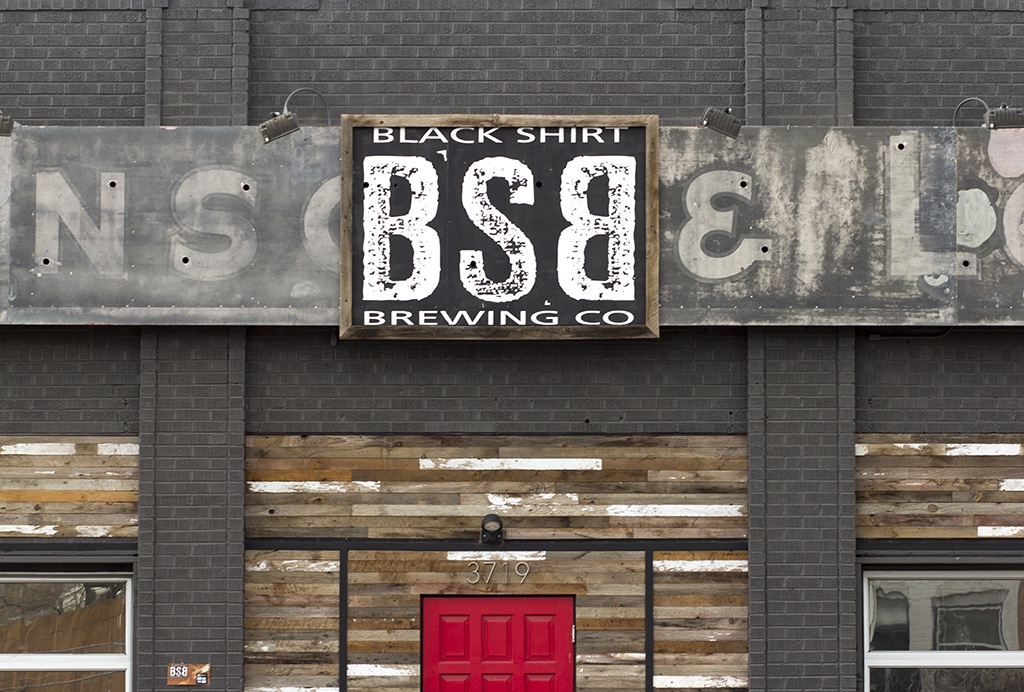 As we transition from Brighton Boulevard over to the heart of River North, we'll hit Black Shirt Brewing, who has made a name for pushing the boundaries of your perception of Red Ales. Black Shirt has become one my personal favorites due to their imaginative, but consistently balanced complete and ever evolving lineup, ranging from their Red Evelyn, one of the best Double IPAs I've ever tasted, to Guava Red Saison, Imperial Chai Red Porter, Blood Orange Double India Red, and Electric Currantcy, the list could go on and on. Their story is one that most perfectly captures the struggle, sweat and success of starting a brewery, while remaining authentic and uncompromising.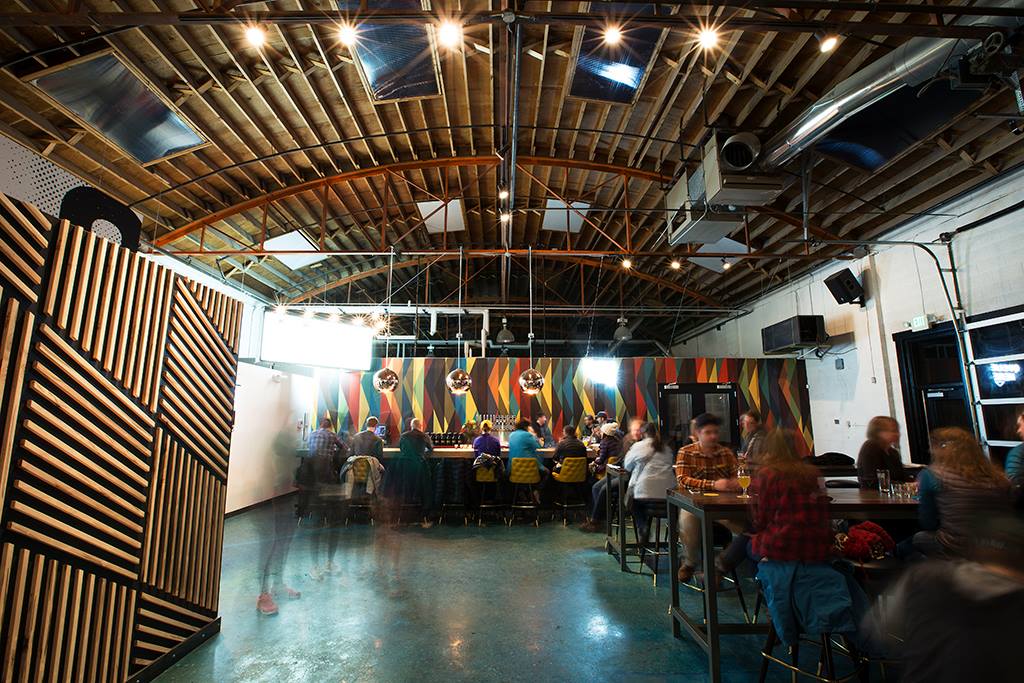 Next up is Ratio Beerworks, which I recently described as my go-to neighborhood brewery: In many ways, Ratio Beerworks may seem like any other neighborhood brewery. Outfitted with a garage door exterior, benched outdoor patio seating area, and aside from the beautifully designed interior lined by brightly adorned walls, repeating patterns and a drive-in movie sign beer menu affixed above the bar, the tap room eschews from boasting any gimmicks or frills. In fact, on the surface, Ratio's initial line up didn't exactly scream excitement either, launching with a pale ale, an easy drinking american style ale, an IPA, a scotch and a barrel aged scotch. But perhaps therein lies the paradox. Too often is today's beer industry fixated on breweries who try to push the extremes of incorporating never before heard of ingredients, that they forget about the simplicity of making core styles really ridiculously well. And that's just what Ratio is doing.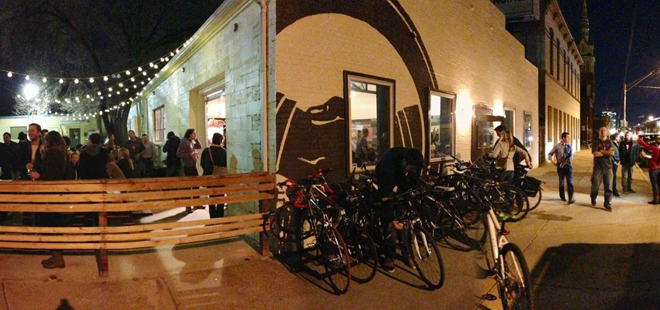 Just a few blocks down from Ratio is the new look Our Mutual Friend Brewing, who's recent Silver medal in the Wood and Barrel-Aged Sour Ale category at the 2015 GABF for their 24 Frames Per Second, perfectly represents just how far this neighborhood brewer has evolved over the past two years. From their newly redesigned back bar, to their new standards in quality testing before releasing beers, OMF has grown by leaps and bounds, as exemplified by their recent release of Thanatoid, a Leopold Brothers whiskey barrel aged Russian Imperial Stout.
Other must tries in the neighborhood include Epic Brewing, the 2nd location for the Utah based brewery who's Big Bad Baptist ranks among the top for coffee stouts, Also making waves in the neighborhood is Beryl's Beer Co. who's barrel aged beers have quietly been gaining the attention of beer fans in recent months. On the cider side of things, look to Stem Ciders who's been creating some of the best cider in the region. Also newcomer C Squared Ciders housed in the new Bindery on Blake complex comes with great pedigree helmed by Andy Brown, former head brewer of the aforementioned Wynkoop Brewing. They've since been joined by Bierstadt Lagerhaus, helmed by Bill Eye and Ashleigh Carter (formerly of Dry Dock and Prost). No joke, these two are making some of the best German beers in the world. Try the Pilsner, served in a traditional manner right down to the slow pour, its one of the best beers in the city.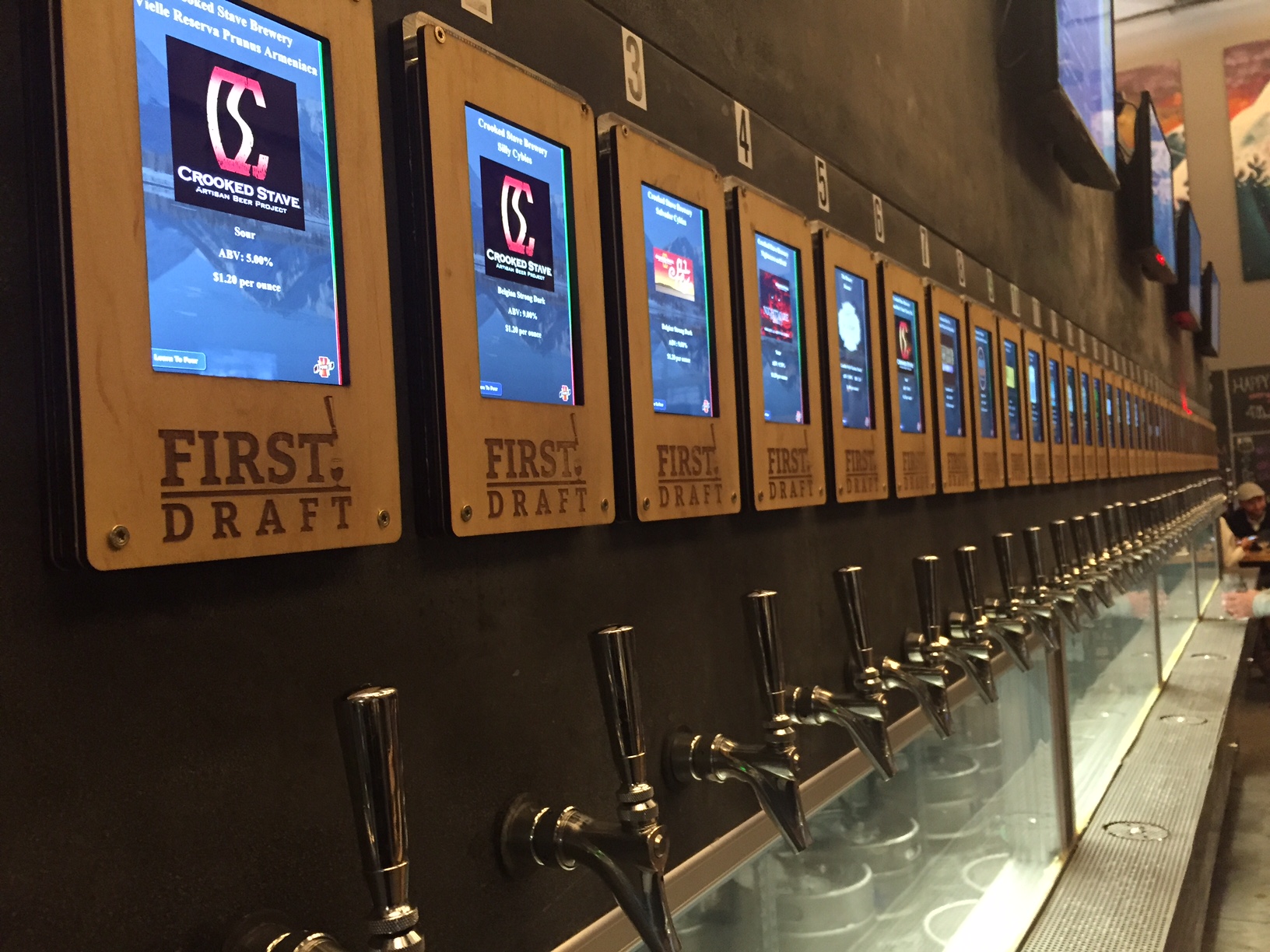 Additionally, the RiNo neighborhood is now home to First Draft Taproom and Kitchen, Denver's pour your own draft system, which is the equivalent of an adult froyo shop. Adorned with 40 taps, First Draft allows customers to control their own pours of beer by the ounce, through the use of RFID technology. Like Hops & Pie, First Draft has boasted tremendous success in themed tap takeovers, including their recent execution of Sour Month last month, highlighted by a Crooked Stave beer dinner and tapping of Gueuze Tilquin.
Other dining/drink options in the area include Bar Fausto for some of the city's best cocktails, and it's mother establishment in nearby The Populist, which features some of the best small plates the city has to offer. Following the theme of small plates, head down Larimer Street for Work & Class housed in a refurbed shipping container complex for killer tapas style fare, or try Cart Driver next door for some of the best wood fired Neapolitan style pizza in the region. Also nearby is the newly opened Hop Alley for new-style Asian cuisine, recently voted the best restaurant in the city by 5280 Magazine. For a quick bite, be sure to try Biju's Little Curry Shop for made to order curry bowls, or try Park Burger for an impressive tap list and some of the city's best in the burger and fry category. Next door to Park Burger is my personal favorite ramen joint in Osaka Ramen (go with the Tonkotsu, but do not pass on the kara'age chicken).
But my new must try spot on Larimer is Finn's Manor, who houses a small array of grounded food trucks, as well as one of the better cocktail lists and an equally impressive tap list that focuses mostly on imports like De Dolle, Blaugies, Panil, Budvar, more recently Hill Farmstead Dorothy, Melvin, and during GABF the likes of Wicked Weed. But what really gets me salivating at Finn's is Owl Bear BBQ. I've been to Memphis, North Carolina, Texas and I hail from Kentucky, but this my friends is barbecue. Order the brisket or pulled pork and DON'T pass on the slaw.
Fin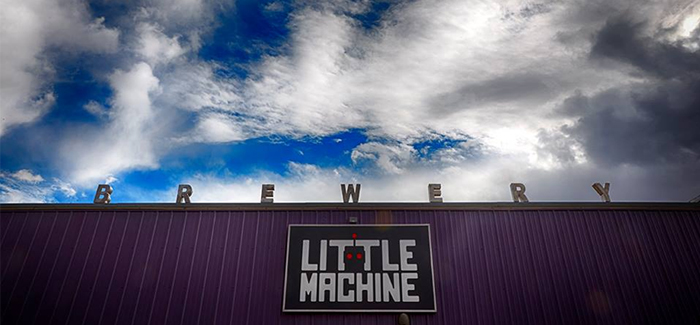 As you can tell there's quite a bit to enjoy while spending a weekend in the Mile High City, and we've really barely scratched the surface. Denver, city limits now boasts over 60 breweries and counting, that's not even to mention jaunts up to Golden, Boulder, Fort Collins and down to Colorado Springs. Additional there are a multitude of standouts that you should absolutely check out if you have time to venture out of the neighborhood. Some of which include Copper Kettle Brewing – try the Mexican Chocolate Stout, Snowed In, and Basil Cherry Blonde, Strange Craft Beer – try Cherry Kriek, Grapefruit Breakfast IPA, 1000 Barrels Imperial IPA, Gingerbread Man. Also visit Little Machine, Cerebral Brewing – Invisible Hand, Fiction Brewing – Feeley Effects, and Comrade Brewing, who's Superpower IPA is one of the best hoppy beers on the market. Caution Brewing's Lao Wang Lager is a beaut, Wit's End Brewing's Jean Claud Van Blond. Also worth visiting Denver's World of Beer location in Cherry Creek for an insane tap list lineup. Denver Bicycle Cafe on 17th, and Alamo Drafthouse out in Littleton for killer beer and a movie experience unlike any other if you have time. The list is longer than the time it took to film The Revenant.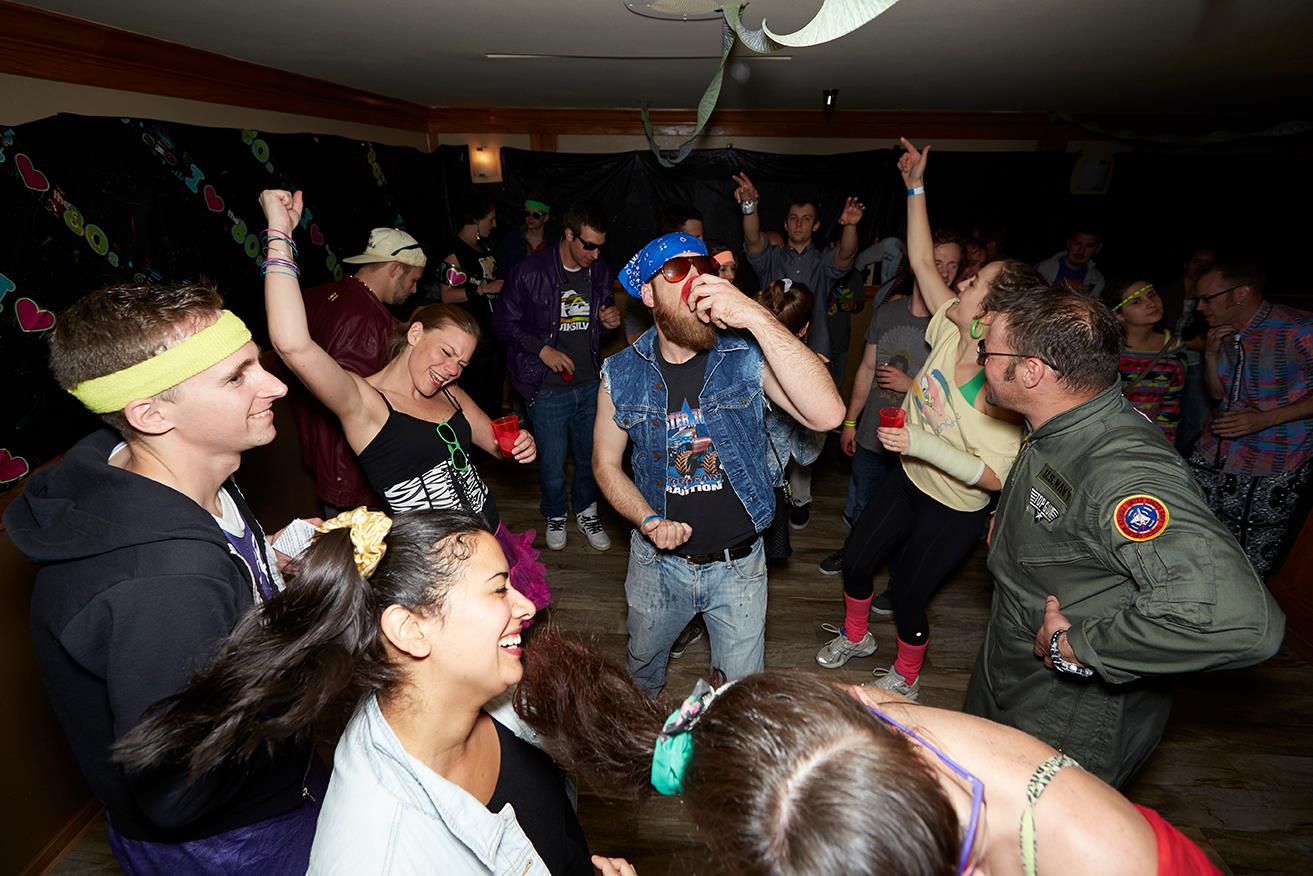 No matter the occasion, whether it's for the Great American Beer Festival, for Collaboration Fest & New Kids on the Block Fest as part of Colorado Craft Beer Week, your stopover prior to an epic two days at Vail Big Beers, perhaps a little vacation to enjoy the greenery, or just a random weekend trip to the city, the 303 is a world class destination for beer. Welcome to Denver, Colorado, home to the World Champion Denver Broncos, and the true home of Beertown U.S.A!
---