No Comments
Goose Island's BCBS 2016 Announcement Greatly Exaggerated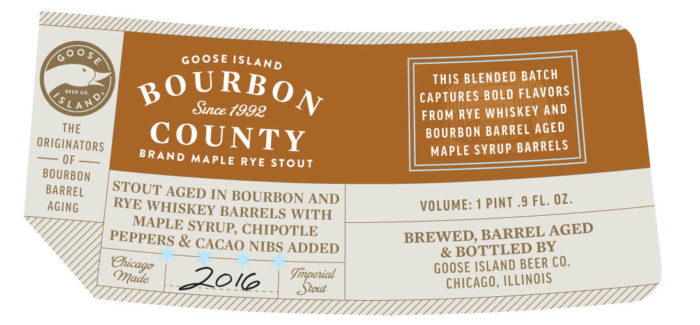 Avg. Reading Time:
2
min
For many beer enthusiasts, the release of Goose Island's Bourbon County Brand Stout (BCBS) is akin to Christmas morning. The 2016 variants are beginning to leak through several sources, but according to Megan Lagesse, Communications Director at The High End beer division of Anheuser Busch (and whose office is situated at Goose Island), rumors of the BCBS release — regarding the exact variants — are untrue. She explained, "We have to submit many labels to the Alcohol and Tobacco Tax and Trade Bureau (TTB) prior to releasing the beer. We have to do that well in advance, but that doesn't mean those are the actual, final versions. So, about those rumors. They are just not true."
Those rumors have pointed to these releases:
Bourbon County Brand Stout: Bourbon Barrel Aged (BBA ) Stout.

Bourbon County Brand Coffee Stout: BBA with Costa Rican Flecha Roja coffee from Intelligentsia Coffee in Chicago added.

Bourbon County Brand Maple Rye Stout. Rye Whiskey Barrel Aged and Bourbon Barrel with maple syrup, chipotle peppers and cacao nibs.

The 2016 Bourbon County Brand Barleywine: BBA Barleywine

2016 Proprietor's Bourbon County Brand Stout: BBA Stouty with maple syrup, chipotle peppers and cacao nibs.

2016 Proprietor's Bourbon County Brand Stout: Scotch-Whiskey Barrel Aged Stout.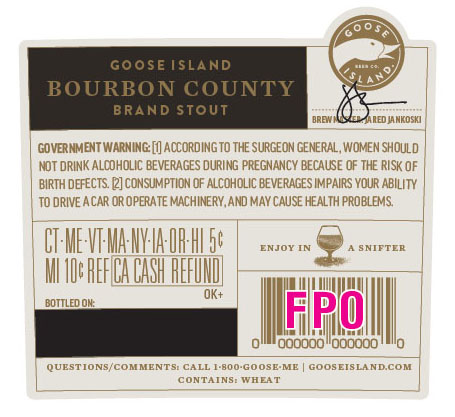 What does it mean? Just like Christmas gifts wrapped and placed under the tree, until it is time to unwrap them, we have to wait-and-see. But, maybe these Goose Island BCBS 2016 label submissions are like shaking the box — we have a few hints, and we can guess.
BCBS is unquestionably Goose Island's premier beer, and it's most coveted. That's probably because Goose Island, and its long time brewer, Greg Hall, were the first to combine bourbon and beer back in the late 1990s.
For more on its history, see Goose Island's movie entitled, Grit and Grain.
Today's Goose Island is run a little differently, but its BCBS still has people waiting in line to get their hands on a bottle. Traditionally, the bottles arrived to shelves in the form of 12 oz. and 22 oz. bottles, but that changed last year; each BCS was sold in 500ml bottles.  
Of course, it hasn't been all smooth-sailing for the Chicago-based brewery and BCBS. Earlier in 2016, it was announced that Goose Island would offer refunds to customers who purchased certain 2015 varieties of BCBS due to inconsistencies. 
Those refunds were limited to certain runs of BCBS, Proprietors, and BCBS Coffee and BCBS Barleywine due to Lactobacillus.
---