No Comments
The Bruery to Release Chocolate Rain to the Public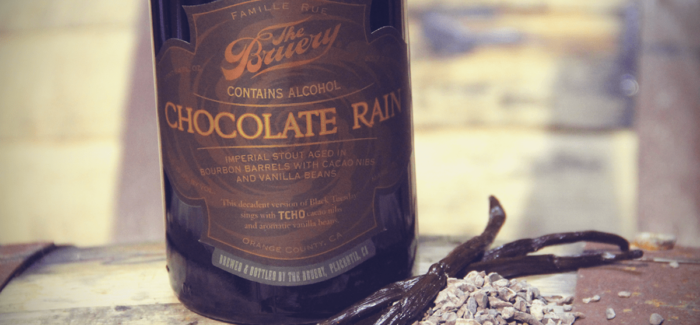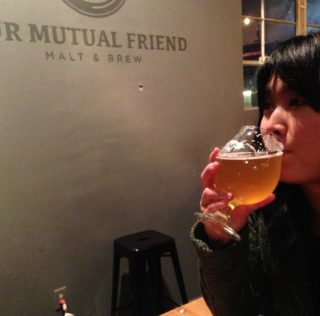 Featured photo contributed by The Bruery
The Bruery's forecast calls for a 100% chance of rain… Chocolate Rain that is, and we couldn't be more excited. What began as a single cask of beer that was released in 2009 for a Black Tuesday release event has since become a, wait for it, legendary brew that members of The Bruery's exclusive beer societies have enjoyed. But for the first time on March 24, Chocolate Rain will be pouring for all.
Chocolate Rain | 19.6% ABV
Coming in at a whopping 19.6%, the 2017 Chocolate Rain edition is nothing if not decadent. Aged in bourbon barrels with cacao nibs from TCHO and fresh vanilla beans, expect flavors of chocolate, vanilla, oak and bourbon. The Bruery encourages that the imperial stout be shared among good friends, good songs, and good pairings. Each 750-ml bottle is wax-dipped and retails at $39.99.
The Bruery Pro Tip: Try Chocolate Rain with cacao nib gelato, Sartori Peppermint BellaVitano cheese, roasted pecans or cocoa chili-rubbed tenderloin.

How to Get Chocolate Rain:
There are 3 ways to get your hands on this coveted beer on Friday, March 24:
Purchase at TheBrueryStore.com: The store will start receiving orders at 10 a.m. sharp.  All purchases will need to be shipped. The first 500 shipments will also receive TCHO chocolate to pair with the beer. Note that due to California's 3 tier regulations, shipping of beer is only available in California. So out of state folks, phone in a favor with a 21+ relative or buddy and have the beer shipped to their house (just pray they don't drink it).
Purchase at The Bruery and Bruery Terreux Tasting Rooms: Both tasting rooms will open at noon and bottles will be available on a first-come, first served basis with a 3 bottle per person limit. Special limited edition merchandise and treats will also be available.
Become a Society member: Want guaranteed access? If you are already part of either the Reserve Society or Hoarders Society, you'll enjoy early access and a higher number of bottles available for purchase starting on Monday March 6th. Members of the Preservation Society will enjoy guaranteed access to 3 bottles of Chocolate Rain starting on Tuesday March 14th and spots are still available. Learn more about The Bruery's various memberships.
As the public release nears, some details may change. Be sure to check out The Bruery's blog post for the latest updates.
---